I was unfamiliar with Red Boiling Springs, but their bandcamp page states that they hail from Portland, OR and the Discogs page identifies this as the project of Matt Sullivan, who also runs Nailbat Tapes. The description they provided for this album explains that "Choked Transmission is an exercise in signal interference, with each track containing manipulated samples ranging from radio frequency crossover to a wireless hotspot impeding onto magnetic tape." Sounds promising, so let's get into the music. This disc consists of four tracks, starting off with "Interference." The opening is kind of minimal, consisting of a lot of ground noise with bits of static interspersed throughout. It is not harsh, in your face noise, but it is noisy in a clinical way. Partway through, it shifts gears, with heavily reverbed feedback and (unintelligible) screaming in what sounds to be a parking garage. For me the screaming detracted from the well-constructed feedback noise and static, which is quite enjoyable. Next up, we have "Waste," which is a short excursion in rhythm and noise. A rapid clicking beat punctuates heavy bass noise and more slightly distorted screaming. Third, we have "X-Ray," which has some really nice low-end rumble and the sounds of an engine which totally reminds me of the drums at the beginning of Van Halen's "Hot For Teacher" (and there is a line that I did not think I would ever write in a review for Chain DLK). The voices in here (if they are actually voices) are distorted beyond comprehension and work well. Overall, this is an excellent track that really keeps things interesting and for me is the strongest track on the disc. Finally, we have "Cleared," which opens with a throbbing bass line; crackling static, random voices, screaming, and cookie monster growling punctuate the track throughout. Perhaps I am a noise curmudgeon, but for me the screaming just didn't seem to work and detracted from the overall works. I would have preferred it to be much more distorted and processed to become part of the composition, but here it felt like someone recorded some excellent noise tracks only to have the recording session interrupted by some crazy guy outside the studio screaming at people. I don't know enough about Red Boiling Springs to know if this screaming is a trademark of their work of it is a one-off experiment, but I hope it is the latter, because the noise underneath it all is really solid. Your mileage may vary, however. This disc weighs in at around 18 minutes.
Artist:
Praying For Oblivion
(@)
Title:
Live: April 12, 2014: Brno, Czech Republic
Format:
3" MiniCD
Label:
Inner Demons Records
Rated:
I have been familiar with Andrew Seal's project Praying For Oblivion for many years now, so I had some idea of what I was in for. However, I have not seen him live, so this was new to me. One thing that I enjoy about live sets is that they are often more chaotic and have a raw edge to them (unless you are one of those artists who pretty much just turns on a backing track and then heads to the bar). What we have here is one 19 minute track entitled "Todesmarsch," recorded at Noise Fest – Czech Republic at Klub Boro. If you want raw performance, this disc delivers. One hallmark of Praying For Oblivion, is that he is not an "everything including the kitchen sink" wall of noise kind of guy. His work is carefully crafted; distorted sine waves bend ever so slightly as waves of fluttering static wash over them. Everything moves slowly, but deliberately. You easily get the sense that Seal knows exactly where he wants to take the piece, as he builds intensity over time. If you are looking for chaotic noise, this is not the disc you are looking for, but if you want to hear someone who has honed his craft, this is one to check out. This disc weighs in at around 19 minutes.
Artist: Golden Oriole
Title: Golden Oriole II
Format: LP

An energetic, backwards-looking stab at recreating edgy, experimental instrumental 1970's psychadelic prog rock, Golden Oriole's second release hits its apparent target. Often manic guitar-led meanderings are bolted together with analogue effects and twiddles bounce off against rigid, sometimes tribal-tinged drum work that has the consistency and sometimes tone of a drum machine, but sometimes the complexity of a complete wig-out.

It's made of two tracks, though each track has fairly distinct parts so this seems a little arbitrary. "The Waxwing Slain", after a particularly aggressive opening, evolves into a longer more mesmeric shifting pattern in two parts. Three minutes before the end of the seventeen minute piece it drops out completely, to introduce a high-pitched tinnitus-tickling electronic screech to either brainwash or punish the loyal listeners.

Second track "Az Prijde Kocour" kicks off with similar punchiness, which this time takes longer to abate. When it finally settles it works itself into a strangely funk-channeling stepping-groove affair, as though aimed at the world's twistiest dancefloor.

It's a punchy and very focussed LP that will appeal to anyone who fondly remembers (even if they're not old enough to remember) some of the experimental-guitar excesses of the 70's.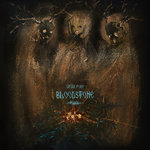 Artist:
Sacra Fern
Title:
Bloodstone
Format:
CD
Label:
Black Mara
(@)
Rated:
Sacra Fern is the project of Dmitry Fedoschenko that is based on a form of dark ambient with extensive use of field recordings. This release is presented as a sort of soundtrack for a video part developed upon shots in the forest tied to the presentation of this release which describes the stone giving the title to this release as a magical artifact which can absorb power.
The singing birds of "I Saw It" opens this release upon a droning crescendo and generate a tension as they seems to escape from somewhere. The long track which is the center of this release, "Transparent", starts in a quiet and meditative mood where all metallic beat are exalted as the drone is not the gravity center of the track but only an element to underline the field recordings and the small sounds which are the main element of the track; so, the result is closer to certain ritual music rather than proper ambient. The framework of "Black Rain" is instead a more canonical dark ambient with a small interlude based on field recording. "Storm Of The Century" is a short drone crescendo which underlines the menacing field recordings in a rather evocative way. The bells of the first part of "Crimson River" are almost enchanting in their resonances and bring the listener toward the final part of this release with the field recording of what is sounds like an extinguishing fire.
With his reasonably personal use of field recordings this release doesn't sound just like another dark ambient release but as a more elaborated release. It could be a little too adventurous for fans used to releases which sound more or less the same but will find something worth a listen. A really nice release.
This is an interestingly blended three-pack. The title track is an up-tempo electro jack near-instrumental with a crisp and rather catchy lo-fi aesthetic and a little bit of everything, sometimes recalling progressive house, sometimes 90's bigbeat almost.

A2 "Jackson Kalter" takes an old blues recording and builds a steady lower-paced and quite deferential instrumentation around it in a way that's not miles away from Moby's "Play" but with some deliberately rougher edges, before the deceptively titled B-side "Madass" is the calmest track of the set, a fairly perky light-touch techno instrumental with soft building pads and a sunny afternoon vibe that's undercut a little by a harsher synth bassline.

A nice crisp second release on the Tropical Animals label which looks like it's going to be one to watch.