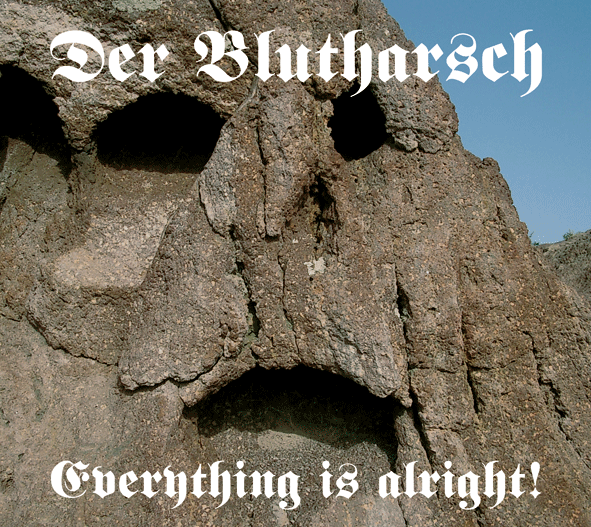 Artist:
DER BLUTHARSCH
Title:
Everything Is Alright
Format:
CD
Label:
HauRuck!
(@)
Distributor:
Tesco Distribution
Rated:
EVERYTHING IS ALRIGHT is the natural continuation of the "Fire danger season" release and it starts from where the old one left gathering compilation and limited vinyl releases tracks originally issued from 2002 and adding a couple of new songs: I think that the third and the ninth (a nice 30" 70's inspired creepy synth tune) tracks are new ones. Der Blutharsch has the peculiarity to have all untitled tracks so it is very hard to track down the informations about the original releases containing them. At this purpose the website Discogs is helping a lot by giving the informations we need. Anyway, considering that the album starts from 2002, at that time Der Blutharsch started to change the sound as on 2003 we have the "Time is thee enemy!" album which is the first to have a rock approach to military rhythms/atmospheres. Track 1 from the Reutoff vs Der Blutharsch Kreuzung Drei split CD. Track 2 from the Der Blutharsch/Nový Svet Cafe Mentone split 7". Track 4 from the Der Blutharsch/Zetazeroalfa split 7". Track 5 from the Yellow Leaf 7". Track 6 from the Time Is Thee Enemy 7". Tracks 7 & 8 from Farewell Tour 7". Tracks 10 is a cover of Death In June's "The Odin Hour" from Take Care And Control. Track 11 from the Vittoriale 7". Track 12 is a cover of a song from The Moon Lay Hidden Beneath A Cloud's The Smell Of Blood But Victory. Track 13 from the Looking For Europe compilation CD. Track 14 from the Der Blutharsch/Sottofasciasemplice split 7". Track 15 is a remix of :wumpscut:'s "Schäbiger Lump" from his Schädlingsbox 2xCD. Track 16 is a remix of :wumpscut:'s "Adonai, My Lord" from his Body Census Box 2xCD Box. Track 17 from is by Pacific 231 Vs Der Blutharsch and its titled "Heuristic Occlusions (Armoured Assault / Vino Nobile Mix)" and it's coming from the Danza De La Muerte - R.I.P. Syntactic compilation 2xCD. Even if the release is a compilation it isn't only intended for collectors as if you liked the latest band's releases, EVERYTHING IS ALRIGHT contains good tracks on the same vein but if you are a fan this is a must have release, because it gathers many treasures.
Artist:
NO
Title:
Vuoto - A Work About Cosmic Vacuum
Format:
CD
Label:
Farmacia 901
(@)
Rated:
Farmacia 901 is a new small label born to support electronic synthetic sounds born from improvisations which tend to create concrete music suites. First release of the label (that sees also on its roster Erik Ursich, already active on Punch Records) is VUOTO - A WORK ABOUT COSMIC VACUMM by No (personal project of Farmacia 901's founder Fabio Perletta). Composing astral sidereal sounds that are linked to an ancestral dimension, No on this first album mix long synthetic drones and bleeps that create a reverbs of a not-existent universe where everything fluctuate. Listening to "Intermediate mass balck hole in globular clusters" or the following "Gigantic quantum vacuum fluctuation (quark-antiquark collision)... genesis" is like swimming into the primordial liquid looking for our cosmic self. Inspired by Karlheinz Stockhausen, La Monte Young, Morton Subotnick, John Cage e dalla Kosmische Musik di Tangerine Dream, Cluster and Holger Czukay, No's brain music will mesmerize you. Try "The encke minima and enchke division in saturn's a-ring" for first. The album is presented into a limited 100 copies run CD-r with a satin package and printed cover.
image not
available
anymore
Artist:
VAE VICTUS / Durch Heer und Kraft
Title:
Fortes Fortune Adiuvat!
Format:
CD
Label:
SkullLine
(@)
Distributor:
SkullLine
Rated:
The release onslaught of the German SkullLine label wins on speed and offers more and more curious acts rather dedicated to some more Experimental-minded music efforts. This full-length album is a split-release by two quite musically different acts, the US-one man act VAE VICTUS and the Hungarian DURCH HEER UND KRAFT. VAE VICTUS seems to be the more drastically outfit, providing a mixture of a static and noisy Military-inspired Industrial sound combined with Ambient and filled with dozens of war, sirens and propaganda movie samples. A little communistic vein is surely integrated as well, tracks like "The Fall Of Capitalism / The Party Of Lenin" or the pure Mao Tse Tung-propaganda tracks "Chairman Mao Is The Red Sun In Our Hearts" tend obviously into this direction. I would advise to read some Blogs of this act presented on their MySpace web account. Quite interesting for dedicated fans. DURCH HEER UND KRAFT are Military-inspired too, which they often celebrate through typical marching snare drum inserts, but generally their musically outfit turns rather into Neo-Folk/Classic music. Some tracks are new interpretations and do follow some traditional Folk tunes ("Krieg und Friede") and to my surprise they offer some speech-like vocals on some tracks too. Both bands have here and there some interesting stuff to offer, but a strictly dedication of the listener to some Military-music is helpful. Extremely limited edition, as usual for SkullLine, this one is restricted to only 50 exemplars.
image not
available
anymore
Only one year after the release of the widely recognized debut "There Is No Law In Floriculture", Germany's one-man act 100BLUMEN returns with a new album. Still heavily numbed by a "Chlorophyll Rush" (ha-ha...), this project again sets fire under the machines and offers another 17 minutes of pounding, abrasive floral Industrial. All the good things known from the debut like the courage to combine quite different musically arrangements in one song (ever tested piano drops laid over a torturing rhythm inferno? Check "Grassroot Symphony" on here...) could kept alive and the act has experienced an improvement. Also the hypnotic aura by looping repetitive rhythm patterns over and over again has found a continuation. Additional remix works by some friendly label colleagues like P.A.L. and the Hands-recording act HEIMSTATT YIPOTASH are accomplishing this decent release. "Floral Annihilation" is the consequential follow-up and proves that the field of flowers isn't dried so far. It surely can't reach the Ant-Zen throne currently owned by EXOCET, MONOKROM or SYNAPSCAPE, but it is nevertheless a satisfying alternative.
image not
available
anymore
With an evil-minded grin in face, the mummies of MONOKROM got awaken to teach some tourists trappede in a pyramid the harsh way of life. Ant-Zen's MONOKROM, active since mostly two decades, are back to make your eardrums bleed. Let's doubt on too many fairytales about the re-animation of some mummies after some strange grave-robbers have dared to open king Tut's tomb, but nevertheless the mummy evolution musically provided through this new album is alive. Each exemplar of this new MONOKROM albums is a unique object, because each got packaged in a handcrafted plaster bandaged sleeve. Also the first 32 exemplars got packed in a heavy box-set and copy No. 23 comes out with a black cover. This strongly reminds on the early Ant-Zen days, when every release offered a special packaging or gimmick to keep on a huge originality and cult status to this label. Musically this new MONOKROM album is the purest noise assault someone can think of, very near to a complete anarchic climax, it will punish your home entertainment to the highest peaks. For sure the most destructive release of Ant-Zen in years, featuring walls of grinding uproar, abrasive frequencies and strange mutilated voices. This is a quite destroying demonstration that the musically onslaught is anything else than a fine day in a pyramid. The track "Wiz Ga-Wiz" is a bit more straighter oriented, or let's say the rhythmically structure is quite better recognizable behind the walls of harsh noise. This track got also used to publish a video clip entitled "The Return Of The Mummies Of Noise", which you can find at the end of this album. A must-have item for collectors and for anyone longing back some earlier Ant-Zen days.