Artist:
Mediavolo
Title:
Unaltered empire
Format:
CD
Label:
prikosnovenie
(@)
Distributor:
Audioglobe
Rated:
Mediavolo has been a French duo (Géraldine and Jac) since 2004 but started in 1999 as a band. Mediavolo returns now with 3rd album 'Unaltered Empire' out via the French label Prikosnovenie. Inspired by "The Metamorphosis" of Kafka, "Unaltered Empire" tells us the story of a woman who turns into a butterfly.Shortly we could synthesize their sound like Romantic-Wave, in the finest 4AD tradition. A lovely album for fans of dreamy wave and rock music, with angelic female vocals, nothing more nothing less.
Artist:
Louisa John-Krol
Title:
Djinn
Format:
CD
Label:
prikosnovenie
(@)
Distributor:
Audioglobe
Rated:
Australian singer-songwriter Louisa John-Krol is back with a new great album. Louisa John-Krol's music mixes Celtic folk, electronic sounds, new age atmospherics and progressive pop rock. Often she reminds to Loreena McKennitt and Kate Bush but her mix of new age and folk pop evoke the ghost of Danielle Dax, who remember this beauty and talented singer? Louisa John-Krol composes her music using every kind of instruments, mandolin, guitar, ocarina, gong, Tibetan chimes, ylophone, piano-tuba and many more......but her amazing sweet taste over all. Put this record in your buying list!
image not
available
anymore
After several reissues of old label's releases, EevoNext is producing a download only E.P. of an Amsterdam based producer and dj called Tim Wolff. SOSTENUTO (title inspired by the classical music term "adagio sostenuto" which refers to a sustained play) is a three minimal techno track E.P. (with a bonus Terrace remix of "Like clockwork") where Wolff is looking for an ideal mix of danceable mid tempos and night atmospheres. Including some unusual sounds like orchestral strings or trumpet, "Sostenuto", "Branch" and "Like clockwork" sound perfect for the lovers of labels of the likes of Great Stuff.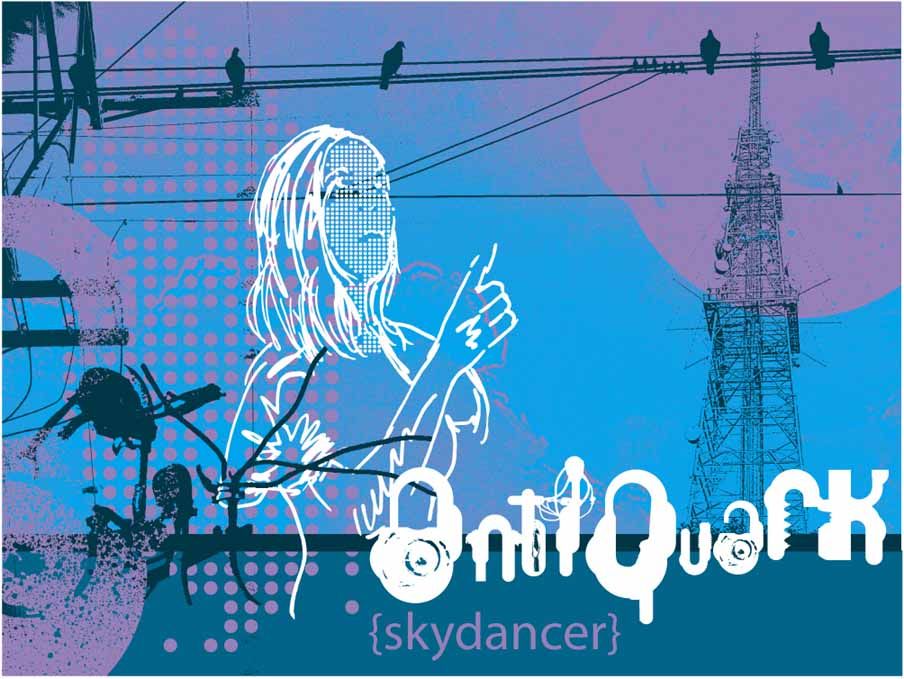 Artist:
ANTIQUARK
(@)
Title:
SKYDANCER
Format:
CD
Label:
HUNGRY EYE RECORDS
(@)
Distributor:
http://www.hungryeyerecords.com/
Rated:
SAN DIEGO I LOVE YOU! This CD is an homage to psychedelic party life, sounds and electronic carpets are really, the voice follows the rules of NEW VAWE, but the sound atmosphere wanna be huge like Pacific Ocean; great work, easy to listen and easy to love above all. For sure they will play a lot in club this project is made to dance over beach. It's the proof that a dance project has to be SIMPLE AND DEVOTED TO FUN first to be a complex structure of glitch and other electronic strange entities. The DUO behind the name: "She is the composer and producer of AntiQuark music. Sergio, the voice, joined the project in 2006. He formally studied singing at the University of Texas and garnered extensive experience performing with a variety of bands. He also worked as a radio-DJ and sound-engineer before moving to California." From the website of the LABEL, Hungry Eye rec., a small but intelligent USA label devoted to underground ideas and content with a god attitude for booking.
Artist:
WEST STATE
(@)
Title:
SIDEWAYS
Format:
CD
Label:
Shadowplay
(@)
Distributor:
SHADOW PLAY
Rated:
Another dark flower from RUSSIA, this coming to my desk thanks to SHADOWPLAY and I think that's a good gothic label, full of very interesting artists, another demonstration of the vitality odf the Russian world. West State project is smooth and full of strange fashion not easy to find out in projects that are very well focused in terms of art and ideas involved into. The synths here are showing a form of thought similar to some tracks of Future Sound of London but the arena in which West State move is very different and their result has the Smoothness of FSOL but not the unique energy of the London Group. West Side are walking towards a different state of Synth/Mind and electronics and I like it so much, in some ways they are in the path of 80ies electronic music produced in Europe and specially in French. I appreciate so much the graphic package of the audio cd, another time it's the proof of a project that has legs to move ahead. It's great music to write about the secret sides of our daily world.