Artist:
GOTTERDAMMERUNG
Title:
Of Whores And Culture
Format:
CD
Label:
Strobelight
(@)
Distributor:
Masterpiece Distribution
Rated:
OF WHORES AND CULTURE for Gotterdammerung is the album of the comeback, because since their 1996 E.P. "Purge" they released only the best of CD titled "Kin-Burst 9104" in 2004 (always for Strobelight). On this album the Dutch band surprise the lovers of classic goth/post punk sounds by gathering ten new songs (plus an hidden one) which are in balance between Bauhaus, Danse Society, Sex Gang Children, Sisters Of Mercy and Big Black (I know that Big Black ain't no goth or post punk, but the way Gotterdammerung use the drum machine, as well as its sounds, remember the first band of Steve Albini) thanks to their particular way of mixing styles. The opening track is a perfect example of this blend, because if the vocals can remember Peter Murphy, the semi Middle-Eastern melodies make you think about early European new wave bands and the final part of the song is arranged as the Danse Society version of "20000 light years from home". Gotterdammerung are good at the alternation of styles/arrangements and already on the second track "First-in-man" change the sound using a sequenced synth bass line creating a fresh song which finds its roots into the '80s post punk but with a modern arrangement. The trio is good at creating interesting tunes which gathers energy, melody and I appreciated their way of refreshing sounds I was used to listen to when I was a kid.
image not
available
anymore
Coming from Sweden, Phanatos started its activity in 1999 when a guy whose name remain a mystery decided to give form to his melancholic but still romantic side. During the years he composed nine tracks of what he call his first "Opus", releasing three CD-Rs. After this effort he started to work to OPUS 2. This brought him to the composition of eight new tracks which are in balance from goth metal melancholic ambience (because of the kind of composition and because for the drum sounds chosen) but with no use of guitar sounds and classical compositions. The tracks of OPUS 2 are based on piano, orchestrations and Phanatos vocals on four of them (with some help of Karin Ljunberg for the female vocal parts) and listening to them you have the sensation they have been created as a movie score (see also "Phantasm of reality" which sounds like a ""The girl in the mirror" reprise as well as "Goddess" of "Life elusive, death intrusive"). In our case, instead of a movie, we have a booklet titled "Tales of Love and Mystery" which is the poetic counterpart of OPUS 2. Epic, romantic but not much dark as I wished...
image not
available
anymore
Artist:
TALVEKOIDIK
Title:
Silent Reflections
Format:
CD
Label:
Brume Records
(@)
Distributor:
Audioglobe
Rated:
Talvekoidik is the side-project of Kai, who is a founding member of S.K.E.T. SILENT REFLECTIONS is his first release as Talvekoidik (which is an Estonian word meaning a foggy, winter like atmosphere) and there Kai offerers to the lovers of the Ant Zen / Hands Productions sound a new mixture made of industrial, orchestral and break-beat intuitions. Influenced by Gridlock and Beefcake as well as Scandinavian, Baltic, Arabic and African musical traditions, Talvekoidik is capable of creating a convincing blend of industrial cinematic music. If we want to analyze his musical compositions, we can focus on three main elements: the rhythmic complex structure which is based on percussive sounds (not only drums) , the orchestrations (strings or piano are present on each track and they are the main thing that help raising the phatos) and the overall dark, almost melancholic, atmosphere. I really liked the first five tracks ("Eismeer" has great moments where industrial break-beat is well integrated with epic orchestral sounds) and generally all the tracks which have a good mixture of these elements. "Goodbye of the certainty" is one of the few ones that didn't convince me, because it was too melancholic and relaxed and paragoned to the epic mayhem of the following one (the main title) it sounds a little weak. With the ten original titles you can also find three remixes ("Eismeer" by Heimstatt Yipotash and 16pad Noiseterrorist and "Atlas" by Fragment King) which are nice but don't succeed into creating the same effect but if I have to tell which one I appreciated most, I'd go for the "Synthetic coldness" mix of "Eismeer" by 16pad Noiseterrorist. I pick up this one because it is true to the original version but it sounds like an analog lysergic version.
image not
available
anymore
Artist:
STEVE MOORE
Title:
The henge
Format:
CD
Label:
Relapse Records
(@)
Distributor:
Masterpiece Distribution
Rated:
BUY from
As a half of the duo named Zombi, Steve Moore already had a certain background talking about movie soundtracks (he did the scores to "Simulations", "Home Sick" and "Murder-Set-Pieces" with Zombi and "Horror Business" and "The Redsin Tower" as solo) or tracks written with a certain cinematic atmosphere/approach. THE HEDGE is his first release as a solo project and here you can find five tracks ("Introduction", "Infinite resignation", "The henge/Ascension", "Dead tide" and "Cepheid") where Steve mixes the atmospheres of Italian and American sci-fi and horror B-movies (see movies of directors such like Lucio Fulci, Umberto Lenzi, Larry Cohen, etc) of the 70's and 80's. He took as reference John Carpenter (the director and the score writer of "Halloween"), Goblin (the Italian band who scored "Profondo rosso", "La via della droga", "Suspiria", etc). I enjoyed his style which takes also classic atmospheres a la Vangelis, Tangerine Dream and Popul Vuh and mix them with ambient/drone solutions, dub (see the drums on "Infinite resignation") and a little bit of doom (see the guitars and the drums on the final part of "The henge/Acension"). Steve switches atmospheres passing from ambient moments where keyboards and guitars create a thrilling ambience to soaring ones where synths drones are shaken by guitar thunders. Your movie for the ears is ready!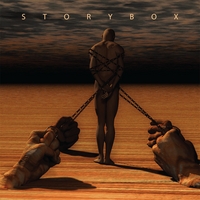 Artist:
STORYBOX
(@)
Title:
No Dancing Allowed
Format:
CD
Label:
Section 44
(@)
Rated:
BUY from
or BUY from
Storybox is the personal project of Agent D (a.k.a. Dave Montana). Previously he played in different bands and experienced different musical genres. After moving through different states of the U.S. Dave arrived in Austin, Tx and there decided to start working at Storybox. When Dave asked me if I was interested into reviewing his album I accepted because I like electronic music and synthpop but I accepted also because since from its cover NO DANCING ALLOWED shows its multifaceted essence. A man tied to chains kept by hands raising from the ground it's a particular image for a synthpop record. Also reading the lyrics of the album I noticed that here Dave or Agent D. shows himself naked in front of his audience, talking about his joys and his fears. From his website you can read that "Ashes in the air" born from a chat with a friend who found out his ex was Pro Nazi, "Dream ghosts" from the nightmares that he has almost daily, "Therapy" about a child who's been abused by an uncle while his mom was abused by his dad. Musically we have poppy songs like "Sun", "Gone with the wind" as well as dark electro ballads or dark tunes like "Dream ghosts", "Ardor", "Therapy" or the opening "No dancing allowed". There's also a cover of Beatles' "Thigs we said today" which originally was recorded as "A hard day's night" B side. The production reflects the nature of the work: genuine and without frills.