Artist:
COLD PHOENIX
Title:
Your Eyes Are My Eyes
Format:
MCD (Mini CD)
Label:
Airplane
Distributor:
Mannequin Mailorder
Rated:
Born in Bologna, Italy, Cold Phoenix story didn't last too long. Formed by four 19 years old kids, the band recorded only a 12" EP, did few gigs and did a participation on a national television show just to disappear two years after. This MCD produced by Airplane and distributed exclusively by Mannequin Mailorder gathers the four tracks of the MLP YOUR EYES ARE MY EYES and offers to the fans of darkwave/post punk music two bonus songs titled "Stop just for a moment" and "The greatness of love". The opening "Stonehenge" is a classic dark wave tune with a bit of melancholy while the following "Sensation" adds some mystery to the classic post punk formula. "La fleur du destin" is the tune I prefer most because the synth and the drum machine create a great atmosphere that make of this tune a must for the minimal wave lovers. With "Binding me to dream" we're back on the dark wave ground with a mid tempo with piano and bass guitar and guitar gently duetting. "Stop just for a moment" mix tribal drums with synth lines bass guitar and clean guitar riffs. "The greatness of love" reminded me a little The Cure but if you think that all the tracks have been recorded in 1985 this influence is almost inevitable. The phoenix risen from its ashes but mind you, this edition is limited to only 500 copies. Check all the songs on the band's myspace page.
image not
available
anymore
Well, a premise: the god of comics Neil Gaiman and Dave Mckean carved one of their milestone with the graphic novel BLACK ORCHID (Dc comics) the strange tales of an half orchid woman, a novel of rare beauty and also deepness, influenced by a sort of ecologic extremism. This album is the best sound track to read out that masterpiece. Another point to put a light on this very peculiar project is the name of the label, PROSERPINA rec., ruled by the same artist, Proserpina is the goddess of Springtime but in the same time is the wife of PLUTO, the god of hell. These two simple point of the culture scape of these two incredible artists, Mihaela Repina and Paul Bradbury, can easily define to us their art: folk music singed looking a dark but quiet forest. Helped with a full orchestration of great artist Jo Quail-Son Ver (Cello), Matt Kelly (Semble) on violin and Matt Tweed(Spacegoats) on Saami Shaman's drum, Pinknruby offers to us a trip into natural sounds during a sunset inside a magical wood and that's real not a fantasy tale. The recording work is perfect and all the shades coming from the otherworldly voice of Mihaela are able to bring us far away.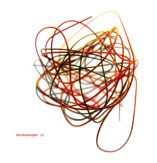 Artist:
VV.AA.
(@)
Title:
FABRIKSAMPLER v2
Format:
CDS (CD Single)
Label:
Pharmafabrik
(@)
Distributor:
Pharmafabrik
Rated:
On the web site of the label there is only this description: "New compilation album which features exclusive new tracks from Henrik Nordvargr Björkk (Sweden), Lull (UK), WoO (Serbia), Go Tsushima (Japan), Left Eye Dominant (Italy), Alexei Borisov (Russia), Tania Stene (Norway), Pure H (Slovenia), Sunao Inami (Japan), Dodecahedragraph (Slovenia), The Cherry Blues Project (Argentina) and Final (UK). Full album of ambient, drones, noise..." But there is far more in this jewel, there is the work of the pioneers of the ISOLATIONISM kind of music that all the world heard in the Sci Fi masterpiece "Planet of the Apes". This album is amazing, astounding and literally perfect, only its sounds are able to define the power of it to suggest the huge and immense abyss of the collective subconscious linked to music. Drone Music and ambient have this "secret" power, to be the mantra of the modern era, where the quiet noise of the computer and the hum of the neon lamp are the new composers. The artists involved in the album are perfectly tuned and their work are a continuous surprise for the ears. It's easy to focus our attention on noise guitarism mixed with ambient and glitch, ambient recording and pure experimentation, there is nothing of usual and in the same time it's not an aggressive work, that's nothing to do with noise music or harsh noise. Every tracks is a probe in a different universe, the artists selected rule very different worlds, anyway my favorite track is the 7th a distant drone, similar to a stormy sea of fluorescent lights where a strange entity is calling out; it was recorded in a catacomb. This album is a must to have and Pharmafabrik defined the secret island where these strange sounds born and are transmitted.

Artist:
MASSIV IN MENSCH
(@)
Title:
Meanwhile back in jungle
Format:
CD
Label:
Caustic Records
(@)
Distributor:
Masterpiece Distribution
Rated:
I gotta say thank you to MASTERPICE distribution to bring to me this f....... masterpiece of EBM, there are enough star to rate this piece of PURE BASTARD EBM, ready to define a new meaning for the word "perfection". Only Angels vs. Animals by Front 242 given to me the same vibes and energy. MIM creates a wall of pure EMB sounds and they are ready to bring down the gods of heaven and hell to dance this. MIM has the culture, the energy and the force to blast EMB in this final millennium obviously destroying every PA system around EU. It's hard to point at one track: all of them are 5 star. The Term DARK RAVE is the only one possible to define the area of this incredible band that combined punk, techno, rave and even EU dance, not to mention Rammstein-like pressure! Daniel Logemann (vocals, programming, lyrics) and Mirco Osterthun co-programming, backing vocals) are following their path among chaos in the dudest way possible, his work fits perfectly the needs of the EBM new era.

Artist:
VV.AA.
(@)
Title:
My dear freaks Vol II
Format:
CD
Label:
Caustic Records
(@)
Distributor:
Masterpiece Distribution
Rated:
Thinking about our present days the NEOFOLK arts and minds is something we gotta deal with. These are strange days and these artists involved in this compilation are saying to us, remembering the sounds of the tradition they are playing the absurd world we live. Their art is made strictly to tell us the shadow of the past and the main question: the past is not something dead, but their consequences will strike another time above all in the worlds of culture. The Compilation is perfect and it is the second volume of a project really well designed and connected with the best "milieu" of the post industrial arena. The track 4th by SILENT LOVE OF DEATH is a real trauma, and creates a whole dimension of mystery and horror. I gotta confess that in my industry, motion picture, is not easy to convince producers about the value of this kind of art to use it in horror sound tracks. Kutna Hora's track is a masterpiece (8), LAS GUETA la RUNA follows a lost dimension and they reach it straight like a V2. This compilation is must to have to focus this "grey" area of NEO FOLK especially for people that aren't so comfortable with these sounds. The Label is making a great work and another time it reveals the great vibes present in Spain about this kind of imaginary.