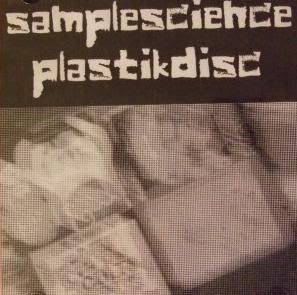 Artist:
Samplescience
(@)
Title:
Plastikdisc
Format:
CD
Label:
Brown Coffee Records
(@)
Rated:
Samplescience the electronica/near-IDM project of Pierre Parenteau, who hails from Canada. Plastikdisc is the first release from this artist since 2002, and is released by artist-owned Brown Coffee Records. This CD-r contains 15 tracks, which range between one and five minutes of length. The songs compiled on Plastikdisc are a collection of works composed between the years 2006 and 2008.

Samplescience's Plastikdisc is a very unassuming release. The liner notes work as a disclaimer, explaining that this album is built for the purpose of simple, easy listening music. The liner notes did my job for me. All of the tracks compiled here are comfortable and unchallenging, and invoke a certain sense of dreaminess.

Plastikdisc reminds me of the early 90's Artificial Intelligence movement by Warp Records. This is very much in the same vein as early Autechre and B12. The tracks are all enjoyable, and the only major complaint I have is that I wish Samplescience would have fostered more commitment. Parenteau has created a legitimately interesting release; he builds worlds that cause me to slip into a comfortable daze, but then ends most of the worlds within three minutes. I'd like to hear more.

Artist:
SUN PLEXUS 2
Title:
En souvenir de l'horreur
Format:
CD
Label:
Ronda
Rated:
A new full-length from this Rumanian-relocated-in-France trio, who's been active since 1993 without the "2" in their monicker. Take a look at their promo pictures and you'll start noticing something ugly, totally confirmed by their gloomy, neurotic "rock". Sun Plexus 2 seem to have absorbed 30 years of expressionist, dischordant, fucked-up music which could still be remotely connected with the corpse of rock'n'roll: early Sonic Youth, Einstürzende Neubauten, Jesus Lizard, Oxbow, Chrome, Mars, Contortions... all came to mind while listening, which doesn't imply that Sun Plexus 2 are mere copycats. My picks would be "Pussy purée", with its robotic moves and a cascade of jangly guitars, and the remarkable last three tracks ("Die pipipuppe", "A force de suce" and especially "Planète fiston"), which increase the feel of doomed desperation and mental meltdown of the album, with paranoid electronics and tortured vocal rants closer to a black metal style than to anything remotely "singalong". The psychic fogs of these final minutes are worth the whole ride.
Artist:
B-Machina
Title:
DNA
Format:
Tape
Label:
Smell the Stench
(@)
Distributor:
Skull Fucking Metal
Rated:
B-Machina and Kenji Siratori's DNA is the first collaboration by these two well-known underground ambient noise musicians. B-Machina also operates as Bone Machine and hails from Austria. Kenji Siratori is also a popular cyber punk fiction writer and hails from Japan. This 74 minute cassette release is not only a collaboration of artists, but a collaboration of labels: Smell the Stench Records of Australia and Skull Fucking Metal of Canada. This release is composed of six tracks, three on each side of the cassette. Each track is approximately 15 minutes in length.

The image DNA places in my mind's eye is of warped transmissions from a dying planet. Indiscernible voices apathetically preach of the end of times as the world around them slowly fails and fades into another chapter of infinite history. The first track, Anti Vital, while in the same theme as the rest of the album, stands very much alone. It's theme is very militant and oppressive, but is comprised of off-kilter rhythmic samples. This track is a strange offset to the rest of this release, but is very likable and I will return to it often.

As a whole, this release rides the line between a passive sense of loss and hopelessness, a collection of uncaring eulogies for the dead and dying. Every track is filled with ongoing drones and voice samples. I am somewhat familiar with the works of both B-Machina and Kenji Siratori. I could not honestly say I can tell which artist performed which role on this release. This is a very strong example of the abilities of each artist, and speaks well for the collaborative effort between the artists and labels.

Artist:
CHOP SHOP
Title:
Oxide
Format:
CD
Label:
23five
Rated:
Though active since 1987, US noisemaker Scott Konzelmann is not really one of the most prolific artists around, so this "Oxide" cd was hailed as a sort of event. If you're familiar with past Chop Shop releases, not much has changed - crude sections of feedback noise/drones aired through modified loudspeakers, here battling with the defects of damaged tapes (expect some extra hiss and abrupt overlapping). It's grey, raw static music, whose gritty textures tend to acquire a sort of atmospheric feel. If you can imagine a more physical and unrefined version of López's "ambient" untitled works, you'll get close to the listening experience of "Oxide". On the other hand, it comes as no surprise that these static sound masses have been mentioned as a fundamental influence by the master of today's wall-noise, Richard Ramirez/Werewolf Jerusalem. Killer packaging with embossed cardboard jacket and an excellent layout throughout.
Artist:
Buddhist on Fire
Title:
When you Smell the Stench of Dead Disciples you too will realize that all things are impermanent
Format:
CD
Label:
Smell the Stench
(@)
Rated:
Buddhist on Fire is the unceremonious noise project of Robert LaBarge, hailing from Mesa, Arizona. This release, titled, "When You Smell the Stench of Dead Disciples You too will Realize that All Things are Impermanent"which will be shortened to Dead Disciples for the purposes of this reviewis a collection of three tracks, approximately 20 minutes in length each. Because of the uniqueness of each track I will describe them separately.

"Zombies of Dharmsala" conjures images of an aged black and white video documentary of machinery grinding relentlessly away; All of the gears and hinges are rusted and poorly maintained. "Open Sores" is reminiscent of a storm cloud forming slowly in a dark sky, lightening rolling through the clouds and thunder resonating through the dried and barren lands below. "Heaps of Bodies" is what I would imagine having one's head stuck in a blender full of rocksin a wind tunnelwould sound like.

Buddhist on Fire's Dead Disciples is very much an atmospheric noise release, with the final track touching on the harsher side of noise. The basic atmosphere of each track carries from start to finish; extra layers are introduced to build, and then carelessly fall away. This release is very raw in form, but the sound is solid and interesting, and well worth the listen.