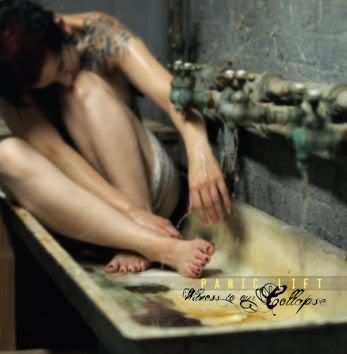 Artist:
Panic Lift
Title:
Witness to Our Collapse
Format:
CD
Label:
Hive Records
(@)
Distributor:
Metropolis Records
Rated:
Panic Lift's sophomore release "Witness to Our Collapse" is almost the monumental collection of songs that its accompanying press kit claims. The high points of the album are many, as all of the songs are very well crafted, textured, and melodic, which has increasingly become a rarity in the EBM genre. In fact, Panic Lift's strength lies in its ability to thoughtfully texture arpeggiated synth lines, melodic piano accompaniments, and orchestral ambience. That being said, all of these positive qualities are undermined by their use of vocal distortion which reduces the lyrics to unintelligible noise. What is even more annoying is that the distorted vocals overpower most of the mixes so that it dominates the songs. As a result, Panic Lift takes what could have been a great album and reduces it to triteness.
image not
available
anymore
Artist:
CALLE DELLA MORTE
Title:
Gente Di Malaffare
Format:
2 x CD (double CD)
Label:
Hau Ruck! SPQR
(@)
Rated:
Released on 2005 GENTE DI MALAFFARE has been the only Calle Della Morte full length and after the MCD titled "A Dio", Jonny B (Inner Glory) and Vinz I.H.S.V. (former session man with Ain Soph, Inner Glory, Der Feuerkreiner, Macelleria Mobile di Mezzaonotte) decided to call it quits. The duo explored the neo-folk sound with personality without caring of taking part to any particular scene. The graphics of the CD are really explicative and are deeply linked to the Calle Della Morte concept. As the band wrote on their biography: "The name Calle Della Morte is not fictional, the Calle in question really does exist (you may look for it near S.Marco) and is linked to sad events happened under the Serenissima Republic. During the Venetian Republic, Calle Della Morte was a small L shaped street which was walled at one end. In this street the people not aligned to the Republic would frequently disappear, those who could not afford to Go under trial or political enemies or even spies. It is not by chance that we took inspiration from an event ("Gente Di Malaffare") which really took place, where two poor men disappear after being mistaken for to spies from Genoa. Are stories are there, there is nothing made up. Venice is under the eyes of everyone, we therefore invite you to live it through our songs". The songs are in balance from pub ballads, rock ridings and neo-classical folk ballads (see the guitar/strings duets on the beautiful "Venezia"). Calle Della Morte don't look for musical perfection and this is making sound their music theatrical and true. This new reissue along with the original CD has a bonus CD-r titled "Come te go fato te disfo" which gathers nine unreleased (live and studio recordings) or rare tracks. It opens with the beautiful "Song of Margarete" (on this one we have movie samples that create a sad atmosphere and then the band sung a sort of militaristic English sung epitaph) just to follow with a guitar/harmonium touchy ballad titled "Le nevi eterne". Its tracklist is: "Song of Margarete", "Nevi eterne", "Io e te", "Intermezzo", "Bambolina (demo version)", "Venezia (mix)", "Nessuna Remissione (live in "La Notte Hauruck!")", "Labbra Rosso Sangue (Live in "La Notte Hauruck!")", "Senza Fare Rumore (Der Feuerkreiner Remix)". If you missed the first print, now you have the chance to purchase a very special edition...

Artist:
Luasa Raelon
(@)
Title:
house of flesh
Format:
CD
Label:
Snip Snip
(@)
Rated:
Luasa Raelon is back and second great work I happen to review, Asia Nova are great, but in times when the world is suffering of an overabundance of dark-ambient, industrial-bands with no class and with no taste for a decent sound, David Reed shows his releases can fly ten feet higher then the majority of the shit that came out after noise, industrial music and dark ambient have become fashionable again. Reed will make your nightmares come true, or at least his own bad dreams have become really vivid in the music he plays, if the idea is to scare the shit out of the listeners be sure this release has hit the target. When I write his sound choice is great I really mean it: no third rate dark-ambiental keyboard sound, no bad sci-fi/plastic effect, no bad drones a la "hey, I'm a post-black metal wonnabe that discovered there's more than Burzum after I've bought my first Cold Meat Industry cd", no "O'Malley is my hero and my hood is up even if may look like Ray Cappo during the youth crew days". Can you judge a book by the cover? Why not?! It's up to the book (and to the cover obviously) and if you ask me you don't have to be vegetarian to find disgust while watching these three layers of flesh/meat photographed on the front cover. "The House of flesh" as the title says has its pertinent front cover and for those who remember the layout of Reed previous work we have again those early 900 dressing like characters with disquieting animals' heads that at this point have become part of the world of Luasa Raelon. Obsessive song construction but really far from being boring, good production and an ambient-musician skill that many lacks in the genre, if you think that dark ambient and related have nothing to say, Reed is here to show you've probably explored the wrong abyss.
image not
available
anymore
Artist:
Igor Ogogo
Title:
Linden
Format:
CD
Label:
III records
Rated:
"Linden" is an interesting cd that shows that there're still some interesting labels like III records that beside being mainly focused on jazz the way we know it, put out some experimental material crossing the boundaries of the genre. Sure, Igor Ogogo guitarism in quite far from jazz to say it all but in some ways he can be compared to artists such as Bill Laswell who despite their background crossed their personal Rubicon by experimenting with sound, metrics and ideas. While having compared Ogogo to Laswell to be honest his extravagant work for guitar and electronics (and most of the times the sound of the guitar itself is heavily filtered with pedals, laptop or who knows what else), reminded me more of some experimental work by Marc Ribot (I'm referring to the "book of heads" era) and mighty Elliott Sharp. From this two names I've written you've probably understood we're dealing with electric guitar here, but while his playing is really dynamic it's still really far from sounding rock. Sure, the electric guitar and the fact he most of the times works with weird melodies may bring forth the shadow of Derek Bailey, but I'd say this' much close to some work to another famous name like Fred Frith, above all when he's not trying to sound classical, contemporary or when he's not working on soundtracks. It's an abstract but yet melodic effort, and It goes really well with the images I assume that have been painted by Ogogo himself. The most of the tracks are quite short and have an average length of tree minutes circa: it's funny cause this one of the many things that tent me to say this' cd in a way is a "collection of small painting".
Almost three years after the first Basserk CD compilation, we are ready to dig another one. Presenting bands coming from the label's roster as well as other new acts, SOME TUNES II brings to the attention of electronic dance/electro/punk music lovers sixteen new exciting tracks. Mixing the rough bass distortions of grime, the atmospheres of dub and the rhythms of dance we have the opening "Steeve anthem" by Lazy Late Kidz, "Wuble" by Gtronic, "Purple Cactus" by Nobody Beats the Drum, "Skampa" by Fantastadon and "Don't front" by $jammie The Money. Punk electro with a bit of funk is represented by Capachoca's "Follow me" (they recalled me LCD Sound System). The remaining artists are proud members of the electro club: we can find under this genre many currents that goes from the funk electro of The Moi Non Plus remixed by 3-1, the extravagant electro mixed with break beat of Nobody Beats The Drum, the pure electro dancey mysterious "Predator re-edit" by Quick & Brite, the punky distortions of Three Cheers for Dirty feat. Blondin, the dance samples of Transformer di Roboter remixed by Zingone (if you like Daft Punk check this out), the retro electro sounds of Plemo and Rampue, the beautiful "Caramel" by MilkMoneyMaffia (already released on their download only EP I reviewed months ago), the minimal funk lo-fi electro pop of Monkey Maer, the horror punk electro of Vince the Prince's "Durty" and the closing "Lowmowerman" by Bronstibock. Groovy!