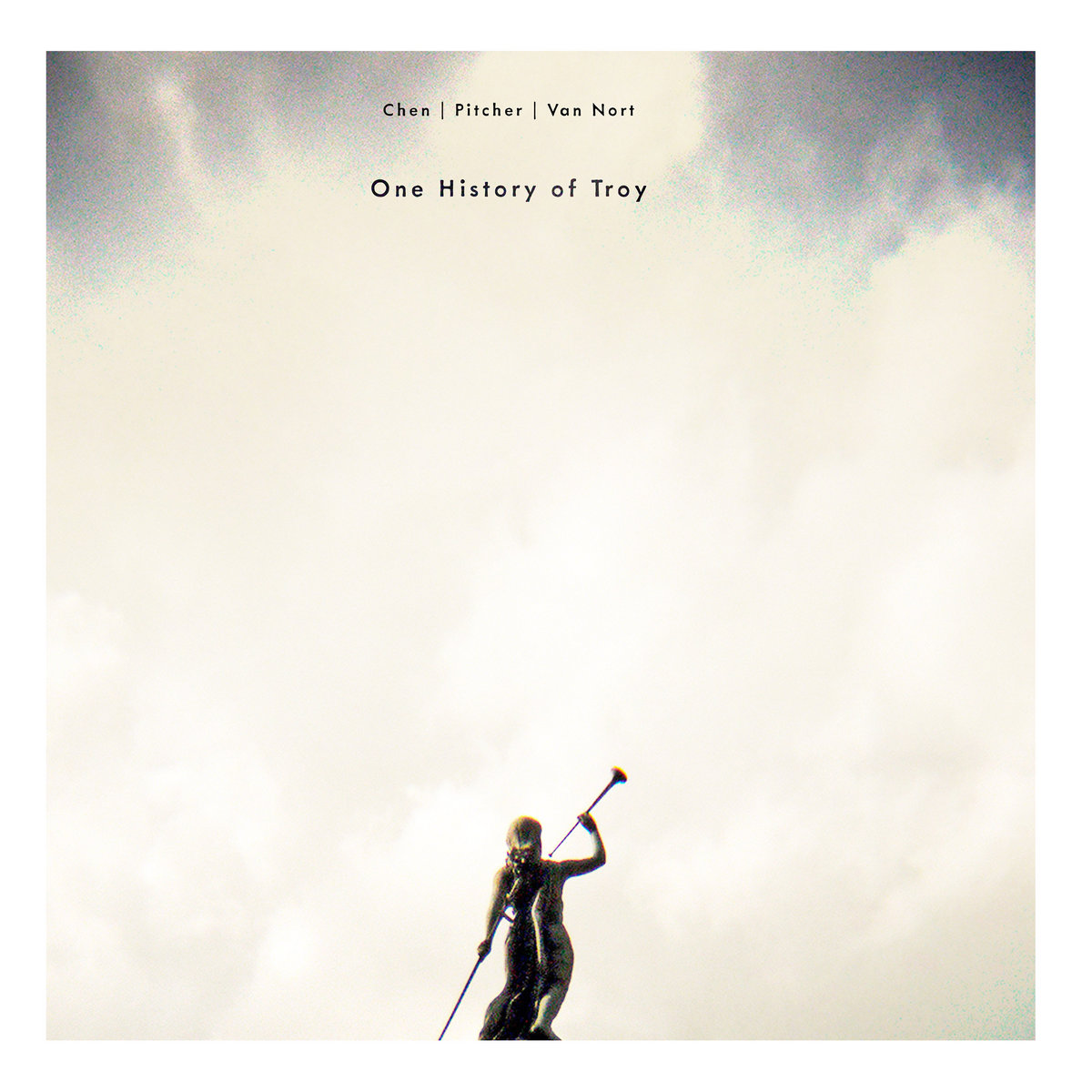 Artist:
Chen I Pitcher I Van Nort
(@)
Title:
One History of Troy
Format:
LP
Label:
Attenuation Circuit
(@)
Rated:
This release is based on a compromise between composition and improvisation made by Jonathan Chen on violin and viola, Jefferson Pitcher on guitar, clarinet and field recordings and Doug Van Nort on GREIS which is a custom patch made in Max/MSP to process live sound input. This kind of open form i.e., a written composition with large margins for improvisation, could be a little hard to follow but lets to the performers the musical space to disorient the listener.
The first track "Sailing I Open Water I Land" is obtained by a rhythmic first part, a second part based mostly on field recordings and a quiet third part based on guitar notes. Strings are the main element of "Moving I Stone" with both guitar and violin while the electronic element is of tie and underline the parts. The voices of the field recordings that open "Residue I European Bells" introduces droning elements which are juxtaposed in a meditative way to let the listener enjoy the subtle tone's nuance. "The Hudson" oscillates between quiet parts and more lyrical ones. "Northern White Pine" uses silence to focus on various small noises generated by the instruments. "Chefchaouen Province I American Town" closes this release with a sort of long crescendo where all players has his moment of focus until they begin to juxtapose their line to close this release fading each other.
A relatively short but dense release based on a subtle interplay which requires a certain listener's commitment to be fully appreciated. Fans of EAI will enjoy this release but the others should be aware of its content.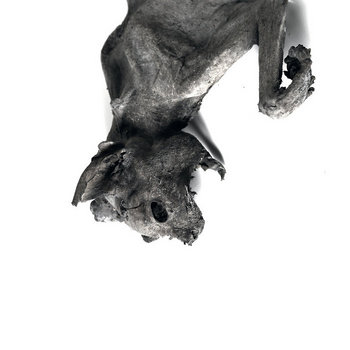 Artist:
Nordvargr
(@)
Title:
Metempsychosis
Format:
CD
Label:
Cyclic Law
(@)
Rated:
This new release by this artist known primary for his role in MZ.412 is inspired, according to the liner notes, from the the transmigration of the soul intended as a choice rather than a judgement. This marks a movement from his now canonical form of industrial ambient to a more song oriented form with the result of being one of his most accessible release yet.
After the atmospheric introduction of "Into The Cycle Of All And Nothing", the vocals of "Metempsychosis" set immediately the framework of this release that is the song form as, even in the pseudo growl mode, the lyrics are almost discernible; while this track is grave and based on a drone, "First East" is martial and aggressive with his rhythmic cage. "At The Crossroads Of Immortality" is a remind of his well known ability to create dark soundscapes while "Invocation For A Malicious Spirit" is a sonic depiction of a ritual. "Salve Teragmon" is dancey and close to certain EBM, even in his noisy aggressiveness, while "Manifestation" is evocative with its sound immersed in silence. While "Sweet Death Triumphant" is based on menacing declarative lyrics upon a noisy background based on loops, "Consolamentum" is quiet and cinematic. "Livet Tar Slut" closes this release with a pseudo crescendo based on vocals and power electronics.
It's probably unfair to expect something new from someone who has forged one of the most recognizable sound of the '90s and has influenced an entire scene. It could be considered a fan service but it's so well crafted...
Artist: Begin
Title: Love International Recordings 001
Format: 12" vinyl + Download
Label: Love International Recordings

The first EP released on Croatia-based Love International Recordings is intended as an expression of the flavours of the Love International Festival, from which the label has been born. So across four five-minute-long mellow mostly-instrumental balearic house tracks, Begin offers up an advert for what feels like a very relaxed, sun-drenched environment, where the gentle slightly Spanish-sounding guitar on "Wood Trees" and the happy sampled melodic chanting of "Day Pulse" meander over gentle, super-soft rhythms and steady organic bass playing.

The beatless, house-piano laden "Garden Interlude" is an excellent DJ tool before the definite highlight "Into The Fun", which is an absolutely infectious, slightly Quincy Jones-ish vibe with Rhodes keys and shades of reggae that can't help but make you feel good.

James Holdroyd (Begin) has a very broad musical CV spanning techno and time as the Chemical Brothers' tour DJ, but this is a very focussed and specific release that channels a specific type of Ibiza-esque mellowness with respect and precision.

The new label says it will be offering a diverse range of styles on future releases, but in the meantime, stocking up on Balearic? Check this out.
Artist:
Venetian Snares x Daniel Lanois
Title:
Venetian Snares x Daniel Lanois
Format:
12" vinyl + CD
Label:
Timesig / Planet Mu
Neither Venetian Snares nor Daniel Lanois should need any introduction, and this first full (albeit short) album collaboration is exactly what you might think the sum of its parts would form. Bringing Lanois' atmospheres and slow reverberant guitar work alongside Aaron Funk's hard-and-fast unpredictable rhythms, frequency leaps and sample twisting creates something that manages to be both lush and raw at the same time.

Longest track "United P92" is a highlight- a deep and mesmerising affair with a melodic, Eno-like ambient environment seemingly confining and subduing the glitch-laden beats, which gradually begin to grow in confidence and control in a way that technically ought to be described as aggressive yet manages to actually sound genuinely bright and enthusiastic- might Mr. Snares be mellowing with age?- before proceedings get sparser, with sounds imitating distant explosions and the sense that the sonic honeymoon may be over.

Shorter pieces like "Bernard Revisit P81" sometimes have something of a sparser, old-school electronic experimental flavour, all random synth notes, sinister sci-fi pads and harsh hit noises. I might dare to suggest that "Best P54", with its hardcore acid elements and deeply melancholic guitar atmos, sounds like two tracks from radically different artists that just happen to be playing at the same time, and yet despite that, it still manages to sound brilliant.

People who know exactly what to expect here will be far from disappointed. It's a powerful and effective collaboration that brings out the best of both worlds.
Artist: Autarkic
Title: I Love You, Go Away (Remixes)
Format: 12" vinyl + Download
Label: Disco Halal

Simple Symmetry and Red Axes between them remix three tracks off Autarkic's full-length album "I Love You, Go Away", which I haven't heard, so I'm commenting only on this 12" and digital release as a finished product rather than how it compares to the source material. And this product is a collection of moderate-tempo house, with gentle stepping kicks and claps, light-touch single-note basslines and some understated, post-electroclash mostly-spoken vocal snippets.

Simple Symmetry's take on "Bongos & Basslines" will appeal to Hot Chip fans. "Wipe The Shame" takes things into marginally more synthwave territory with some lo-fi bleep patterns and a decidedly Miss Kittin-esque vocal mantra.

The quirky use of firework effects as a background noise on "Gibberish Love Song" is the most distinctive part in what is otherwise a very unassuming collection of stepping mid-set house. Polished and very pleasant, reliable but not likely to compete for the very top of your sets and playlists.