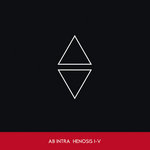 Artist:
Ab Intra
Title:
Henosis I-V
Format:
CD
Label:
Zoharum
(@)
Distributor:
Alchembria
Rated:
The title of this release is the Greek term for unity and could be even considered as a single work in five parts where there's a single transforming process per track using parameters as timbre, intensity and frequency to show e.g., how a loop can evolve in a drone or individual lines can form a coherent musical whole.
"Henosis I" opens quietly this release and evolves quietly as a pulsating loop where small modifications on every iteration generate a sense of equilibrium. The thick masses of sound of "Henosis II" surround the listener and are used to cover the small details unfolding during the evolution of this track while "Henosis III" use subtler layers of sound and a more clear uses of noises. "Henosis IV" is a more focused effort on the same structure of "Henosis II" and "Henosis V" juxtaposes a drone and a loop with a sense of equilibrium just a step away to stillness.
This album is a release so focused on structure and equilibrium to be a little too difficult to listeners which are not fans of minimal music in his broadest sense but the others will enjoy the formal qualities of this release.
Scottish techno label got out of my radar for a long time, due to the plenty of releases for new and old labels and artists that regularly saturates the grid, but I'm glad it traces a route by the new album (their sixth one) by Slam, the well-known duo consisting of Stuart McMillan and Orde Meikle, who founded the label as an offshoot of their intense activity as techno party organizers. Less "vaporous" but likewise obscure than their previous album "Reverse Proceed", "Machine Cut Noise" comes with the declaration about the primary source of inspiration by their forgers, who said it's going to explore "the everyday workings of what makes us human" and got mostly composed in and inspired by hotspots of mass transportation and transit such as airports, train stations, and hotels they visited during their frequent globetrotting. The "human" element got supposedly mirrored by moments where the sound seems to render the humanely (entirely justified) grave concern and rising fear of being just a gear of a large and seemingly chaotic mechanism. The rising digital brass and the piercing whisper over the first storm of mechanical beats in "Viginti Quinque", the ghostly kind of choirs grasped in the emptiness dug by square-shaped sequences and whirling electronic punches of "Ecclesiastic", the likewise ghostly entity (sounding like a dilution of the sound that precedes an announcement about some departing train in a station) smoothing the relentless step of "Evite", the sonic particles slowly flowing in the chaotic order of the rhythmical pattern in "Obstacle" are just some samples of such a bipolarity. This output is nothing revolutionary against some of their previous releases, but it could be considered a sort of maintenance task on the already stable tunnel joining Berlin and Detroit techno sonorities.
This pan-European collaboration, recorded live, has an almost traditional avantgarde feel to it, if that's not a contradiction in terms. It follows a mould of loose, improvised and wilfully unpredictable experimental jazz and classical music that has existed for decades, and manages to be both classical and jazz in parts. Noetinger's electronics bring additional modern digital surprises, but these are twists of lemon in an otherwise fairly familiar cup of tea.

After a spiky first five minutes, "Plastic Concrete" settles into suspended drones reminiscent of György Ligeti, with the cello and brass performances being pushed to their natural limits. The electronics return to the fore towards the end, with more use of what sounds like radio signals and everyday foley blended into something unrecognisable.

Recorded over a year apart, the Apartment House ensemble is a different line-up between the two pieces, with only the cellist in common. On the second and longer piece "Accumulation", the brass and bass have gone, and the extra violins and a viola added give things a more familiar avantgarde-string-quartet-like sound. The super-slow glissandos and fluctuations and the wavering between chord and discord are hypnotic, treading a fine line between mesmeric and uncomfortable. The abrupt stabby staccatos make a brief return halfway through, before a staggered extended outro of arpeggios gradually descending in energy to an unexpectedly soporific close.

This is an unusual and enjoyable collection of two very cultured, semi-improvised pieces of music that's "avant-garde" and "post-modern", but in ways that resurface the old naive question, is it truly avant-garde if people have been doing this for decades?
Artist:
Radio Amore
Title:
Innovations For Electric Strings
Format:
CD + Download
Label:
Filigran
There are many parts of Adnan Duric-Steinmann's debut "Innovations For Electric Strings" that remind me strongly of Mike Oldfield's attempts to sound trendy and relevant. It might seem an unexpected comparison for this Filigran release but hear me out. It's certainly not a criticism.

Here's a clearly accomplished virtuoso guitarist with a penchant for moody and progressive instrumental noodling, setting their work onto a bed of electronica which is listenable but a bit uneventful. Occasionally he'll switch to piano to show off his multi-instrumental credentials, but the guitar work is where the real feeling lies. The EDM-lite bed is well observed but just a touch cliché and somehow you can tell that it's not where the performance's real passion lies. Tracks like "Libero" are examples of this, as is "No Pasaran" which sadly is melodic house by numbers.

To say that's true throughout would be a big disservice though, as some tracks like "Noise Is For Heroes" is a tight bit of faintly glitchy production. "Bacchus And Me" is a form of electro-jazz with a lovely tone to it, although it ends flatly. "Neon Desperado" has an unusual, flamenco-meets-cowboy-movie-inside-a-synthesizer flavour to it that somehow really works.

The blend of organic live instruments with electronica ("at the precipice where the human meets the machine" as the press release puts it) is sometimes a very effective concoction, and some tracks ooze polish and class. A couple of less convincing, less convicted numbers let the side down just slightly.
"Loss Molecules" is a dark mini-album that merges shoegaze with drone, and attracts a lot of genre labels that begin with 'post-'. It's guitar and effects-heavy, with meandering and often indistinguishable vocals throughout most of it. It's expansive, atmospheric, but unfortunately at the same time, a little bit drab. It's the sound of raw but resigned emotion in a lonely, windy place.

The filmic tone of "Sleeping Is Believing" is a highlight, whereas tracks like "Landfill" sound like they're weakly fighting the urge to transform into rock songs. At best there are hints of Ulrich Schnauss-like widescreen thinking, at worst it dips into muddy meandering lo-fi.

Magnetic Ghost is the one-man band project of Andrew Larson, and there's a typically shoegazey sense of self-indulgence in parts, inviting the listener to either admire the melancholy, or listen to something else. Each of the pieces is in sections, eschewing the "one idea for seven minutes then stop" approach you sometimes get with drone work in favour of occasional mild drama.

The one-man-band approach can lead to modesty (false or otherwise) at the mixing stage, but a mix from Neil Weir has dealt with the danger that sometimes arises from people mixing their own performances. Nevertheless, there are points such as in "Grand Canyon" at which the vocal still sounds a little low in the mix and a little dry in places. Apart from that it's a mostly exemplary and polished production, but of an album which merges broad influences into something that ends up slightly grey.