image not
available
anymore
Artist:
The Sleep Sessions
(@)
Title:
Heatwaves & Snowdrifts
Format:
3" MiniCD
Label:
Industrial Culture
(@)
Rated:
Another short classic power-noise shot for you liver. This time it's a polish project, but this series of small pieces of plastic is quite uniform from what I've heard so far. I know it may sound stupid and too easy to compare The Sleep Sessions to dear ol' Whitehouse minus vocals, but that's one of the impressions I've had, obviously I'm talking about some of their old releases since now it seems they also added percussions. In conformity with some other projects coming from Poland, the performance is really brawny and obviously if you play it loud you have your adored dosage of wall of sound. It still lack of that something to reach the next level, but it has its moments above all during the second track where The Sleep Sessions added a minimal "melody", maybe that's the direction to get that something more to make the difference.



image not
available
anymore
Artist:
NO JOHN
(@)
Title:
parasite
Format:
3" MiniCD
Label:
Industrial Culture
(@)
Rated:
I've always loved 3" and this series of small cds is interesting cause some extreme music (some doesn't imply every subgenre) is really suitable for short blasts. Differently from Praew Jik, No John is less muscular and produces more obsessive tracks, in some ways though using less energy, if compared to the previous power noise 3", this one is way much uneasy do to the fact it's less continuous. The sound is again good and the music is once more quite simple but also well refined: you pass from saturated noises to high frequencies, sometimes it's really close to some early Hafler Trio than to some other Japanese mad man (read Merzbow). Those simple distortion really reminded me some old heroes like Intrinsic Action even if honestly I think No John has nothing to do with him both aesthetically (that's not secondary for what regards Mark Solotroff's project) and musically... it's just some saturated/distorted sounds are quite similar. A good morsel but with ups and downs.


image not
available
anymore
Artist:
ICvsPD (@)
Title:
The All Too Logical Descent Into Madness
Format:
CD
Label:
Bugs Crawling Out Of People
(@)
Distributor:
Ad Noiseam
Rated:
Behind this "band" moniker hides a mutual collaboration between the US-based Powernoise artist PNEUMATIC DETACH and the Canadian spoken-word artist IT-CLINGS. Regarding the chosen title, well, take it seriously and be assured that this turns into a quite different form of Industrial music you haven't discovered so far. There are on one side the hammering and pounding Powernoise efforts of Justin Brink, which itself are always a welcomed and appreciated listening experience, as his releases on the defunct Frozen Empire Media and Hive Records are sold-out. But for this release his efforts have to take the backseat of the cadillac, because the clear spoken-word performance of Mr. IT-CLINGS has to take the spotlight of attention here. As most of our readers also I have discovered his hypnotic voice on the last FRACTURED album "Only Human Remains" for the first time. On that album it wasn't expectable how far and in which direction his words would tend. After checking this album multiple times with the required attention to follow the printed lyrics, I can assure that words can mutate to a weapon. Seriously, if you're already impressed with that sort Hellectro bands wearing fake blood and offering their repetitive lyrics influenced by Gore/Splatter movies, then you should check this clear and natural hurting performance by IT-CLINGS. After the first 3 – 4 tracks I was expecting that the ongoing tracks would offer the often heard content of "how evil humanity is" or "how much this all disgusts me". Well, lately with track 5 the lyrics turn more and more in schizophrenia describing someone with serious mental disorders. Track 6, to me one of the most remarkable pieces on here, describes drastically self-infliction ("Maybe These Wounds Won't Heal Anymore") and also Mr. IT-CLINGS' words and his performance turning into a hurting experience – it sounds really that he feels with the actor – maybe he IS the actor? Also recognizable here and there is a form of sadistic vein. There's the track "Spoons" for instance. Do you know what spoons can do? Well, let's take a quotation out of the lyrics: "...I press you up against a hard surface, a brick wall, and then I drive the spoon hard against the tightened meat and feel it cut into you, feel it digging into the wall behind. I roll it back and forth, back and forth over your skin. I dreamt of scooping your innards into my mouth, just having them sit there in my open mouth, not swallowing this disgusting muck,...". No stuff for the faint-hearted of the audience for sure and I guess there's no need to dwell deeper into this. The combination of rhythmically Powernoise and spoken-word action can be surely seen as a new form of two different kinds, which on a first look won't fit together. Quite "entertaining" to consume, purchase it and you'll get something special.
Artist:
YAIR ETZIONY
Title:
Flawed
Format:
CD
Label:
Spekk
(@)
Rated:
Hey, it looks like Israel electronic musicians are in full blossoming and if you think I'm exaggerating may the hell bring me if lately I've not happened to give a listen to different musicians coming from there and be it harsh-noise or ambient, be it minimal-electronics or experimental whatever, it was always high quality material. This release is on Japanese Spekk records and I'd be a liar if I wouldn't confess I've a crash for their outputs since the first time I've put their white compilation featuring among the other Taylor Deupree, Ultramilk Maid, Sogar, etc. in my cd player. After having given a listen to a couple of mp3 I was waiting for a soft release and my expectations haven't been deluded, but the atmosphere is not as predictable as you may imagine. Yair Etziony sure follows that minimal electronic-ambient route Japanese can't but be fond of, but he's also surrounded by a thin grey aura you my detect in the majority of the material here included. "Flawed" is about high sound definition and offers the usual good mix of micro-electronics, minimalism, light-techno, crackles, soft glitch ornaments and ethereal melodies that perceptibly means if you're into the style you can break your money pig without hesitation. If some years ago you where wondering where ambient, shoegaze and soft electronics were headed with releases like that you have one possible answer, there's a kind of British music aftertaste amalgamated with Japanese minimal electronics that reminds me of Seefeel, Slowdive, Bark Psychosis meets Yoshihiro Hanno or Fourcolours. "Flawed" it's dreamy and relaxing as a good electronic-ambient release should be, Yair Etziony has a soft touch and is really refined when chiseling what apparently sounds soft "simple" music. Très bien, très bien!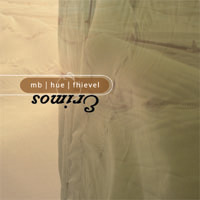 Artist:
MB-HUE-FHIEVEL
(@)
Title:
Erimos
Format:
CD
Label:
Digitalis Industries
(@)
Rated:
Maurizio Bianchi has probably been the "hyperactive child" of the evergreen Dead Kennedys' anthem when he was a little kid, but Hue was probably following next considering the amount of releases they're putting out recently, by the way scout's honor so far the quality is still considerably high: they're probably in the midst of their golden age. To create Erimos they've teamed up with electronic musician Fhievel and did another interesting work. This' the sister album of Nefelodhis by MB and Hue with Sparkle in Grey (his post-rock indie-tronic combo), both the releases are quite ethereal and soft even if that has to be meant in an abstract way, this one as you may have guessed is more experimental oriented and way more cerebral. I think by some means you can distinguish the three different personalities of the team-players if you've heard some of their solo materials, but I'm not completely sure about what I'm writing since the blend is well assorted and they've probably took the unsaid mutual decision to act in symbiosis. Drones, high frequencies, concrete sounds, field recording, few instruments to throw you in a dreamlike state across a deserted area (that's the concept of the release), consequently take for granted you've desolated moments, evocative melodies, melancholic atmospheres as a concept like that requires. Anyhow, thought being melancholic and evocative it's not sad, depressed and above all far from dark ambient releases, it's soft and it's really close to some great documentary soundtracks you may have heard. I'm sure if you take Bertolucci's "The sheltering sky" and you play this one in place of the original soundtrack you'll probably think they meant it as a re-sonorization.