image not
available
anymore
Artist:
[HAVEN]
(@)
Title:
A2982
Format:
CD
Label:
Rage In Eden
(@)
Rated:
Third album for the Polish project formed by Marcin Jarmulski (music), Marcin "szuster' Buda (live visions) and Marcin 'Dobermann' Pflanz (photos and videos), [Haven] is presenting their third album mysteriously titled A2982. The new album contains ten new tracks which are able to create a suspension in time effect where ambient atmospheres and electro industrial intuitions are enriched by little vocal samples just to enhance the cinematic effect they are able to create. Most of the tracks create an alienating atmosphere well represented by the faded images of the cover. The claustrophobic sensation, in my opinion, is one of the key factor of the album and you have to keep this in mind when you are approaching to it. Sometimes I felt the lack of a visual counterpart to music but [Haven] are able to create a convincing ambience anyway...
image not
available
anymore
Artist:
ICHORUS
(@)
Title:
Circumstances
Format:
3" MiniCD
Label:
Industrial Culture
(@)
Rated:
I'm really tented to say this cd has the sound of many actual power-noise projects coming from the US even if I really dunno where this guy is coming from. While Messiah Complex put it on song construction and on gradual crescendos, Ichorus is in for total immediate blast with your stereo's frequencies going red. Imagine later Whitehouse minus vocals and Masonna when they avoid articulating their composition and they're headed toward total mayhem. The sound is really good but to be honest the most of the 3" of this collection of Industrial Culture have a good sound therefore it means they probably select accurately who to produce versus the many "parvenus" of the genre that jumped on the bandwagon right after American Tape, Wolf Eyes, Black Dice and In the likes got some popularity. It's hard to review releases like that for despite the classic idea of song framework the main focus lays on sound and for funny it may appear that's why many ancestors of the genre were fond of the idea power noise was one of the possible evolution of "ambient music". That said, it's hard to say how good releases like these are, sure Ichorus is muscular and played for twenty minutes gave me a good impression.




Artist:
PANTHEON LEGIO MUSICA
(@)
Title:
Per Aspera ad Astra
Format:
CD
Label:
Thonar Records
(@)
Distributor:
Masterpiece Distribution
Rated:
After reviewing almost a year ago "Sic Itur Ad Astra" (here www.chaindlk.com/reviews/index.php?id=3687), which was a sort of advance copy of PER ASPERA AD ASTRA, I was waiting for Hydra to release it. Unfortunately that label seems to have stopped printing new releases but Pantheon Legio Musica were lucky enough to find a new label for their debut album. Thonar Records is releasing it on March the 15th (the day Julius Caesar died) and the definitive edition has all the tracks of the preview plus some others. The sixteen tracks of PER ASPERA AD ASTRA ideally link industrial/neo-folk music to the greatness of Roman Empire by creating atmospheres which make you fantasize about great battles, ancients heroes and pagan Gods. Pantheon Legio Musica are able to give to their music a solemn atmosphere full of pathos, rumbling rhythms and melody. The instrumental tracks are perfect to paint battle scenarios, while the ones sung by K.M. Roho make you think about bacchanalia and everyday life. I can only confirm my old review and finally also you will be able to enjoy this great record.
image not
available
anymore
Tympanik Audio's "Emerging Organisms: Hidden Forms Compilation Series Volume One" is a very interesting two disc compilation that beats Nine Inch Nails's "Ghosts" to the punch with its brand of ambient/industrial soundscapes from artists such as Rekt, Flint Glass, Lucidstatic, and Nebulo. The compilation offers a mixture of traditional ambient compositions, clanking industrialized rhythmic tracks, and instrumental EBM and IDM pieces. The nice thing about this compilation is that while it is comprised of contributions from different artists, the collection as a whole has the cohesiveness and flow of an album put together by a single artist. What is most impressive about this compilation, aside from its nice packaging, is the fact that it sounds surprisingly fresh and new, which is a major accomplishment given that so much of the "new" EBM and IDM being put out are bland and uninspired throwbacks to :Wumpscut: and Leaether Strip circa 1998. Instead, the contributions on this compilation infuse these two dying genres with hints of classical, musique concrete, and electro jazz, which is why the young Tympanik Audio has been able to build a reputation as a leader of innovative electronic music. In sum, if you are looking for some good instrumental EBM and IDM that thinks outside of the box, then Tympanik Audio's "Emerging Organisms" compilation is the record for you.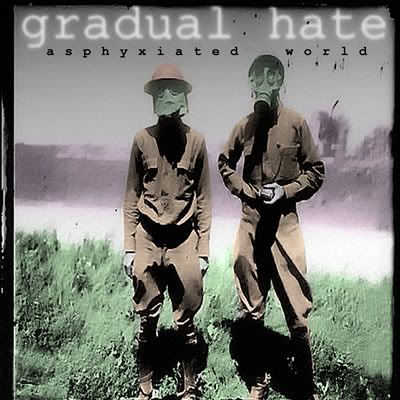 Artist:
Gradual Hate
(@)
Title:
Asphyxiated World
Format:
CD
Label:
Hypervoxx / Telegrammetry
(@)
Distributor:
CD Baby
Rated:
Another surprise released by the Miami-based Hypervoxx label, GRADUAL HATE, a Spanish Dark Electro/EBM-duo, are surely that sort of a newcomer, on which no one would think of to release a debut CD. Even those bands out of Spain I normally talk to seem to be quite surprised, while this isn't at all meant negative. As GRADUAL HATE like to prove on nearly all of their tracks on "Asphyxiated World", the possibility to release a debut through this hard-working Miami-based label is well deserved. At least it is one of the best releases of the Hypervoxx label so far. Musically always straight and dancefloor-oriented, GRADUAL HATE's version of Dark Electro music takes rather influences out of prominent acts out of the mid-90s, acts like early FUNKER VOGT or EVILS TOY come to mind. On some tracks they also like to integrate some guitar riffs as an underlying effect in their tracks ("Dancing On Ruins", "Gradual Hate"). They also don't seem to trust that much their programming abilities on some EBM-like bass lines, because mostly all of their tracks are dominated through opulent layer and pad sounds – this of course offers them more a Dark Electro instead of a pure EBM status. Regarding the vocals, well, they are sort of genre-typical, mostly distorted and raging, while the recording quality of them could need some improvement. But that's maybe the only one constant point of criticism, because musically they do their best to keep their audience entertained and the masses in motion. A lot of floor-filling stuff is available here and GRADUAL HATE have their best moments on the tracks "Elektro Radio Sex-Station" and "Weakness Man" which both can totally convince through its integrated catchy inserts. Although GRADUAL HATE "play" with that often used sort of militaristic attitude to strengthen their manifesto, and if you're able to accept that they surely aren't the end-solution of a musically sensation, this tremendous debut album has enough ear-catching food on board to grow to a constant secret tip in the scene. Good work, keep it on!