image not
available
anymore
Artist:
VV.AA.
Title:
Incendium II
Format:
CD
Label:
Loki Foundation
(@)
Distributor:
Audioglobe
Rated:
Along with Cold Meat Industry, Loki Foundation is since 1991 one of the best labels into the dark ambient/industrial genre and INCENDIUM II is a great way to discover why. Spanning through the last three years of Loki and Power & Steel releases (there are no unreleased tracks but here you can find tracks previously released only on vinyl and it costs only 3 euros) INCENDIUM II presents the main label's acts with representative tracks. Herbst9 are here with a track from their "Buried under time and sand" and with one from their collaboration with Z'ev, Antlers Mulm present "Sunflowers" (a beautiful minimal electronic melodic track picked from the "Of withered sparks" album). First Law, Inade and Ionosphere are present with two tracks for each of them (some of them are excerpts of long tracks). You can also find excerpts from the Vestigial/Penjaga Insaf great split 12" and if you missed it, by listening to these three minutes from each track, you'll ask for more. Good label compilation, your curiosity could be fulfilled for a cheap price! Here's the whole tracklist:

CIRCULAR The Triangular Center
FJERNLYS Intermediate Nature
ANTLERS MULM Sunflowers
HERBST9 4000 Years Of Damascus
PREDOMINANCE Quantum Statics
FIR§T LAW Bad Influence (excerpt)
INADE Divine Hybrid (excerpt)
INADE Kwa Non Se Part II (excerpt)
LAND:FIRE Space Interferometry Mission (excerpt)
IONOSPHERE Gravitation In The Mind
FIR§T LAW Creating Worlds (excerpt)
INADE Uninhabited Red
VESTIGIAL Summoned By Panopticonian Flames (excerpt)
PENJAGA INSAF Tenangan (excerpt)
IONOSPHERE Meta III
HERBST9 vs Z'EV Enshrinement (Maschinenkult pt.2)
EX.ORDER Skillful Killing
image not
available
anymore
Personal project of Jack Harris, Plan 29 in 2004 released for Unschooled Records a MCD titled "What is a threat", EP that was more industrial influenced compared to this new album PERNICIOUS LULLABIES. Released as a download only album (if you want a CD copy of it, Ekleipsi offer also this service) PERNICIOUS LULLABIES is a good album made of dark electronic ambient tracks. Do you remember the unused "Hellraiser" themes Coil did? Well, most of the tracks of this album recalled to me those atmospheres (check "Dollhouse" first if you want a cinematic track full of tension and great sounds/melodies). Jack uses different layers of melodic synth sounds where the atmosphere created is the main thing. We have tracks with few rhythmical sounds like "Lost" or the electronic/experimental "Syrup 2 empty" as well others ("Die todesstrafe" or "Nowhere train" to name a couple) where rhythms are often industrial oriented and underline the tension created. Plan 29 is influenced by electronic and industrial music (with a bit of post-punk) but here those genres are reprocessed and enhanced. Good one! Check it... it's for free!
Compilations are often difficult to review because of the differences between tracks and artists. This compilation has the opposite problem; many of the tracks on this compilation could easily have been performed by the same artist. There is some overlap in the artists at times as many of the tracks seem to be collaborations. According to the website, this disc was released for the 10th anniversary of Disasters By Choice and contains tracks by Alog, Encre, Fibla, Flotel, Isan, Layer, Melodium, Murcof, Slow Motion, and TehoTeardo. I was unfamiliar with all of these bands.

As for the sound, imagine a band playing in a coffeehouse. You want it to be just a bit edgy, but not too extreme. I guess if I had to define this sound, I would call it easy listening experimental. Some of the standout tracks include "Minkowski's Mind" by Flotel vs Melodium, which has a pleasantly repetitive synth line mixed with electronic bleeps and tones, and "Touch" by Encre vs Micro:mega, which reminds me of Coil's "Unprepared Piano." Overall it's a nice disc but not really experimental enough for my taste. I'd also be interested to see how the bands function alone. The disc weighs in at around 48 minutes.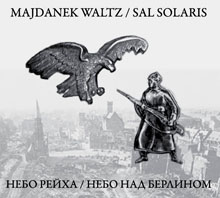 Artist:
MAJDANEK WALTZ / SAL SOLARIS
(@)
Title:
The Sky Of Reich / The Sky Over Berlin
Format:
CD
Label:
Kult Front
Rated:
THE SKY OVER REICH/THE SKY OVER BERLIN is a reissue of one Majdanek Waltz MCD released two years ago with the add of four Sal Solaris' tracks (one of them have been previously released on a 10"). The split album continues the theme that Madjanek Waltz started on their MCD "Cranes": the war between East and West Germany troops. The tracks want to underline the absurdity of a war which involved people coming from the same country. "Democracy", "The Sky Of Reich", "We" and "City" blend folk atmospheres with industrial sounds and theatrical/neo-classical/martial intuitions. The first three tracks see the band using spoken word, snare drums, strings, acoustic guitar, industrial noises and samples just to create a convincing atmosphere of despair (effect that it's even more emphasized on the fourth track thanks to a distorted guitar which create an industrial grinding sound). Sal Solaris on "The Sky Above Berlin", "Trembling", "Suspence (In Danger)" and "Start" chose a more experimental/cinematic approach using reversed sounds and guitar feedbacks. Their approach is less theatrical and more ambient industrial and their aim seem to be the creation of industrial suites where noise layers are mixed with strings and samples. A more extreme approach to sound compared to Majdanek Waltz that made me prefer the first ones but an approach which undoubtedly is able to create a good tense atmosphere.
image not
available
anymore
Artist:
Straftanz
(@)
Title:
Forward Ever, Backward Never!
Format:
CD
Label:
Scanner / Dark Dimensions
(@)
Distributor:
Soulfood
Rated:
"Straftanz vor – zurück – voran", well, what no one seriously would have expected has become truth, the German collective STRAFTANZ has returned after their always and everywhere consumed self-titled club smasher. For sure the biggest club hit in 2007 of one of the survivors of the Depending label demise, they had earlier this year another well hitting club burner with an released EP featuring the track "Tanzt kaputt, was Euch kaputt macht." For the floor addicts surely the revelation of the year, for some others a quite nerve-breaking project – STRAFTANZ polarizes surely. If "Straftanz" and the follow-up EP wouldn't ever became such a huge success, the existence and ongoing future of this project would be quite questionable. However, STRAFTANZ are back with a 12-track album to proof that there is more behind the hype. Musically and production-wise we can resume, that STRAFTANZ are making their way to get a constant size in the German Electro/Industrial-scene. Behind this 12 tracks you'll get several more cub-related tracks ("Out Of Time", Praise The Panic"), the funny "Die Säge" or "Gummimann" are causing a smile on the face of the listener. Of course both mentioned hits do not have to missed here, too. Some attractive collaborations with names like Myk Jung or Carsten Jacek of [:SITD:] are proving once more that behind the guys of STRAFTANZ are professionals wide above a normal newcomer act – but this also proofs the demand behind them. This isn't a low costs production, "Forward Ever, Backward Never!" celebrates the status of a modern sounding Electro/EBM/Industrial production of the current times, although this album won't impress the old-school EBM elite. Quite well-done and acceptable with a smile for some cheek-in-mouth-lyrics, whoever said, that Goths don't have humor?