Artist: Semiotics Department Of Heteronyms
Title: s/t
Format: 12" vinyl + Download
Label: Avant! Records

When reviewing recent single "Tell Them", I praised the 3-pack of slightly hard-edged synthwave-synthpop, saying "if an SDH album appears I will definitely check it out". Now that the album's here, my expectations are met, but perhaps not exceeded.

Here you get eight strong bits of synth songwriting, some pop-radio-edit length, others allowed to breathe a little more but never straying too far from conventional song structure. There's a slightly lo-fi, proto-techno analogue feel to the warm analogue low end sounds and the sometimes rather echo-heavy vocal treatment that gives everything a gently raw flavour. Firmly rooted in the sonic values of the synth 80's, it rolls along nicely but a little predictably at times, and by the time you reach "What Did I Come For", you do begin to wonder whether more synth sounds might have been available.

The vocals are quite velvety and confident, but never really pushed very hard, tending towards whispered and even spoken-word vocal lines rather than anything bolder. The PR sheet's comparison of the vocals to Dolores O'Riordan is a little ambitious, though you do hear the same celtic twang in "She Uncovers Before Me".

Perhaps predictably for a first album there's a feeling of defining a sound rather than pushing it here, epitomised by tracks like the strong "Guilty And Gifted". "Mean" is the most ambitious track, a pulsing seven-minute affair with quite a cinematic feel.

A strong, relatively compact bit of dark synthpop with more than one foot facing to the past, SDH's self-titled first full-length album is steady rather than amazing.
Artist:
Glyn Bigga Bush
Title:
Sunken Foal Stories
Format:
LP
Label:
Schamoni Musik / Lion Head Rec.
Glyn Bush's long CV includes Rockers Hi Fi and Original Rockers, but for a release under his own name, he's gone for something a bit bolder and more introspective, concentrating on a very raw and broad-stroked approach to sampling spoken-word broadcast material and musical snippets and building and layering them into short sonic vignettes and brief jazzy grooves.

In a way it's like jumping back to the late 80's or early 90's when wholesale sampling was still a novelty, recalling Negativland works or the interludes in Art Of Noise albums. This is reinforced by details like the speak-and-spell voice on "Theme from The Tincleton Now" and the analogue tape-like quality of some of the spoken word sources.

The strongest tracks include "Teahead Of Time", the TV-sync-friendly "Carnaby Street Caper" and the slightly more conventional electronica formed around string samples in "Speltre Flecks".

The abruptness and edgy construction of these pieces lead to a bit of a patchy experience overall, a release that never really 'gets going' as a half-hour listening experience but which has an endearing energy that will be enjoyed by people with fond memories of those simpler sampling times.
Artist:
Strafe F.R.
Title:
The Bird Was Stolen
Format:
CD + Download
Label:
Touch
Strafe F.R.'s second album since returning from a 20-year hiatus is an exercise in contradictions. Truly experimental, it provides us with 14 unique and hard-to-read environments of metallic noises, heavy filters and tape effects, heavily gated guitar and guitar-like noises, pulses and processing- then crashes into them to various degrees with percussive surprises that are sometimes harsh and unpleasant, sometimes quirky bordering on comical. Even the press release skips from talking about vanilla fudge in coconut trees and finding Liszt sleeping inside a piano to the devoured liver of Prometheus. It's one of those "really don't know what's going to happen next" releases, exemplified by the sudden appearance of heavily processed vocal on "Aconite" with a lyric in which the album title is found.

But among the wilful surprises, there's a rich depth to be found here as well. Though constructed from unorthodox parts, "Prepper's Home" is a fascinating bit of electronica with a truly emotive undercurrent that suddenly breaks into almost Krupa-esque jazz rhythms in its second half. "Pianosmoke", built from an experiment in playing bass and guitar sounds through a loudspeaker inside a piano in order to stimulate the resonance of the piano, ends up being a very coherent and melodic work that with the right electronica remixes would have a lot of crossover appeal, while other pieces like "Flare", though built of similar stock, have a darker layout and a more spontaneous and theatrical flavour. "Violet Sun" is a good example of a sparser approach, in which the processed guitar evokes feelings of some sort of alien road movie, while final track "Towton" throws furthest back towards the band's 80's roots with some very analogue, fuzzy tape flavours and Nina Hagen-ish vocal wails, right down to its abrupt halting end.

It's an unpredictable, fresh-sounding and rich hour-long release which never drops the interest levels, and it's certainly worthy of attention.
The track titles are possibly the most out-there aspect of this three track bundle of steady house grooves with a variety of sampled and synthetic Eastern flavours meandering over the top, though they're not without their musical quirkiness.

"Too Much Fun In The Temple Of Doom" is the most characterful of the set, with ghostly feminine vocal sounds phasing in and out over a spoken word incantation that prefaces a very bouncy upbeat peak section, it's an unusual attempt to bring Indiana Jones-style cod-mysticism into a relatively simple danceable structure, and it works.

On the B side, "Dervish Euphoria" has a slightly rockier beat and a nice gradual build towards a bright arrangement of synth pads and sampled chanting that feels Summery and refreshingly positive, before "Exploding Toads Mystery" is a nice set-up of jungle environment atmos, looped soft tribal drum patterns and sparing use of electronics.

Not sounding as sinister as its artwork may imply, it's a perky package that flirts with some cliché ideas but comes out with a not-too-familiar flavour.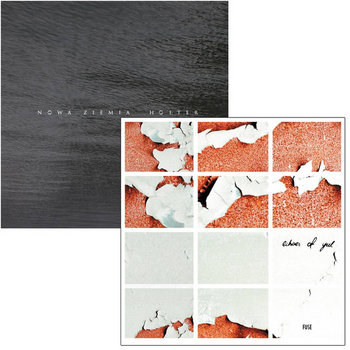 Artist:
Nowa Ziemia / Echoes of Yul
Title:
Holter / Fuse
Format:
CD
Label:
Zoharum
(@)
Distributor:
Alchembria
Rated:
After a while, Zoharum returns with another chapter of their split cd where they collide compatible musical project and present them with separate cover for both project. This time, rather to present obscure projects, are Nowa Ziemia and Echoes of Yul which were already reviewed and well received. This time both project are focused on drone and guitar and seems likely as both sides of the same project.
The half by Nowa Ziemia start with "MW" which is a field recordings introduction to "agiew" which is a slowly developing drone for guitar colored by a sparse feedback and armonics while "MT" exposes resonance over a rolling beat. "Holter" closes this side with distortions and resonances giving a movement to the drone and echoing some metal influences.
The half by Echoes of Yul is completely filled by "Fuse (Version II)" a long, over 35 minutes, track whose first part proceeds by accumulating drone in a slow crescendo intertwining psychedelic parts with noisier ones until the drums introduces the coda with metal oriented guitar lines.
This is an enjoyable release and a split of two project working in the same fields so it doesn't sound as a split but as a cohesive release that could be well received by fans of minimalism or drone metal. It's really worth a listen.