Joan Cambon and Sylvian Chauveau's long-standing collaboration has reached its fifth album. An intimate and at times quite minimalist collection of small synth sounds, complex rhythm programming, melodic pads and atmospherics, this is rich cultured electronica with a heartfelt tone.

There are some perkier tracks, like "Paul Favre-Miville" and the very well-formed "Bayan Hout" that have an almost playful energy that at times slightly undermines the album's very earnest themes of conflict and displacement. These are muddled in with more atmospheric and earnest pieces like "Ossama Mohammed".

"Anonymous Nigerian Refugee" is a rare vocal track, sampling the titular figure talking under clear duress about his predicament in the album's only overtly political moment, which ends up also being a highlight.

It's a pleasant and well-cooked sonic meal with some lovely textures in it, and while I don't expect it to top too many people's 'best of the year' lists on account of a fairly muted and modest character, it is an example of balanced and premium electronica done very well.
"Ambient goes country" is the headline of the blurb promoting that release, but that's maybe a little bit misleading. I'd suggest that this is country music that's going on a tentative electronic journey, as pedal steel, acoustic bass and twangy banjo remain firmly at the core, mapping out brooding and sometimes slightly Americana and bluesy patterns, but with some unusual production and atmospheric touches that twist the character a little. There's also a breadth to the acoustic instrumentation that gives it a more cinematic and high-budget feel, with appearances from a Shankar guitar and an above-average span of percussive sounds.

It's exemplified by tracks like "Kraag", with its endearing melodic swagger. Final track "Waterloo" borders gently onto cheese with its plaintive trumpet leading into choral ahhhhh sounds. The two-note suspense work on "Laems"- possibly the National duolian, I have to admit I'm not sure- gives it a slight "60's spy theme" flavour.

Imagine Ennio Morricone and Acker Bilk collaborating on a spaghetti Western set in a cold Norwegian village, and you're somewhere near here. An unusual fusion of country and electronics with an emotively grey outlook.
The title and cover artwork of Daniela Orvin's album imply a private, prosaic and personal domestic environment that we certainly hear in the Bach piano notes and ambience of the opener "Prelude". But as the half-hour long album (arguably mini-album) unfolds, we are drawn into a more unexpected world. It's like a soundtrack for a slow-paced sci-fi love story, where early-era Tangerine Dream-style synth work rolls gently and positively over warm textures and pads.

Highlights include the expansive "Unexpected Coincidence" and the soft arpeggios of "Spring Came Early". The titular introspection gives us moodier pieces like "For Now" and the piano-centric "18,00 From My Balcony".

At times it's classical chillout music but built from synthwave-style ingredients, and it really works. The modest duration perhaps works in its favour. Orvin has been doing soundtrack work recently and on this evidence, her work should soon be in demand.
Artist:
Aviva Endean
Title:
cinder : ember : ashes
Format:
CD + Download
Label:
Sofa
This is Melbourne-based clarinet player Aviva Endean's first solo release but it doesn't appear short of confidence. Lengthy, indulgent and captivating experimental performances, making the most out of the clarinet's distinctive deep tonal qualities, culminating in long rolls, and languid melodic elements.

There's an intimacy to the recording, highlighted in the sharp breathy sounds prominent in "undulations : behind". Predominantly it's an album of sparse and ghostly atmospheres, notably in "apparition : above", and while there are also some more chaotic moments, such as in "vapour between", the boldly stripped-back instrumentation always provides a strict framework that keeps proceedings small.

Whilst principally solo, at times Endean uses timpani skins or pocket amplifiers to transform the sounds, and "undulations : behind" features a harmonic flute called an umtshingo which is melded with the clarinet notes in a nicely symbiotic way, the umtshingo giving the end product a temporarily more metallic- and even electronic-sounding edge.

Even without my previously disclosed love of the clarinet, I found this a really captivating bit of experimental audio performance, and considering that this is a solo debut, it's barely anything short of stunning.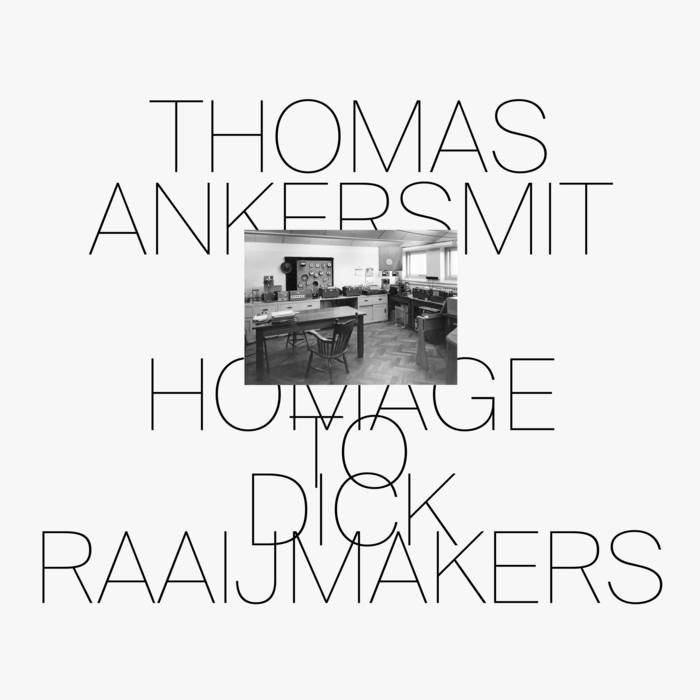 Artist:
Thomas Ankersmit
(@)
Title:
Homage to Dick Raaijmakers
Format:
CD
Label:
Shelter Press
(@)
Rated:
As the title suggests, this album is inspired by the work of Dick Raaijmakers which was one of the pioneers of electronic music and to explore the concept of the morphology of sound. Mimicking his works, Ankersmit uses the properties of sound to build a sort of weather system i.e., a way to reference phenomenon as storms with noise generators and envelopers by recreate its sound. This peace should be listened through loudspeakers as it make use of tones generated by the inner ear in response to the recorded sound and it configures itself as a map of synthetic sound.
The quiet noises open this release and are almost doubled by the other generators used, so a pulsating sound environment is created where a looping sine wave gives a temporal framework for the other insertion until a feedback acts as an interlude for the next part of the track. All this happens in the first three minutes of the track which evolves in abstract pattern of sound and with an highly structured sense of form. The sound is deeply rooted in an idea of sound reduced to its basic sources, sine and noises, and it explores its basic forms, duration and width, so it happens that the most rhythmical oriented form of sound, the pulse, emerges from its most static ones, sine and noise, and so the spatial element emerges from the elaboration of the sound made by ears; so, even a small rotation of the head change the perceived sound at least in one of its properties. The sense of dynamics of the composer ensures that quiet moments act as structural element to split composition's sections, and this way the parts based on noise generators are clearly separated by the ones with a more defined sound spectrum. At the end of this release noises are used as rhythmical elements and sharp sinewaves put a listener in a specific place until a lowing in frequency relax him to end the piece.
It's obviously a demanding listening for someone not used to this structured and abstract music; moreover, its length could be barrier in an era where opuses are heard in short fragments. However who is willing to listen will have a release that has something to be analyzed. Press the 'repeat' button.