Artist:
GAB.GATO VS XBEAT
(@)
Title:
No Light Or Shadow EP
Format:
12"
Label:
The Villains Inc Recordings
Rated:
Influenced by the sound of classics like Professor X, Egyptian Lover and the Den Haag sound (see many Bunker Records and Clone records releases) a bunch of guys coming from Milan, Italy, decided to form a collective called The Villains Inc. Their second release is a 12" EP which sees Gab.Gato and XBeat collaborating at the creation of four original tracks plus a mixed version of the main title. The EP opens with Gab.Gato vs XBeat "No Light or Shadow" Electro mix, a mysterious analog tune based on an acid bass line coupled by an analog drum machine and synth pads. On this one Gab.Gato deep vocals help giving the right thing that helps to impress the listener. The following version is more 90's sounding, more Detroit. On this one the vocals are filtered, the atmosphere changes a little but it's always cool. The B-side opens with Gab.Gato vs XBeat "Subterrania", an electro funk cool tune with pumping rhythms (lovers of the fore mentioned artists have been warned). The side follows with two tracks where XBeat alone performs "Autobody", another electro analog song with pumping bass and drums and sinuous synth pads and Gab.Gato presents "The Villains Inc", a nice mid tempo tune with vocals coming from an old educational toy which spells the words. The solo tracks are nice but the collaborations are cool and I'm proud of these guys because I'm Italian myself and it's good to see that someone is making this musical genre also on this country. Let's not forget that this is the place where Italo Disco born...
image not
available
anymore
Artist:
Flint Glass
Title:
Circumsounds
Format:
CD
Label:
Tympanik Audio
(@)
Rated:
Flint Glass's latest limited edition release "Circumsounds" is a collection of remixes that Glass has done for various artists. However, what makes this collection unique is that it is not a haphazardly thrown together collection of remixes that is all over the place in style and quality (e.g. Twenty-Six Mixes for Cash). But rather, the remixes were carefully selected to have the thematic flow of an album of original material. The overall sound of "Circumsounds" is instrumental dark electronica that blends elements of EBM, IDM, drum and bass, and a hint of glitch. What's impressive about the album (and also seems to be a trend in most Tympanik Audio releases) is the rather organic sound that it develops through its use of synthesizers and samples, which works to create a vibe that is more fluid and not as cold and sterile as a lot of modern industrial tends to be. The only complaint that I would have with "Circumsounds" is that it is too good at what does, in that while all of the remixes work together in a very cohesive manner, it does at times cause the album to sound a bit repetitive. While the album as a whole is rather fast paced, the standout tracks of the collection are the more mellow cuts such as HIV+'s "Havoc2027" and Tzolk'in's "Zots." However, it must be noted that Glass's remix for OTX's "Blood for Oil" is definitely destined to be a club classic.
image not
available
anymore
Artist:
TOTAKEKE
Title:
Elekatota – The Other Side Of The Tracks
Format:
CD
Label:
Tympanik Audio
(@)
Distributor:
DSBP
Rated:
Another new release by the rising Tympanik Audio label, this time a new album by the New York-based musician and producer Frank Mokros. Frank has made himself already a quite good name internationally, be it with several remix contributions for acts like TERRORFAKT, KLANGSTABIL or IMMINENT or with his own both projects. Under his second and rather harsh Noise-project SYNTH-ETIC, he's signed to the German Hands Productions, as well as he has been active with both of his projects under the flag of Frozen Empire Media, which has sadly gone too fast. Tympanik seems to deal a bit with the surviving fragments of FEM, a few goodies are still purchasable through the Tympanik shop section, so let's hope and see, if they will be able to re-animate one or another act out of those days again. But back to TOTAKEKE, because Frank's album requires but also deserves your fully attention. It is a journey into a multiple-layered and diverse sounding kind of FX-Electronica, which ranges between slow and rather experimental oriented tracks ("Gift Of Nervous Methods") to complex Dark Electro tunes in vein of acts like REMAIN SILENT, MC1R or in parts MENTALLO & THE FIXER ("Pull The Plug", "Elekatota Two" and the outstanding pearl "Strangle"). With TOTAKEKE Frank offers a musically much more valuable alternative to the harsh and disturbing outfit under SYNTH-ETIC, since he can prove any better his sense for a thrilling mood and his abilities of a complex programming. "Elekatota – The Other Side Of The Tracks" drives the listeners into 73 minutes + clocking odyssey of an undiscovered space trip, so please fasten your seat-belts and take part with all senses. You won't find too much better releases of demanding Electronica music.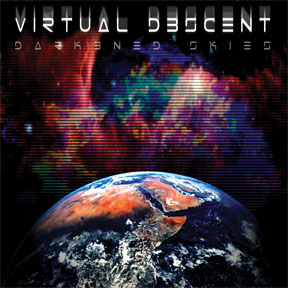 Artist:
V1RTUAL D3SCENT
(@)
Title:
Darkened Skies
Format:
CD
Label:
DSBP
(@)
Distributor:
Indietective
Rated:
Well, it's effective and a promising hint, if the band name offers a letter/number-combination, which shall document the genre classification, isn't it? Seriously, the debut of the Illinois-based duo V1RTUAL D3SCENT is a little surprise for the DSBP label, since the musically direction of Erich Fate and Scott Pilz turns rather into a smoother form of Futurepop/Electro. No hint of the Harsh EBM formula normally expected and often presented by DSBP can be found on "Darkened Skies", but therefore an unexpected catchy tendency. This duo has already shared the stages with acts like LOST SIGNAL (signed to 23DB – yep, the label of Tom Shear/A23) or STATE OF THE UNION (maybe much more prominent in Europe with a license deal to Infacted Recordings...) and it doesn't seem to be happened by chance, that their sound outfit draws comparisons with these examples and to related bands. What disturbs is the abused term Futurepop', which has been too often used in the past to describe a repetitive one-dimensional point of view of danceable Synth-/Electropop music. Transformed on V1D3 this wouldn't be a fair description, because the music turns much further – simply the fact that both Erich and Scott are more talented than the usual PC-user-produces-some-samples-and-adds-loops-musician'. Both have experienced in their childhood a classic-oriented piano training – and for some reasons this can be heard. Very often they add classic strings and piano drops as being used as the main lead synth sound ("Darkened Skies", "...") – it sounds elegant and cohesive so it seems to be a trademark of this act. The opener "1000 Tears" is a fresh state-of-art Electro-track reminding with its strong programming art on works of bands like IMPACT PULSE or INDIVIDUAL TOTEM. Applause also for the excellent usage of vocoder fx on the lead vocals for "Suffocate" – seldom before a band could use vocoderized vocals that effective like V1D3. "I Vivisect" then is another favorite and it didn't wonder, that V1D3 have given out remix kits especially for this track to share it with some friends and additional musicians. The result can be discovered here, 4 additional remix contributions of "I Vivisect" are documenting the attraction of this fine and catchy tune with finest programming art. The track "Concede" then offers a fair amount of a fast-paced rhythm construction which allows some dancefloor action. A lot of good stuff to discover from this duo and a perfect alternative output against the harsh and pseudo-aggressive Hellectro camp. Check it out!


Artist:
ARDITI
(@)
Title:
Omne Ensis Impera
Format:
CD
Label:
Equilibrium Music
(@)
Distributor:
Audioglobe
Rated:
OMNE ENSIS IMPERA is the latest Arditi album. The duo worked at this CD with Kamrat Nordvargr, of Mz.412 and Toroidh fame, who mastered it and created some background sounds on "Profound truths" and " the closing "Endkampf". Listening to the nine tracks of the album the first thing that got my attention is the whole atmosphere which is sounding less explosive and more balanced. The characteristic choruses and the martial percussions are always present but the overall mood is more based on the tension created than on the power of the sound. Sound, which on this release is less lo-fi oriented, thing that enhance a lot the listening experience. On the booklet there's a phrase which explain better the aim of the project: "we sing the praise of war. Not for the way it makes people die, but for the way it makes people come alive". This phrase reconnect their music to the futuristic concept of war seen as a form of art more than a will to revive nazi ideals. Anyway, Arditi on OMNE ENSIS IMPERA succeeded into creating a good album, their best so far. Next to be released are two editions of this album: limited 500 copies edition gatefold 12" vinyl and 100 copies collector edition boxset. Check the Equilibrium Music website for the updates...