image not
available
anymore
Artist:
MISS KITTIN & THE HACKER
Title:
Two
Format:
CD
Label:
Nobody's Bizzness
Rated:
Eight years ago the first album by Miss Kittin & The Hacker represented an important chapter into the story of electro music. During the past years we had the chance to listen to the duo with some 12"s released by Gigolo Records and Hacker's own Goodlife but you know that a whole album could be a different thing. Well, at the end of the month, the 27th of March you'll be able to check what Caroline Hervé and Michael Amato prepared for you. First of all before putting the CD into the player you'll have to do a little zen practice. Empty your mind and prepare yourself to something new. If you loved the electro synth melodies of "First album" it's better for you if you like also a bit of techno, a sprinkle of acid and a nut of r'n'r because TWO contains them all. If the latest Miss Kittin solo album was a bit too over produced, this new album contains ten new songs (the eleventh is a short reprise of "1000 dreams") which sound obsessive, minimal but also melodic and energetic. If the opening "The womb" is a minimal techno bumping track with Miss Kittin giving her usual vocal performance, "1000 dreams" is a great electro tune with a cool melody that will catch your attention in no time. "PPPO" (which stands for "people, pleasure, power, objects) changes the atmosphere with its obsessive acid sounds. With "Party in my head" electro is in the house again with a cool song based on punching drums and synth pads. "Indulgence" is almost punk with its impetuosity while "Emotional interlude" is a dreamy pop electronic tune. "Suspicious minds" is a synthpop version of a Elvis Presley hit. "Electronic city" is an atmospheric sensual pop song that recalls me Pet Shop Boys. "Inutile éternité" plays with electro and techno and sounds mysterious and obsessive while "Ray ban" is still mysterious but a bit more electro. If you loved their first album but you also realized that Miss Kittin & The Hacker were something more than electro clash, this new album is definitely for you!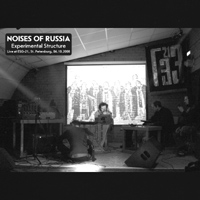 EXPERIMENTAL STRUCTURE is a recording of a live event held in St. Petersburg in October 2008. For this gig Noises Of Russia saw their line up extended to seven people. Gosha Solnzev aka 1g0g ("Van Gog") has been helped by Nikolay Kalmykov (Hladna), M.M. (Kryptogen Rundfunk), Igor Potsukailo (Bardoseneticcube), Evgeny Savenko (Lunar Abyss Deus Organum), VJ Alco (video projection) and Grigory Glazunov (ODDDance Theatre, butoh dance). The ten tracks of this limited 250 CDrs edition see the combo improvising using vocals, metal percussions, distorted noises and humming creepy sounds. Mixing live sounds with samples and treated sources the atmosphere created is the one typical of experimental 80's releases of the likes of "Berlin Atonal" or the Coil/Zos Kia tape released by Necrophile. Intense and ritualistic...
image not
available
anymore
Always in balance between industrial music, power electronics, free jazz improvisation and experimental sounds, REMOTE AKTION is the latest Sshe Retina Stimulants record. Listening to "Earlier Reports Suggesting Generation Of Erratic Thunderstorms, Validated And Responsive To Cognitive Struggle", "Prospective Psychological Armory Corrupting Into Degradation Of Planetary Pulsation Speed", "Measuring Variations Which Can Be Interpreted As Gravitational Effects Of Incoming Impact and "Unnaturally Induced Earthquakes Turning Vehicle Systems Into Exotic Phenomena" I feel like myself treated like Alex DeLarge on A Clockwork Orange. There are so many layers of treated sounds that it is strange when you hear an acoustic guitar coming by or another natural sound. If on early days (like on "Harakiri for 7 strings") Paolo was used to push his feet on the turbo boost pedal, nowadays he alternates sounds and atmospheres inducing into the listener a particular feeling of dizziness creating a unique sound scenario.
image not
available
anymore
Artist:
SURMA
Title:
Allocutio
Format:
CD
Label:
The Eastern Front
(@)
Rated:
Released the same time with the split CD with Kreuzer, ALLOCUTIO is the first Surma full length. Coming from Ukraine the musical project on this CD presents eight tracks that don't differ a lot from the sound of what proposed on the aforementioned split CD. Using dark industrial grinding noises/synth pads as background sounds, Surma is usual to mix them with Russian old records or movie samples succeeding sometimes into the aim of creating a good soundtrack to despair (check at this purpose "Second vision", "Fifth vision" and the ambient industrial sounds of "Everything that has remained"). If the tracks of the split CD didn't excite me, these new eight sound a little more varied but Surma in my opinion has a certain potential that has still to be used.
image not
available
anymore
Artist:
MINILOGUE
Title:
Animals The Movie
Format:
DVD
Label:
Cocoon Recordings
Rated:
Represented different times on the covers of Minilogue's records, their imaginary animals made mixing different real and not real animals are the main characters of most of the twelve videos contained into the ANIMALS THE MOVIE. The first thing that pops out is that for this project the track list differs from the one of the double CD edition and this helped into having a fluid cinematic sensation as music perfectly fits the digital animations of tracks like "Windows" or "Six arms and one leg" as well as the stop motion animation of "Hitchhiker's choice" (here you see Kristoffer Ström's hand creating thousands of strange animals and you can check how his vivid imagination make turn normal animals into particular and funny ones). ANIMALS THE MOVIE is an experience you have to try and I can only imagine how it would be projected on a big screen with the 5.1 sound you can also find on this DVD. I must admit that sometimes Minilogue minimal music sounds too "perfect" for my taste (sometimes I feel it a little cold) but with these mini movies, it turns into something really different. Check for example "Giant hairy super monster", where a stuffed mix of giraffe/elephant dances into what is seems to be a basement. You can check some videos at the band's website...