Athana is a project coming from Stavanger/Norway where Alf Terje Hana and Arne Hovda freed their musical ideas and intuitions. Both of them have a background as musicians as Alf Terje Hanas has recorded and played with dozens of big Norwegian artists. Arne Hovda, has worked with artists like, Getaway People/Robbie Williams/Tim McGraw/Chris Barron plus many more. Their music is influenced by jazz as well as from pop but on REMIXED 05-08 something different happens. From an idea of Helge Olav Øskendal (a.k.a. HOH) Athana tracks have been remixed giving to the remixers the freedom to do whatever they wanted to. So, if the album opens with the dancey rock of "A-AA" remixed by Sternklang, it follows with the house/jazz reworks of Ost&Kejex. Mungolian Jetset's Cruusin' With The Henleys make sound "Ocean 0306" like a good Sting song. Uko Jürgen Nussbaum remix of "Luskesangen", instead, sound like a slow funk wave song sung by Chris Cornell. The approach change with Nes, thanks to a noisy break beat attitude which make turn a rock jazz track into something more interesting. Thing that Cüret brought to its limit by accelerating and looping little song parts and adding broken toys noises, etc. Also Vasøk preferred experimenting a little with noise and dub but the real challenge is to follow the hypnotic rhythmic loops that Qrt used for "Porten". Lingout, instead, light the bomb by providing a gabba distorted edit of "Alien elephants". The lovers of experimentation will appreciate the freedom the remixers had but I find that the album lacks of homogeneity for the one that didn't know the original versions.
Artist:
Disharmony
(@)
Title:
Cloned: Otherside of Evolution
Format:
CD
Label:
Tympanik Audio
(@)
Rated:
Disharmony's latest release "Cloned: Other Side of Evolution" is a collection of the Slovak industrial/EBM project's best remixes that span from dark wave pop to militaristic power industrial. The collection starts off strong with a haunting remix of Polygon's "Idealism," which is immediately followed by a powerful version of Grandchaos's "Mutant X," which sounds like the evil love child of Frontline Assembly and Laibach. The remainder of the collection contains remixes that span a variety of speed and styles. However, the element that links them together into a cohesive whole are Disharmony's use of subtle dark atmospheric synths parts that provide an evocative backbone to music that would otherwise be very cold and clinical. This is evident on the original track "Nautilus" and the remix of DeaDJump's "Immortal," which is disturbingly touching and sounds more like :Wumpscut: than :Wumpscut: does (if that makes any sense). This is indeed the strength of Disharmony's remixing abilities as the songs being remixed sound close enough the original version to be recognizeable while sounding very much like Disharmony's original work.
Artist:
Pneumatic Detach
(@)
Title:
Ko-Mor-Bid
Format:
CD
Label:
Tympanik Audio
(@)
Rated:
Pneumatic Deatch's latest release "Ko-Mor-Bid" offers a relentless onslaught of fast paced industrial rhythms and machine like synth leads that is sure to blow away everything else of the dance floor. When listening to this album I am reminded of the stories of a young Richard D. James creating 200 bpm plus tracks to tire out dancers at raves, as "Ko-Mor-Bid" is the industrial/EBM successor to this tradition of messing with dancers as some of the cuts on this album are impossibly fast and distorted. What's great about this album is that the rhythm tracks are not repetitive like so many albums of this type, as the drum tracks for most of the songs dispense with the standard 4/4 techno groove and utilize a variety of timings and changes that keep things interesting throughout. Moreover, all of the tracks on the album flow seamlessly into one another which give the album a tight delivery. Some of these fast paced tracks include "How You Forget" "Grinderscraper" and the album's closer "Automatic Nation," which makes Ministry's "Twitch (Version III) sound like the Carpenters. Overall, Pneumatic Detach's latest offering is a high powered fast paced attack that is great for working out, venting some anger, or tearing up the dance floor at your local club's industrial night.
Artist:
STORUNG
(@)
Title:
This Is Future
Format:
CD & Vinyl
Label:
Clogsontronics
(@)
Rated:
Released back in 1982 by Clogsontronics as their second release, THIS IS FUTURE has been the only full length album by Störung. The band was formed by Eugenius and Arian Brunwin and, coming from the Netherlands, they gave their vision of minimal wave music. Influenced by the experimental sounds of the late '70s (see Cabaret Voltaire or the early Human League), the duo soon found their own sound by using drum machines, basic synth lines, bass, guitar and their expressive vocal duets. The album contained ten tracks which find their fashion into that sound made of few elements able to shine like a raw gem. See for example tracks like "Modern fetch" with its post punk attitude and its simple melody which is able to hypnotize and to take power from the distorted bass guitar and from the mysterious vocals performed by Eugenius. More accessible than Cabaret Voltaire, Störung found their way through juvenile enthusiasm and will of experiment, creating a good debut album. Unfortunately their adventure ended few years after. This reissue is bringing the original album on a limited edition of vinyl plus CD, sold in one solution. As you can notice, this release is brought to life by the original label, this because in 2007 Richard Neumöller (Ensemble Pittoresque), Eugenius (Störung) and Ton Willekes (Ensemble Pittoresque) decided to make it revive by reissuing the old stuff as well presenting new stuff. You have definitely to check this release if late 70's/early 80's wave is your cup of tea.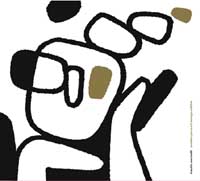 Artist:
Claudio Rocchetti
(@)
Title:
Another piece of teenage wildlife
Format:
CD
Label:
Die Schachtel
Rated:
Here we go with some of the few italians experimental heros who's title is deserved, abroad he's probably mostly known for his work in the ranks of 3/4 Had Been Eliminated but his solo discography is getting quite conspicuous and I highly recommend you to give him your ears. If, like me, you're not new to the work of this experimental artist, then you've to be aware this full length brings forth some interesting innovation in the stile of this Berlin located musician. This time Rocchetti went for an explicitly melodic output which is more than a surprise since his solo releases so far were ranging from "music concrete" to experimental-post-industrial/arty electronics the way you love it, 'cause you can bet despite the overabundance of experimental musicians he had/has his own style. Don't worry, you'll listen to some of these cold well developed grey electronic paintings you're used to with this guy, but you won't believe you ears when he's surrendering to an outspoken emotional side that creates a flower bed to lull some female vocals. Another interesting new element is the fact he's introduced some guitars both played by him and by some guest, no surprises anyway since as he clears it out the guy has a punk-hardcore background. The record fits perfectly in the latest catalogue of Die Schachtel, a label that in someway has produced mostly 3/4 Had Been Eliminated, Bowindo, Hapna crew and related, which in some way may give you a little hint about the melodic, soft but "still not for everybody" atmosphere of the record. Soft droning and simple guitar scrossed randomly by some hi/low-fi sounds which at this point can be easily considered part of his own personal arsenal. Some songs last for a short lapse of time some other tracks creates that typical "in trance as mission" feeling you've been loving in Ambarchi, Roden, Labelle and who knows who else. The guest have surely enriched the recording, but is still Rocchetti who's pulling the strings so if you loved his recordings so far, well, go for it. The title says a lot..."the spirit lives on" despite the coming of age.