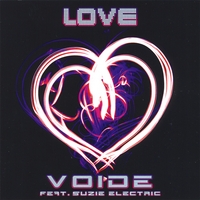 Artist:
VOIDE (feat. Suzie Electric)
(@)
Title:
Love
Format:
CDS (CD Single)
Label:
self-released
Distributor:
CD Baby
Rated:
It's seldom that a reviewer nowadays receives a real Single-CD with 3 tracks and moreover, that bands are seriously producing CD's in this limited dimension. But this fits perfectly to the release catalogue of the Swedish Electronica-specialist VOIDE a.k.a. David Almgren. Combining the tradition with the newest media resources available to publish and present his music, has always been the main direction for VOIDE - and somehow this counts also for his music. It is an Electronica/IDM-related outfit, which balances between the elements of EBM and Trance/Techno-influences. Sound-wise at the state-of-art, David integrates additionally a strong Pop/Wave-influence out of the good old 80ies and his sounds out of his beloved CZ-synthesizer family – you see, this stands rather more for the tradition. He also cant hide his dedication to the German pioneers KRAFTWERK by using comparable and vocoderized voice/vocal effects. But for "Love" the things differ. First off it needs to be mentioned, that "Love" isn't at all a new composition of David – it sounds too much similar to David's 2007 classic "Space Sponge", available on the same titled Voide debut album released in 2007. For this track, available in 3 different versions, he could hire Germany's female artist Suzi Electric to provide the vocals. So you'll get a version with lyrics in English and one featuring German lyrics. The third version is a mixture out of both languages, but it provides nearly 8 minutes of music. It seems a bit, that David felt the need to produce a real Extendet version of this sweet Synthpop-tune. A good collaborative idea and enough potential to become a favorite for every Synthpop-fan, but at least only a tiny shining light at the end of a tunnel, which is only a glimpse of the huge talent, which David has to offer.
Artist:
The Division
(@)
Title:
Mantras
Format:
CD
Label:
Lens Records
(@)
Distributor:
Lens Records
Rated:
I guess Lab Report is a name known to most Dark-Ambient-Industrial music enthusiasts, being one of the early pioneers of the genre with a rotating roster of guests, including- Genesis P Orridge, Lydia Lunch, Chris Connelly, Johnny Polonsky, Chris Blazen, Becky Allen, Kerry Simonian, Derek Frederickson, Tom Slattery, Dan Burke and many others. Of course, the guy who was Lab Report is Matt Schultz, the creator of the souped-up dulcimer-like Anti Tank Guitar, which you might have heard him guesting with on some early 90's Pigface albums. Now Schultz has a project called The Division, which is supposed to be a musical reconstruction of ancient spells and rituals.

From the get-go, Mantras' bears down on you with a searing intensity, with rather harsh sustained strings, the ATG doing a bit of a Middle Eastern sounding dance, whipping noise stabs and percussion in the background. Sounds like something, uh, dreadful is soon to be released. That track was called "Protection", something every Magus needs before working Magick. "Breathe" continues on with breathy synth over a rhythm that is both Middle Eastern and martial. Pretty impressive stuff as the preparation for the ritual begins. The Crowley motto, "Do What Thou Wilt" serves as the title for the next track. Tribal percussion and more Eastern mystic instrumentation. Gotta love this stuff! There's too much going on to really call it ambient in my book, but maybe Atmospheric Occult might be a better term. Simple, but very effective in both rhythm and instrumentation. Just enough variation to keep it from getting stale, but not so much as to detract. Obviously Schultz's creativity has not waned from his Lab Report days.

"Incantation One" is punctuated with some gonging, and has a more oriental flavor. Master Therion or Fu Manchu? I could picture Anna May Wong dancing to this. Absolutely inscrutable! "Incantation Two" features an exotic flute melody over a ritualistic rhythm. The track grows in feverish power as the Great Work begins in earnest. The air is thick with incense. Spirits are summoned. The gate is opened. "Life" has a sort of Persian/Turkish feel, with the ATG emulating a zurna or duduk over rhythmically plucked saz or tar with davul and darbuka percussion. The dervishes are whirling. This is perfect music for belly dancing. "Long Construction" keeps the exotic Middle Eastern feel going, although it was perhaps my least favorite track on the album, perhaps because it took more than halfway into it to really pick up steam. This is probably closer to what you'd expect of Middle Eastern dance music than anything else on the album.

"Monks" begins with the slowly repeated sounding of a struck Tibetan bowl and the emergence of a tamboura-like drone with castanet or idiophone clacking, and low thudding percussion. Ghostly voices quaver in the background. Spirit monks? Very eerie. Finally, we end journey through The Division's Mantras' with "999", a very enigmatic track. Interestingly, the first eight tracks are 6:02, and the last is 6:00. Hmmm... I'm sure there is some significance to that. All-in-all, this is great stuff, and you don't have to be a member of the Hermetic Order of the Golden Dawn, or even a practicing occultist to appreciate it. There is more than enough interesting material here to warrant repeated listenings. Mantras' is supposed to be the first of a trilogy of works by The Division. I can't wait for the other two.

Artist:
IP NEVA
Title:
Symbiosis of Contradictions
Format:
CD
Label:
Impulsive Art
(@)
Distributor:
Ad Noiseam
Rated:
IP Neva is the project name of Ivan 'NeverdiE' Proskurin, from Moscow, Russia. The label his Symbiosis of Contradictions' release is on, Impulsive Art, is a new indie label from Athens, Greece. If IP Neva is any indication of the talent the label is culling, it seems to be an auspicious beginning. The CD comes in slick digipack packaging with a cool and intriguing look. But as packaging can often be deceiving, the music must be heard to be evaluated.

From the outset, IP Neva sets a mood. Light mysterious background padding and a medium slow tempo beat with interesting percussive additives. Think of something along the lines of earlier Delerium meets Black Lung. The first track, "Correction" uses English spoken word soundbytes that seem to be about the economic market correction', or more to the point, economic meltdown. The overall impression of this track is a lumbering mechanism on the verge of collapse. I'm not a big fan of spoken soundbytes in music (except for perhaps their occasional shock value) but it's unobtrusive enough here, and doesn't really break the mood.

Next track, "U Boat performance", uses a metallic based beat, an eerie, airy sonic blast and background female choir in a minor 5 chord repeating pattern. Buzzes and bleeps punctuate the proceedings. Dive! Dive! I'm not sure I feel like a submariner, but is an interesting track. "The Process" which follows, is a bit more of an amorphous semi-dark ambient piece. Old school electronics, a distant female voice and other sonic sundries, some heavy, some light add to the atmosphere. Kinda psychedelic. "Constallation of war" has a siren over sustained strings while bombs burst and the famed J. Robert Oppenheimer soundbyte, "Now I am become death, the destroyer of worlds" pretty much nails the lid on the apocalyptic coffin. From this emerges strummed acoustic guitar and drums in the background. The Pink Floyd harbinger of doom? Gee, I hope not... I'm getting a little nervous that this guy is Russian... Still, it's the U.S, that only ever actually a nuclear weapon. Maybe a warning...

"Full Moon" has a weird acoustic guitar loop over sustained atmospherics and glitchy, treated electronic elements. Most experimental track so far. "Radiation Field" is probably not the place you would want to take a stroll, as IP Neva imbues this track with ominous elements from which a heavy beat emerge. Industrial ambient to be sure. "Whether in numbers" brings back some acoustic guitar over the dark ambient background and a voice recites... what else but numbers! Coordinates? Code? Science experiment? "Meteoric Rain" offers a glissy descending synth sound over a sustained ambience out of which piano chords and a breakbeat emerge, and then disappears only to reemerge again. All the while there is creaking and groaning. "Calm after the storm" has cosmic overtones in that oh-so-Eastern way, and will have you contemplating your navel in no time flat.

We get another version of "U Boat performance" (Mobthrow Remix) that ups the tempo and brings a more conventional big beat to the foreground. It really doesn't sound a whole lot like the original, except for the chord structure, and is actually pretty cool. Reminds me a bit of Noise Unit. The beat could have used a few more breaks and breakdowns, but it's still enjoyable. We leave Symbiosis of Contradictions'with a different version of the first track- "Correction-Failed" (Abstractive Noise Remix) which is a noisier, more rambunctious version. Obviously the correction didn't work. (Ha ha!)

For a first outing, this album is really pretty good and works on multiple levels. If you enjoy experimental dark ambient industrial, I can really recommend this one to you. Good luck finding it though if you live in the U.S. Impulsive Art says CD Baby is one of their distribution channels, but I couldn't find it this CD there. Other Euro online outlets are Ad Noiseam, Klangware and Spectraliquid. I guess you can always visit the artist's MySpace page and ask Ivan directly how you can purchase a copy. Might help if you were fluent in Russian.

Artist:
Seven that Spells
(@)
Title:
Cosmoerotic Dialogue With Lucifer
Format:
CD
Label:
Beta-lactam Ring Records
(@)
Rated:
Seven that Spells is a band from Croatia that bills itself as "an international commune of psychedelic likeminds exploring the multifaceted cosmos of freak out music and naked women in high hopes of achieving Buddha's blessing!" All I know is that after listening to the mellow Aritomo CD that Beta-lactam Ring included in the same package, this one was like shifting gears without a clutch – but in a good way. Imagine if Frank Zappa and Sun Ra had a love child that hung out with Nel Cline and Thurston Moore. That love child would play music that sounds a lot like Seven that Spells. The opening track, "Cosmoerotic Giveaway" opens the disc by unloading with both barrels. Although it may just sound like random noise from guitars, it is actually well crafted and has an internal structure that holds it together. "Stara Planina (slight return)" demonstrates that they are not just a bunch of guys who all want to play different guitar solos at once. The track opens with a metal riff that repeats until it dissolves into a peaceful soundscape, only to be destroyed by the noisy guitars once more. "Return Of The Captain Beefstake's Love Apparatus" sounds like a slowed down version of their previous tracks with some ethereal vocals that are almost drowned out by the feedback drenched guitars. "Space Of Eights" is the shortest track on the disc, weighing in at 2.16, and almost has a surf feel. The closest thing I can compare it to is the psychobilly sounds of the Reverend Horton Heat. This track is a lot of fun. "Cookies & Milk / Breakfast With Azrael" takes on a similar feel to "Stara Planina" mixing droning guitars with angelic voice that drones along with the guitar. There seem to be no words in particularthe voice is just another brick in the wall of noise. "Torture Vessel From The Triangle World" is another long track at 13.55, which begins with a completely different feel. It slowly builds, focusing on atmosphere rather than an all out assault, and progressively disintegrates into a boiling stew of feedback and noise but never really unloads. This track must have taken a lot of restraint after the previous tracks! This is for me the best track on the album. I think that this band would put on an absolutely kick ass live show and I would be surprised if all of the instruments made it out in one piece. You can find samples on both the label's website and on the band's website, and you certainly should check it out. If Motörhead is too slow and mellow for you, this is for you. And as far as the cover art is concerned, they weren't kidding about the naked women. First edition of 600 comes in a full color custom made book bound CD case. This disc weighs in at 50 minutes.
This is a collaboration between Kawabata Makoto of Acid Mothers Temple and Michishita Shinsuke of LSD March. Here's how the label describes this disc: "The reigning lords of the new psychedelic church cross guitars for a super-electric cosmic jam that causes even hurricanes to don ear plugs. More like the paintings of crazed banshees than songs, this shape-shifting set's loud-quiet-loud transforms the spaciousness of the axe duel into a growling canvas of thunder. Walls of feedback and distortion moan like sinking U-boats." Fair enough - file this under guitar noise / improvisation. The album consists of four long tracks, the shortest of which is "Point to Point," which weighs in at 10.30, and the longest of which is "Rome 9," at 17.42. The disc opens a bit slowly with "Me and Bitter, Psychedelic Tokyo," and I have to admit that I was not terribly into it at the beginning, but it eventually builds to a satisfying maelstrom of guitar noise. "Queen No. 5" behaves like two different tracks, ending a little over halfway through and then starting up again in much the same vein. "Point to Point" is a mixture of jangly chords which are struck on and off the beat seemingly at random while the other guitarist plays over it until it just kind of ends up in noodling. I must admit that this track didn't really do much for me. "Rome 9" is a long track of wailing guitar and toward the end a lot of high pitched feedback. To me, this track was the best on the disc, because it had a nice texture and I like my noise to be of the solid wall variety. Maybe it's just me, but this wasn't really my bag. It isn't just because I am not a huge fan of guitar noise – after all, I thought that Seven that Spells' "Cosmoerotic Dialogue With Lucifer" was a great time. I think that what is missing here is some sense of purpose. This album doesn't really seem to go anywhere and for the most part it begins to all sound the same. Luckily for you the reader, there are samples up at the label's website so you can see if it really is just a matter of accounting for taste. This disc weighs in at 56 minutes and comes enclosed in a book bound CD case.