Artist:
OBSZON GESCHOPF
Title:
Erection Body Mutilated (Back From The Dead)
Format:
2 x CD (double CD)
Label:
BLC Productions
Distributor:
Masterpiece Distribution
Rated:
Fourth album for Remzi Kelleci's musical project and second for BLC Productions, ERECTION BODY MUTILATED is a granitic album where the Wumpscut meets Ministry blend finds Obszon Geschopf at their best. Taking inspiration from horror movies, serial killers (see the clown outfit Remzi often wears as well as the track named after "John Wayne Gacy") and stuff like that the twelve tracks of the album don't offer a wide range of sound solutions or any other particular idea. Once you press the play button of your CD player the sound and the rhythms stick pretty much around the same thing. What amazed me is that even if all the tracks have a 4/4 rhythm and many similitudes the album sounds convincing. You, know, it's like listening to a Ramones record but with more deads. This edition has also a second CD with fifteen remixes of various Obszon Geschopf tracks reworked by Circus of Dead Squirrels, Steril, Heimataerde, Cyber Axis, Joachim Witt, Vigilante, Out Out, FGFC 820, Bosch, Ikonoklast, Schattenschlag, Xentrifuge, Inertia, Cynergy 67 and Tempest & The Diaspora. Many sound good but I prefer the original...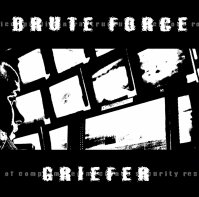 Artist:
Griefer
(@)
Title:
Brute Force
Format:
CD
Label:
Deterrent Industries
(@)
Distributor:
Cold Meat Industry (Sweden), Malignant Records (USA), Cold Spring Records (UK), Eibon Records (Italy), The Eastern Front (Israel), Troniks (USA), Molehill (Japan), Aural Hypnox (Finland)
Rated:
Griefer is a harsh noise / power electronics duo from the same people that run the famed website industrial.org. This is not their first release but it's their first non-CDR one and it comes in a nice 3 panel black cardstock case printed with silver ink. The interesting thing about "Brute Force" is that it is sort of a concept album themed around the internet and its flaws in terms of security, privacy and reliability. With Griefer's members being IT people, titles like "Pentagon Takes Network Offline", "Facebook", "Malicious iFrame" and "Undetectable Virtual Machine" and an art work sporting POP3 server's IP addresses and credentials, a short disclaimer-type text about internet service and control room type graphics, "Brute Force" is a very original take on what power noise / death industrial groups usually presents themselves as.
Musically (if I can even use that word, maybe I should say "sonically"), as you'd expect it's monolithic full force (or brute force) attack on your ears with sporadic non-pattern percussive pounding and super saturated vocals that make it impossible to hear what's being screamed. Everything is distorted and loud but surprisingly there is still room for dynamics and changes in intensity from piece to piece which convey overall moods. If you like stuff like Merzbow, Whitehouse, Throbbing Gristle, Dive etc I recommend you definitely give this a listen.
image not
available
anymore
Artist:
CULTURAL AMNESIA
(@)
Title:
Enormous Savages Enlarged Edition
Format:
CD
Label:
Klang Galerie
(@)
Rated:
Partially available on the limited edition vinyl album released by Anna Logue Records back in 2007 (see my article into the interviews section) and on the Vinyl On Demand double vinyl compilation (with different recordings of few songs), ENORMOUS SAVAGES sees a reissue on CD format of those recordings thanks to Klang Galerie and does it carrying some bonus tracks. The first ten tracks have been recorded during the 1981-1983 period of the band and the first nine have been issued on the vinyl and show very well their industrial post punk attitude (see my article and my "Press my hungry button" review for more informations about that period). What I'd like to examine here are the five songs of the second period of the band. Partially available into the limited 3" "Little savages" (that one had "syst.admin") and on line at the band's website (there I found "Contains", Theme from Cultural Amnesia" and "syst.admin" again) the tracks composed after year 2000 find a band still full of ideas and able to use new sounds. "It's coming" mixes driving distorted guitars, piano, synths and drums to form a semi spoken word that sounds like a roller coaster ride (with stops and go and that sensation of having your chest pushed). "Contains" it's a beautiful electro experimental tune where voice is used again like a semi spoken word. The sound is rich and the catchy acoustic guitar lines sounds perfect with all those electronics sounds that come and go. "I heard it on the radio" recalls a little the 80's atmosphere with a sort of electronic ballad with guitars that sounds like razors. In this way this sound is in opposition to the melancholy vocals. "Syst.admin" starts with a dissonant guitar that recalled me The Fall or A Witness while vocals sound like a sermon of a possessed priest. Everything is sustained by a syncopated drum. The Birthday Party on acid? "Theme from cultural amnesia" starts like a dissonant post rock track filtered by a broken radio just to lose the filter after one minute and developing into a mysterious instrumental track with a theremin like synth. The track slowly fades into a creepy noise synth experimental tune. This album prove that this band has so much to tell and we need that so badly...
image not
available
anymore
Artist:
BODYCODE
Title:
Immune
Format:
CD
Label:
Spectral Sound
Rated:
Three years after Bodycode's debut album "The conservation of electric charge" Spectral Sound/Ghostly is releasing Alan Abrahams' second release under this moniker titled IMMUNE. Growing up in South Africa and now living in Lisbon, Alan into his music always showed a rhythm sensibility that allowed him to mix successfully electronic/acoustic sounds, tiny noises and melodies. His music is a multi-layered structure of sounds that take inspiration by dubstep, minimal, house and techno. The nine tracks of the album play joyful with the song structure without being too pop or too dance oriented. Since the first seconds of the album you'll be aware that something different is going on: "Meaning and memory" opening mix harp, distorted synth bass and retro drum machine sounds just to blast off with its syncopated rhythms with Roland TB-303 inserts. Each track is a constant growing where genres are mixed with ease. "Hyperlight" house/dubstep mix are followed by the mix of Miami house and Detroit techno atmospheres of "I'll hold your hand". Even when the track seems to be stuck into a loop, Bodycode is able to surprise you. At this purpose, check "Imitation lover": it starts like an house techno obsessive instrumental just to insert cool vocals with melodies that drill your head. Each listening will be a new surprise. Check it here: http://ghostly.com/releases/immune
Artist:
The Dark Clan
Title:
Perspectives
Format:
CD
Rated:
The Dark Clan hails from Milwaukee Wisconsin and just rocked out last weekend in Chicago at the Underground lounge. If you get a chance to see this band live you won't be disappointed. They all dress in white and sing about things that go bump in the night. The name of the album is called " Perspectives " We open with a Gothy tale of being Goth called " Vampires Dance " which rocks hard and is a instant club danse floor track. Lore and mockery about being Goth and being in your corset and your melacholic world, this track screams the " G" world all too well. Goth and vampirism runs deep like the veins that carry the blood they crave for. Next is track two, " New London " which is a track about the memories of London and all it's glory and elegance it hauntingly brought to the table. Moving through this album we come to a unique track called " Lestat in Cuba." This track stuck in my mind and in my heart and called out to me as well as the crowd. Dancing in darkness and rememberance of the nite thats calls so sweetly to us now and then. A Gothic Tango in Cuba, clever and all knowing and making this truely a most unique masterpiece and definately a song not to forget but to cherish. One of the best wits about this is the refrain they sing, "it's time to die." Dark, brooding and to the letter. This band are the vampires that dress in white and can make it make sense and show us all up. Another track that sticks our to us is track 11, " Vampires Sex Funk." The vampire disco song that grooves and draws you in like a vampires beck and call and really got me dancing in my seat and wanting more. All and all this new album has great promise for many of it's tracks to hit the charts. This band does not miss a trick and leaves you with treats. Do you dare to dive in and sink your teeth into it.? ~ 4 stars