A while ago, Andrea from Afe records told me after he has finished the final mixdown of this or that release he uses to give a final listening to what he's done while falling asleep. I'm sure after having read this confession you won't have an hard time figuring out the head chief at Afe had probably fallen in love with Michael Palace/Horchata's music at the first listening (or should I write first sleep?!..;-). Despite the minidisc recording coming from Amazonia and Mato Grosso, the very matter of this release is made out of drones and ambient music and Palace is a real master for what regards the use of soft droning and subtle sounds that creep slowly behind the dark melodies. Despite being a really dark piece what surprises me the most of "acytota" is the fact it's still far from a dark ambient effort and it also maintains a really warm essence. I'm sure it has to do with self suggestion, but while listening to these soft foggy drones I could also imagine one of those heartbreaking documentaries portraying animal wildlife so well you'd die to be there. Palace in the past have also recorded material on labels such as like Ad Noiseam and it may help you to understand we're speaking about a top notch ambient musician, but soft sounds, drones and the great production of this new release speak louder than his discography or I'd better write they're just softer than a thousand drones. Melancholic, misty and heartfelt.


image not
available
anymore
Artist:
ROUGHHAUSEN
Title:
The Agony Of The Beat
Format:
CD
Label:
Tinderbox
Rated:
Active during the nineties with Front Line Assembly (check "Caustic grip", "Reclamation" and "Four Fit"), Decree and Will, Jeff Stoddard formed Roughhausen in the new millennium after he moved to Thailand. There, he recruited John Wu (a veteran of the Taiwanese rock scene and highly acclaimed studio musician), and Miss Lin (a veteran of the Asian death metal scene) and started working of his new sound. THE AGONY OF THE BEAT is the third album of the band and it contains songs written during the 2005÷2008 period that have been recorded in Canada and Thailand. The music, which goes to a blend of cyber e.b.m. to industrial metal, is frequently mixed with hyper distorted vocals. The will to keep every melody under a thick layer of distortion doesn't affect all the track list as things change with the newest songs that rather than focusing on keeping everything under control (you know, it is difficult to balance such a wall of sound and even if Jeff is really good at that, the listener sometimes could find hard to follow what's going on), are able to find a balance thanks to a good mix of good drumbeat, many synth layers with good sounds and an interesting ambient/dub influence (see for example "Fornaicus", "Fists of love" and the following "An awakening"). There also examples of good powerful vocal tunes where the distortion grows little by little (see "Sub-nality") and there you have the chance to check the great Jeff's skills as sound builder. You'll appreciate this album with different listening sessions...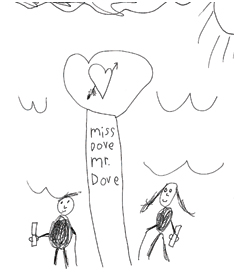 Artist:
JOHN HUDAK
Title:
miss dove, mr. dove
Format:
CD
Label:
Afe
(@)
Rated:
I'm sure John Hudak is without one of those artists many of you should have heard mentioned here and there if you're into experimental music and/or in sound art. This guy from Massachusetts has some interesting works on several labels like Alluvial Recordings, and/OAR, Korm Plastics, Aesova, Intransitive Recordings, Digital Narcis, Presto!? and many others. Despite the fact I just own his cd on and/or, I've had the chance to listen to a couple of his past recordings and if you're urgently looking for a label to identify his music let's begin by saying most of his works for many of you/us may sound abstract whatever it means. According to my own opinion his personal style is basically oriented toward a sort of "tiny" sounds-minimalism (ok I swear I'll never write such a bullshit again, so please forgive me!). This effort is based on a field-recording of birds made in Czech Republic during the summer of 2007, and later manipulated and reshaped via software in order to create a coherent composition. Suggestion of the liner notes or not, after having read the sound-source are birds it all made more sense but I write it just for those of you who wonna know hows and whys of a weird cd, infact if I had to base the review just on the music I'd write this and interesting, abstract soft piece of pointillist-minimalism. I suggest you to do a field-recording of birds yourself, you'll be amazed by the discovery those tiny animals emit sounds in a really rhythmical manner, add Hudak recorded it all from an adjacent building to that from which the sound of the birds where coming that means he has to deal with a great amount of echo. This American sound artist sticks to the minimalist dogma of reducing the music to a really small number of sounds thus if you're looking for hyper-sophisticated releases I guess that's not exactly suitable with your taste, but if you're in the ranks of those who are able to sit down patiently and listen to the developing of a minimal composition, I think this' definitely worth of a shot.

In a scene mostly crowded of male artists, Abby Helasdottir shows the basic idea that dark ambient/experimental music is exclusively male oriented is a bullshit and this release also demonstrates the concept female musicians may have this or that characteristics is false. As we've already said this musician from New Zeland deals with dark ambient from the music to the layout and if you're looking for some supplementary hints I'd say this doesn't belong to the category of "I'll scare the shit out of you" dark-ambient releases, it's an heave trip for sure but it's a psychedelic crepuscular trip that presents some really melodic interventions that change the whole atmosphere of the two long tracks here included. It looks like some sound source of this release comes from some old tape experiment she did during the late nineties and someway the global feel of the most obscure passages could suggest it, but if that puts forward the equation: "old sounds equals retro music"... forget it. The interesting game of heavy passages and melancholic quasi-sacral movements is mainteined also in the second track of this work, here you've more outspoken keyboards sounds that twist the shape of the scenario but the style is really similar to the music of the opening suite. I know you may not agree with me but I think Gydia's music fits really well with definitions such as like "ecstatic", yes, "dark and esthetic" and considering she's far from those mono-drone ercordings where you feel like bored to death after a few minutes, I'm sure you'll appreciate the way she maintained her composition dynamical by moving different elements and atmospheres during the length of every track.
Artist:
TANZKONSOL
(@)
Title:
Finished Business
Format:
Download Only (MP3 only)
Label:
Basserk
(@)
Distributor:
iTunes
Rated:
Coming from the north of Holland, Robert Snelten started to dj at Bladerunner, one of the past biggest indoor rave-event in The Netherlands. After that experience in 2007 he had the opportunity to take part to a Dutch producer's contest. His track "She left me" has been picked up and even if he didn't win he had the opportunity to performance at the FlexBar in Amsterdam. These events convinced him to pursue his musical instincts and this brought him to find a deal with Basserk. Now, with the digital release FINISHED BUSINESS we have the chance to check seven Tanzkonsol's tracks (including "She left me"). Robert's style mix electro, techno and acid with the use of obsessive rhythms (see "What's it all about"), electro obscure melodic tunes (in the best Den Haag tradition, like on "She left me", "It works hard" and "Etherplay"), retro electro sounds ("New york"), acid techno bouncing rhythms/melodies ("Electroshocking"), great techno distorsions (like on the opening "Learn from your mistakes"). A real good release to listen to at loud volume...