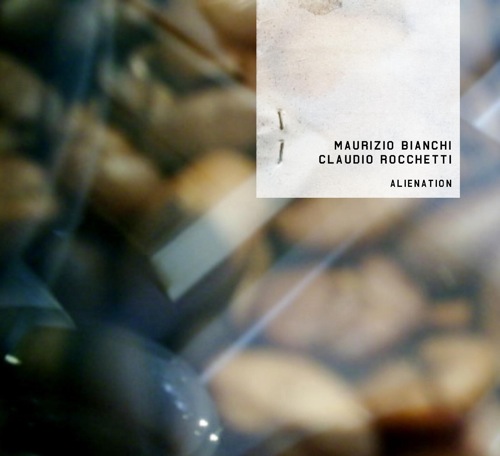 Artist:
MAURIZIO BIANCHI + CLAUDIO ROCCHETTI
Title:
Alienation
Format:
CD
Label:
Final Muzik
Rated:
A devastatingly physical approach to sound sources, I'm sure, was the spark of this collaboration between Maurizio Bianchi (think of his early and recently resumed experiments as Sacher-Pelz) and Claudio Rocchetti (also in 3/4 Have Been Eliminated, Olyvetty, In Zaire). No wonder the five tracks of "Alienation" are perhaps the most skeletal and improv-based MB collaboration ever, full of gaps and sharp edges rather than monochrome masses. "Avversione" is a harsher take on the trademark meditative music of Bianchi's 2000's comeback (piano, keyboards, orchestral samples è la "Cycles"), while on the other end of the spectrum Rocchetti drowns the rusty loops of "Estraniazione", after a crescendo of low thumps, in a swamp of buzzes and feedback. The whole album sort of oscillates between those two poles - sometimes in a quasi-orchestrated cohesiveness, sometimes showing bleeding cuts and raw nerves. It's a sort of long-distance tension which adds to the uneasy feel of this "dangerous terminal drama".
image not
available
anymore
Artist:
VIOLET
Title:
Violet Ray Gas and the Playback Singers
Format:
CD
Label:
Sentient Recognition Archive/Zeromoon
Rated:
If you're remotely familiar with the US post-industrial underground spawning from cassette culture and later cdr labels, the name of Jeff Surak (Watergate Tapes, New Carrollton, V., Zeromoon label) will certainly not sound new. After years of low-run editions, this looks like a major release for his solo project Violet, and comes in a nice 6-panel digipack, with a layout that incidentally reminded me of Pere Ubu, or some obscure tape release. B/w pictures, stark xerox contrast, a depressing urban landscape, get it? The deep underwater drones of "Marionetki", swept away in the very last minutes by roaring distorted tones, surely bear traces of Surak's background, the seminal - if not always acknowledged - (non-)style of US post-industrial (Illusion of Safety, early O'Rourke, the Sound of Pig imprint etc.). But "Violet Ray Gas..." is generally a brighter, if moody and thoughtful, experience, where the dusty loops of old vinyls half-bury distant melodies ("Plague Numbers", "Snakehead Lapping"). Not far from Stars of the Lid, the last - and stronger - tracks are variations on string-based slit wrist melancholia: the bowing in "Violet Ray Gas", still recognizable and just streaked with electronic treatments, is transfigured in a lush droning mass in "Interior Ghosts".
Artist:
GENERIC
Title:
Torture
Format:
CD
Label:
Fractured Spaces Records
Rated:
You must admit that choosing "Generic" as a monicker and titling your debut cd "Torture" is a bit risky, but UK artist Adam Sykes is no absolute beginner either, given he ran the Iris Light label from 19967 to 2007. The six untiled parts forming the album are a sort of time warp to '90's Cold Meat-influenced industrial ambient. "Torture" is entirely loop-based, generally mixing some repeated metal clanking or scraping with a bass-end drone, and not much else (some Gregorian chant here and there, yep). It's like Aube at its most minimal jamming with the aesthetics of, say, Archon Satani or Stratvm Terror. The sound quality is quite muddy and lo-fi, as if this was recorded in some dank cell, and considering the cd was mastered by Osman Arabi I assume it is a deliberate choice. While surely being no masterpiece, "Torture" has a droning quality I like and shows a faithful devotion to a totally untrendy style (unlike much revamped "old school industrial") which oddly makes this sound like a relic.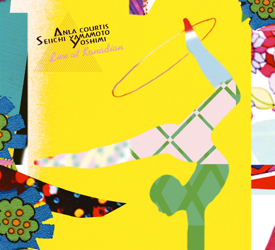 Artist:
ANLA COURTIS, SEIICHI YAMAMOTO, YOSHIMI
Title:
Live at Kanadian
Format:
CD
Label:
Public Eyesore
Rated:
No credits at all for this live trio featuring ex-Reynols Courtis, Yamamoto and Yoshimi (both from Boredoms), just a messy layout as a visiting card for a deranged psych fest. Track 1 is a bruitist take on blues rock, with an attempted riff constantly fractured by gross distortion and delay pedals. Track 2 opens with banshee moans soon sky rocketed in an ecstatic para-folk raga. Then some canyon-diving in track 3, your neurons become tumbleweeds. Track 4, now have some rest, cowboy, the coyotes are getting closer.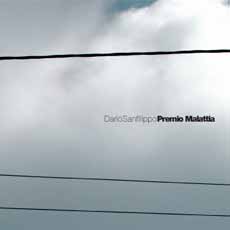 Artist:
DARIO SANFILIPPO
Title:
Premio Malattia
Format:
CD
Label:
Creative Sources
Rated:
Sicilian computer artist Dario Sanfilippo's debut is titled "Premio Malattia", which for non Italian speakers stands for "Sickness Prize". An alternative title could be "Headache Top Prize" if you listen to the whole disc in a row with headphones. The liner notes credit an exoteric "Feedback Network Based Non-Linear Digital Signal Processing System" which at least hints at Sanfilippo's style: cold, glassy, cutting-edge computer music all based on feedback frequencies. Somewhere between Yoshihide's "Filament", Martusciello's "Aesthetic of the Machine" and Mattin's laptop vandalism, Sanfilippo takes no prisoners: his work is downright harsh and unpleasant but without any communicative rock'n'roll vibe or reference - which many noise records do have - to hold on to, so you're left with distressed tweeters and buzzing ears and zero explanation/justification. Which, given the number of pre-digested "radical" releases around, is already something worth praising.