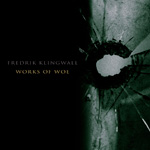 Artist:
FREDRIK KLINGWALL
(@)
Title:
Works Of Woe
Format:
CD
Label:
Last Entertainment
(@)
Distributor:
Plastic Head
Rated:
Inspired by Edgar Allan Poe's poem "The spirits of the dead", the latest Fredrik Klingwall album WORKS OF WOE is a real masterpiece of classical piano music. With the nine tracks of the album Fredrik created a convincing dramatic soundtrack where piano is the only instrument. Dissonance is still the way to go and every track convinced me totally. If you ever watched movies like "The cabinet of Dr Caligari" you should be aware of the kind of atmospheres that "The sleeper", "Alone", "Spirits Of The Dead", "An Enigma", "The Conqueror Worm", "The Valley Of Unrest", "The City In The Sea", "For Annie" and "A Dream Within A Dream" are able to rise. The mid tempo tunes pass to piano to pianissimo just to explode with a dark blast. Check some of them at www.reverbnation.com/klingwall

image not
available
anymore
Artist:
FLUX
Title:
Safe + Sound
Format:
CD
Label:
Na-no Tuanto
(@)
Rated:
Three years after the release of the singles "Electric woman" and "Protected" (both reviewed here and both included into this album), Flux are back with their first full length album titled SAFE+SOUND released by Na-no Tuanto (the band's own label) and Electric Fantastic Sound (a Sweden label that decided to go for digital only releases). The band formed by Asta (vocals) and two ex Neuroactive members (Vesa Rainne and Ville Brusi left the band in 1997, before joining the A Different Drum roster) present a great electro pop album that sounds minimal but functional. The ten tracks of SAFE+SOUND span from synthpop to sensual electro passing through old e.m.b. influences with easiness and taste. The album sounds strong and catchy and after two spins it will climb suddenly your personal toplist. If you love the old Client stuff, try this album and you won't regret it! If you are looking for it into the stores and you don't find it go to Electric Fantastic Sound (www.electricfantasticsound.com) and purchase it on digital format from Klicktrack, then you write your purchasing code to them and they'll send a physical copy (a normal pressed CD which contains also the video for "Protected") for free worldwide. Check some tracks and the video on the band's myspace page.
image not
available
anymore
Artist:
Tibetan Red
Title:
Ritual Breathing
Format:
CD
Label:
Antahkarana Records
(@)
Rated:
The Catalunian artist Salvador Francesch AKA Tibetan Red, is active since the first 80s. When i first came across his work, digging among some post-industrial compilations, it was a sudden blast; it made me think of an extreme and noisier version of Zoviet France ( both the amazing tracks on 1987's "Freedom On a Vacuum" luckily are re-issued on cd by Gracia Territori Sonor ). On this cd, his latest, the title is quite explicative because "Ritual Breathing" is a trio of tracks that deal with the concept of breathing and all the instruments used here involve the use of air to create a sound. The first one is called "Ritual Breathing" and it's a 35 minutes slowly evolving and spacious drone. "Gompa" starts with a subtle airy drone and ends with some (supposedly)Tibetan chants. Tibetan Red's compositions in 2009 sound surprisingly brighter in comparison with his very first releases but they share a similar way of toying with our spiritual side.
image not
available
anymore
Artist:
Brobdingnagian
(@)
Title:
TortureStainedDisaster
Format:
MCD (Mini CD)
Label:
Rusty Axe Records
(@)
Rated:
First off, let me say that this is not music that crosses these pages regularly, but i hope it will appeal to the most open-minded among noise listeners. Brobdingnagian play a mentally deranged blend of depraved black metal and sickening noise/experimental.
The title track is a perfect example of the forementioned style, there are massive guitars played slowly over sheer analog noise background with filtered voice loops and an inhuman singing. "Poison Tongue--Bloody Throat" starts with an early, archetypal black metal voice on fast tempo guitars reminding the most fucked up moments on the first Stretchheads album -- then after 2 minutes and a half the music stops and there are 3 minutes and a half of silence -- and then again filthy vocals on heavy circular riffs. The whole album is recorded in a delightful lo-fi style. Highly recommended to those who liked Ash Pool ( Prurient's Black Metal spin-off ). Check out their myspace and buy their cd because Satan rarely sounds this intresting. Limited to 501 copies.
Artist:
Anabasis & Gargrim the Liar
Title:
Two Worlds
Format:
2 x CD (double CD)
Label:
Waerloga Records
(@)
Rated:
A new Waerloga release is always something to cherish and they almost never let you down. This time the album is called "Two Worlds" and is a 2CD Jewel Case release with two different debuting projects taking on one release each. Waerloga Records hired the very famous illustrator John Howe (famous for working as leading artist in Peter Jackson´s Lord of the Rings trilogy) who made a great cover which spans to the back of the jewel case too.

Without a doubt, both releases are built on and around strings - instruments that has become representative of Hollywood soundtracks. James Newton Howard comes to mind while listening to both Anabasis and Gargrim the Liar. I put "Two Worlds" into the same category as "Glory," "Legends of the Fall," and "The Last Samurai".

The production values of both these artists are very high. They sound a little bit alike at times but Anabasis is more classical oriented film music and Gargrim the Liar are a bit more varied. The sound of Anabasis is clear and beautiful but not near the depth of Gargrim the Liar which mix and master is top notch! The melodies on both albums are very good and I have favorite tracks on both albums.

The artwork is beautiful but a bit light to my eyes. No doubt though that John Howe is a true master!

The prospect of being able to write a score for a film filled with epic, bloodbaths, lovable, rough, good-guys and twisted, detestable villains, would make any composer lick their musical chops. When I listen to Anabasis it sounds like he should dare to go a little bit more all out, but hell this guy (Henrik Summanen) is talented! Very cinematic to say the least and the darkness of the fantasy genre is ever present.

These are very promising debut releases of both Gargrim the Liar and Anabasis. The 2CD idea is not bad but a bit brave.
Gargrim the Liar come across as the one with the best sound, mixing and master and Anabasis the one with the best action and adventure spirit.

Very enjoyable dark fantasy cinematic music in the veins of Erdenstern and Arcana.