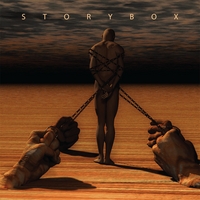 Artist:
STORYBOX
(@)
Title:
No Dancing Allowed
Format:
CD
Label:
Section 44
(@)
Rated:
BUY from
or BUY from
Storybox is the personal project of Agent D (a.k.a. Dave Montana). Previously he played in different bands and experienced different musical genres. After moving through different states of the U.S. Dave arrived in Austin, Tx and there decided to start working at Storybox. When Dave asked me if I was interested into reviewing his album I accepted because I like electronic music and synthpop but I accepted also because since from its cover NO DANCING ALLOWED shows its multifaceted essence. A man tied to chains kept by hands raising from the ground it's a particular image for a synthpop record. Also reading the lyrics of the album I noticed that here Dave or Agent D. shows himself naked in front of his audience, talking about his joys and his fears. From his website you can read that "Ashes in the air" born from a chat with a friend who found out his ex was Pro Nazi, "Dream ghosts" from the nightmares that he has almost daily, "Therapy" about a child who's been abused by an uncle while his mom was abused by his dad. Musically we have poppy songs like "Sun", "Gone with the wind" as well as dark electro ballads or dark tunes like "Dream ghosts", "Ardor", "Therapy" or the opening "No dancing allowed". There's also a cover of Beatles' "Thigs we said today" which originally was recorded as "A hard day's night" B side. The production reflects the nature of the work: genuine and without frills.
image not
available
anymore
Artist:
Painbastard
(@)
Title:
Borderline
Format:
CD
Label:
Accession-Records
(@)
Distributor:
Indigo
Rated:
"I am torn between rage and melancholy", so the introducing quote of PAINBASTARD-musician Alex P. – and he has never pointed this out that clear. With a strictly separation of the track list for his new album "Borderline" in 9 "Rage"-tracks and 5 "Melancholy"-tracks afterwards, you'll get a glimpse of what to expect. So the first tracks are sort of those Harsh EBM-smasher tracks with straight-forwarding dancefloor-compatibility and rough distorted vocals. But what happens here? The first 5 tracks give a frightening impression that the musically development drives PAINBASTARD more and into that Hellectro rush. Why? Was it necessary to copy the same and repetitive sounds over and over again, like so many acts did and still do? These tracks are sounding that unspectacular as they'd been produced in a rush – technical and compositionally no complaints, but the PAINBASTARD-signature is completely missed. Track 4, "Hope Dies Last", is a collaborative effect with Nemrod of the band DEMENTI providing the guest vocals. What works well and common at the verses, ends in a fiasco in the refrain, because this track drifts musically into pure embarrassment, so that no vocalist available on this world will be able to service a useful performance – the weakest track of this whole album. Luckily the average part finds an end and this album continues in that expected sort and style. "A Fool In Love" at least comes out how I was hoping to hear it in the first 5 tunes. Multiple synth layers, harsh vocals, but still well placed in the mix and a high recognition value. The epic kind to offer thick and well-worked out synth layers, at times melodious, at times ominous provided, has always been the most attractive part in the multiple arrangements of Alex. This counts also for the next both tunes "Web Of Lies" (what a bass line!) and "Madhouse Earth" – the latter with some reductions. Finally the talented duo of AMNISTIA (look for our interview with them somewhere else here...) offer a remix on the title track with rather old-school EBM bass lines and a solid kick and snare work – it punches the original by light-years. Coming to the "Melancholy"-part of this album, which at least doesn't mostly sound that melancholy like expected in the first instance. It's quite courageous to offer a reinterpretation on Ludwig van Beethoven's "Mondscheinsonate" – an EBM version with EBM-like instruments on a classic tune. Also "Liebe, Die Verbrennt", another instrumental tune sounds a bit like adopted from this classic composition – and so it is, it is a new interpreted part originally based out of the "Mondscheinsonate". Both best tracks are also placed in this section: "Parting from You" starts calm with nearly natural sounding vocals and an orchestral-sounding arrangement, until the mood turns to a cold and bombastic-sounding Dark Electro-tune. Last but not least, the mid-tempo-track "Beyond All Borders" clocks over 7 minutes and documents the outstanding end of this album - what a fine programming on this track, excellent! Nearly 75 minutes of audio, but it features 25 minutes of a black-out – the more I listen to the second part of this album, the more misunderstanding grows in me by checking once again the first 5 tracks. Maybe a remix companion release can bring back some more magic to it.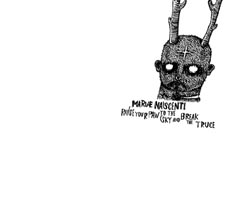 Artist:
MARIAE NASCENTI
Title:
Raise Your Paw to the Sky and Break the Truce
Format:
CD
Label:
Final Muzik
Rated:
After some spins of Mariae Nascenti's second full length cd, I must say I'm a bit disappointed. I've always found his live sets truly engaging, and the "Morituri Te Salutant" debut was promising, though probably not fully mature. The same thing could be told about "Raise Your Paw...", but as a whole, the album is much less energic and captivating to my ears. Coming with a lavish booklet and lengthy titles (Constellation/Mt. Zion-style), it is fairly varied in a very short time (10 tracks, less than 33 minutes), which is a double-edged sword, since it sounds too eclectic while many potentially strong ideas are not developed. The original industrial-ambient element is reduced to a minimum, and when the ninth track, "Amavo addormentarmi...", opened with a bass-heavy drone, I was hoping that it could lead to some darker territory - but it was only a fragment. The Coil influence is still strong in some spoken passages, like the opening "Blood Runs through My Veins...", or in the obsessive, beat-driven "These Giddy Memories..." (alas, with some over the top opera vocals), but then you find a piano sonata, a sort of drunken ballad ("Everything is Fine..."), an anaemic pop-rock instrumental ("Remember to Forget..."), and a good final melodic piece with more flat spoken vocals I could do without ("The Story of the Sad Bear..."). My favourite track is the cover of Slowdive's "Dagger" sung by a massive church-like chorus, but the song is so beautiful that you can hardly go wrong with it. I have nothing against even wildly varied works, but here one feels the lack of a strong binding theme, or atmosphere, and half of the tracks are just nothing special.
Artist:
NAGAOAG
Title:
yama labam a
Format:
CD
Label:
Eh?
Rated:
It was hard to find any info about this (title and artist name being the only writings on the cover), but with the web nothing's really secret, isn't it. Nagaoag is Public Eyesore's Bryan Day at guitar and vocals and Luke Polpnick at drums, if I got it right from previous reviews. Listening to the first track, I though this sounded like an unlikely jam between early US Maple and Fushitsusha - bizarre, rambling vocals, sometimes meowing, more often wandering cluelessly, over fractured guitar lines, almost psychedelic dilatations and restless drumming. The formula is the same throughout, but I'd also add Captain Beefheart, Oxbow and definitely Storm & Stress/Talibam! to the possible references. Very interesting, obviously and willingly unnerving but far from being gratuitous trash - in an apparently fertile period for free-form incests and "musique brut", this could even get some deserved exposure.
Artist:
SHELF LIFE
Title:
Ductworks
Format:
CD
Label:
Public Eyesore
Rated:
Shelf Life are an improv quartet featuring Public Eyesore owner Bryan Day jamming with A. Boardman, J. Jaros and J. Schleidt. The cd is a lenghty (78+ minutes) collection of thirteen sessions recorded between February and July, 2006 at Platteform, Omaha. The cover doesn't list any instrument, but my guess is that they used guitars, effects, shortwaves, percussion and maybe some reeds as well. Though it's pretty physical and acoustic/unaltered, it's not that easy to tell what's going on in Shelf Life's music. There's a lot of plucking, stretching and bowing, creating a chaotic texture, which is deepened at times by some drone or feedback or even odd found music moments, like tuning a radio and suddenly unburying an old song from the statics. Despite some more intense moments, and nice start-stop dynamics (track 7, for example), the quartet seems to avoid crescendos or sudden bursts, so the whole disc starts having a humming drone quality after a while. It's a nice radical improv set for the most part, but also a tad too long/uneventful for my jaded ears.