Artist:
The Crystalline Effect
(@)
Title:
Identity
Format:
CD
Label:
Advoxya Records
(@)
Distributor:
Poponaut
Rated:
Australia's Electropop-duo THE CRYSTALLINE EFFECT hasn't surely any identically problems, although some of the musically influences this duo likes to integrate in their tracks, remains to be filled with diversity. It's the rich musically horizon represented by especially Pete Crane, which draws on this album with black ink in huge letters by balancing between music styles like Synth-/Futurepop, EBM, Industrial or Trip-Hop. And some Downtempo-tunes only based on some sedating synthesizer sounds, a charismatic vocal performance by the female band member Elenor Rayner as well as slowed-down Breakbeat rhythm-patterns ("One Time In Life"), can be discovered too. TCE aren't that sort of an "often-heard-often-forgotten" act full of linearity and foreseeable sounds. But they aren't also a typically floor-filling act relying on the ability to produce that "one-hit-wonder". A fine example can already discovered with the opener "Blue Sea", which starts with a single piano introduction and Elenor's aesthetic vocals, until the beat joins the scenario to push the audience toward to some floor-movement. As for another highlight I tend to name with "Life Has Failed You", with its staccato-like kick and snare-programming and the included interruptions to strengthen one or another part of the music arrangement. Three additional remix works by Lee Bulig (ex-STARK), ENDIF and especially IMPACT PULSE are offering at least diverse sounding and for the most part straight and dancefloor-compatible reinterpretations, which may help some lazy DJ's by the decision to play TCE tunes in the club – the original tracks of this album aren't that suitable for this. A quite interesting Electropop-album, which earns its praising by the refreshing kind to experiment with diverse styles and rhythm programmings.
Artist:
Fixture for Toxins
Title:
Night Hovers Over Us Again
Format:
CD
Distributor:
Future for Toxins
Rated:
Upon first glance at this album, it becomes clear this release is not intended to be a colorful listen. The album cover consists of a black silhouette on an opaque black background, while the disc face itself is a fine, black tone. If you look closely enough, you'll notice begin to make out some ominous images of trees and a broken horizon. This sets the tone for the listening experience.

FfT's release, Night Hovers Over Us Again, lies somewhere between an organic live performance, a noise experiment, and a band from Wilmington, Ohio. This description pertains to their memorable riffing style, which tends to lean towards verse/chorus type structuring upon the initial unfolding of this disc. In their more catchy moments, FfT displays a more conventional riffing style, but later manage to inject some dense and noisey textures to enhance this story. This seems to identify the group as more familiar leaning than avant garde, being perhaps more influenced by a band like Acid Bath than say, SunnO))).

Then you reach the 2nd half of this disc. A lot shifts.

Standout tracks for me include track three Willow Grove Under Waning Gibbous, which feels like an early era Ministry sans percussive material. Immediately following, Graveyard Fog and Sunlit Infinite seem to land squarely in the band's intended territory, bringing about the ominous ambience that feels groutnded in their intended soundworld. There is very little sense of a percussive thread, and this allows the band to breathe a bit more.

If you are interested in non-percussive, noisey, but still band- derived and inspired soundscapes, this should fit your interests well. With conventional percussion and rhythm at a minimum counterpoint (think less than this), Night Hovers lets you delve into a territory consisting of innate pulse, screamy vox, and explosively punchy bass - all while dragging you down into a darkened cavern of suffocating, human derived, detuned noise narrated by industrial vocals.


Artist:
VV.AA.
Title:
Keep The Fire Burning
Format:
CD
Label:
Equinoxe
(@)
Distributor:
Masterpiece
Rated:
Once upon a time there was a little small house in the middle of the Black Forest with a little group of fairies casting gothic-tinged spells, some years later a necromancer noticed the music spread out by this little creatures' ensemble was a good and safe thing and so he decided to pronounce a magical formula to turn into a wonderful and luminescent castle... It's not just a silly fable to let your puppets deeply sleep, but it could be a transposition of the story behind the astonishing Equinoxe Records, a label which moved his very first steps in the summer of 1998 in order to provide an independent release platform to the legendary German Gothic Rock band The House Of Usher by avoiding the subjections and compromises of the usual market mechanisms. Nowadays Equinoxe is one of the most interesting reality of the music market but in spite of a 10 years-long activity and more than one hundred releases (and notwithstanding the leaving of two of the four founders, who decided to move on to other endevours) the enthusiasm which inspired their action is almost unchanged and it seems to be the same of the beginning. The tireless publishing effort of this German label let us discover a plenty of interesting bands coming from those music grounds... but the story (or the fable?) of Equinoxe keep on surprising with two remarkable highlights i.e. an agreement in 2003 with the professional distributor ALIVE and the almost concomitant decision to create an electro sub-label, e-noxe, digging into the rich electronic music soil – that's why this 10-versary sampler is also a celebration of the 5-years birthday of e-noxe!-. As it happens in almost every respectable fable, it should be a frightening ghost, a pustule covered angry ogre, a ravenous wolf or any other monster-like character playing an antagonist role in the set: as everyone knows, the music industry has deeply changed with the advent of internet and file-sharing, one of the greatest threat to many labels – especially the smallest ones -, reducing the possibilities of surviving in an highly competitive market, featuring an excess of supply never experienced before. But this "new order" resulted in a sort of new challenge for Equinoxe masterminds and that's why the brave efforts mainly focused on any possible attempts to improve the quality of the releases without neglecting the roots behind any bizarre form of stylistic "revisionism". So we could say that this 16-track sampler combining exquisite pieces of both catalogues (the Equinoxe and e-noxe ones!) – with a lot of special tracks by bands which filled the roster from the very first day such as House Of Usher and interesting newcomers such as Psyche and Silvery... - has a particular meaning for the men behind the label curtains! Not only a gift and a sort of thanksgiving to all supporters of the label all over the world, but also an invite to breathe on the 15 candlesticks to join to the bacchanalia! But please don't forget to... keep the fire burning, folks!!!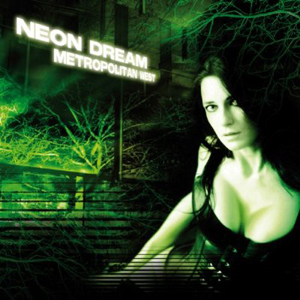 Artist:
Neon Dream
Title:
Metropolitan West
Format:
CD
Label:
Equinoxe
(@)
Distributor:
Masterpiece
Rated:
Hey, folks... please take your eyes off the green-filtered (you should know that green is an hypnotic color, shouldn't you?) picture of the entrancing neckline of that cutie model on the artwork and respect our fatigue of reviewing records for hours and hours just for a while as the Munster old gothic school seems to be more active than ever... Well, after the renowned issue of the prog-rock band Long Distance Call, here it is the second long-awaited act (... the whole fan-base and those critics which acclaimed to their debut Anodyne have patiently waited for five years their coming back in a studio recording... ) by Neon Dream, a fine band of contemporary gothic novelist and music translators of "dark" feelings swarming in the bowels of contemporary society into a musical idiom deeply rooted in the traditional gothic-rock ground' it's almost impossible to deny a certain influence of bands such as Paradise Lost - enhanced by some elements deriving from metal and wave and inventing a sort of (not so) fictional plot with a fertile level of metaphorical imaginary. In the illuminating preface to the record, the band headed up by singer Klaus Mollers' his gloomy voice is undoubtedly one of the most remarkable element of Neon Dream's line up... - clearly states that their main theme is "war and aggression against life" and quoting a famous sentence of Platoon ("We did not fight against an enemy. We fought against ourselves. The Enemy was inside us") in order to describe the state of the art of the mankind today, they identify their source of inspiration in a sort of nightly revelation inside of which there could be an hidden remedy ("It is despair, that characterizes all the beliefs in imaginary spiritual forces... call them god. Because: did those powers ever arrive or have been seen yet at all? I watch out for them every night. Hours, in which all lyrics of this album were written"... that's maybe why the album metaphorically begins with an atmospheric intro entitled "Flight to Dusk"... there're even some samples of an helicopter just to underline the technology evolution since the times of wax wings by Daedelus! ). Metropolitan West is not only what is normally known as a "conceptual album", even if its cohesion could suggest it, but the honeycombed way this band well balance gothic influences with metal and new wave excerpts is a body of evidence of their musical skills, which are clear since the first track Black Cicada, a sort of allegorical spell highlighted by a somber vocal interpretation by Klaus, whose visionary but not inducted by hallucinogenic drugs (!) state reach a peak in the title-track, a track which stylistically has a more "commercial" appeal, reminding to us some tv fictional series' soundtracks and classical goth-rock throughout airy sounds and sequenced guitar sets. We really like the inspired lyrics of Stealth, a sort of call-to-arms combined with a disquieting transliteration of a modern incubus in the "trillion lights up to 90th floor" of a skyscraper, which is depicted almost as a treasure of terrible mysteries connected to homologation plans ("crowds rushed beneath dark skies/Woman and man . dressed the same") transcending common people's imagination... ! Melancholy and depression as well as a sick sense of inadequacy are the leitmotiv which seems to inspire Veils , while in Agnostic there's a synth-pop pigment which doesn't disfigure the darkish visions of the whole album as well the touch of medieval folk harmonies roosting on Last Hours harmonies. The next track, "Exil" the only one with German lyrics with his industrial-novelistic wit and a hieratical tic-tac of a pendulum clock is with no doubt one of the most atmospheric one (and one of my favorite one). The harder side of Neon Dreamz' sound is surely Child Night Dream, which partially join with the support the band's giving to the Kim Foundation for helping children who physically or mentally suffer from war experiences (have a look to the foundation website: http://www.www.kimfoundation.com) . Some influences by the famous Finnish goth-roch band 69 Eyes on the luscious Sexaholica, while Human Replica seems to be another lucid inversion of a predictive dreamlike realism. The bonus track, Overscreening, with gears moving from the new-wave scene, is another body of evidence showing how diversified Neon Dream style seems to be! Thanks for your attention... now you can look elsewhere!

Artist:
FRACTIONAL
(@)
Title:
Still Life
Format:
10"
Label:
The Centrifuge
(@)
Rated:
Released one year after their latest album titled "Come mierda", Fractional are back with a new 10" E.P. (which is also downloadable as free mp3s from the label's website) titled STILL LIFE? The release contains four new tracks titled "Acomba", "Tasw", "Lula" and "Aeu". These tracks present a slight different side of Fractional sound as they are less industrial and "neurotic" compared to the album ones but nonetheless dub and breakbeat are always two important influences (only "Aeu" is the one that remember the album's tracks because of the fast breakbeat rhythms). On the new tracks it's like if Pierre Remy succeeded into balancing the different elements without being too aggressive and the result is a great blend of cinematic sounds/atmospheres with more melodies (see the opening "Acomba" where vocal samples duet with keyboards while bouncing rhythms create a multi layered web) and ideas. Sounding also more tribal than before Fractional new tunes will convince you immediately at the first listening!