image not
available
anymore
Funny, I was unaware of the existence of this label and in one month I happen to listen and review two of their cds, I've been positively surprised by Harold Nono solo work and this label sampler shows they've a good roster. Apart from Harold Nono it's the first time I hear the rest of the musician here featured with a track, what we have is basically melodic if not poppy music thought there's some weird "trait d'union" joining the ninety per cent of the artists on this cd. Electronic pop music? More or less that's the deal in many tracks even if there're some considerable differences but I've to repeat that it looks like the label has a clear distinctive physiognomy: for example take the first four tracks they're different but still have something similar and that means at Bearsuit they've probably assembled the tracklist to make the listening easier and flowing, I'm quite sure about it or well, that's my impression. The first track that put me on guard for some sensitive difference is the fifth, the composer moniker is Oldman and offers a weird mix of soft rhythms plus sexy vocals and some distorted guitar to make the difference, somehow it reminded me of New Wet Kojak. Kaboon Karavan, Harold Nono serve a couple of bizarre fragmented tracks that (above all in the case of Nono) are quite out of ordinary. Then, when you think you've finally identified the general sound of the label here we go with some strange but ethereal tracks like those of Pequena Fiera!, Limbic Somnus, Alfred Brown. With the last musician there's also a sort change of atmosphere of the whole cd, above all when you pass to James Ross' song whichh could have been part of Badalamenti's soundtrack for Twin Peaks... and what about Linda Bjalla?! Is it that far from Julie Cruise or Elizabeth Frase?. The compilation opens with some electronic music but approaching to the end it follows a song-writing route. Sonicbeat reminds me a lot of early Mum without vocals, while Hulk and Cahier are still really melodic like many indie-tronic artists but don't change the very substance of the sampler. It's a weird, melodic-oriented sampler, give it a try for they may have discovered the heirs of Plone, or Mum or the new answer to Hood and Postal Service among their ranks, interesting label and soft enjoyable sampler.


Artist:
Noiseshaper
Title:
Real to Reel
Format:
CD
Label:
Miracle Sounds
(@)
Distributor:
Rooftop Promotion
Rated:
BUY from
or BUY from
Florian Fleischmann and Axel Hirn, who form the Berlin-based duo Noiseshaper, turn in a deft and playful collection of self-produced dance singles that fold Reggae/Dancehall/Dub vocals and influences into conventional Electronica sensibilities. This CD, which has Adrian Sherwood on dubs and overdubs, and the legion of guest singers and toasters also include Beans & Hawkman, G. Rizo, Juggla, Jackie Deane, Vido Jelashe I, Wayne Martin, MC Shureshock and Jahcoustix. Accordingly the CD has a pleasing balance of numbers, songs of many different tempos, which are hard-hitting or gentle as called for, and uniformly well-produced.

The featured themes of the disc include both those of "conscious" roots Reggae and the much-heralded violence certain parts of Jamaica are known for (referenced in the very first two tracks, notably). The second of these, "Me Done" (featuring Ari Up of the Slits as the featured toastmaster), is armed with Chemical Brothers-style dance flavor -- you can hear the same grinding, groovy bass line that propels the Chems' "Leave Home" from Exit Planet Dust. Curiously, in track 4, pumping bedroom piece "Love to the Rhythm," the refrain is clearly saying "Sla-a-a-ave to the rid-dim..." -- not even the plantation is forsaken on this cruise. "All A Dem A Do," track 10, opens with lovely guitar arpeggios, and evolves into and out of a kicking drum line that would make Groove Armada proud. Track 13, the TVS remix of "Walls of Silence," recalls some of the sample-y weirdness of Sherwood's earlier associations with Tackhead and African Headcharge, but with less of the spontaneity and more of an eye for the dance market itself.

To the orthodox Reggae fan, it may sound as though Fleischmann and Hirn are taking some liberties with Reggae music's various genres and sub-genres, but from here it seems to do more good than harm. Although by now this compilation of Noiseshaper's singles can't hope to sound anything close to groundbreaking, it has the function of exposing one to a surprisingly broad range of Reggae styles -- and simply shoving a much-needed Reggae/Electronica stone into its proper corner of the Dance temple.
Artist:
SONNE HAGAL
(@)
Title:
Jordansfrost
Format:
CD
Label:
Luftschutz Entertainment
Distributor:
Tesco Distribution
Rated:
Three years after the "Nidar" mini album (which contained the beautiful "The Three Ravens") Sonne Hagal is back with a new full length titled JORDANSFROST. For the creation of what is a masterpiece (once you'll listen to it you'll agree with me) Andreas has been helped out by many friends of the neo-folk scene. Of The Wand And The Moon (Kim Larsen), In Gowan Ring (B'eirth), Waldteufel (Marjus Wilff and Tyrsson), Ernte (Will I and Rose, the same people who years ago run the Cthulhu Records label), Lux Interna (Joshua and Kathryn), Darkwood (Henryk Vogel), Black Sun Productions (Pierce), Sonnentau (Andreas Arndt), 44 Martyn, Daniel Busch and Unto Ashes (Michel Laird) gave their contribute on vocals, accordion, flute, trumpet, violin, keyboards and composition creating a choral work full of phatos. A work which definitely sounds Sonne Hagal despite the many people who worked at it. Also the three covers available are the result of a collaboration, because they have been painted by Fabrice of Divine Comedy Records. JORDANSFROST (which indicate the alternation of light and darkness extended to all the possible meanings: seasons alternation as well as the birth/death cycle) contains twelve acoustic songs which are inspired by Northern mysteries and which lyrically use rediscovered poems as well as original lyrics (some are written in English and the remaining ones in German language). The overall atmosphere is enchanting and it's really different from the previous debut album "Helfahrt" because on JORDANSFROST we have joyful tracks as well as dark moments which sound like they are born to be "carved in stones". Here the tracks are something more than evocative acoustic ballads and this result has been reached thanks to all the people involved: playing a snare drum here and a trumpet there they helped giving life to twelve gems creating convincing arrangements which is making sound each song fresh and inspired.
image not
available
anymore
Artist:
FLUORESCENT GREY
(@)
Title:
Gaseous Opal Orbs
Format:
CD
Label:
Record Label Records
(@)
Rated:
This' the second release by Robert Martin aka Fluorescent Grey I review and it confirms all the good things I've been thinking at the time I've heard his previous work. This electronic musician joins some nice post-IDM reminiscences with some experimental-electronic attitude therefore it's easy to speak about some of the most cryptic, odd Afx, Autechre and maybe Lfo with less melody and with a dark electronic attitude. Let's say if this label is gonna have Mick Harris in their catalogue as I've read, I'm sure the taste of his forthcoming work for them won't go that far from some of the darkest moments of this cd (the first track for example). Fluorescent Grey kept his rhythmic skill and hasn't hidden his "acid" aftertaste, the fact is he's refined his working on abstract tracks and at the same time when surrendering to melody he's put some narcotic dub radiations. Martin has an odd sense for melodies which means the music is not that easy listening-electronics alike and here's where he probably in some way he's closer to Mick Harris "Logghi Barogghi"-era. Dissecting the track-list you'll find the music becomes more melodic when you're arriving to the end of the cd but the strangest things of all is a really melodic song that due to the flutes reminded me of that Marxmen anthem sung by Sinead O'Connors titled "Ship ahoy". I think Fluorescent Grey has improved his compositional process but hasn't changed his physiognomy therefore if you liked his first full-length your expectations won't be deluded. Good recording and well shaped production that crystallizes all the particulars of the music assembled by Bobby Martin, he probably has to work a bit on the atmosphere of the tracks but if you're into rhythmic electronics, post-drum and bass music take for granted this guy plays in the major league.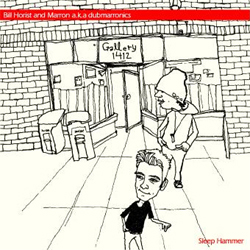 Artist:
BILL HORIST & MARRON
Title:
Sleep Hammer
Format:
CD
Label:
Public Eyesore
(@)
Rated:
This live recording is the result of the collaboration between experimental guitarist Bill Horist and japanese guitar deconstructionist Tanaka Yasuhiko aka Marron. I've already heard other materials featuring Horist and in general I find he always have his interesting personal touch both while working in solo and when collaborating with other musicians. Marron 's and Horist's guitar-loops/deconstructions gets along really well together and in most of the tracks and what's more even if probably most of the material is "ready made" and improvised, in many episodes it really sounds like the scrawl?? of a composition and that means they know really well were they're headed. Despite the fact guitar and loop-machines probably are the main sound source in most off the songs, the cd is homogenous but quite varied and well balanced. They range from psychedelic-guitar-layering to abstract electronic no-wave rides or to melodic ambient track that pays an heavy tribute to mighty Robert Fripp. Somewhere else where loops gets more cyclical I've caught myself thinking to some minimalist's composition above all to Reich when he used Metheny in one of his masterpieces, think of it just less controlled and more free style. Horist displays his many influences and what I appreciate most of this performance is the duo don't stop at the first easy solution but pushes forward trying many solution at the coast of going out of focus during the process. By the way I'm glad to say that thanks to God their inspiration resisted enough to paint many interesting episodes and thanks to a really good recording the result is here for your ears to listen. I imagine many of you may think this' just another post-Branca, post-Thurston Moore freaky series of melodies, as I've said the psychedelic, post krautesque element is included with the ticket but Horist is an interesting guitarist and in some way he reminds me of mighty James Plotkin when going sober (who?...Plotkin sober?!?!) and melodic, to this add the fact Tanaka Yasuhiko interventions are really calibrated above all if judged in the economy of the impro-structure. Sometimes you've some really melodic solutions, sometimes you've entropic crescendos and somewhere else you've some relaxed, soft ambient patchworks but what's more in most of the cases the tracks and in general the whole performance has heart. I repeat, the recording is really good and it's easy to forget this' a live performance.