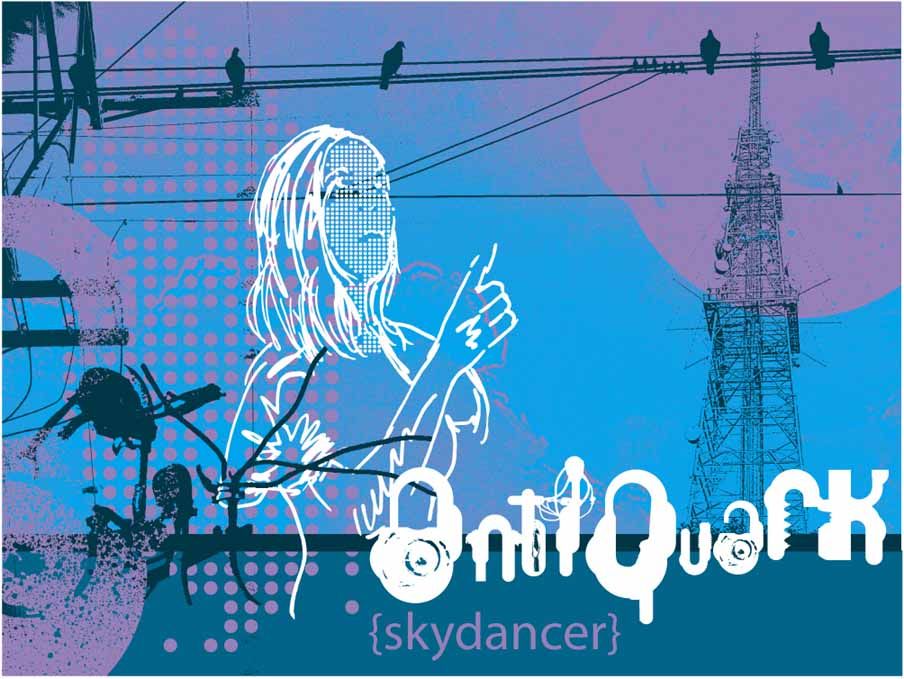 Artist:
ANTIQUARK
(@)
Title:
SKYDANCER
Format:
CD
Label:
HUNGRY EYE RECORDS
(@)
Distributor:
http://www.hungryeyerecords.com/
Rated:
SAN DIEGO I LOVE YOU! This CD is an homage to psychedelic party life, sounds and electronic carpets are really, the voice follows the rules of NEW VAWE, but the sound atmosphere wanna be huge like Pacific Ocean; great work, easy to listen and easy to love above all. For sure they will play a lot in club this project is made to dance over beach. It's the proof that a dance project has to be SIMPLE AND DEVOTED TO FUN first to be a complex structure of glitch and other electronic strange entities. The DUO behind the name: "She is the composer and producer of AntiQuark music. Sergio, the voice, joined the project in 2006. He formally studied singing at the University of Texas and garnered extensive experience performing with a variety of bands. He also worked as a radio-DJ and sound-engineer before moving to California." From the website of the LABEL, Hungry Eye rec., a small but intelligent USA label devoted to underground ideas and content with a god attitude for booking.
Artist:
WEST STATE
(@)
Title:
SIDEWAYS
Format:
CD
Label:
Shadowplay
(@)
Distributor:
SHADOW PLAY
Rated:
Another dark flower from RUSSIA, this coming to my desk thanks to SHADOWPLAY and I think that's a good gothic label, full of very interesting artists, another demonstration of the vitality odf the Russian world. West State project is smooth and full of strange fashion not easy to find out in projects that are very well focused in terms of art and ideas involved into. The synths here are showing a form of thought similar to some tracks of Future Sound of London but the arena in which West State move is very different and their result has the Smoothness of FSOL but not the unique energy of the London Group. West Side are walking towards a different state of Synth/Mind and electronics and I like it so much, in some ways they are in the path of 80ies electronic music produced in Europe and specially in French. I appreciate so much the graphic package of the audio cd, another time it's the proof of a project that has legs to move ahead. It's great music to write about the secret sides of our daily world.
Artist:
COMPILATION
(@)
Title:
CARRY ON LOVIN'
Format:
CD
Label:
MOMT
(@)
Distributor:
MOMT
Rated:
A compilation in this case is the DNA of a label and MOMT records has carved this one in stone, the artists present are very different each other and some of them very great: GUSTO EXTERMINATION FLUID and AUDIO WAR. The second one is really violent, aggressive and Techno based the influence of forces like Meat Beat Manifesto and Prodigy are evident. The project of MOMT is to do a sort of Warp Records strictly based on industrial-techno-electronic. For sure their formula is ready to be massively used in live concert with three or four artist of their roaster. K-Nitrate is very near to some Front 242 sounds but is more cruel and drum machine addicted. Very interesting is SKINK, in his track he created a simple but effective soundscape of delay. MOMT records chosen its artist with a great attention and I think that it wasn't something easy to do, the sounds and the categories in techno/industrial/electronic are something not easy to recognize and also to follow and to put on light. Artists for a techno label are indeed their idea of music and also business; that's something we gotta consider even in indie music. Well done MOMT, you will get a very good work.
Artist:
DVAR
(@)
Title:
ZII
Format:
CD
Label:
art music group
(@)
Distributor:
art music group
Rated:
It's PURE GENIUS, provocative, punk, extreme but in the same time "easy to listen", electronic but 8bit-computer-like, futuristic (the use of the voice), DVAR has no limit to amaze the audience. They use icon and symbols of a strange POP Death Dark entity and they play with a full set of an obscure art of Irony. The result is something never heard before a mix between POP PUNK GLOWESQUE Japanese style and something not so far from the B52's; but in this case we can call DVAR the BEAR's (I am referring to the B52 version of Russian Military Aviation). DVAR uses also Folk Music vibes and a very simple drum machine...there is no limit to their provocation, they quotes us all the silly world of computer games, Super Mario Bros-Like, all the folk dimension based on slight melodies and punk-pop voices. It's difficult not to think about a movie where Tim Burton meets George Romero. Irony and a strange form of Electro Punk is their Keys to reach our brain and starting a sort of de-programmation of our western rock addicted minds...the aims, their aims is clear to create a Russian Music Revolution in our mental regions. Only Russia could generate something like that, thank you Great Mother Russia.
Artist:
HEX ON
(@)
Title:
In Slow Motion
Format:
CD
Label:
monopoly records
(@)
Distributor:
monopoly records
Rated:
From Russia with a Portishead touch, ethereal but darkish music. It's a project that follows the rules of the modern electronic style but with different view. I gotta say that I was amazed by the sounds I heard in this project, smooth, noir, mystery like a sort of imaginary soundtrack for a thriller set in Moscow Metro during the night. Also, the graphic work of the project is very interesting a sort of Lewis Carrol divertissment with some gore disturbing content, but perhaps the symbols involved are Alchemic...not to mention Alan Moore worlds . Coming back to sound and electronic moods they use, we hear strange voices, glitch sounds and also break beat tunes and some noisesque electronic carpets all of them are well mixed up and hey move in the proper way to inspire something not only to move air around our ears. The soundscape they create is perfect for a strange thriller Lynch-inspired. The sound complexity of the project is focused and not accidental, there is Brain behind the music not only a mouse and "Fruity Loops". The result is largely positive and sometimes Depeche Modesque but not so much, some track recall me the acid of Talking Heads but from an electronic eastern POV. Best track for me: the 4th. In some way they follow even the AddNToX rules but HEX ON is more RUSSIAN and "aggressive/noir/spooky", better, they have a different mood but the "place" they walking into is definitely that one. A last word about the LABEL, it is a very interesting entity that is creating a dense workground, give alook to their website; I look forward to hear more from their great, secret and beautiful Land.