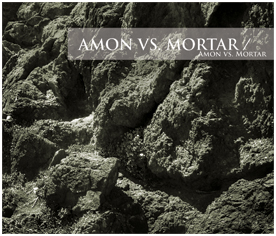 Artist:
AMON VS MORTAR
(@)
Title:
s/t
Format:
CD
Label:
Afe
(@)
Rated:
Given the fact this release came out on Afe you have Andrea Marutti squared and that would be enough to give a strong identification to this product. This cd features material from Mortar coming from late 1996, some went to compose its Oktagon lp plus some previously unreleased materials, everything has been molded and reshaped by Marutti with his Amon moniker and if you've confidence with his previous work with such a project you don't have to expect something that different. It's misty-ambient, dark-ambient music with an incredible amount of mid-low frequencies and keyboards/synths' sounds. I think the original sound source for some of the tracks were synths but don't expect those post-black metal releases with cheap ambient keyboards sounding like a third rate horror movie soundtrack. If you strain and work with your imagination I think here and there you can also guess the cut of some of the original sources is someway old-school, but as you can guess Amon has reshaped the whole recordings to give it a new tissue and here you have it, thus don't consider it as old despite it betrays that old school touch lot's of you may appreciate. Sometimes I've been quite surprised by the fact Marutti has gone quasi-melodic, like in the passage where he used an organ sound to play a sad melancholic harmony that breaks into the wall of misty clouds you can cross for the whole length of the cd. For those of you who already had the chance to taste some of his Eibon materials, here Amon tends to diversify a lot some of the passages even though the global sound of the work is quite uniform but you have more sounds suspended in the background, sometimes lost in reverb, sometimes something strive to get to the surface, the impression is there's something beyond the steam. this effort also reminded me of Amon collaboration with Nimh in the occasion of Sator, just a bit less heavy and less powerful, but something brought to my mind that monolithic feeling. At the end of the day it's a really quiet and introspective cd and I think the desolated rocks Abby Helasdottir/Gydia has put on e the cover tell us much more of this release than the majority of the words I've written.

image not
available
anymore
Artist:
RELEVELER
(@)
Title:
Incipient
Format:
CD
Label:
Interdimensional Industries
Rated:
Released the last year but arrived to my desk just recently the debut album of Releveler titled INCIPIENT is one of my preferred recent electronic albums. What convinced me since the first listening is the thickness of the ambient sounds, the cinematic sense of the tracks and the melodic taste of the whole. If I have to think of a paragon I'd point Oil 10 with a touch of cEvin Key. Acive since the falling 90's Krhys Wiebe collaborated with different bands, remixing their music and also producing their sound. Four years ago Releveler released a 12" titled "Untouched" (you can find the revised version of the main track on this album) and is already out an E.P. with remixes containing "Your flavor" (five different versions of this track that sees on guitar, backing vocals and production Pete Jones of P.I.L. fame), "Denial" and "Untouched" (plus as bonus there is a Releveler version of Depeche Mode's "To Have And To Hold" and a remix of Phase Theory's "Simple Complications"). If you love electronic music with a bit of ambient industrial sounds, dark atmospheres and rich rhythm textures but you are also willing to find some melody and some vocals in it, INCIPIENT is for sure a CD I'd suggest you and if you're also into late Gary Numan, here you can find a good version where the original spirit of the track is enhanced by the use of many electronic sound layers, nice vocals vocoder filtered and a semi oriental percussive rhythm... Check some tracks on http://www.myspace.com/rlvlr.
Artist:
Psychotektrauma
Title:
Human
Format:
Download Only (MP3 only)
Label:
Enough Records
(@)
Rated:
Yes, that EDEN SYNTHETIC CORPS (ESC) is only sort of the spear top of a new generation of Harsh EBM acts hailing from Portugal. This most western-based European country has more quality Electronica music to offer than most of you would think of. The trio of PSYCHOTEK TRAUMA offers you herewith a free downloadable EP pretty much following that repetitive Hellectro path, which have been walked on by many band of the NoiTekk band roster for instance. PT don't have to vanish their talent and can rival with some bigger names out of the scene. Best track out the 4 is for sure "Hard Boiled" as being the most straight and up-beating track. PSYCHOTEK TRAUMA surely don't reinvent the sound and compositional efforts of a more than overfilled genre, but they convince with their sort of work. A special tip to all Hellectro hard-liners to check out a different and new act asides the known acts . Released by the huge Portugal-based net-label Enough Records, which has to offer a huge heap of various music styles provided by new and undiscovered acts worldwide. Regarding PT, lately there has been some inactivity around them, so I hope not to beat a dead horse here....
image not
available
anymore
This is the debut release of a quite interesting Australian-based newcomer act, but with prominent and experienced Electro/Industrial-musicians hiding behind. SHIV-R is the new playing field of Pete Crane (better known with his Electro-Pop project THE CRYSTALLINE EFFECT, signed to the Hungarian Advoxya Records) and Lee Bulig, the brainchild behind the legendary but unfortunately gone Harsh-Electro act STARK. Three original tracks plus two additional remix works by each of the both artists are featured on this first audio sign of life. The title track is of course the main track here, a hard and straight-forward oriented danceable Hellectro tune, which luckily adds niches for a well-done listening procedure too. Pete takes care on the male vocals and he does really well with this, better than expected. Also both additional tracks "Fractured Light" and "Control" aren't that straight oriented and leave enough room for the listener to consume without to discover another plain Tekkno-oriented bass drum hammering . Oh, and the use of guitar riffs subtle integrated aren't forbidden for them – a good idea for some variations is always appreciated. A quite promising and well done debut, let's hope for more of these both talented musicians soon.
Artist:
THE MOON AND THE NIGHTSPIRIT
Title:
Ösforrás
Format:
CD
Label:
Equilibrium Music
Rated:
Two years after "Regõ Rejtem", the Hungarian The Moon And The Night Spirit are back with a new album titled OSFORRAS. The nine songs of the album, since the first listening, show a slightly different side of the band's music as this time Agnes Toth and Mihaly focused their songwriting on mystic/magic themes. OSFORRAS, which stands for "the source pristine", represent the primordial womb where everything born. As on their previous albums they used folk instruments (violin, acoustic guitar, woodwinds, percussions, zither, fujara, etc) but this time the atmosphere is less dreamy as the tracks often have upbeat rhythms and "in crescendo" sections with strings, guitars, chants and percussions. Songs like "Fénybe Térö" and "Tüzben Születö" are a mix of joy and darkness where the male/female chants are able to make spirits arise. Tribalism and paganism are the key elements of this album and often you'll find yourself surrounded by wood's creatures dancing around you and tempting you until you'll find yourself running free through the trees, smelling the scent of wet leaves. P.s. The album will be released in two formats: Digipak CD with booklet, and collector's edition hard-cover 19,5cm x 14cm Digibook (limited to 1000 copies), with full-colour booklet including large reproductions of several paintings created for this purpose. The collector's edition also includes one exclusive bonus track featuring guest appearances by Catarina Raposo (Dwelling), Saskia Dommisse (Poets to their Beloved) and Alessandra Santovito (Hexperos).