image not
available
anymore
The album title refers to a mushroom which grows on decomposing flesh so for his newest album, PSILOCYBE NECROPHILIA, Niko Skorpio applied the same transmutation process to music using Km of old tapes to give birth to new music. From death arise new life so the six track of this album are like born from an alchemical process. Musically most of the tracks sound experimental and ambient but with a certain amount of tension which is crawling between the sounds of the CD. The treated tape cut-ups, sound like struggling dead souls and the whole result is a sort of psychedelic death trip.
image not
available
anymore
Artist:
Nebulo
Title:
Avutma
Format:
CD
Label:
Hymen Records
(@)
Distributor:
DSBP
Rated:
That's a big scorer point for Hymen: every release they bring out surprises in one or another way, nothing seems to be foreseeable. This also counts for the French act NEBULO, the music-project of Thomas P. Musically this "Avutma" album offers a sci-fi sound-trip into a very own cold and foggy world. Pianos and organs got several times fx-manipulated to build a musically ground construct. Synth layers and subtle modified beats accomplishing this surreal scenario, which can described as a mixture of Ambient, IDM and Clicks'n'Cuts. The Ambient influence is surely the most recognizable ingredient, since this album doesn't offer too much hectic and the possibility of a rhythmically movement. Some crunchy beatings here and there invade the walls of sounds to fill in at least some linearity. At times this complete sound scenario leads into a climax of surrealism and a real psycho-hypnotic impression. Not that easy to follow track by track, this "Avutma" album seems to be designed to satisfy the die-hard Ambient-Electronica freaks only. To me this album is a bit too personal-minded and it could need some more light extracted out of a more mass-compatible sound construct – but that's only a personal impression. Not bad at all, but maybe this work requires too much spins from the listener until completely satisfaction joins in?
image not
available
anymore
Artist:
T_ERROR 404
(@)
Title:
Million Thoughts
Format:
Download Only (MP3 + Lossless)
Label:
X-Line
(@)
Rated:
X-Line can be surely named as being one of the best known net-labels hailing out of Russia. It is the legitimate follow-up label to NBK-Records, but with respect on the current hard times, they release their stuff as digital downloads for free under the Common Creative License. The label X-Line is part of the Alter-X Promotion Project, which at least consists of three different labels. X-Line itself stands for a crossover between EBM/IDM, while Absetzer provide rhythmic Powernoise and the third Space-Time Continuum takes care on various forms of Ambient music. T_ERROR 404 is surely one of these promising and still need-to-discover-them related acts and they stand luckily for a hard Electro/EBM sound, which doesn't remind on a daily doze of repetitive Hellectro-mutations. "Million Thoughts" presents a wide-ranging style between classic Dark Electro music ("Million Thoughts", "Solaris") to powerful rhythmical Noise-like tune ("One On One", "Sky Surfer"). This musically diversity for sure helps T_ERROR 404 to earn respect for their work, although they not reinvent the wheel. Also good to hear that they still prefer a subtle form of audio compression, instead to a volume make-up for breaking the highest peaks. EBM/Industrial can still be an aesthetic form of experimental-oriented music, and this talented Russian act proves this well. An act to follow without doubts and I hope for a better and international recognition for them. Also good to see and know, that this act has conceptual releases in stock, which seem to fit with the musically outfits of the above mentioned three labels. As I said before, this album is available for free in both formats MP3 and lossless FLAC directly from the X-Line website.
image not
available
anymore
Artist:
CORAZZATA VALDEMONE
Title:
Madre Patria
Format:
CD
Label:
SkullLine
(@)
Distributor:
SkullLine
Rated:
Maybe the Italian twin to the US-based Noise-terrorist GENOCIDE LOLITA, this project leaded by Gabriele offers a massive Noise assault to attack your nerve system. "Madre Patria" is filled with walls of static noise pretty much inspired by some Japanese Power Electronics masters, accomplished with extremely Lo-Fi sound invasions, which torture even more and tons of politically incorrect samples taken out of WWII scenarios and military scores. It really doesn't wonder that much, that both, Gabriele and GENOCIDE LOLITA are teaming up for one or another effort, since both offer a comparable sound outfit. With a more compatible kind, "Totalitarian Noise" is a favorite with its changing sounds and the active influence of a rhythm work to accomplish with the Military voice samples. The rough and disturbing kind especially on "Limpero" leaves the listener breathless too. No matter how much noise and improvisations Gabriele awakes out of his sampling work, he seems to take care on the quality of his recordings and is too me the better alternative compared to his American pendant.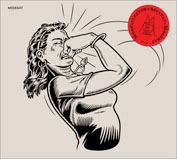 Artist:
MODERAT
Title:
Moderat
Format:
CD
Label:
BPitch Control
Rated:
After the 2002 E.P. "Auf Kosten der Gesundheit" the Apparat / Modeselector join project didn't release nothing else and it seemed that they weren't interested into producing nothing new. In 2008 they met by casualty and started to talk again about their old project and then decided to start working on an album. They rent a space at Berlin Hansa Studios (where Bowie recorded "Heroes") in order to record the album in analog with the help of the studio's vintage tube technology and an old EMI console from 1972, restored especially for Moderat. American software designer, Joshua Kit Clayton, was hired to program a reverb algorithm specifically for the recording process of this album. The thirteen songs of the album (fifteen in the deluxe version which include also a DVD that features music videos and more exclusive contents) mix breakbeat rhythms, dreamy like atmospheres where great electronic sounds enhance the complex web of sounds. The tracks list is balanced proposing instrumental tunes (that sometimes recall me the ones of the Apparat/Ellen Allien album "Orchestra of bubbles" but some others have also a guitar in a new wave vein or are a little more techno oriented) and vocal tunes where guests like Paul St. Hilaire, Dellé aka Eased from Seeed and Busdriver (you can find "BeatsWaySick" only on the deluxe edition) help into the creation of a particular mix of dreamy electro hip-hop. If you like the recent label's releases be sure you won't miss this one!