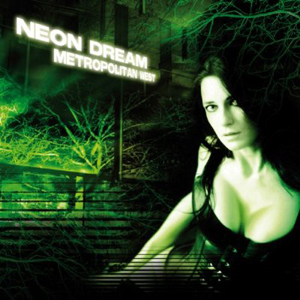 Artist:
Neon Dream
Title:
Metropolitan West
Format:
CD
Label:
Equinoxe
(@)
Distributor:
Masterpiece
Rated:
Hey, folks... please take your eyes off the green-filtered (you should know that green is an hypnotic color, shouldn't you?) picture of the entrancing neckline of that cutie model on the artwork and respect our fatigue of reviewing records for hours and hours just for a while as the Munster old gothic school seems to be more active than ever... Well, after the renowned issue of the prog-rock band Long Distance Call, here it is the second long-awaited act (... the whole fan-base and those critics which acclaimed to their debut Anodyne have patiently waited for five years their coming back in a studio recording... ) by Neon Dream, a fine band of contemporary gothic novelist and music translators of "dark" feelings swarming in the bowels of contemporary society into a musical idiom deeply rooted in the traditional gothic-rock ground' it's almost impossible to deny a certain influence of bands such as Paradise Lost - enhanced by some elements deriving from metal and wave and inventing a sort of (not so) fictional plot with a fertile level of metaphorical imaginary. In the illuminating preface to the record, the band headed up by singer Klaus Mollers' his gloomy voice is undoubtedly one of the most remarkable element of Neon Dream's line up... - clearly states that their main theme is "war and aggression against life" and quoting a famous sentence of Platoon ("We did not fight against an enemy. We fought against ourselves. The Enemy was inside us") in order to describe the state of the art of the mankind today, they identify their source of inspiration in a sort of nightly revelation inside of which there could be an hidden remedy ("It is despair, that characterizes all the beliefs in imaginary spiritual forces... call them god. Because: did those powers ever arrive or have been seen yet at all? I watch out for them every night. Hours, in which all lyrics of this album were written"... that's maybe why the album metaphorically begins with an atmospheric intro entitled "Flight to Dusk"... there're even some samples of an helicopter just to underline the technology evolution since the times of wax wings by Daedelus! ). Metropolitan West is not only what is normally known as a "conceptual album", even if its cohesion could suggest it, but the honeycombed way this band well balance gothic influences with metal and new wave excerpts is a body of evidence of their musical skills, which are clear since the first track Black Cicada, a sort of allegorical spell highlighted by a somber vocal interpretation by Klaus, whose visionary but not inducted by hallucinogenic drugs (!) state reach a peak in the title-track, a track which stylistically has a more "commercial" appeal, reminding to us some tv fictional series' soundtracks and classical goth-rock throughout airy sounds and sequenced guitar sets. We really like the inspired lyrics of Stealth, a sort of call-to-arms combined with a disquieting transliteration of a modern incubus in the "trillion lights up to 90th floor" of a skyscraper, which is depicted almost as a treasure of terrible mysteries connected to homologation plans ("crowds rushed beneath dark skies/Woman and man . dressed the same") transcending common people's imagination... ! Melancholy and depression as well as a sick sense of inadequacy are the leitmotiv which seems to inspire Veils , while in Agnostic there's a synth-pop pigment which doesn't disfigure the darkish visions of the whole album as well the touch of medieval folk harmonies roosting on Last Hours harmonies. The next track, "Exil" the only one with German lyrics with his industrial-novelistic wit and a hieratical tic-tac of a pendulum clock is with no doubt one of the most atmospheric one (and one of my favorite one). The harder side of Neon Dreamz' sound is surely Child Night Dream, which partially join with the support the band's giving to the Kim Foundation for helping children who physically or mentally suffer from war experiences (have a look to the foundation website: http://www.www.kimfoundation.com) . Some influences by the famous Finnish goth-roch band 69 Eyes on the luscious Sexaholica, while Human Replica seems to be another lucid inversion of a predictive dreamlike realism. The bonus track, Overscreening, with gears moving from the new-wave scene, is another body of evidence showing how diversified Neon Dream style seems to be! Thanks for your attention... now you can look elsewhere!

Artist:
FRACTIONAL
(@)
Title:
Still Life
Format:
10"
Label:
The Centrifuge
(@)
Rated:
Released one year after their latest album titled "Come mierda", Fractional are back with a new 10" E.P. (which is also downloadable as free mp3s from the label's website) titled STILL LIFE? The release contains four new tracks titled "Acomba", "Tasw", "Lula" and "Aeu". These tracks present a slight different side of Fractional sound as they are less industrial and "neurotic" compared to the album ones but nonetheless dub and breakbeat are always two important influences (only "Aeu" is the one that remember the album's tracks because of the fast breakbeat rhythms). On the new tracks it's like if Pierre Remy succeeded into balancing the different elements without being too aggressive and the result is a great blend of cinematic sounds/atmospheres with more melodies (see the opening "Acomba" where vocal samples duet with keyboards while bouncing rhythms create a multi layered web) and ideas. Sounding also more tribal than before Fractional new tunes will convince you immediately at the first listening!
Artist:
WERKRAUM
Title:
Unsere Feuer brennen!
Format:
CD
Label:
Cold Spring Records
(@)
Rated:
UNSERE FEUER BRENNEN! is the debut album by Axel Frank's project Werkraum and it has been released for the first time back in 2004. Since it was out of print from quite some time Justin at Cold Spring decided it was time to reissue it and for this new remastered issue he also added two compilation tracks to the original 11 songs track list ("Wir Rufen Deine Wölfe", taken from the compilation of the same name and "Blutsommerland", taken from the vinyl-only release "Eternal Soul"). For those whom didn't never listened to Werkraum's music I should name bands like Forseti, Sonne Hagal and Death In June (but I may say that in this case this is a slight influence on some song). Influenced by romantic authors Frank used for part of his lyrics works of John Dowland (composer born in London in 1563 and buried the 20th February 1626), Gottfried Benn (he was a German essayist, novelist, and expressionist poet. A doctor of medicine, he became an early admirer, and later a critic, of the National Socialist revolution), Rimbaud and Baudelaire. Musically Werkraum mix martial industrial sounds, neo-folk guitar driven ballads and neo classical moments. The album sounds heterogeneous and fresh and if songs like "Hohezeit" and "Chanson De La Plus Haute Tour" are influenced by folk songs and are good guitar/female vocals duets, songs like "Die Letzte Jagd", "Legion", "Steh Auf, Nordwind!", "Ewigland", "Heilige Krieg" and "Wir Rufen Deine Wölfe" are new folk upbeat acoustic tunes with martial percussions and full of energy. To balance the track list we have great atmospheric tracks which are influenced by industrial and neo classical music: check the great "Blutsommerland", the opening "Nocturne", "Einsamer Nie", "Dignitas Dei" and "Civitas Dei". This is a really good reissue! Check it if you missed it the first time!
image not
available
anymore
Artist:
Zu
(@)
Title:
Carboniferous
Format:
CD
Label:
Ipecac recordings
(@)
Rated:
Zu is one of the most interesting bands to come out of Italy in a long long time. A baritone saxophone player, a bass player and a drummer who also does electronics and Mellotron, is the Rome-based personnel who fuel the fire that burns within Zu, with a flame so high that even even Mr. Bungle/Fantomas' Mike Patton and Melvins' King Buzzo have taken notice and lend their talents and abilities to "Carboniferous" (along with a bunch of other local collaborators). Zu has also previously collaborated with Damo Suzuki, Thurston Moore, Mats Gustafsson, Guy Picciotto, Jim O'Rourke, Eugene Chadbourne, No Means No, Karate and many more, so obviously they understand the importance of exposure and cross-pollination, which is something their music thrives on, is full of and is based on. "Carboniferous" (released on Patton's label Ipecac) is equal parts heavy metal, avantgarde jazz, industrial experimental music. The sheer fury and sonic assault of the rhythm section reminds of Neurosis, Zorn's Moonchild/Crucible, Melvins or even Sepultura at times but the addition of the deeply resonating bari really takes this to a place where no one has (or very few have) gone before. Obviously when the sax whales and screams incessantly it's hard not to think of Zorn's amazing playing, but then when it blends in as part of the overall mood or of the percussive patterns it almost sounds a little bit like Lou Reed's latest incarnation of the Metal Machine Trio. Needless to say the pieces where Patton lends his voice are incredibly powerful and anthemic (in the first of the two he screams Moonchild/Crucible style but in the closing piece of the CD he growls and regurgitates and even manages to sound like a cross between a didgeridoo and a tuvan throat singer).
Overall I love this record. It is different from what's out there, diverse within, powerful and aggressive but innovative and interesting at the same time. Highly recommended if you like extreme stuff that's out there and yet lets you do some head banging!
Artist:
YUMMA-RE
Title:
EDEN
Format:
CD
Label:
MY KINGDOM MUSIC
(@)
Distributor:
AUDIOGLOBE
Rated:
YUMMA-RE are the new ADD N To X but more organic-rock-based, we can hear inside Talking Heads, King Crimsom with a female approach, for sure inside their art there is nothing of USUAL and COMMON, these kind of concept are banned in this great project. Yumma-Re are Portished with the sense of irony of Talking Heads and the acid style of ADD N To X: Yumma-Re is pure Genius! The artistic path they follow seems driven by the god of Chaos in person, and I confess that I like it. Every track is a remix of the track itself with at least 5-6 genre!!! This work is an experience difficult to explain and it's something really nice to hear. It's a STRAY kind of music that is not only played is a challenge for the listener to feel all the musical sensations YUMMA-RE plays with and in the same time is vital, is not a menaceful of obscure, it is music perfect for a noir film based in Mexico or in a place where there are no limits for excess. The last track, a sort of PALOMA under LSD is a master piece of "cruelty" :) They soar among JAZZ, New Wave, Electronic, Glitch they are sons of the modern sound engineering and in the same time they seem to surf on you tube in a lysergic state. This band is really something new and powerful, they are put in their art the messy culture we live; they make a zapping with music and styles; and I think that are more more more funny than Portished. Plus they are Italian: congratulations ragazzi!