Artist:
Objekt 4
Title:
Shades Of Night
Format:
CD
Label:
Bugs Crawling Out Of People
(@)
Distributor:
ant-zen
Rated:
A new release by this known Ambient-artist, which at least got released under the collaboration of the 4 different labels Sabbathid Records, Basilisk Productions, Regimental Records and Bugs Crawling Out Of People. Since Bugs Crawling did mail out this promotional item I therefore like to refer on their contact to purchase this item – which is a strange one for the normally-diving-into-the-harsh-Powernoise-genre related Bugs Crawling-label. OBJEKT 4 creates musically ambience with cinematic and static layer sounds, several field recording elements and sounds of the daily life. 5 tracks are on here, which at least come on more than 53 minutes playing time, this documents the length of each track. "Spirits Of Soil And Sea" is available in two different versions. You'll get the fog horns of a far away based ship, while the birds, winds and the usual sound of a natural field recording creates an own melody. Well, this is stuff for people who like to sink in and who are able to switch off all stress and hectic which comes in all days. Quite to Experimental-minded, I'll miss some toughness and a break out of the endless repetitions


image not
available
anymore
Artist:
Prometheus Burning
(@)
Title:
nBoyde raRepi
Format:
CD
Label:
Hive records
(@)
Distributor:
Storming the Base / Metropolis
Rated:
"nBoyde raRepi" is the anagram-ed remix album version of Prometheus Burning's well received "Beyond Repair" full length release. I don't have the original version here to compare side by side and tell you how close or different the remixes are from the original tracks, however I can definitely hear the diversity in the material, so I am rather sure that the musical personalities of the remixers did come through.
"nBoyde raRepi" is tireless and relentless. It just basically chips away at your sanity with an intensity that is comparable to most Hive records or Daft records. "A good, hard, earfuck" is what the press release calls it, and that's pretty much appropriate. Some tracks (the more broken up and interesting ones in terms of editing) I like a little better than some others (the more "ebm" ones) but generally it is a rather good album, courtesy of the remixing talent: Hypofixx, Abelcain, Iszoloscope, Suicide inside, Scrap.Edx, Xanopticon, Edgey, Endif, Proyecto Mirage, Atomhead, Fanny, Bombardier
image not
available
anymore
Artist:
DUBOC, PERRAUD
(@)
Title:
etau
Format:
CD
Label:
Creative Sources
(@)
Rated:
The last release I've been reviewing was a drum plus drum recording, following next is another rhythm section, but the sound and the global result of the combination is considerably different. First off this time the duo is based on drum and bass and differently from Field and Babel it's not rhythmic music and is also far from pulsing solutions: Duboc's and Perraud's favorite game is to twist and shape the atmospheres. By some means the the two twenty minutes long suites featured on this cd revive the spirit of some of my favorite ensembles like Gruppo di Nuova Consonanza, AMM and more recently Civil War, I'm saying that since despite working on "free" improvisation (even if the term for the first two projects was/is really reductive) they had a contemporary classic, avant-garde approach that brought them to play something really out of time. The style of Perraud in particular reminds me of unbeatable Eddie Prevost and obviously some of his best tricks with cymbals, skins, ghost drumming and the "no sound is innocent" philosophy. It's real, if you pay attention to it, their music is quite clear and outspoken regarding the fact they care really much about every single sound beaten, bowed, played on the record; they "play the room" following the rule number one in the bible the majority of improvisers worship, and they're doing it really well. Ghostly moods, retained waiting games in order to explore the composition in a patient way, sound after sound everything has to come to surface and take for granted it will surface like a dead body whose lungs are still full of air. The main difference between the first and the second part of the cd is that in the second composition when they decide to play, they go for steady interventions, with that I don't mean they sound better or more powerfully built, I just wonna say the work sounds in a less ethereal way and they counterpoint silence with more firm playing if compared to the first of the two tracks.


image not
available
anymore
Artist:
FLUOR
(@)
Title:
The Pleasure Is Mine
Format:
CD
Label:
Imaginary Non Existent Records
(@)
Distributor:
Decoder Muzique
Rated:
Limited to 400 copies only, THE PLEASURE IS MINE is the Fluor debut album. Producer and musician (he produced Jaume Sisa, Gerard Quintana, Orquestra Fireluche and released many works as L´escolania De La Quadratura Del Cercle, Vladimir & Lumière as well as writing music for films, theater, performances, etc.) Xavi Lloses is also a casiotone collector. With Fluor, Xavi, plays 8bit dancey new wave songs using Casio, vintage games and low bit sampled sounds. You may think that other bands of the French old (Daft Punk) and new electro wave (Yelle, Digitalism or Boys Noize), musically already did this, well this could be the same thing when you say that The Beatles and Fugazi did the same music because they were both guitar bands. In this case if Daft Punk, Digitalism and Boyz Noize are more interested into the "dance effect" and Yelle are mostly a low bit pop sensation, Fluor sound a little more melancholic/decadent and here we have song structured tracks. Try the opening "Playgirl" or "Game boy" and you'll be questioning why this guy isn't on the MTV alternative chart because this album deserves it. Since there are only 400 copies available, hurry up. Check if this is your cup of tea at the myspace link you find above and, if the answer is yes, order your copy.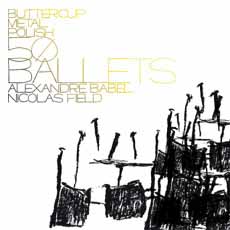 Artist:
FIELD, BABEL
Title:
50 ballets
Format:
CD
Label:
Creative Sources
(@)
Rated:
Drums and percussion plus drums and percussion equals... a percussive recording and you don't have to be a genius to imagine the result, but wait, it's hard to believe how good this record sounds if you haven't given it the careful listening it requires. I've no doubt this' one of the best Creative Sources releases I've heard so far: I love rhythm session but I'm also aware of the fact many percussive duos coming from the impro-jazz area are boring as fuck, well this pair is beautifully assorted and I really enjoyed their way of improvising, the how they play the waiting game and how they go straight to the next intersection. I've several "solo percussion" releases in my collection and have heard some more, this one is more "old school" if compared to the free-rock style of drummers like David Shea, but it's also considerably different from that of Han Bennik, I think this drumming duo has its strong personality and that's the most fascinating part of it. When dealing with an all percussive recording the risk is to get bored in a split second but Field's and Babel's journey bring them through many changes of intensity, dynamics and timber. Their approach to drumming tecniques is elegant but what makes this release more interesting then many other similar works is the attention the duo pays to the track construction: they pass from quiet parts or smoothly played solutions to "free-jazz-rock" eruptions but they work in a really complementary way so to avoid sounding simply chaotic. The recording and the spatialization of the drums helps a lot since as I've said they're able to produce an incredible variety of sounds and sometimes you really feel like you're standing in the middle of the room where the improvisative dialogue happened. Nice.