Artist:
TRAUTES HEIM
(@)
Title:
Dunkelziffer
Format:
CD
Rated:
Formed by Matthias Knake and Uwe Rohlfs (already active with Reversal Penetrations, band that had a couple of releases on Cop Int.) Trautes Heim (which stands for "My house is my castle") is sending me their first demo containing eight good tracks in balance from early e.b.m. and retro electro industrial. To realize how good is their attitude check the cover of the Abwärts' song "Computerstaat". The original was a nice punk '77 track and Trautes Heim turned it into a electro industrial track a la D.A.F. without forgetting to use a distorted guitar on the background. Also the original tracks are good ones and merge minimal attitude, melody, energy, samples and analog sounds. Creating hypnotizing and dark atmospheres, the duo is able to convince in not time. Unfortunately at the moment they aren't signed to a label but you can check them by contacting Uwe and asking for their CD-r. On the data section of the CD you could also find three bonus tracks (they are two intriguing instrumental electro industrial suites and an instrumental electro remix of the opening "Trialog") plus all the lyrics and the album already ripped to mp3 files.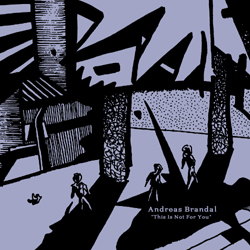 Artist:
ANDREAS BRANDAL
(@)
Title:
this is not for you
Format:
CD
Label:
Eh?
(@)
Rated:
This one gets my vote as one of the best works I've heard on Eh?/Publiceyesore records so far, and I see this artist has done many other releases beside having took care of the drawing of the front cover that reminded me so much some layout from mighty Ebullition records during its heydays. Differently from Downcast or Amber Inn, Andreas Brandal has probably nothing to share with hard core and his music even less, being on Eh? you may have guessed it's an experimental work, but though the whole catalogue of this cdr label is quite varied, this one is quite particular. We're talking about a deep drony-ambient work but don't expect all of the songs sound in the same way, as I've said beside the stylistical "trait d'union" linking all of the tracks sometimes becomes really personal like in the fourth track where you've this weird "bell/vibraphonic" sound that goes on slowly like a slug for the most of the song while you have some melodic-cathartic melody depicting a scenario on the background. Some strange dissonance colored thanks to some drones create an odd atmosphere which links most of the tracks. Be it I've been listening to it several times at the end of the day, but I think that's the proper time of the day in which you can appreciate the most such a release. Andreas Brandal is really minimal but the music he composed is really intense and sometimes desolated, I can even image it could help a movie reaching the climax right when the protagonist is lost in the depth of a forest. A nocturne release which doesn't mean dark but just nocturne.
image not
available
anymore
Artist:
FOR GREATER GOOD
(@)
Title:
For Greater Good
Format:
CD
Rated:
Mixing elements of neo-classical, post industrial, dark ambient and neo-folk music For Greater Good are presenting their first full length album which contains ten tracks. Created as a sort of soundtrack for nowadays life the album succeeds into spanning through different kind of feelings using for each track a different approach. If "Distress" has an electro industrial rhythmic section combined with neo-classical strings, "Rush hour" is a melancholic piano ballad with vocals, orchestral inserts and traffic noises. "Le judgement de roi en jaune" has dark melodies and neo-classical elements while the following "De to fabula narratur"is based on ambient synth sounds, light choirs and electro-industrial rhythms. The closing "The mechanist", instead, changes everything by presenting a piano/orchestral suite that recalled me the Wim Mertens tracks. If you want to try a different approach to the aforementioned musical genres try For Greater Good.
image not
available
anymore
Artist:
SAGITTARIUS
(@)
Title:
Songs From The Ivory Tower
Format:
CD
Label:
Cold Spring Records
(@)
Rated:
Lically based on poems by Stefan George, Bernhard von Uxkull-Gyllenband, Gottfried Benn, Ludwig Uhland and Timo Kölling, SONGS FROM THE IVORY TOWER is the second album by Sagittarius. Composed by Cornelius Waldner during the 2002/2007 period the album contains fifteen minimal decadent and melancholic piano compositions which sometimes are enriched by instruments played by guest musicians such as Marcel P. (Allerseelen), Herr Twiggs (Kammer Sieben), Damiano Mercuri (Rose Rovine E Amanti), Troy Southgate (H.E.R.R. / Seelenlicht) and Philipp Jonas (Secrets Of The Moon). The atmosphere created is heart ripping and sometimes the spoken word neo-classical compositions turn into folk songs (see "Das lied" and "Der gute kamerad", "Menuet von Johann Krieger (für H.E.R.R.)", "Sternwandel V" and the closing "The song") keeping always alive the dramatic atmosphere created. The sound changes with a proper neo-folk song titled "Europa calling" (the lyrics of this one have been written by Marcel P., who now is a stable member of Sagittarius along with Dimo Dimov of Svarrogh). On this one we have on guitar and vocals Damiano Mercuri of Rose Rovine Amanti. SONGS FROM THE IVORY TOWER is a nice neo-classical album but sometimes I found a lack of tension (the one you can find on H.E.R.R. records for example) but if you prefer calmness and melancholy Sagittarius is a band you should try...
Artist:
STROM.ec
(@)
Title:
Divine Legions Beyond Psyche
Format:
CD
Label:
Malignant Records
(@)
Rated:
There are often two issues that I have with power electronics acts: First, they all begin to sound alike, and second, they tend to deal with things that I am uninterested in, such as the whole "true crime" elements of Slogun and the like. STROM.ec manages to avoid these two pitfalls to create a sound that is quite engaging. The first I heard of STROM.ec was their Neural Architect album, which was good, but then I heard some of the tracks from "The Manual of Diagnosis" (a concept album on surgical lobotomy!) and realized that their sound had evolved considerably. "Divine Legions Beyond Psyche" continues on that trajectory, drawing together harsh noise with ominous atmosphere all with the disembodied samples and harsh distorted vocals that one would expect from power electronics. Evidently, they have been working on this album for seven years and the evolution certainly shows. The opening track, "Helvetin Esikartano," is downright subdued at times, making more use of atmosphere than I expected. Quite nice – kind of reminds me of Karjalan Sissit. The use of quiet atmosphere juxtaposed with shouted, warbling, distorted vocals and noise elements is a theme that persists throughout this album to great effect. In fact, some of the tracks border on dark ambient at times, such as the first half of "Divine Legions Beyond Psyche Part 1" and much of "Vitaalinen Olomuoto." Overall, if you are looking for power electronics that goes beyond the standard fare, this is definitely one to pick up. This has just the right blend of noise, ambience, and yelling. Comes in a nicely illustrated fold out DVD digipak with lyrics, which is good because there is no way you'll understand them by listening to the album. This disc weighs in at 62 minutes.