Artist:
Displacer
Title:
The Witching Hour
Format:
CD
Label:
Tympanik Audio
(@)
Rated:
Displacer's fourth release "The Witching Hour" is a very stylized album that utilizes a number of diverse elements such as old horror movie samples, trip hop rhythms, classic hip hop beats, and an array of new and vintage synthesizer sounds. All of these elements work together to form a very cohesive, relaxed, and stylish piece of work that achieves the dual effect of being sexy and campy (but in a good way that is satirical). And it is for this reason that "The Witching Hour" is my opinion an ideal after hours album, as it definitely an record that can take you home and set you right after a long night of clubbing and the excesses that often go along with it. Some of the album's highlights include "Nag Champa," (with is an achievement in and of itself in that it is one of few tracks to actually use the classic synthesizer clap sound in a way that sounds good), "Squirm" which is just a beautiful and emotionally poignant piece of music, and the album's title track which is very much reminiscent of the Thrill Kill Kult of old. All in all, I would highly recommend "The Witching Hour" to anyone who likes trip hop and alternative house. I also highly recommend it for those after hours parties where good music is so hard come by.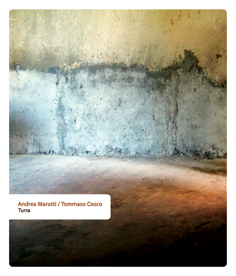 Artist:
Tommaso Cosco, Andrea Marutti
(@)
Title:
Turra
Format:
3" MiniCD
Label:
Afe
(@)
Rated:
Enchanting release here and it's a 3" mcd that ties the knot between Andrea Marutti (aka Amon/Never Known/Mortar/Afe head chief) and Tommaso Cosco that, yes is an absolute new comer as a musician, but every once in a while organizes a show in Archiaro, a beautiful natural place in the south of Italy. For what regards the aesthetic result of this long track I'll cut it short by saying the heavy hand of Marutti in the production stage is clearly detectable in a split second but be it I know a little bit of history of this recording, be it you can read it along with the inner lines of the artwork (written by Tommaso Cosco himself) you will convey with me some stories behind this or that release make them even more interesting. Being the natural extension of Marutti's "the Subliminal Relation Between Planets" that came out a while ago on Nextera, you probably may have deducted it's an ambient otherworldly effort but what gives more and more points to the work is how Cosco assembled his sounds for this collaboration. I can't say exactly what a "Turra" is but at this point (and from the picture) I imagine it's some kind of ancient house made of stones that farmers and shepherds probably used as a shelter/warehouse. Cosco did the most intelligent thing an untrained experimentator can do by leaving his instinct go boom and explode, this guy probably took confidence with the room, the natural reverb and with the microphones and he did it throwing in all of his intuition. After this bunch of instructions/informations on how the majority of the sounds have been produced, what I wrote so far could anticipate a variety of "music concrete, electro-acoustic/primitive" piece: no way! It's ambient, heavy ethereal and atmospheric ambient that voices the stones the walls have been made of.


image not
available
anymore
Artist:
KREUZER
Title:
In Hoc Signo Vinces
Format:
CD
Label:
The Eastern Front
(@)
Rated:
Musical project of a young guy coming from Israel, Kreuzer's debut album IN HOC SIGNO VINCES, has been released by The Eastern Front. Limited to 300 copies two panels folded cardboard packing, the album differs a lot from the MCD "Noises Of Independence" released on the Eastern Front sublabel T'an! Kaven!! Ash!!! Taking as inspiration medieval atmospheres and Crusaders' battles the album is a pleasant surprise. Despite the over exploited theme (the good thing is that here the tracks sequence follows a theme like it was a concept album), IN HOC SIGNO VINCES succeed into creating an interesting atmosphere made of 8-bit distorted rhythms, treated vocals, synth ambient sounds, martial atmospheres and basic melodies. Being minimal but with a strong personality, tracks like "Our Sights Are Set At The Holy Land" or "New Christian Empire" create mysterious scenarios with hypnotic effects. Kreuzer don't exceed with drums or industrial sounds and this well balanced mix help into the creation of a very good full length debut. On his myspace you can check some tracks.
Active since 1996, Losoul is the creature of Peter Kremeier. Is newest album will be released on April for Playhouse, a sub-label of the Ongaku family. The ten tracks of the album show very well Peter's ability into creating rich soundscapes made of minimal techno/house rhythms and sounds. The album open with three great minimal techno tunes "Slightly" (this one contains jazzy samples and fragmented sounds used to enrich the rhythm structure are its main attraction), "The crush" (this one sounds like a creepy suspended minimal techno one where on the final part syth pads sounds duet with a great violin synth. This one will convince you for the way it grows) and "Up the beach" (a nice synthetic bass line meet pumping drums and stereo wind explosions). Also "The lords of sanity" is a nice one with a convincing tiny melodic final part. "Vacuum stance" is a nice track good for NY dark neighbors. With "Sunlite" the atmosphere changes and house music starts to influence deeply this tune and the following "Gridlock". "Deuce" leave house for a particular minimal atmosphere where house rhythms are coupled to an obsessive looped bass line and reversed synth sounds. House and techno are mixed on "To last" but there's always a dark atmosphere crawling. "Btw" is a 30" joke where a voice tells "oops, I forgot to say a metaphore... sucker!"
image not
available
anymore
Artist:
Ethan Rose
(@)
Title:
oaks
Format:
CD
Label:
Baskaru
Rated:
Baskaru keeps on putting out some heartfelt classy post-ambient music like in the case of american artist Ethan Rose. This guy has several releases out on japanese Locust music-Headz label and yes, the aesthetic nature of his compositions by some means reflects this japanese electronic influence, above all if you think to those electronic ambient artist from Japan dealing with soft ethereal music with some soft digital sounds, I think this may help you to identify the global sound of this work. "Oaks" is really relaxing and luminous, from what I can read in the inner notes Rose has adopted as a primary source a bunch of sounds coming out from a 1926 Wurlitzer organ and then manipulated it all with computer and electronics, if I wouldn't have read it inside the notes I doubt I would have ever recognized the primary source of sound. The music definition is great and despite the analog source the global sound has a digital aura, but yet warm and self assuring. In tracks like "the floor released" this cd reaches a great atmosphere by tying the knot between soft high pitched melodies and a warm bass framework. As I've been repeating from the beginning of the review this cd can be easily filed under ambient-electronic music and is not one of those work where the artist looks desperately for a strange or extraordinary revolutionary solution, it's a simple (but not simplicistic) release where Ethan Rose has embroided some delicious, relaxing and easy listening solutions. The production is good and the majority of the melodies strike deep inside where you heart aches, if that's still a good reason to put out and buy a cd here is a warm embrace to celebrate the spring that's approaching.