image not
available
anymore
Artist:
EMPIRE STATE HUMAN
(@)
Title:
Audio Gothic
Format:
CD
Label:
Ninthwave Records
(@)
Rated:
Four years after their latest studio album "Cycles" released by Kiss My Asterix Records, Empire State Human are back on Ninthwave Records (they already released two albums for Ninthwave in the meantime but they were two compilations available only as download) with their strongest album to date: AUDIO GOTHIC. Behind such a particular title (I'll ask to Aidan why they picked up this one on my forthcoming interview to the band), the album shows a sparkling sound performed by a band in a great shape that found a balance with electronic instruments/funky guitars and upbeat rhythms/ballads. With a great sound production worthy of a major release the album has ten songs that will stick into your head. I had previously checked "Audio Gothic" and "Melancholic afro" (songs that features Wolfgang Flur of Kraftwerk/Yamo fame) and I already knew that this album had a great potential. Now, listening to the whole track list, I'm damn sure that AUDIO GOTHIC is worth a world wide success because, first of all, after ten years of hard working Empire State Human deserve it, then because you should be deaf if you won't recognize a great pop sensibility coupled to a good songwriting. Do you want a dancey attitude? Great melodies? Good sounds and top notch production? Well, you can't go wrong... this record has them all!
image not
available
anymore
Artist:
COPH NIA
Title:
Qliphothic Phantasmagoria (Exorcising Old Demons)
Format:
MCD (Mini CD)
Label:
Wrotycz Records
(@)
Rated:
Revisiting old gems isn't an unusual thing for Coph Nia see the versions of "Prime Mover" by Leather Nun and "Stygmata Martir" by Bauhaus recorded for "Shape Shifter" or the ones contained on their latest full length "The Dark Illuminati: A Celestial Tragedy In Two Acts": "Fire" originally performed by The Crazy World Of Arthur Brown, "Sympathy For The Devil" originally performed by The Rolling Stones and "Religion" originally performed by Front 242. This time for Wrotycz Records they decided to propose four tracks that in the seventies were classic cuts of devilish hard rock music: "Black Sabbath" originally performed by Black Sabbath, "Sick Thing" originally performed by Alice Cooper, "Levitation" originally performed by Hawkwind and an old success of Ozzy Osbourne, "Mr. Crowley" (the best of the lot which contains also samples of Aleister Crowley voice). As usual, the original songs have been ripped to pieces and slowed down just to sound like Coph Nia used to sound: dark, epic and ritualistic. The recitative deep vocals coupled by militaristic kettledrums, orchestrations and dark ambient sounds make of this MCD a convincing one and if you are a fan of the band for sure you'll want to check this out.
image not
available
anymore
Artist:
Aidan Baker & The Infant Cycle
(@)
Title:
Rural Sprawl
Format:
CD
Label:
Zhelozobeton
(@)
Rated:
Seasonal music, id est a music that could be fitted to or associated with a particular season, has always been a good deal and that's quite notorious to a lot of music operators since centuries: Christmas-related marketing specialists launching cds fillep up with Xmas carols, pop stars, official and unofficial religious institutions and even ancient Celtic bards and Hindi gandharvas seems to know that! And there're some nice attempts even among electronic musicians (think for instance to Martin Jules' Herbstlaub or as well as well as more famous ones by classical old composers (from Vivaldi to Prokofiev) aware of the fact that each season of the year could arguably have its own sound. This intriguing album well-crafted by the Canadian musicians Aidan Beker and Jim DeJong (aka The Infant Cycle) issue by the juicy industrial and experimental Russian label Zhelezobeton seems to be another attempt of giving voice and grabbing sounds from the intimate spirit of the four seasons eternally cycling in a year (even if nowadays pollution is slightly changing the natural rules... ). Rural Sprawl '" what an elegiac title! '" contains four tracks, one for each season, four states of the soul, which seems to be the acousmatic harvest from a mindful haemorragia derived by the squeezing of perceptive spheres of the musicians by help of a respectable kit including tapes, a bass, some guitars, a feedback generator, a sampler, some playouts and a thumb piano. Four tracks partially reminding works by Strings of Consciousness or Origami Galaktica, mainly designed on powerfully hypnotic overstretched drones enriched with entrancing binaural pulses and nicely sequenced sounds, skewing the audio climax. This sprawl starts with the flat loopline saturated by a guadually eruptive infiltration of an atonal sound sustained by fluttering rhythms and a follicular guitar tune, wholly exudating the memory of those sneaking summer noons and its intimate sense of stunning stillness. My favourite track '" and just by chance my favourite season '" is the one dedicated to autumn: the sense of suffocating oppression is reduced and a more melodic and melancholic (and sometimes moaning) tone permeates through the drone surrounding the listener till the end, when it turns into a strangled lovely guitar solo... Both Summer and Temperature Drop were recorded in 2001 and already release on a very limited CD-R by the Italian label Blade Records. In order to complete the natural cycle of this album, Aidan and Jim recorded two others in 2005. The first one reflects the lethargic savour of winter throughout a silently murmourous set of subtones, an hardly dragging kit of electronic sounds and pure jems of isolationist drones, gradually preparing the ground for the more organic one of the final track, an enchanting anthem with tiny sounds on majestic sounds waves, summing up the reflowering of natural elements normally marking spring-time in a captivating way. Very good record, highly recommended for brain machine addicts!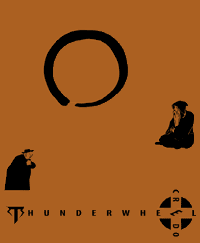 Artist:
THUNDERWHEEL
Title:
Credo
Format:
CD
Label:
The Eastern Front
(@)
Rated:
Created by Vadim Gusis, already known for Chaos As Shelter and member of Agnivolok, Thunderwheel is a particular musical project. Helped out on some tracks by Igor Krutogolov (Kruzenstern & Parohod, Agnivolok, Igor Krutogolov's Carate Band) and Slava Smelovsky (Grundik + Slava, Crossfishes), Vadim created the eight tracks of CREDO having in mind Zen philosophy and, I think, the particular structure of Japanese/oriental music. The result is a sort of surreal soundtrack where dissonant melodies, whispered vocals, percussive sounds and theremin create an oneiric world made of slow rhythms and strident sounds. Like a nightmarish orchestra Thunderwheel painted their personal picture and it's all to be discovered...
Artist:
Dope Stars Inc.
Title:
Criminal Intents/Morning Star
Format:
CD EP
Label:
Trisol/Metropolis
Rated:
The Roman cyber rockers Dope Stars Inc. are in the final stages of preparing their third full-scale cyber attack (to be unleashed via Trisol). As a trial of strength a double feature EP Criminal Intents/Morning Star is due to be released in April. The EP features four absolutely new songs, two of which will be on the forthcoming album, furthermore one cover version of Clan of Xymox' classic "Jasmin and Rose", a cover version of "Can You Imagine" by Spiritual Front, a demo version of "Vyperpunk" and numerous remixes of older DSI songs by such renowned artist as Mortiis, Gothminister,KMDFM and others. The EP was produced by Victor Love at Subsound Studio. Fifteen tracks altogether is a rather unusually high number of songs for an EP. A value for buyers' money.
The new material is just what the fans expect from the dopies; it's cyber rock/metal/punk as we know it from band's previous releases. Quick, ass-kicking and energetic. From the line-up that recorded Neuromance only Victor and Darin have remained on board.
A choice of a title to cover occurred rather unexpected to me; Clan of Xymox is not a band one would normally expect DSI to cover, especially since they played Motorhead's "Ace of Spades" on their concerts. I can only say that the cover turned out really well. It is quicker than the original and sounds more up to date. A better choice than a screamo-like version of "Ace of Spades" would have been.
Mortiis had already a shot with remixing DSI for the Neuromance bonus CD. The Norwegian hotty elf did a good job again remixing "Braindamage" this time. As it was to anticipate the most original version was a cover of "Can You Imagine" DSI's country fellow men Spiritual Front. They re-recorded this emotional song providing it with a sort of 1920s French atmosphere. An accordion is not really an instrument you would associate with DSI, would you? Gothminister added some choir parts among other to "Can You Imagine" making it sound more sinister and dramatic, just in his vain.
In the end it can only be added that the EP makes you keen to hear more of the band's new album which is planned to hit the streets this summer.