Artist:
SLEEP RESEARCH FACILITY
(@)
Title:
Nostromo
Format:
CD
Label:
Cold Spring
(@)
Rated:
Alien has been released in 1979 after years of work and different times Ridley Scott was about to quit because production didn't care about his vision and for them the movie was beginning to be too expensive because of the director's maniacal precision. That movie had also the merit to introduce to a wider audience a master of the visionary art: Giger. He created the monster and he painted different sets. If you know the movie and you also checked the interviews included into the DVD editions you can understand why Sleep Research Facility on 2001, for their debut release, decided to take inspiration from the Nostromo crew story. Especially inspired by the first eight minutes of the movie, NOSTROMO, tries to reproduce the tension and the atmosphere of that great movie. This new edition of the album allow to the dark ambient lovers to rediscover a good CD where Kevin Doherty gave his best by creating five different movements able to scare the hell out of you. Dark ambient isolationism and drones will make you revive the first time you saw the dark corridors of the Nostromo space ship. This reissue include also a bonus track titled "Narcissus": an eight minute suite with fluctuating loops, light hisses and different other hypnotic sound layers.
Artist:
KORINTH
Title:
Sign Of Eternal Return
Format:
CD
Label:
Construct Destroy
(@)
Rated:
Inspired by the Nietzsche concept of "eternal return" (only a person who has the courage to live his entire life just like he already did, could break the wheel/cycle and free himself) SIGN OF ETERNAL RETURN is the debut album by Korinth. Already released by Construct Destroy (personal label of the band Phragments which months ago released their latest album for The Eastern Front label) on a limited edition of 111 copies CD-r, the album is now reissued as a real CD on a 500 copies run with a new package and all. Musically the album contains a 44 minutes long suite based on hypnotic structures made of humming sounds and choirs/orchestrations. Despite the long track "double edged weapon" (in my opinion it's difficult to compose a track able to create a good ambience but it's really hard to make it work properly and sometimes is easy to repeat stereotypes and sounds) the track has a lot of good moments where the alternation of choirs/orchestrations/percussions keep the listener's attention awake. Reverbs and the right amount of hallucination help keeping the tension high and this is a good result. I'd prefer different movements rather than a long track but Korinth is worth a listen.
image not
available
anymore
Artist:
Ad∙ver∙sary
(@)
Title:
Bone Music
Format:
CD
Label:
Tympanik Audio
(@)
Rated:
After a 10 year run as a techno/industrial DJ and promoter, Jairus Khan has emerged from the shadows with his own musical project named Ad-ver-sary. Released under the Tympanik Audio imprint, Ad-ver-sary's debut album "Bone Music" offers a very well thought out and developed blend of instrumental industrial, EBM, ambient, and noise. The key to this album is Khan's ability to blend organic soundscapes and harsh industrialized rhythms and noise in a way that strikes a balance between what many would consider to be two mutually exclusive musical forms. Indeed, throughout the album, neither approach dominates the other. Some of the stand out cuts from "Bone Music" include the album's lead off track "Ancients" which utilizes very simple samples and effects that gradually build up into a very powerful and driving industrial tour de force that is harsh and mechanical while maintaining a sense of musicality, and "Waiting for Gira" which features a very ominous militaristic beat that is backed by subtle soundscapes and a very evocative guitar part that is interestingly reminiscent of U2. For those of you who like harder hitting noise driven pieces "No Exit" and "Number Nine" are aggressive and cacophonous workouts straight from the factory. Overall, "Bone Music" is a great album that provides a glimmer of hope that industrial music is not dead.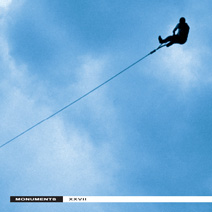 Artist:
MONUMENTS
Title:
XXVII
Format:
CD
Label:
Anna Logue Records
(@)
Rated:
It is impossible to me to give a low rate judgment to this release because somewhat I'm involved in it. Don't worry, this isn't a case of "inside trading" because the story starts 25 years ago when I was a kid. At that time Rockerilla was the only independent Italian music magazine and they decided to print their second vinyl compilation titled "Body section" (now reissued by Spittle Records on CD). On that record Monuments released a song titled "Wonderful woman" and two things convinced me to contact them: I dug that track and they were coming from Torino, just like me. On those years Alberto Campo, a music journalist (and still is) who was writing for Rockerilla was making a radio program called Puzzle on Radio Flash here in Torino. Coincidentally he was a friend of the Monuments and he was so kind to pass on to me a tape with the first two Monuments' demo and to give me the contact of one of the duo: Mauro Tavella. For some time I bugged Mauro while he was working at his sister's joiner's laboratory. He gave me a tape with four new tracks. After few years Alberto Campo decided to do a record label called Discordie and he released the Monuments MLP "Age" but after only two releases (that one and a Deafear MLP) he closed that chapter. Years later I decided to record some of my record collection on CD and I did a compilation of all the Monuments stuff I owned. I gave that CD to some of my friends and years later I discovered that my CD was on the play list of a German girl. I don't know how but that Monuments CD I did leaked on the net through the P2P. Marc of Anna Logue already knew the Monuments MLP and I think he had some mp3 coming from the net. He succeeded into contacting Andrea Costa and arranged a reissue of their old material. Unfortunately Monuments lost some masters during a move (do you remember those tracks Mauro gave me?) but a friend of mine told me about Anna Logue's project and I was in time to give back to Andrea the tape I had and on XXVII you can enjoy two of those songs. XXVII contains a compilation (but not all the tracks) of all the demos made by the duo, the "Age" MLP and a new reworked version of "Die dankmaler". Now that you know the facts we can talk about the music. Monuments early stuff (before the MLP) were deep influenced by German electronic music and were linked to what D.A.F. were creating on those years: cold analog tunes with a bit of melancholy and melody. Tracks that released back then by labels like Mute would have sell well: check "Her von samt" or the following "S.A.L.T.", two tunes that under their ice curtain are capable of delivering energy under a robotic dance input. "Age" changed their style a little by rounding off the corners thanks to a different sound (the infamous Simmons pads) and production. Fortunately the tracks didn't lost their magnetism and now you can check them after twenty years. Monuments are still active and during all these years they worked at the creation of soundtracks and now it is possible a comeback as Monuments II. I wasn't able to check their new style but I know that they did a musical installation early this year so I guess it is a bit more "experimental".
image not
available
anymore
Artist:
SVARTBAG
Title:
Svartbag
Format:
CD
Label:
Rump Recordings
(@)
Rated:
The first Svartbag core born in 1996 when the two guitarists of the band (A.REX and Niels Ladefoged) met thanks to a buy and sell ad. They started to work at some tracks and soon realized that thanks to their guitar effects they were able to create loops and thick atmospheres. Since then, they started working at their sound and they were joined by Peter Kyed in 2005, he took care of samples. Their debut album sees also the collaboration of Andreas Hauer-Jensen (Düreforsög/Mit Nye Band/Bleeder Group) on drums on four out of five tracks. With this combo at work, Svartbag self titled album is sounding like a blend of Krautrock and alternative rock noise where the mood changes from pseudo rock rides to spatial ambient tunes where guitars are sounding like the Glenn Branca Orchestra: alienated and multi-layered. "Loop#9", instead, is more psychedelic and it is the only track which doesn't have tension. The closing track "Billy Name" is a mix of psychedelic atmospheres and guitar noise and somewhat it recalled me some Sonic Youth ballads of the "Daydream nation" period. This was a nice surprise from Rump since I was used to their particular jazz/i.d.m. releases...