Extreme records gives a morsel for every artist of its present roster in this free sampler you can download here: (http://www.archive.org/details/XLTD-010/), it's a great idea since you can taste the heterogeneity of their catalogue that goes from electronic music to free jazz, from power-noise to quasi ambient music. As you can guess by reading the interview featured on this site a label sampler in the case of Extreme, Tzadik or Ipecac is really useful for the simple fact while having their own identity they follow blindly the idea of open-mindedness regardless of genre compartimentation. You think I'm exaggerating? The sampler opens with a boombastic masterpiece of Terminal Sound System (who's last cd was probably one of the best electronic release I've heard the last year), and remains electronic-music oriented with Mr Geoffrey and JD Franzke then you have this sort of post "Elliott Sharp-Carbon Orchestra" meets David Shea in gangster salsa of Ether that's been a real surprise. You have a bunch of avant-jazzists that go from my personal favorite Robert Vincs to uncompromissory "soloist" Scott Tinkler, from jazz/contemporary/avant pianist Mark Hannaford to the Antripoden Collective who's free jazz essence is more than explicit. You have this bunch of new artists that recently joined the label like visionary Claudio Parodi that this time, beside using electronics plays his own turkish-clarinet, post-ambiental, post-Eno elegant Luca Formentini and Dario Buccino here frozen with a weird harsh-noise vs ambient track (my expectations for the forthcoming dvd of this guy are really high since from what I've read his work should be really unconventional). In this free sampler I've found a couple of great surprises since it's the first time I happen to hear their music: Maju coming from Japan plays a top notch and classy japenese-ambient-electronics you can expect to be realized on labels like Spekk or Flop so if you're into Yoshihiro Hanno, Minamo, Fourcolors or in the likes put their name in your agendas. The other surprise arrives from the collaboration between John Rodgers and Ken Edie that I could describe as a contemporary cocktail of unordinary classic violin vs a concrete performing the reminded me of mighty Michel Chion.



Hard not to mention the fascinating birth of this third album by Olhon (Zairo/Where and Massimo Magrini/Bad Sector), as illustrated by the liner notes: "This work is based on special recordings taken underwater (-40 m.), 10 km. south of Livorno (Ita) during late 2006. These recordings were made attaching a sealed contact microphone to an abandoned telephone cable which mostly runs laid on the sea bottom for most of its path, and only sometimes is suspended between rocks for a few meters". The recordings were then treated, if I got it right, in pitch and frequencies "by statistic quasi-random modulators", to avoid human aesthetics, and later sequenced. The album is quite short, and besides two brief tracks ("Entrance" and "Exit") is made of the two parts of "Underwater Calls". While the members' solo projects and the label itself could make you expect a (quality) dark ambient album, the result is as detached and "human free" as the notes suggest: the two compositions are exclusively made of floating high frequencies, gurgles and throbs, and eerie undercurrents that in the II part sound remotely melodic. Made me remember why I have a primitive fear of the sea and deep waters in particular... Though I presume somebody could find this soothing, it speaks of total isolation and claustrophobia to my body. Whew. Oddly enough, as we move to another element, I was reminded of Stephen Mc Greevy's recordings of the magnetosphere and aurora borealis phenomena.
Artist:
M. B. + E. D. A.
Title:
Regolelettroniche
Format:
CD
Label:
Baskaru
Rated:
I found it surprising, at first, to see a record by Maurizio Bianchi on a label like Baskaru, usually hosting softer sounds, but after listening this five-track collaboration (recorded over 2004-2006) with Emanuela De Angelis (Mou, Lips!, guest for Tu M' etc.) the choice definitely makes sense. "Regolelettroniche" is a quiet, melancholic work which is entirely loops based, be it with Bianchi's grating tape action, be it with cleaner, more ethereal digital treatments (which I presume are due to De Angelis). While this time it's hard to tell where the loops come from (some treated strings or guitars may be there), the experiment is quite close, as an approach to cyclic repetition, to Bianchi's "Cycles" or some atmospheres of "a M. B. Ienh Tale". It is very static music, which could even get on your nerves, but this can be said of any loop-based composition, including Basinski's acclaimed "Disintegration Loops", which I've found not that far from these pieces. Unsurprisingly for my personal tastes, I think that the massive, 20+ minute second track, "Cosmic Norms", is also the most successful one: its length guarantees that you wrap yourself in its sounds as in a warm blanket. A perfect disc to lull you in lonely afternoons.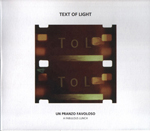 Artist:
TEXT OF LIGHT
Title:
Un Pranzo Favoloso (A Fabulous Lunch)
Format:
CD
Label:
Final Muzik
Rated:
As you probably know already, Text of Light are a variable supergroup improvising to films by Stan Brakhage and other American avantgarde authors of the 50s-60s; here the line-up being Alan Licht (guitar), Lee Ranaldo (guitar, electronics), Ulrich Krieger (sax, sax-tronics) and Tim Barnes (drums, percussion, electronics), playing in Pordenone (Italy) in May, 2005. I am usually a bit afraid of supergroups, but my skepticism, at least in this case, is brilliantly proven wrong. The performance starts with a nebula of hisses and scrapings, slowly billowing to an edgy electroacoustic puddle (which incidentally reminded me of MEV). Then the fog vanishes a bit, opening to solitary sax notes, until Barnes' drums give a backbone to the droning layers and particles, reaching a sort of out-jazz bathed in neon light. The mutation is not definitive, though, and throughout the 63-minute track the instruments dissolve back and forth in hostile, unsettled minimalism. I must say that, despite all my love for Brakhage, I haven't missed his images for a single moment; this material is evocative enough to let you start your own headtrip.
Artist:
SAN KAZAKGASCAR / THE MASTER MUSICIANS OF HOP-FROG
(@)
Title:
Split 7"
Format:
7"
Label:
Lather Records
(@)
Rated:
Born from a collaboration of two labels/bands the split 7" we are about to talk about see San Kazakgascar (of Lather Records) and The Master Musicians of Hop-Frog (of Urck Records www.urckrecords.com) proposing two songs and two different musical genres. San Kakgascar's "Planet dog" sounds like a psychedelic/hypnotic mantra where the slow rhythm help the creation of the chant which sings: "We're running all around / and we're acting like dogs / because we're begging like dogs / and barking like dogs". The ritualistic noise rock track goes on for about four minutes without caring to evolve that much, just like a mantra. The Master Musicians Of Hop-Frog bring in "Song of the south" a great song reminiscent of 80s post punk intuitions which has a desperate singer and a catchy tribal musical refrain. You can check both tracks here http://www.hop-frog.com/UrckreleasesMMHFSANKSPLIT.html