Artist:
VV.AA.
Title:
CHyberNation (A Tribute to KRISMA)
Format:
Download Only (MP3 only)
Label:
Dischi Strambelly
(@)
Rated:
The story of Krisma started when Maurizio Arcieri (singer of the Italian sixties band New Dada and later successful pop singer) and Christina Moser met in 1976. On that year their personal and artistic life changed forever because they became partners in both the cases. They first produced two 7" ("Amore" and "U") stylistically following the "sexy sound" formula. Soon after they moved to London and influenced by the punk movement recorded their first album "Chinese Restaurant" beginning a collaboration with Nico Papathanassiou (Vangelis' brother). Even if inspired by punk, the duo recorded a personal album with various influences (check the Spanish sound of "Lola" or the particular sound of "Mandoia"). Two years after, the same team recorded "Hybernation", an innovative album where electronic experimental tunes met melody. After that album they changed their name into Krisma and had a huge success during the 80's with songs like "Many kisses", "Nothing to do with the dog" or "Signorina", without forgetting their innovative and experimental attitude. During those years they recorded four albums ("Cathode mamma", "Clandestine anticipation", "Nothing to do with the dog", titled "Fido" in the U.S., and the 1986 album "Iceberg"). After those albums (I'm not counting the 1989 record "Non Ho Denaro" because it seems it haven't been properly distributed), they run an experimental sat channel where there were no programs but just videos (mostly cut ups) with background techno music created by Maurizio (he created also a parallel project where he used mostly the Rebirth software). Sporadically they collaborated with different Italian bands and they recorded a single in 2001 ("Kara") for Alice Records and actually they are still touring. CHYBERNATION is a free digital download compilation that celebrates Chrisma/Krisma with Italian (to this project participated also alternative bands active during the 80's as XX Century Zorro, Avvoltoi and Johnny Grieco, former leader of Dirty Action) and international artists (Loud Neighbor from Spain, La Kuizine from France and Antiquark and Red Flag from the U.S.). The bands covered all the duo's history by covering their most famous tunes as well as their mostly experimental ones and also Maurizio's solo period (Avvoltoi covered "Guardami, Aiutami, Toccami, Guariscimi" a cover of "Who's See Me Feel Me", recorded in Italian by Maurizio after he left New Dada and Johnny Grieco "Cinque minuti e poi"). We have different genres covered and many tracks stand out: check for example Antiquark's "Nothing to do with the dog" (it sounds like an up to date electro pop version of it with an 80's touch), future pop version of "Skyline" by Red Flag, Machina Amniotica's "Samora club" (a live track they recorded having as guest Maurizio and Christina), Adriano Canzian's "Black silk stocking" (really particular and minimal with filtered vocals and techno influences like on his album released by Gigolo years ago), Roulette Cinese's electro romantic version of "Cathode mamma", Avvoltoi's "Guardami, Aiutami, Toccami, Guariscimi" (they chose a 60's track being true to what they did during the last twenty years) or Cosmic Boilers (with Andy of Blue Vertigo on sax) electro wave edit of "Water". The good tracks are too many to be mentioned and since the compilation (it fits two CDs) is for free (if you can help they have also a paypal account where you can donate something) check it. Just follow the label's link and enjoy a piece of Italian's musical history!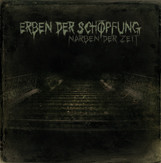 Artist:
ERBEN DER SCHOPFUNG
(@)
Title:
Narben Der Zeit
Format:
CD
Label:
Mystic Of Soul Records
Distributor:
Soulfood
Rated:
Originally formed by Oliver Falk, member of Weltenbrand, Sabine Dünser and Pete Streit, Erben Der Shopfung recorded in 2001 their first album "Twilight". After some copyright issues between the original members (you can read more about this on the band's website) Falk reformed the new Erben Der Shopfung in 2005 with guitarist Rino Vetsch and singer Dina Falk. During the following three years other three people joined: guitarist Flo Riederer, bassist Jens Wagner and drummer Pady Margadant. Finally the band was ready to record the new album NARBEN DER ZEIT with new energy and a new sound. The ten tracks of the second album present a multifaceted sound influenced by goth, metal, industrial e.b.m. and piano ballads. Leaded by the charming voice of Dina, Erben Der Shopfung alternate energetic goth metal songs with electronic inserts (often they use synth bass lines along with synth leads) to piano/vocal ballads (check the beautiful "Homeless") or they mix all the influences like on "Freeze my soul" where we have a beginning with voice/piano/acoustic/strings guitar then, after a minute, distorted guitar riffs and drums join in. After the alternation of the this formula synth bass lines enrich the sound and we have electronic goth stops and go just to end in a sort of 4/4 industrial metal crescendo. Usually I don't love this kind of sounds but I must admit that this band coming from Lichtenstein surprised me. If you are into the goth genre you'll love them. The album is also available in a deluxe edition box with a bonus DVD, a lighter, a patch and stickers.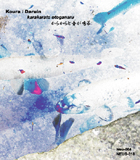 Artist:
KOURA, DARUIN
Title:
karakarato otoganaru
Format:
CD
Label:
Neus
(@)
Rated:
Interesting label and record here and from these cd I'm reviewing they put out heterogeneous materials. In this case we're in front of a duo performing a sort of field recording versus music concrete sort of music. I imagine many of you are probably wondering if here we've somebody following the footsteps of Organum or Steve Roden, but this one has nothing to share with those names. Sometimes during the listening I got the impression there's an almost imperceptible thread of experimental japanese electronic music pulsing underneath in the sound of this release and the electronic music element is what differentiate them from many artists working with field-recordings. They use a lot of hi-pitched frequencies, white noises, and crackles with which the counterpoint many of the concrete sounds here featured. Somehow this cd recorded me of a modern version of some old series 3" mcd came out for the Metamkine, just a bit more electronic oriented and the live tracks reinforce this idea. With the last tracks the electronic element comes further and they add some bass frequencies that in most of the tracks you wont hear, judging from the result I guess when doing a live performance they become more trippy and physical but maybe that's just an impression.



Artist:
ROBOT KOCH
Title:
Death Star Droid
Format:
CD
Label:
Robots Don't Sleep
Rated:
Already active with Jahcoozi and The Tape Vs Rqm as well as remixer for many international artists, Robot Koch releases his first solo full length album titled DEATH STAR DROID. Available on CD, vinyl and digital download, the album contains ten tracks in balance from dub-step, two-step and grime with many other influences. Robot don't focus his stuff on powerful blasts or crazy rhythms that may sound like an exercise in style, he build the tracks keeping an eye opened on melody and the other on the overall atmosphere focusing his efforts on the use of a rich web of sounds. We have energizing tunes like the opening "Death star droid" or the following mid tempo "Away from" as well as melancholic tunes like the cover of Door's "People are strange" (supported by the voice of Graciela Maria) or the following "While" (featuring Manya on vocals), where soft piano melodies are supported by a bass grime sound. The winning point of DEATH STAR DROID is to gather soulful atmospheres and dub-step sounds that enrich and empower the tracks with a touch of hip hop sensibility and a bit of will to experiment (check the i.d.m. blend of guitar samples and bleeps on the closing "A song formerly known as tooth").
Artist:
The M.E.M.O.R.Y. Lab
(@)
Title:
Modern Expressing Machine of Revolutionary Youth
Format:
CD
Label:
D-Trash Records
(@)
Distributor:
D-Trash Records
Rated:
Getting a new batch of CDs to review is always a treat, and gives me a bit of a tingle of anticipation, as well as trepidation for what delights and horrors await my thirsty ears. Thumbing through the pile, I saw some really cool and bizarre stuff, but no matter how tempted I was to take the easy way out and stay in my comfort zone, I knew I had to review this one first.

A bit of background on this CD- it is a collaborative project of Marc Urselli (yeah, OUR Marc Urselli) and Nicola "The Old Nick" Curri of 90's era black metal band, Funeral Oration. Curri went on to become an art restorer, set designer and artist. Now all I really knew about Marc up until this time is that he's my contact at Chain D.L.K. (and also a fine reviewer) and every once in a while he call me up and asks me if I'm ready for more CDs to review. My shock and awe began when I discovered he's a well-known audio engineer and remixer, and has several Grammy Awards under his belt for doing just that. (Somehow Grammys and Chain D.L.K. just seem like opposite ends of the musical spectrum.)

Well, Grammys don't necessarily give you cred in the Industrial music world, but those engineering and production skills come in handy when you want to put out a great album, and this is one GREAT album, all things considered. I'm not saying that because of my Chain D.L.K. connection with Marc, I'm saying that just because IT IS. The album was actually conceived (and mostly executed) nearly 15 years ago, but it has the power and presence to stand up to anything in the Industrial music realm today. I wondered why I never heard of M.E.M.O.R.Y. Lab back then, and apparently it was because they only made it on to a few compilations and released a very limited cassette demo.

M.E.M.O.R.Y. Lab is an acronym for Modern Expressing Machine of Revolutionary Youth, something that summarized their philosophy of music back in Southern Italy in mid-90's. Other members of M.E.M.O.R.Y. Lab included bass player Fabrizio Giannese and Dario Campeggio, but it's Marc and Nick that are really responsible for this album. M.E.M.O.R.Y. Lab broke up in 1999 when Marc moved to New York to pursue an audio engineering career. The album might never have seen the light of day if Marc didn't rescue the original recordings from a dusty Italian basement and digitally re-master them.

So, what about the music on the album? Well, this is hard as titanium Industrial, something much tougher than Reznor and his Nails of Nine ever dreamed of. Urselli cites M.E.M.O.R.Y. Lab's influences of a whole range of groups- Die Krupps, Young Gods, NIN, Pantera, Sepultura, Faith No More, Einsturzende Neubaten, Front Line Assembly, Skinny Puppy, Ministry, Fear Factory, Legendary Pink Dots, Current 93, Das Ich, Psychic TV, Sigillum S, Christian Death, Sisters of Mercy, Pink Floyd, etc., etc. and it shows. Some more than others. The first thing that impressed me about this album is the drum programming. Not your standard stuff here. It is varied and often processed to perfection; complex rhythms (Front Line Assembly/Skinny Puppy style), loops, odd Neubaten-ish percussion, manic drumming, you name it. The synth and sampling work is very good too; somewhat old school' because that was THE school n the 90's when this was done.

Nick has an interesting vocal style, multifaceted and often manic. When he's not ranting and raving Manson style (Charles, not Marilyn) which he often is, he's nearly whispering David Tibet/Edward Ka-Spel gibberings in the quieter passages. And there are a number of them to break up the sturm und drang, which is a very good thing. Actually, there are a whole lot of influences at work here; it is more an amalgam of everything these guys absorbed and put into one sonic H-Bomb of a package guaranteed to blow your mind. It will definitely take you more than one listening to absorb it all, and it has a high replayabilty factor. Even the one track I wasn't wild about at first, "Another Nail into the Cross," with its Christian Death martyr overtones seemed better the second time around. Nick reminded me a bit of the late mad magician Geoffrey Crozier. Few know of Crozier now (Google him, watch his YouTube video, and you'll get the gist), but back in the late 70's he was somewhat of a legend amongst the New York City underground music scene. I had the pleasure of experiencing his demented performances first-hand, and I tell you there is something of his energy and angst in Nick's vocal on this CD. I think you need a certain kind of nutter on vocals to make this kind music work and leave the pack behind.

Modern Expressing Machine of Revolutionary Youth' is a very strong effort which might have become a classic if it was released back in the day, but with the re-mastering, I'm sure it's much better now than it than it might have been then. As with a lot of Industrial music then, there are sampled dialogue passages and sampled hard guitar, but they're used sparing – no overkill. Not a lot of melodic content, but real Industrial music doesn't need a lot of melodic content. If your complaint about so many Industrial' bands today is their music is geared more to club play and the dance floor, then this is definitely for you. There is so much meat on the bones here, and nothing gets stale. Nick's vocals and Marc's synth/programming/production work hand-in-glove together. A perfect fit. Who cares if sounds a bit old school in places. Do you still listen to Hard Wired', Land of Rape and Honey', Too Dark Park', Tabula Rasa or Embryodead' and believe they're brilliant albums? Then M.E.M.O.R.Y. Lab is for you. The only other thing I can say is, it's about fucking time.