Artist:
PRINCE CHARMING
(@)
Title:
lapis lazuli
Format:
CD
Label:
Karlrecords
(@)
Rated:
So they call it illbient, but beyond the classificatory idea I'll try to help you figure out this new brilliant release on Karlrecords. Prince Charming hailing from Hollywood California has several releases out on Wordsound Label and Lovecraft Technologies, he's back with this new full-length that shows how good taste, irony and elegant music can coexist on the same cd. Judging the book by the cover when I first gave it a look at the layout I thought this could have been one of those "burn the house down" releases meant just to dance till you drop, sure it displays a danceable edge but on the other hand the atmosphere is much more oniric than that the cover may suggest. Illbient, ok, but there's a good amount of dub, of good old remix-attitude, an ounce of the glorious Warp catalogue from back in the days and an overexposure to movie soundtracks that here and there appears in the blink of an eye to immediately disappear a second later. While as I've said the music has that ironic edge that may remind Plaid, Nightmare on Wax, Plone or even Black Dog, the style is not absolutely retro and presents an incredible range of influences thus you'll find a quasi post-rock guitar floating ashore on a dub soundtrack (Pomegranate Of Vice), there's a squared electronic rhythm on a nightly Red Snapperesque melody (Uvarovite And Demantoid Blues). You'll be astonished by some Piazzolla alike harmonies, trumpets, simil electronic funky rhythms. While being danceable and really easy even if at the very first listening some combinations could seem hazardous, "lapis lazuli" has an overall night feel: not exactly something for the chill-out zone but without any doubt something you can relax at while still dancing. Please don't emphasize the fact I've said this' an ironic cd, there's class and elegance overwhelming from the first to the last episode of this work: thumbs up.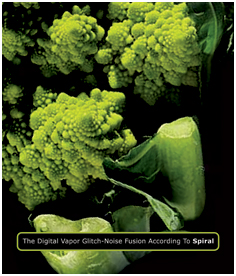 Artist:
SPIRAL
Title:
The Digital Vapor Glitch-Noise Fusion According to Spiral
Format:
CD
Label:
Lunhare
(@)
Distributor:
info@aferecords.com
Rated:
I think you may have noticed it, anyhow Andrea Marutti during the last years beside getting involved in a good number of collaborations has kept putting out solo releases (or he simply augmented his hyperactivity). Spiral is not exactly what Amon or Never Known fans may dig, but at the same time I'm sure if you're a diehard follower of Marutti and you've tasted his materials in different salsas I'm quite fond of the fact you'll find spores of his other projects in this release too. Eight track for almost one hour of "music", let's say it's mainly reworked synth material which has a little bit of ambient attitude for what concerns the structure but that reminded me much more of some post-industrial-experimental projects. Some years ago this work could have come out on labels such as Invisible, Possible records or Sentrax Corporation, I've found reminiscences of Coil, Mika Vainio, ELpH, a simplified Asmus Tietchens and who know what else. The title says a lot, but this' not a loud release and it's also far from being brute or whatever, here are featured a good amount of high and low frequencies and an intentional propension for simple song structures with simple or hidden melodies. I can't say this' one of those releases the majority of you will file under easy listening but betraying the impression given by the album title this' not Marutti in his "heavier than life"-mode so the electronic pussy like you and me won't complain like "nnooo... he's depressed me once too much!!!". Under a certain perspective this' an unusual release with a really experimental and ludique extravaganza but at the same time if you exclude a couple of really difficult tracks, I think this' something definite worth of a try.
Artist:
HAPPINESS PROJECT
(@)
Title:
Remove Or Disable
Format:
CD
Label:
Happy Records
Distributor:
Clogsontronics
Rated:
Born in Limoges / France, Happiness Project is an electro pop band formed by two brothers (Fred and Cyrille Tuyeras) plus Christelle Fournioux on vocals. During their first period the line-up had also Patrice Fournioux and Williams Cavelier but after the release of their first two albums, "Electric games" (2006) and "Happy live bomb" (2007) they leaved. The original trio didn't lose time and started soon after to work on new tracks aided by Jean-Louis Sollier (keyboards on six songs), Ania Pikula (backing vocals on "My London"), Pierre Lafaye (guitar on six songs), Srah Lafaye (vocals on "Departure") and Claire Tuyeras (backing vocals on "Freeness"). REMOVE OR DISABLE prove that the efforts of all the people involved have been headed into the right direction, because the twelve songs of the album sound simple (as a good pop song should sound) but without forgetting to have great melodic lines and interesting electronic sounds (as good electronic songs should be). The sound is well balanced: it isn't too minimal or, otherwise, overproduced. Songs like the opening "My London" or "Internet connection" have all the elements to turn into instant hit singles: good male/female duets and melodies that sticks into your head in no time. Even if the band is called Happiness Project the album doesn't sound like a "stupid" synthpop album where everything could be summed into a three note humming. If you love bands like Telex (but they don't sound too retro) you should check this one. You can find three tracks on www.myspace.com/happinessproject. Now they are distributed by Clogsontronics (that will release their next album), so if you have problems into finding their CD check with them.
image not
available
anymore
Artist:
SUNSET WINGS
Title:
Covering For Solace
Format:
CD
Label:
Wrotycz
(@)
Rated:
Coming from Kalingrad / Russia (before 1945 the city was part of the Eastern Prussian Kingdom and was named Königsberg), Sunset Wings are bringing to the attention of folk music lovers their first full length release titled COVERING FOR SOLACE. Using as lyrics, poems of William Blake, Dante Gabriel Rossetti, Rudyard Kipling, Thomas Lovell Beddoes the band succeed into creating a romantic/melancholic atmosphere where acoustic guitars, cello, violins, flutes, piano, harmonica and bright percussion sounds are enjoyed by male and female duets. The band is really good at composing songs where the different elements merge with ease. The music flows from the speakers cradling the listeners. Musically inspired by traditional ballads of the British isles and the art of Pre-Raphaelites, Sunset Wings are band you'll be glad to check if you are into the genre.
Artist:
Heroin And Your Veins
Title:
Nausea
Format:
CDS (CD Single)
Label:
Verdura Records
(@)
Rated:

When you listen to a lot of music and educate yourself on different genres, I find that it's somewhat easy to get jadded on occasion, and feel like you've heard all there is to hear in such a such type of music. And whenever I start feeling that way, I end up stumbling upon a band with a unique sound that slaps my assumptions straight out of my head. Finnish project Heroin and your Veins is one such band.

"Nausea" is the second album from Heroin and your Veins, their debut album being released back in 2007. Both records are awesome, but I hear alot of growth between the two records, with this newest release being the better of the two.

It's a bit hard to accurately describe the music that this band makes, but obviously I intend to try. Imagine a surf band from Hell, or an experimental lounge band with a really bad hangover. All of the music is instrumental, and sounds very much like the perfect soundtrack for a really weird film noir, or moreso a David Lynch movie... Actually it kind of has some of the elements of
Angelo Badalamenti's work with Lynch, they both share a great usage of space and mood, and a certain jazzy influence, though Heroin in your Veins bring way more of a surf element to the table than the former. It's part post-rock, part experimental, but all very slow, dark, brooding and original as hell...

Every single one of the 10 songs on this album rule, and I recommend you check out this project if you're in the mood for something new and interesting...