Artist:
15 Degrees Below Zero
(@)
Title:
Resting on A
Format:
CD
Label:
Edgetone Records
(@)
Distributor:
Edgetone Records
Rated:
15 Degrees Below Zero are Daniel Blomquist, Michael Addison Mersereau and Mark Wilson, their instrumentation comprising everything but the kitchen sink (laptop, samplers, keyboards, effects, mixing, processing, guitars, vocals, harmonica, pedals, contact microphones, etc.). Their latest album, "Resting on A" was mastered by Thomas Dimuzio, a fringe music artist/producer with a Bill Laswell-sized discography and a name well-known to those "in the know" about ambient-industrial noise. If you like experimental ambient music, 15 Degrees Below Zero is a project well worth checking out.

"Resting on A" takes a very minimal approach, even with the track titles. ("4.1", "4.4", "5", "12.2", "25", etc.) I'm guessing there might be some mathematical significance to that, but I flunk high school algebra, so how would I really know? The soundscapes on this work are somewhat more spacey and subdued than what I've heard on previous 15 Degrees releases, nearly Enoesque in some places. Multilayered, but still very minimal, where events blend and morph with each other in an often placid pastiche, a dichotomy of calm and tension, stillness and motion. This is best illustrated on the lengthy track "5", which runs about 24 ½ minutes. This is not drone music, but atmosphere music. In your mind you may hear ghostly voices emerge, or you may get the impression of arctic isolation. The canvas on which 15 Degrees Below Zero paints is open to interpretation, often seemingly amorphous, yet with structure and balance. Even subdued melody can be extracted from certain passages.

The track following "5" has more experimental noise in the form of recurring looped pitched noise and static distortion that culminates seamlessly in wavering bellish bass tones on the next track. I'm guessing there is some heavy use of ring modulation here. There is much emphasis on the lower frequencies throughout the album, so you should prepare your listening system for that. Not to say that higher timbres have been neglected, they do appear transiently for affect now and then. I wonder how much of the music has been improvised, and how much has been structured, as it seems to have a rather precise framework.

Track 6 ("12.1") features some spoken word over repeated electronic tones and noise rumblings. I'm not much of fan of spoken word samples in music except for short, appropriate interjections (that's the old school industrial in me) but it's a short track and not really obtrusive. Track 7 ("19.2") features old school electronics along the lines of Varèse, Stockhausen, etc., a sort of nod to musique concrete. On the final track, "12.4", heavy processed guitar takes over. All-in-all, "Resting on A" is a really good album with a high replayability factor. But there is more... a bonus video of "December December" a track from their previous "New Travel" CD. It would not play without glitches for me no matter what program I used to play it on, but the surreal visuals were rather interesting.

Artist:
The Selfsentered Spacecadet
Title:
Killers
Format:
MCD (Mini CD)
Label:
Cynical Minds Rec.
Rated:
An electro band from Sweden. TSS have been around since 2006 with various line-ups and released 2 singles via other labels already. In the first cold months of 2009 TSS recorded three new songs that were released through Cynical Minds Recordings this May. In its previous "reincarnations" the band was way less synth and electro oriented, but found the way to its contemporary sound in the course of time. It is melancholic yet danceable. I don't mean it negative, but to my taste it is a bit too wishy-washy and there is a room for some more zip in those songs. It must be good as lounge music if played quietly, because it sounds not pushy and would have a relaxing effect. The influences of TSS range from the pop and rock scenes of the latter decades of the previous century.
The title song deals with a topic that fascinated people since the beginning of the ages and I hope it always will: love. "Stalking Girl" is a rather slow-tempo song, sang as a monologue to an addressee.
The remixes by fever society fix, Simon Gag and Captain Orange are rather interesting. Honestly I prefer the last remix of "Killers" over the original, while it is rarely the case with any song that the listeners find a remix more appealing than the original. I guess it is because this remix is more energetic and lively.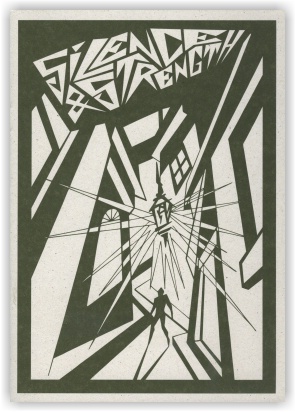 Artist:
SILENCE & STRENGTH
(@)
Title:
Das Haus Zur Letzten Latern
Format:
CD
Label:
Horus Cyclic Daemon
(@)
Rated:
Released on All Fool's Day, DAS HAUS ZUR LETZEN is the newest album by Israeli musical project Silence & Strength. Released on Horus Cyclic Daemon three years after the previous "Opus Paracelsum" issued by The Eastern Front, DAS HAUS ZUR LETZEN is a particular album where music and design are parts of a whole. With graphics inspired by German expressionist movies of the twenties created by John Coulthart and beautifully printed on quality art-paper (green Alezan CRO 300g and recycled grey Eko 200g) the album is inspired by the life and works of writer Gustav Meyrink. [Cfr. from Wikipedia: Illegitimate son of Baron Karl von Varnbüler von und zu Hemmingen and actress Maria Wilhelmina Adelheyd Meier, Gustav started to study occultism at age 24. Having studied theosophy, Kabbala, christian Sophiology and Eastern mysticism, he also tried to practice and he was successful... Until his death Meyrink practiced yoga and other occult exercises with remarkable success. Results of these studies and practices are clearly seen in Meyrink's works, which almost always deal with various occult traditions. Gershom Sholem, an expert in Jewish mysticism, has stated that Meyrink's works are based on superficial sources and have no ties with any authentic tradition]. The thirteen tracks of the album explore different atmospheres starting from dark ambient with few classical influences to industrial tribalism (check immediately the powerful "Das grune gesicht") passing through opera and folk music. The sound is great and it is composed by hundreds of different layers that keep the listener's attention always awake. With a crisp production this album is a great "movie for your ears"...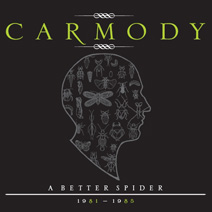 Artist:
CARMODY
Title:
A Better Spider
Format:
CD
Label:
Anna Logue Records
(@)
Rated:
Active during the first half of the 80's Carmody were an electronic band coming from Torino, Italy. Started as a duo and later a trio with Massimiliano Casacci joining in as guitar player, the band recorded only a couple of demos and a song for a local compilation album titled "Tracce". That compilation gathered some of the bands active on that period in Torino and it has been compiled by Massimo Scabbia and named after the Tracce show that each Monday was aired by Radio Torino Popolare playing only Italian alternative music (the show was run by Fabrizio Della Porta and Gilberto Maina). Picking their name from a science fiction novel titled "Dimension of Miracles" by Robert Sheckley, the band did a perfect choice, because their electronic music wasn't exactly pop as, even being melodic, tracks like "Il sospetto", "Ambiguos" or "Cowboy" have a common feeling of imminent catastrophe. You know, like a dog who's feeling an earthquake coming or just like the Mr. Carmody of the novel who's lost in space. The synthesizers build strong ambience structures while Alberto Ramella theatrical vocals sing of the difficulties of being human beings. Picking seven out of sixteen tracks from the self titled demo, three out of six from their second demo titled "Dogu" (these ones thanks to Max Casacci sound less "dramatic" and have a certain pop potential) and a later version of "P.s.a.l.m." (the original one was on "Dogu"), "The perfect beat" coming from the "Tracce" compilation (one of their best electro pop tracks along with "Space invaders" and "Messengers of love") this compilation is a gem for the lovers of that period. If you loved the Monuments compilation issued by the label the last year and you want to discover their sister band (they were friends and Carmody also recorded at Monuments' TKS studio), this CD is a must! With the first 500 copies you'll find a postcard signed by all the three members.
image not
available
anymore
Artist:
Wynardtage
Title:
The Grey Line
Format:
CD
Label:
Equinoxe
(@)
Distributor:
Masterpiece Distribution
Rated:
We've noticed a great publishing effort behind the fourth studio album by one of the most unpretentious and underrated Dark electro project, the young but hyper-prolific German (from Chemnitz, a town sited in the ex-East Germany nearby the Czech borders, formerly known as Karl-Marx Stadt) band Wynardtage, supported by a lot of meaningful trademarks of the scene and co-released by Equinoxe (release number 66) and Rupal Records (release with the magical number 23... ), entitled The Grey Line, maybe referring to the homonymous one, which people studying earth sciences know very well, referring to the band which separates daylight from darkness. Following his previous album Praise The Fallen, widely acclaimed by specialized press as well as by EBM-dark djs, we're almost sure that this brand new album will obtain a comparable acclamation mainly for an aspect which should not be underrated by electro dances, often called "danceability". Even if Wynardtage declares "The world is still the same '" only I have changed... ", the listener which knows Kai Arnold's (the mastermind unraveling the threads of Wynardtage) past albums easily recognizes that the themes are more or less the same of the previous works, mainly rooted in ferocious critics to social matters and false morality mixed up with personal statements, fears and wishes, even if it seems that the (strictly darkish!) canvas enwrapping this lyrics all over the 11 tracks of the album is more intended for dancers wearing obscure spectacles (or gas masks!)... Harsh sounds combined with suffocating ones, martial 4/4 sequenced beats, epic atmospheres and great vocals will kick your ass and perfectly fits this nervous times! A song like Cutting Down is what we imagine is "silently" resonating in the minds of managers on the point of announcing an imminent cut of work forces (sometimes suicide inducing..), while the title track is one of the best episodes of the whole album: the guest singer Melanie G. from the band advantage perfectly interpretes the depressively foggy breeze of this sybilline song inviting the listener to create a vision to (re)create a personal delight. And the whispering and suggestive dialogue introducing If There Is No Tomorrow seems to be tragically predictive, don't despair and dances on the corrugated front-row beats shaking that song. We like the recurring habit of interweaving spoken parts and smashing beats with swampy electronic sequences and rusty vocals tumbling down on rhythms which sometimes reminds to us slushing wheels, especially in tracks like Crash Of A Star '" a song which seems an angry reflection on the delicate matter of young people suicidal pulsations, nicely contrasting with the following track, Now We Are Alive, a song which will arguably echoe in unhappy existences... especially the Painbastard's remix '", My Life or The Frozen Point (paradoxically one of the highest point of the whole album according to our ears and tip-tapping feet... ). The European version of the limited edition includes three remixes: the above-mentioned one by Painbastard, a more "elastic" crushed version of Mask by ESC and a disengaged techno rush by X-Fusion remixing Tragic Hero, but we know that American and Russian tracklists are slightly different as they include other remixes. After you listened to the album you could ask to yourself if Wynardtage chose a similar title '" The Grey Line '" just to preannounce a forthcoming transition from dark to light or arguably to make a present to people afflicte by split personality, but it's possible that you'll formalute similar silly question panting and panting after dancing... So... keep on dancing on the grey line, folks!