What a big surprise! Not easy fill this band, you can think to an electronic Franz Ferdinand version, sometime it reminds to The Strokes and Muse too.Their particularly brand of synth indie-electropop is fresh and great.Brit pop and post-punk guitar band without the usual plagiarism.Great!
It took WALDSONNE almost three years to complete their debut full-length album.This russian band combines mandolin, guitars, Irish harp, and violin into acoustic blend of music with roots in medieval folk and heathen rite chants.Melancholic, meditative, calm and reflective medieval music closer to folk than gothic, for 'heavenly voices' fans too.
Artist:
VV.AA.
Title:
12. Elektrisch Festival
Format:
CD
Label:
Black Rain
(@)
Rated:
Recorded live at the 12th edition of the Elektrisch Festival, this album offers to fans of classic e.b.m. sounds (the one that gathers melody, power, rhythm and sweat) extracts of seven great band's performances recorded at that event. The album presents two tracks for each band and I was quite surprised to see Birmingham 6 back on track. The last time I reviewed one of their releases was about eleven years ago. The track list opens with Absolute Body Control (don't miss the second reissue of their "Lost/Found" double album made by Daft Records and distributed by Ant-Zen!) with "So hard" and "Give me your hands", two tracks coming, in this version, from their "Wind[Re]Wind" album. Tyske Ludder are the next ones and, boy, they know how to make this kind of sounds! They are here with "Wie Der Stahl Gehärtet Wurde" and "Khaled Aker". Birmingham 6 present "Godlike (prayer)" and their classic "You cannot walk here". After these three the next four bands were kinda unknown to me and I have to admit that I've been really impressed by Swedish Container 90 and I was also surprised to listen to Hungarian Escalator and to know that they are active since late 80's. Also the newcomers Astma impressed me with their "Telephon terror" and "449 metal bullets". They have a bit of D.A.F. approach to rhythms and I liked it. Last but not least we have Pinsel Liest! with "Das Hat' Se Jesagt" and "Hör Oss Svea". The first tracks is a particular e.b.m. spoken word while the second one is a creepy atmospheric one. If you love the genre don't miss this great live compilation... it is limited to 500 copies only!
Artist:
Maple bee
Title:
Home
Format:
CDS (CD Single)
Label:
prikosnovenie
(@)
Distributor:
Audiglobe
Rated:
Melanie Garside alias Maple Bee is a very talented composer and singer playing in different bands as the wellknown Mediaeval Babes. The new album has been mixed by Simon Gogerly (U2, Gwen Stefani, Lamb, Underworld) and producted by John Fryer (NIN, Cocteau Twins...) Melanie plays almost every instruments (acoustic guitar, singing, flute, organs, recorders, bass..) and the French Electro-rock band Misstrip has created the rhythmic lines, electro beats and Arno plays Fender Rhodes on the album. The sound could be associate to the 4AD new era, started with Throwing muses, Breeders, Belly... "Home" an indie pop-folk album.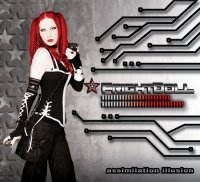 Artist:
FRIGTHDOLL
(@)
Title:
ASSIMILATION ILLUSION
Format:
CD
Label:
Quantum Release Records
(@)
Rated:
After the nice debut album "Reference Version", Frigthdoll is back with eleven new tracks. ASSIMILATION ILLUSION brings to the fans of e.b.m. electronic sounds good dark dancey atmospheres with an edge plus some surprises as Frightdoll reveals on the opening "Lost" and on "Distant" her romantic side: if the opening is a piano/vocals tune with a melancholic touch and nice strings arrangement, "Distant" mixes upbeat tempos, piano, electronic distortions coupled with a bit of melancholic atmospheres. The following tune, "Leaving you" is also a nice one which sounds more powerful compared to the the previous e.b.m. tracks I listened. It is more convincing and catchy even if it deals always with the same elements. Maybe she composed it thinking about its dance potential. Also "Generate" sounds more convinced/convincing, so I don't know why she chose to include the tracks from 2 to 6 which are sounding to me less personal as the sound structure doesn't offer innovative keys as some other songs succeed in that. The album closes with "Endings" and "Sweet serenity", other two particular slow tracks. The first one is kinda melancholic while the latter one is more creepy. It seems sung by a devilish girls while a piano plays a dissonant tune and this is what I mean with "personal"!