Artist:
Tiziano Milani
(@)
Title:
She
Format:
CD
Label:
Setola di Maiale
(@)
Rated:
Almost three year after "Materia", Tiziano Milani returns with a release constructed using field recordings, found objects, tools for working wood and acoustic instruments which were processed using computer. This time, instead of a collection of track, the artist proposes a a track divided in three distinct movement where it's audible the cohesive idea behind it: using a relatively small palette of sound and developing them working on structure and nuance.
"She" is divided in three parts. The first one opens with strings and piano and evolves in a crescendo where, at his peak, there's something almost new for the artist: noise, which creates a tension with the bell in the background so there's a true dialectic between the musical elements. The second part is the center of this release where the drone is used a glue that tie together sparse sound elements as concrète sounds, piano, bells and even a quiet, pulsating noise creating a sense of narrative as demanding as charming. The third one is a quiet crescendo starting with silence, evolving with a drone and closing with small sounds, all searching the listener's attention rather than overwhelming it.
Long, complex and quiet, it's a release that could be arduous in times where there's a trend of user-oriented sound for the infinite amount of like in a social network. This is music that reconciles with the concept of "development in time" not "entertainment". Necessary as air. Chapeau.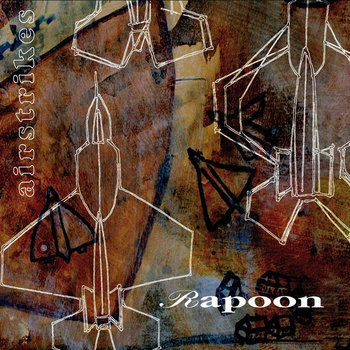 Artist:
Rapoon
Title:
Airstrikes
Format:
CD
Label:
Zoharum
(@)
Distributor:
Alchembria
Rated:
Robin Storey returns with a new release on Zoharum, after three years from his previous "Blue Days", with longer tracks and more political influence. Samples referring war and fake news are as sparsely used as highly evocative and are a sign that, even if not as innovative as some years ago, his inspiration remains almost intact.
The juxtaposition of complex rhythms and the classic oriental music samples is the base of "Airstrikes (Disaster... Fake News)" where, as the title suggests, a sort of commentary about political facts emerges. Despite his canonical elements, "I Hold You" takes full advantage of his short duration to grab the listener's attention while "We Pray for Rain" is perhaps too long for his sparse musical material. Only a simple sample from perhaps a movie gives a sense of evocativeness to "Drones". Even if a little too predictable, the oriental flavor of "Whisper in the Suk" is emotional while "We Watch in Wonder" revolves around his complex rhythmic pattern. The intersections between all the elements of the previous track makes "We Are Such Stuff…" a long and evocative journey around the confusion of modern world especially in the central part were the voices float upon the minimal background.
A little too stretched out in some moment, this release is sustained however by the indisputable class and craft of his author. Perhaps not among his best efforts but his fans will have another moments of enjoyment. Nice.
Artist:
Rutger Zuydervelt with Ilia Blorukov and René Aquarius
Title:
The Red Soul
Format:
CD + Download
Label:
Sofamusic
"The Red Soul" is the soundtrack album to a documentary of the same name, the film being an attempt to portray the psyche of modern Russia. Zuydervelt offers up a selection of avantgarde sonic atmospheres formed primarily of hums, drones and light arhythmic percussive sounds (from René Aquarius of Dead Neanderthals), diced and sliced with occasional bakelite Stalin recordings, looped sections of folksy old choral recordings and other brief found sounds. On top of this, Ilia Belorukov contributes some very occasional, solitary and breathy saxophone sounds, that flirt with but never fully engage as a melody. In the second half some of the synth tones border on structured electronica, fleetingly.

The single 34-minute piece feels like a series of sketches, no one environment lasting more than a couple of minutes before fading away. Perhaps this is in response to the pictures that it was intended to accompany, but as an audio-only experience it gives it a particularly staccato feel that prevents the listener from getting properly entranced- more like a sampler EP than a fully-formed work, it leaves you wanting more, with in this case is mostly but not wholly a good thing.
Artist:
Marlon Hoffstadt
Title:
Themes From My Future Self
Format:
Download Only (MP3 + Lossless)
Label:
Midnight Themes
Hoffstadt's second release on his own Midnight Themes label is a 3-track collection of straightforward, thoroughly polished synth instrumental prog house.

The organic hand drum patterns of "Der Merowinger" carry us through a very confident long intro build in which the pads and acid squeaks gradually unfold. Sonically this wouldn't have sounded out of place on one of the classic Trance Europe Express compilations, but structurally it's a more predictable and DJ-friendly affair ideal for patient dancefloors.

"Pure Awareness" is a similar arrangement but with a tighter layout, a simple acid bassline and strange Theremin-like lead melody that never quite repeats itself often enough to be catchy. Third and final track "Second Track" is another slightly brighter piece, with a slightly more US house flavour and some cheery claps blending with a bright repeating chord sequence pad that evolves subtly and not extensively.

It's a solid rather than outstanding pack of three, short of unique selling points but well-made, smooth mid-set filler.
Andy Backhouse offers up a very personal half-hour soundscape sampling natural sounds from the Scottish seaside town of Dornoch, where his grandmother lives. Indeed, you can hear his granny and a variety of other passing conversations alongside the crashing waves, the birdsong, car sounds, and other slightly less obvious sounds seemingly of cafés or very light industry.

The result is essentially a sonic seaside postcard, and to be honest a rather prosaic one, not really imbued with a distinctive character that would allow the listener to place Dornoch in particular unless you're an absolute master at recognising accents. Only the anachronistic and thankfully short-lived sampled bagpipe sound that appears out of nowhere 15 minutes in (a recording of some piece of tourist tat, maybe?) places this even in Scotland.

But, thanks to the inclusion of calm lapping waves that come and go, it is very naturally a relaxing and calming thing to listen to- a fleeting bit of audio tourism that allows you to imagine that you are meandering carefree along the beachside, without having to worry about the bitter cold you might really get in the Northerly Scottish town.

Andy Backhouse has generated this work as a cathartic experience, which he describes as being related to his perception disorder, which I'm sure is true although the end result could simply be seen as indulgent nostalgia. That being said, as a sound postcard it is picturesque and endearing.