Artist:
Kim Myhr / Quatuor Bozzini / Caroline Bergvall / Ingar Zach
Title:
Pressing Clouds Passing Crowds
Format:
12" vinyl + CD
Label:
Hubro
Four artist names are credited on this release, although while "Quatuor Bozzini" may sound like an individual's name, it's actually a Montreal-based string quartet. As the composer Kim Myhr's name is given prominence at the top of the artwork. However, despite this, this release seems more like a Caroline Bergvall release, with Bergvall reading her own dreamy slow thoughtful poetry while the other artists contribute soft soundscaping and cinematic atmospherics that compliment and paint pictures around the words.

Myhr's own guitar work is prominent, often responsible for the more frequent and repetitive strumming that provides a rhythmic backbone beside which the string quartet's lines and Zach's percussion are allowed to meander and drift in a more leisurely fashion. There are more upbeat moments, such as "Future Present" which borders on jazz, lyrically seems to evoke the sketchiness of Karl Hyde works, and which sounds like it's building to an almost poppy crescendo that never arrives, while more downbeat moments include the plaintive discordant sorrow of "Days" and the more spacious and reflective "Burning".

In "Thngs Dspr" Bergvall's voice adopts a melodic quality that sits it between poetry and singing and it has a captivatingly pleasant quality to it that warrants its limelighting.

The poetry commands your attention and will determine your response to this release as a whole, sure to be huskily comforting for some listeners and disengaging for others, making this a 'your mileage may vary' release, but for me this is quality fodder for late evenings at home.
"Four Movements Of A Shade" is a rather familiar-sounding exercise in guitar-driven drone and minimal post-rock, blending heavily effects-washed grungy shoegaze guitar chords with a selection of synth pads and other drones into a four-part, forty-minute work, a dark and intense brooding sonic journey with a raw, improvised-and-recorded-in-a-day attitude to it.

Part III drifts slightly closer to melody, the guitar sounds almost approaching U2 at one point, whereas other parts are more resolutely formless. There's plenty of evolution within it, and although it's only split into four parts, the progression within each is such that it could legitimately have been subdivided further.

The press sheet says you'll love this record "if you like Sunn O)))" and also "N", and I think that's true- but you'll also find it sounding surprisingly unoriginal too. This all feels like it's been rather 'done'- indulgent, brooding guitar noise taken towards, but not beyond, its logical extreme. Rich and immersive, yes, but as for inspired or inspiring, it falls a little short.
Artist:
Oren Ambarchi & Jim O'Rourke with special guest U-Zhaan
Title:
Hence
Format:
12" vinyl + Download
Label:
Editions Mego
"Both comforting and subtly strange" is a given description of this album and it's very apt. Across two twenty-minute parts, simply labelled 'Hence One' and 'Hence Two', we get a concoction which has atmospheric drone at its base, but which is layered with a fairly generous variety of obtuse and self-contained layers, ranging from processed guitar to bleepier analogue electronic noises, laid up into long patterns that slowly undulate, build and fade as though taking keyframe points from topography of a rather gentle hill walk.

The tabla rhythms from special guest U-zhaan are a prominent part of the jigsaw here. Those contributions are less heavily treated and processed than some of the other elements. With a tonality that gives the work a decidedly pan-geographic flavour for which you would be hard pushed to stick a pin on a map- shades of Japan, shades of Africa, shades of more Western sensibilities, it's a blend that works but is hard to categorise. The second part of the work is a shade lighter and more melodic, with bubbly electronics complimenting the gentle plucking work.

The result is a gentle and mellow, yet complex, ambient and soft electronica arrangement with a distinctive and very approachable flavour.
Tokyo-based Shohei Amimori's "PataMusic" is a bright and often bonkers hour of twisted, everything-but-the-kitchen-sink weird-pop. It channels all sorts of influences, from the energy of J-pop, the quirky Matthew Herbert or Art Of Noise-esque joys of found sound as instrumentation, and the glitchy and unpredictable experimental edges of- well, it's hard to say where they're from.

At times, it feels like we're enjoying regularly structured synthpop, with the intro to "Now Forever" sounding initially like straight-laced lounge music that gradually gets more manic. "Fence Of Bats" has some English-language lyrics, but I still won't pretend to have the vaguest clue what it's about.

It's not all crazy. Amimori's academic compositional background is on display in the cultured small string ensemble piece "ReCircle" and the quirky, almost rom-com waltz of "ajabollamente", which serve as a real palette-shifting mood changer after the album's initial energetic flurry.

But once you've settled into expectations of traditional form and structure, along comes tracks like "Climb Downhill 2", a weird acid squelch workout and an unfiltered revelry in squeaky sonics to shake everything back up again. "Washer" is also notable for its experimental electronics, the love of gradual pitch change that's exhibited on several tracks playing out nicely here.

The album proceeds in this manner throughout, always throwing curveballs to keep you on your toes, clearly enjoying the capability of its own breadth and diversity- yet thankfully, as most of the tracks are above five minutes, it's rather satisfying too, with most of the ideas explored up to the right length for their natural conclusion.

It's odd, and arguably a little bit like showing off at times, but it's also rather endearing and works well as an off-kilter and idiosyncratic offering from the very edge of what could be called pop.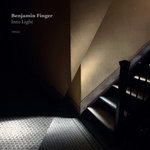 Artist:
Benjamin Finger
(@)
Title:
Into Light
Format:
12"
Label:
Forwind Press
(@)
Rated:
This release from Benjamin Finger is presented in the liner notes, and it definitely is, something at the crossroad between electro-acoustic and modern classical; this, in theory, could be a little problem as this two genres are among the more bothered by clichés. However the key to avoid the pit is to blend the genres rather than juxtapose them i.e., use electro-acoustic to remove the romantic element of modern classical rather than blur it.
The two sides of this 12" are exactly symmetric a short first track and a longer second one. The A side is opened by "A Glimpse" which has more movement in three minutes than a whole ambient record: it has samples, drones, a little bit of noise and juxtaposes this elements with a speed that let breathless. "Gravity's Jest" is instead a track based around a melody of cello which slowly evolves upon noises and samples which quietly but implacably emerge from the background until the second part of the track is introduced by a female voices accompanied by cold synths. the B side is opened by "Into Light" an instrumental synth pop track whose quiet melody is remarkable. The voice of Inga-Lill Farstad returns at the begin of "Paradox Route" and is the center of a track whose synthetic sound gravitates in silence until the arrival of traditional string instruments in the second part creates a continuous and suggestive musical canvas.
The short duration of this release is used to remove all elements of rhetoric and lengthiness that could plague a musical form so relying in catchy romantic melodies and ethereal atmosphere as it also uses some unconventional techniques borrowed from electro-acoustic music. A truly enjoyable release for almost anyone.