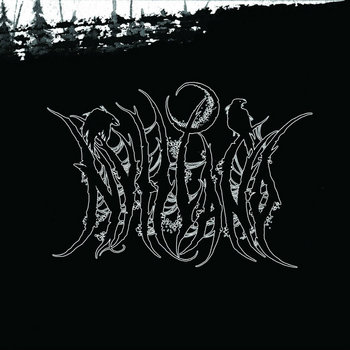 Artist:
Nytt Land
(@)
Title:
Oðal
Format:
CD
Label:
Cold Spring
(@)
Rated:
Almost a year after Fimbulvinter, this Siberian band returns with a release inspired by the traditional music of their land. However, they play folk music using not only traditional instruments, but also field recordings of nature, to underline the link to their land, and some sparse keyboard to enhance the musical spectrum. The gravity center, and most recognizable character, of their music is the overtone singing technique, "kargyraa", used by both the male and female voices.
The opening dance of "Darraðarljóð / The Song of the Valkyries" opens this release with his grave pace. An howling wolf opens "Ragnarök" and the track evolves in a rhythmic cage underlined by the jew-harp with a rather dramatic crescendo of the tagelharpa and an effective use of musical suspension which has a coda,and a further refinement, in "Midsommar". "Hávamál" is a slow tempo song that makes full use of low frequencies. "Norður / Yule Song" is based on the use of the double ranges of the male and female voices. "Tagelharpa Song" is a catchy interlude on the tagelharpa introducing "Deyr Fé / The Heritage" whose first parts features a dialogue between father and son where the former teaches a poem, or a prayer; and the track evolves in an epic horse ride. "Völuspá" features some synth and "Sigrdrífumál / The Ballad of The Victory-Bringer" closes this release with a quiet song for voice and drums.
Perhaps even better than his predecessor to use some means of modernity to remove a dust's patina to a form rooted in ancient times, so it could be enjoyed even by fans on modern songs. It's really worth a listen.
Artist:
Jeff Greinke
(@)
Title:
Before Sunrise
Format:
CD
Label:
Spotted Peccary Music
(@)
Rated:
'Before Sunrise' marks the 20th solo album for ambient artist Jeff Greinke, not counting his collaborations. It's a shame that a number of them are out of print, although there have been some reissues. I first experienced Greinke's work in the late '80s to early '90s and so am familiar with only a handful of his recordings. What I liked about them is that they seemed dark and arcane at the time; not dark in a Robert Rich or Lustmord sort of way, but less conventional ambient than what others in the genre seemed to be doing then. If you've been out of touch with Greinke's music as well, you will find that it has evolved into something quite different, yet not without retaining the flavor and texture Greinke is known for. Greinke's crepuscular vision of 'Before Sunrise' is a rich tapestry of acoustic instruments played by guest players (Greg Campbell- French horn, vibraphone, hand drum; Lesli Dalaba- trumpet; James DeJoie- clarinets, saxophones, flutes; Alex Guy- viola; Paris Hurley- violin; Austin Larkin- viola, violin; Dylan Rieck- cello) combined with Greinke's signature electro-acoustic atmospheres and keyboard improvs. It's an impressionistic kind of ambient, fairly well removed from the New Age melodic ambient you might expect to hear with orchestral instruments combined with synthesizers. This is a pretty deep work with a number of moods and soundscapes explored over the course of 8 tracks in 57 minutes; everything from rumbling darkness to splinters of moonlight piercing through a many-layered forest of sound, to sparkly fairy lights. By its nature, 'Before Sunrise' has an aura of melancholy mystery to it that always seems to be evolving. It is almost hard to believe that the music has been largely improvised as the instrumental coordination is so stellar that it often seems as though there had to have been some rather complex arrangements in places. The layering of atmospheres is extraordinary in its richness, yet nothing is buried. Rather than overtake Greinke's atmospheres, the acoustic instruments enhance it and add their own piquancy to what is already a pretty heady stew. 'Before Sunrise' is a trip well worth taking, and is intriguing enough to warrant multiple replays.
Artist:
Død Beverte
(@)
Title:
Polarination
Format:
Download Only (MP3 + Lossless)
Label:
self-released
Rated:
Død Beverte is Stefan Klein from Colorado Springs, Colorado who began his musical career with his avant-garde extreme metal band Dethcentrik back in 2009. According to his website, Død has been in, worked with, and has remixed/been remixed by many other projects and artists, including Blank Faced Prophet, Cold Metal Future, Fill The Void, Dawn of Ashes, The Rust Punk Tribe, Angelspit, f.kk.d, Omega Dub Experience, Jeremiah Whitman, Chris Vrenna (Nine Inch Nails, Tweaker, Marilyn Manson), Disturbing Taxidermy, and many others. Kinda sounds impressive, eh? Well maybe so, until you listen to 'Polarination' which is supposed to be experimental music, but all too often as in this case is a catch-all category for not too good music. First and title track on 'Polarination' is nearly 5 minutes of poorly improvised noise with repetitious dialogue samples of pundits saying "this is the most racist bigoted" and other acrimonious political jargon, obviously directed at #45. Speaking of the Cheeto-in-Chief, "Echoes of a Dark Past" continues with more dialogue samples, namely the "I alone can fix it" gem pitch-shifted down several octaves to demon range. The improvised music on "Brooding Conflict" is slightly more intriguing, but not enough to make up for what preceded it. "Straight Outta The Cold War" gives us unadulterated Trump - "Madmen, out there...shooting rockets all over the place..." underpinned with bassy warblings sounding like sad whales. "Bipolar Partisanship" is just a manipulated mess, likely as it was intended to make a statement on the current political scene. The mess continues on "The War Has Begun" with lots of chaotic crowd samples and some really bad distorto-bass playing. Plenty of anger, not much else. The short (barely over a minute) track "Holding Onto The Pieces" was the first one that seemed to have an interesting ambience in its plucky minimalism. That quickly falls by the wayside though when Død Beverte tries some avant-garde guitar and bass dissected by a steady feedback tone on "Last Moment To Reflect". Later throwing in some reverb for good measure doesn't make it any better. The fourteen and a half minute "Nuclear Holocaust" has elements of dark ambient, (monotonous) avant-garde minimal improv and noise, but the elements don't coalesce well enough to form anything more than filling 15 minutes of space with sound. "Wasteland" started out being the most interesting track on the album with minimal atmospheric bass pulse in a slow, sinister rhythm, but then "the other bass" shows up a few seconds over a minute in, and kicks the crap out of anything that might have been worthwhile in its belligerent annoynace. Even the deeply chambered sonics that eventually follow seem kind of contrived. Lastly according to Død, track 11 is an open source track he completed after the album and gave away along with giving away alternate mixes and stems, entitled "Nowhere To Hide". Funny, it's the most musical thing on the album; a bit awkward but it has its strange charm. I'd be more inclined to have liked the album if there were more tracks like that on it. I can understand that (some) artists want to make a statement and ruminate on the current socio-political crisis that is enveloping the world, and especially this country today. Let's face it, it's permeating our culture, and to a degree our music is part of that culture. You're not going to be getting anything deep out of Taylor Swift, Kanye West, or others in the pop world, so it falls to the fringe carry the torch. 'Polarination' isn't the answer though because it's just too fractured and amateurish to even leave a lasting impression. I'm sure Død Beverte was looking to leave an impression when he concocted this; I just don't think it will be what he intended.

Artist:
Anne-James Chaton & Andy Moor
Title:
Tout Ce Que Je Sais
Format:
CD & Vinyl
Label:
Unsounds
The second part of their "Heretics" series continues to fuse together Anne-James Chaton's French-language freeform and sometimes quite frenetic beat poetry with Andy Moor (The Ex)'s looped and layered improvised and mostly rhythm-driven experimental guitar work.

It's recorded live, though you wouldn't tell from the sound quality, which is very rich and deep- only the appreciate audience responses between tracks give it away. A curious bit of anachronistic soundscaping after the first track, seemingly featuring bees and tractors, is shortlived and not fully explored, with the release focussing almost exclusively on guitar and voice.

Being unable to speak French, the voice here is just another instrument to be judged on sonic rather than lyrical quality, but it stands up well in that regard. It's dramatic, well-performed, both evocative and strangely authoritative, though there isn't necessarily a great deal of variation between pieces which is highlighted more when you don't understand what's being said.

The guitar, meanwhile, generally has one particular sound, but does adopt a variety of playing styles- "Coquins coquettes et cocus" being more than halfway to full-on rock guitar, "Clair Obscur" being a little more folksy, "Casino rabelaisien" being somewhat darker.

Final track "The Things That Belong To William" (again a French-language track despite the title) stands out for being more freeform, using timestretched vocal recordings as a throat-singing-style atmospheric bed and using the guitar for spontaneous and dynamic clanging rather than the beat patterns that dominate most of the other tracks.

It's a strong piece of guitar poetry in a relatively conventional style, and thankfully you don't have to speak French to appreciate it.
Artist: Eliezer
Title: The man from 94
Format: 12" vinyl + Download
Label: Unterman

The debut EP from Tel Aviv-based Eliezer is an EP made up of two original tracks and a remix of each. It also marks the first release for the Unterman label. And it's a debut that's polished and competent rather than outstanding.

"Frani" is a steady house groove over which squelchy synthwavey noises gradually twiddle their way across. The rocky, aggressive spoken word sample feels to be at a higher energy level than the rest of the track and ends up a little disconnected, save for when it's being cut up and played with. Gabriel Ferreira's remix is a stripped-back and deeper affair that turns those cut-up vocal parts into soft percussive tones sparsely sprinkled over a thick kick and simple throbbing bass.

"No Tears" is also a little darker, a moodier synthwave affair of long pads, sustained strings and analogue arpeggios. The Naduve remix is quite faithful, brightening the rhythm up a bit and adding a decidedly 80's bass sound but falling very close to the tree as remixes go.

Confident and leisurely, it's a nice pack that shows promise rather than brilliance.