image not
available
anymore
The most spontaneous analogy you'll be tempted to establish after listening Robo Ghost, the second full-length album by the Scottish band Keser, could be the one with the most recent issues by Boards Of Canada (maybe �cause they come from the same country and especially if you notice the ethereal flow marking their sound) or if you'll linger over their post-rock nervations, you could easily try a comparison with Mogwai or Bark Psychosis. There're surely both of them among the recipes of the delicious musical dish cooked by the bassist and keyboardist Gavin Clark and the guitarist and keyboardist as well Kevan Whitley (for instance if you have a listen to the drum programming of Diablo Canyon 1 '" as well as its drilling guitars... -, you could easily recognize the syncopated pattern and even the airy reverb on claps BOC widely used in many tracks of The Campfire Headphase), but the way Keser interweave guitar with crystalline and peaceful electronic sounds reminds to us some solo experiments by Robin Guthrie '" the famous composer behind some of the most known Cocteau Twins melodies - and the mesmerizing brightness of Ulrich Schnauss' sonorities and ambient chilling suites as well as some interesting new proposals coming mainly from UK labels combining pacific soundscapes with complex and geometric rhythmical patterns (Bauri, Benge, Monoceros, Cathode, Metamatics to name just some of them mainly spread by labels such as Expanding, Mego or Hydrogen Dukebox), whose patterns have been partially reflected by German ~scape some years ago (introducing an interesting way of treating sounds, formerly photographed on some interesting releases such Staedtizism series) as well.


By the way Robo_Ghost (available both on cd and digital download) is mainly an instrumental workout indeed, including a plenty of remarkable highlights, whose emotionality will whisper something to your soul throughout the seemingly muted language, that tickling lovely melancholy springing from the flowing pleated blanket of this Robo_Ghost will move your mind towards a likeable reverie or re-activate some forgotten circuits of your soul and we don't exclude the possibility that some listeners' mind sight could swim into an ocean of tender memories and feelings such an adolescent pure love or a sweet reverie on the seaside of an happy-go-lucky undefined time... . The album could ideally be divided into two parts, being the first one more eclectic and full of electronic textures while the second one is more poppy even if equally emotional with some interesting tracks such as the moody 3 Point Play (Set Piece), a sort of Hindemith-like skinny symphony traced by a glimmering string section ending in a poignant piano melody, which is going to let some forgotten emotions re-emerge from the store-room of oblivion... You'll easily enjoy the imaginative(and customizable) glide Keser's music will easily cause!

Artist:
VV.AA.
Title:
Vermin Street Idm/Core Series: Issue 5
Format:
Download Only (MP3 only)
Label:
Vermin Street
Rated:
Metal Kt opens this fifth volume of the Vermin Street's Idm/Core Series with "Expedition", a track that blend atmospheric synth pads, violin orchestrations, dubstep a some breakbeat patterns. There's a good alternation of relative calmness and energetic bursts. On the other side Encanti's "Chemical flaws" blend dubstep fat bass sounds with xylophone mellow melodies. The track little by little grows and we arrive to a syncopated relaxation just to pass to double time beats and distorted kicks after a while. It's like to listen to a lounge record gone mad. Nice... Available from the 24th November through Juno, Addictech, Digital-Tunes, iTunes and Amazon.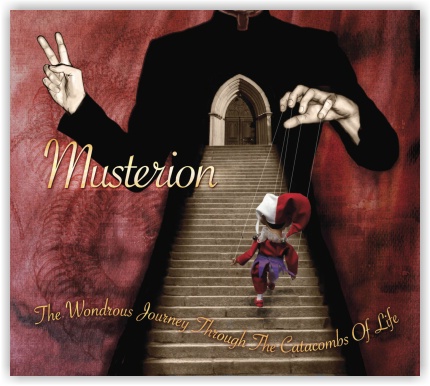 Artist:
Musterion
(@)
Title:
The Wondrous Journey Through the Catacombs of Life
Format:
CD
Label:
Horus CyclicDaemon
Rated:
Swedish-born composer Simon Kölle has been touted as one of the most significant Scandinavian musicians of his generation and genre. Mostly known for his work with Za Frûmi but he also did a fantastic solo album under the name Musterion. That was 2005 and the album titled "The Black Lodge". Now Simon is back with his second album with Musterion.

The first thing to praise with this album is the outstanding artwork laid out as great work of art on a multi panel Digipack. The artwork is truly clever and honestly I cannot think about any artist in the genre of dark ambient that released an album as beautiful as this.

The story, which is laid out in a deep and impressive booklet, is wonderful and reminds me of masters such as Devil Doll, Pink Floyd, David Lynch and Lovecraft. The music is so unique and cinematic I nominate it to be the best dark ambient album this year for sure. From the opening moments of the first piece "Elevator Down" it becomes evident that Musterion possesses a special demeanor via his ferocious line of attack, spiced with verve and a robust tone. Coupled with fluent lines and a few technical nods to the psychedelic years of the 60s, the artist snags your
attention, and sails through these largely, original pieces with equal doses of fire and grace!
Only great poetry can describe the music on "The Wondrous Journey through the Catacombs of Life" and Horus CyclicDaemon, the Czech label, has outdone themselves with this diamond release.

There is a slight Eastern European accent to the underlying rhythms and their instrumentation but also hints and pieces of the puzzle that breath art music as much as dark ambient.

The most remarkable aspect of the album is its ability to tell the story with the help of the music, text and art. The album takes you on the wondrous journey with masterful precision, embodying the heart-wrenching emotions and memories of the man we inhabit while listening. He makes a discovery and finally a downfall with strange circus themes and marvelous sound elements never restrained. In terms of the actual music, not much is different from Musterion's previous album, though a significant role is given to the violin and to the very fact that specific keys offers dual representation of both the innocence of the main character and the dark setting of the catacombs, lending a music-box style to the album that accentuates the bedtime storytelling ambience. The Piano is important but not as much as with the "The Black Lodge".

When I listen to a song like "The Dollmaker" I get so into the music I get back from a trip when it ends. I cannot even describe half of everything what is happening but I feel a lot. First I thought that maybe some songs would be overly stuffed with great ideas but not really creating a red thread. Oh, I was so wrong. The thread is there and the songs are not stuffed with other than greatness.

I love this album.


Artist:
VV.AA.
Title:
Idm Core Series Issue4
Format:
Download Only (MP3 only)
Label:
Vermin Street
Rated:
Vermin Street's fourth issue of IDM Core series sees NastyNasty delivering a great track made of syncopated drums, breakcore rhythms and a melancholic but also energetic melody that will stick in your ears. "Dancefloors and deathrattles" in only two minutes and half has so many good elements and moment that it's a pity that it is so short. You'll be devastated by short romantic violins breaks, 4/4 blasting kick drums, catchy vocal melodies, etc. On the other side we have a remix of an old DJ C track "Boston Bounce" by Encanti titled "I Represent Boston". It starts with a nice hip hop synth crescendo. After a couple of minutes we have a wall of crunchy synths empowering the tune and after another couple the rhythm pattern go crazy with breakbeats moments. Really good double A side digital release. As usual it is available at addictech.com, juno.co.uk, digital-tunes.net, itunes and amazon.
Artist:
dexy corp_
(@)
Title:
fragmentation
Format:
CD
Label:
Black Rain
(@)
Rated:
One of the leathery boot of the French band Dexy Corp.'s driving its sole into the fertile grounds harvested by some American industrial/rock/metal bands such as KMFDM or Nine Inch Nails, the other one's sinking into the present-day social plot with an enjoyable and polemical tone. "The world has seen the great show of the heal apocalypse [sometimes quoted... ] by cauterizing its wounds" growls the harsh and scratchy throat of Jean-Baptiste Dropsy aka Doctrokrank on the blasting maelstrom unleashed by the majestic walls erected by Denis Malbrancke aka Noisynism throughout his distorted and effected guitars, tank-like smashing trucked drumming by Olivier Pesquié aka AbsynthetiK and propelled by the infectious basslines by Erwan Ropars aka Ersatz and the high-voltage feeded machines of Maxime Brachet aka Nix. These nice folks brought their name from the slang denomination of dextroamphetamine, an isomer of amphetamine largely used in the treatment of narcolepsy and attention deficits, unveiling their "mission": waking up the sleeping consciousness of the listener both by rhythmical noisy fusillades featuring a stylistical piercing of some industrial-metal legends such as Ministry or (the first and maybe the best) Pantera and provocative lyrics, whose target seems to be the totalitarian false belief "homologation-ist" system, rapidly devouring mankind and its more genuine values.

They've chosen a fitted musical language to do it best and some of the most corrosive tracks of this records such as Lie is Life, Anhédonie, Faceless or Death Plastic Surgery (the highlights of this Fragmentation and in our modest opinion, the best in fostering the evoked fragmentation) sound more venomous than trickery oratorical tricks as well!!! You could wonder when listening to the easygoing skill of the whole band in evoking industrial sceneries, an uproar of noisy and poisoned sounds concocting in an almost dramatic way able to graze the thick skin of the most hypocritical contemporary society. You'll enjoy Fragmentation at first glance if you dwell upon details of the artwork (I really appreciated all those references to explanatory notes of a PH-blister, including -!- the decision to write lyrics with a minuscule grey font on grey background... you'll need a lens or maybe a microscope to read them!!!) as well as the ones of their music...

A promising debut album! You'll praise for taking part to one of their energizing live stages after fucking pills (and useless vaccines as well!!) or just look to your financial advisor to buy stock-options and privileged shares of the Dexy Corp.!!!