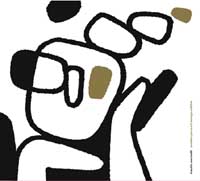 Artist:
Claudio Rocchetti
(@)
Title:
Another piece of teenage wildlife
Format:
CD
Label:
Die Schachtel
Rated:
Here we go with some of the few italians experimental heros who's title is deserved, abroad he's probably mostly known for his work in the ranks of 3/4 Had Been Eliminated but his solo discography is getting quite conspicuous and I highly recommend you to give him your ears. If, like me, you're not new to the work of this experimental artist, then you've to be aware this full length brings forth some interesting innovation in the stile of this Berlin located musician. This time Rocchetti went for an explicitly melodic output which is more than a surprise since his solo releases so far were ranging from "music concrete" to experimental-post-industrial/arty electronics the way you love it, 'cause you can bet despite the overabundance of experimental musicians he had/has his own style. Don't worry, you'll listen to some of these cold well developed grey electronic paintings you're used to with this guy, but you won't believe you ears when he's surrendering to an outspoken emotional side that creates a flower bed to lull some female vocals. Another interesting new element is the fact he's introduced some guitars both played by him and by some guest, no surprises anyway since as he clears it out the guy has a punk-hardcore background. The record fits perfectly in the latest catalogue of Die Schachtel, a label that in someway has produced mostly 3/4 Had Been Eliminated, Bowindo, Hapna crew and related, which in some way may give you a little hint about the melodic, soft but "still not for everybody" atmosphere of the record. Soft droning and simple guitar scrossed randomly by some hi/low-fi sounds which at this point can be easily considered part of his own personal arsenal. Some songs last for a short lapse of time some other tracks creates that typical "in trance as mission" feeling you've been loving in Ambarchi, Roden, Labelle and who knows who else. The guest have surely enriched the recording, but is still Rocchetti who's pulling the strings so if you loved his recordings so far, well, go for it. The title says a lot..."the spirit lives on" despite the coming of age.
Artist:
VV.AA.
Title:
Elaste Volume 2 - Space Disco
Format:
CD
Label:
Compost Records
(@)
Rated:
Do you remember the first volume of the Elaste series? The last time we had DJ Mooner digging into the dust just to make 80's disco tracks surface again directly from the floors of the clubs located in Rimini, Italy. This time we have Tom Wieland of 7 Samurai, Panoptikum fame, bringing us twelve tracks back from the vault of late European 70's/early 80's. He wanted also to give his personal tribute to these sounds, so him with Marc Frank, his partner in Panoptikum, covered "Glukskugel", an instrumental track originally composed by a German guy called Curt Cress. The Swiss television commissioned to him the composition of the national lottery TV theme but in the end this tune got rejected. Panoptikum are also performing an original tune inspired by space disco, titled "Elaste": a pumping electronic mid tempo with funk/house influence. On the compilation we have obscure hits coming from Greece (Hippolytes), Latvia (Zodiac Disco Alliance), Italy (Selection), etc. Some of them have been released only locally or have been distributed only in selected countries. The style span from cool disco funk with few synth lines to proper disco songs with cool female vocals, passing through particular instrumentals with reggae influences (Vulcans' "Star Trek" or the following Tony Allen's "Nepa Dance Dub") or atmospheric tunes with sensual rhythms (see the only name I knew of the lot Rufus & Chaka Khan who on "Ain't Nobody (Hallocinogenik Version)" mix funk bass lines, orchestrations and female choruses). At this point you will ask: what "space disco" is all about if you're talking about funk and stuff? Well, the "space" term used here is to describe the atmosphere created by the tracks which had some synth pad lines that helped creating a certain mood. Also on funk songs like Selection's "Rebel On The Run", we have a part where the sound is dilated and makes change the atmosphere. Check this compilation if disco is your thing and you're willing to try "new" particular stuff. Here's the tracklist:

1. Zodiac "The Other Side Of Heaven"
2. Selection "Rebel On The Run"
3. Jagg "Take Time"
4. Hippolytes "Blow You Out Tonight"
5. Two Man Sound "Que Tal America"
6. Curt Cress "Sundance"
7. Panoptikum "Glückskugel"
8. Leb Harmony "Feeling Love"
9. Stroer "Don't Stay Till Breakfast"
10. Alan Hawkshaw "The Speed Of Sound"
11. Panoptikum "Elaste"
12. Vulcans "Star Trek"
13. Tony Allen "Nepa Dance Dub"
14. Rufus & Chaka Khan "Ain't Nobody (Hallocinogenik Version)"
image not
available
anymore
Artist:
VV.AA.
Title:
We're Punch Addicted
Format:
CD
Label:
Punch Records
(@)
Distributor:
Masterpiece Distribution
Rated:
Listening to the latest label releases I wouldn't wait for such a compilation with so much electronic bands (10 out of 18). The first label compilation has 18 bands and their songs are exclusive to this CD which is limited to 500 copies. You'll find bands coming from the label's roster as well as a lot of great newcomers that will please all the lovers of minimal electronics as well lovers of original experimental wave. Names like J.G. Cabargas & Los Immortales Nina Belief, The Plague Year Of Audioscope, Pierre Normal, Ronin, Manasyt, Merging Of The Self didn't make me ring any bell, as they were totally unknown to me, but they definitely will in the future because their style which span from minimal electronic obsession to cold wave with retro synth sound is really convincing and involving and for sure if you are into Porn Darsteller, early Die Form, etc, you'll love them all. Comando Suzie, Ait! and Eirk Ursich, confirmed here with their new tracks the judgment I had when I reviewed their latest albums (all positive). The second half of the compilation (the less electronic one) opens with Divine Muzak and their western movie cabaret atmosphere. O Paradis with "El tacto" perform one of their minimal melancholic ballads. Thomas Nola Et Son Orchestre bring one of their Nick Cave like upbeat ballads with slide guitar, piano and organ, titled "Freedom's little baby". Mushroom's Patience on "Morel" is here with a cinematic melancholic instrumental track. 1997EV present "t.h.e.k.l.a. 9", a powerful psychedelic tribal track based on vocals, organ, fuzz guitars and percussions. Terroritmo perform a obscure experimental ritualistic track based on chants, whispered vocals and percussions. Lutwaffe are the only new-folk band of the lot and "Killkorps" mix industrial percussions, vocal loops and vocals creating a powerful track which "cries" rage. The compilation closes with the experimental insustrialism of Smrt I Cekic and their hypnotic "S.o.n.i.c.m.a.n.t.r.a.s.". Personally I'm mostly fascinated by the electronic bands/sounds but also the other bands brought interesting tracks which deserve your attention. WE ARE PUNCH ADDICTED is more than a simple label compilation and you should consider its purchase.
image not
available
anymore
Avigail Baas is fascinated by the fact that sound generates brain activity. This make us feel emotions. This made her started generating sound a long time ago. Looped melodies and light sounds are her way to express herself. This EP titled THE OTHER SIDE is showing her dealing with songs made of light synth pads and dreamy atmospheres made of electronic sounds where her voice (a nice gentle voice) is able to make you feel welcomed in her inner world. Sometimes her tracks made me remember of a less obsessed version of Portishead (mainly on the main track). Her style goes from pop to electronic soundtracks enriched by orchestrations and circular melodies. The Terrace mix of the main track is more electro sounding but I don't find this genre fit her vocals. Anyway that is a nice one...
image not
available
anymore
Artist:
VV.AA.
Title:
Scontrum Act VIII
Format:
CD
Label:
War Office Propaganda
(@)
Rated:
Here we are at a new chapter, the eighth, of the SCONTRUM ACT series. As for the old chapters, we have three bands presenting three new tracks and this time we have March Of Heroes, Phragments and Across The Rubicon joining their forces to present nine tracks in balance from powerful percussions, orchestrations and martial samples. The CD opens with March Of Heroes. The French project presents three parts of "Stalingrad... our last hope", a cinematic trilogy where strings and percussions paint a dramatic scenario and where Russian sampled vocals enhance the sense of pain. Phragments present three tracks which differ from their latest album released on The Eastern Front as "Utopia", "Eruption" and "Tragedy" are less dark ambient sounding and based more on orchestration and a sense of suspension/tension. See for example the effect created by the dissonance of the strings on "Eruption" coupled with the light industrial noises. Across The Rubicon (the band born from the Rukkanor/Cold Fusion collaboration) present three linked tracks: "A soldier", "Survivors" and "A ghost". On the first one they have Troy Southgate (H.E.R.R. and Seelenlicht) performing one of his spoken words and on the second track we have Karol Skrzypiec of IV LAB at voice and grand piano. The tracks have a melancholic touch and create a convincing atmosphere where melody and powerful drums are the main elements. This is one of the SCONTRUM ACT chapters that convinced me most.