image not
available
anymore
Artist:
SIMULACRA
Title:
There Is A Fountain Filled With Blood
Format:
CD
Label:
Consouling
(@)
Rated:
Co-produced by Consouling and No Angels Productions (www.no.angels.glt.pl), THERE IS A FOUNTAIN FILLED WITH BLOOD is the latest album by Miguel Boriau's Simulacra. Already active also with Weihan, Mannus, Beyond Infinity and Nihilum, Miguel, since 2006, made of Simulacra his main musical project. Printed in 500 copies and released the next month, THERE IS A FOUNTAIN FILLED WITH BLOOD presents to the lover of sidereal dark ambient five tracks of gloomy icy drones. "Unsullied by the touch of time", "There is a fountain filled with blood", "In solitary confinement", "I have no blood | I have no heart" and "Above me only a shimmering light" (remixed by Mystified) offer hypnotic soundscapes where humming sounds blend forming light melodies that are finding themselves lose in a sea of torment. Focused on the bleak effect created, Miguel, didn't change much the sound/frequencies of the tracks and sometimes you feel that something is missing. Mystified, on their mix, offer a similar sound but playing a bit with melodies resulting interesting.
image not
available
anymore
Artist:
URAL UMBO
Title:
Ural Umbo + Latent Defects
Format:
CD
Label:
Utech Records
(@)
Rated:
Formed by Reto Mäder (Sum of R, RM74) and Steven Hess (On, Haptic) Ural Umbo release on Utech Records their self titled début album. The nine track of the CD present a wide palette of influences and sounds. The opening track "The Lights Would Stop Flickering" recalls me the first Coil vinyl release "How to destroy angels", because of its gong/cymbal sounds but soon after the duo show us their true spirit by adding French horn, guitar drones and a xylophone. "Theme of the Paranormal Feedback" is a kaleidoscope of guitar improvisation duetting with cymbals. Toward the end of the track, from the chaos, rise a feedback melody which add a particular melancholic effect. "Förlåta Jag" mix guitar drones, slow drum beats and horns making result Codeine an happy band. "Voices from the Room Below" mix drones, metallic percussions and feedback while the following "Don't Eat Carrots, My Little Ghost Horse" sounds quite rarefied with its mix of clean electric guitar spare sounds, light guitar drones and little-bells. "Stumbling Upon Blood and Mercury" is a tense tune with low guitar drones and metallic percussions. On its middle a drum starts its funeral beat and between rising high frequency guitar drones a two notes catchy melody cries like a siren. "Among the Bones" is another track that got my attention because of its jazzy approach using organ sounds as background while brushes run on a snare drum and guitar sounds clashes creating sometimes some melody. Also available as mp3/flac download is a sister mini album titled LATENT DEFECTS". It is based on the sounds of the album but it shows the minimal side of Ural Umbo: its six tracks have less sounds interactions and I can define them as monolithic. Personally I prefer the album, because it is kinda extreme but more varied.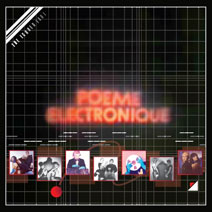 Artist:
POEME ELECTRONIQUE
Title:
The Echoes Fade
Format:
12"
Label:
Anna Logue Records
(@)
Rated:
We left Poeme Electronique two years ago with the release of a renewed version of The Echoes Fade 7" and we already knew that something else was going to be released but I wasn't thinking it would be this huge! THE ECHOES FADE double vinyl album contains sixteen songs recorded during the 1981/1982 period of which fourteen are never been released before! Basically this is an extended version of the first Poeme Electronique unreleased album. The first record begins with the original 7" versions of "The echoes fade" plus "Voice" and follows with "Rendezvous" and "She's an image" the first tracks of the unreleased lot. Since the first melodies I hear echoes of Gary Numan and Toyah/Nina Hagen for the vocal parts and this is so true on "Theories" thanks to the rich female vocals and the synth lines. With "Inside his Head" the atmosphere gets darker and robotic late 70s synth lines (it recalls me of "Oxygene") are the perfect background to a theatrical vocal performance. A perfect atmosphere for a song that talks about someone in coma (the refrain says: "Oh God don't let him stay this way, hear my prayer and what I say, release him from the cage he's in, bring him out of this tormenting"). Also "Fragile" offers interesting atmospheres coupled with upbeat rhythms, a catchy refrain and tons of synth leads and bleeps. The second vinyl opens with a slow epic/atmospheric tune titled "It's in the atmosphere", it introduce you to a sort of horror poem where the refrain says: "It's in the atmosphere, on the wings of the breeze, the force of almighty, in the tombs of the beasts". Also "This night" is quite atmospheric while the following "My complicated personality" mix upbeat tempos, pop sensibility and a certain dark feeling. Poeme Electronique used electronic equipment but weren't minimal at all (all their songs have many synth sounds and rich arrangements) and unfortunately they had to wait for thirty years to get the exposure they deserve! If you are a vinyl addict don't miss this luxurious gate-fold edition with glossy inner sleeves with lyrics of all the songs, as well as individual mini 7" sleeves for each of them. Next to follow Anna Logue will issue also the CD but I don't know if it will include all the tracks.
image not
available
anymore
Artist:
IGNIS URBIS MITHRAE
Title:
Sacrae Romanae Origines
Format:
CD
Label:
Wolf Age Records
Distributor:
HauRuck! SPQR
Rated:
Born from a collaboration of ex Camerata Mediolanense and Pavor Nocturnus members, Ignis Vrbis Mithrae (it should mean "Fire in the city of Mithra") release on Wolf Age Records their first album SACRAE ROMANAE ORIGINES ("Holy Roman Origins"). Sung in Latin language the ten tracks of the album will make you revive the atmospheres of ancient Rome with melodies and sounds that actually seem inspired from ancient music. Brasses, percussions, strings and chants will enchant you with songs born from the pride of being part of the Roman Empire. The first track "Vbi bene ibi patria" is the only one that contains lyrics in Italian language and it sounds like the band's manifesto. It says: "We fight for the truth of the ancient traditions guarded in everyone's blood, so that the quality of men and their work will be over everything else. We cannot make otherwise on this path and on our living". Energetic, melodic and sometimes seducing (check the melodies of "Mores maiorvm") SACRAE ROMANAE ORIGINES is a convincing album that will give a new meaning to neoclassic martial music.
image not
available
anymore
Artist:
Simon Kölle
(@)
Title:
Res dej inte! [Stay Down]
Format:
CD
Label:
Neuropa Records
(@)
Rated:
Simon Kölle is debuting as a film composer and he just continues to impress me and I have begun to look forward to his music alot.
From the eerily mysterious albums of Musterion and Abnocto to the often rousing ethnical and fantasy inspired sounds of Za Frûmi.
Simon have shown us that he can do action-adventure before but with the soundtrack to Res dej inte! [Stay Down] he delivers a work that immediately signifies itself as being for a dark drama. Not that it should be a surprise to anyone seeing as how well he manage all genres he work with.

Like the Thin Red Line and even Schindler's List this score is rather quiet but in a good way. Already from the overture you get the idea of a dark film.

If you are a fan of dark ambient or a soundtrack fan just looking for something different, you might want to give this one a spin.
Simon Kölle keep on showing us that he knows his stuff and that he can score for whatever situation is needed, and with over and hour of beautifully dark music, what more could you ask for?

The music grows darker as it progresses, though it doesn't turn too depressing. It is rather more sentimentally saddened at times and also break out hard with a couple of more fast paced tracks. "The Strangulation of Arash" is one of my favourits in its simplicity. It is also a track used in the great trailer (see it on youtube).

The title track is based on guitar, pump organ and some violin and it is beautiful. The use of the pump organ is great and "Erik's World" is really a minimalistic masterpiece. "For the Rest of my life" is a cue filled with emotions and I can only imagine what is happening in the film when that song is heard.

The film is part of an important swedish project which works with street violence. The film has been shown on film festivals and will also
be seen on swedish national TV and in schools! It was written by Sebastian Ylvenius, Erik Bolin and the director Richard Jarnhed.

In the press material I read things about the film which makes me want to see it:

"A dark, realistic story, the film follows three youth gangs and their time spent on the streets and their lives. Over a relatively short span the characters deal with paranoia, pain, violence and more. This film is powerful and grim. The last scenes are totally unforgettable. The plot comes to a sudden end and there are no truths about what really happened. More than a film, Res dej inte! is a comment about the ongoing violence in society."

All what the characters deal with are heard in the music and it embrace a frightening aspect, as if sharing the increasingly terrifying dangers of the youth's portrayed in the film.
is a quite superb score in every respect, and can easily be counted amongst the best efforts in the genre. Despite the relative obscurity of the composer to the public (even though we know him), and the art-house sensibilities of the film, the score stands up with the best Hollywood has offered the last month's and I sincerely hope Kölle follows the trail blazed by director Richard Jarnhed and they embark on a road to the mainstream.

Overall, this is an excellent score and if you've loved the music to films like Alien and The Omen you will definitely love this one as well. But you also here hints of the music of John Carpenter and Michael Suby.

It's a terrific score that fans of the genre for sure should waste no time in obtaining.