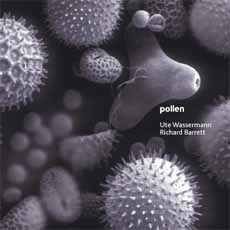 Artist:
BARRETT, WASSEMANN
(@)
Title:
pollen
Format:
CD
Label:
Creative Sources
(@)
Rated:
Interesting duo of voice (Wassermann) and electronics (Barrett), from the Creative Sources legion. The fact the voice is really central in most of the drafts drives the whole music into a specific direction, it's quite funny how they work on it outlining every track around it. The style of Wassemann is apparently close to that of his label mate Jean-Michael van Shouwburg but a thoughtful ear will immediately notice this one is less throaty/baritonal and above all their improvisational approach is really different. This' not exactly electro-acoustic music, the sound matter here is to be located in the improvisational/experimental area, above all when it involved some enlightened vocalists of the seventies or some present sound artist like Cristophe Migone. Just less ambient and above all less oriented toward sound-art. As you should have already understood by what we said so far, if you were thinking to Meredith Monk, Cathy Barbarian or that style of vocalization just forget it, for while as I've said the sound of the voice has a primary function, the use of electronics in this case is mimetic, sure, but at the same time is really important. Abstraction and improvisation play a big role in the composition of these tracks, some short sound rides, fast and slow vocalizations face some similar non intrusive intervention of the laptop, it's really hard to detect who's doing what. The final result as I've said at the beginning of the review is interesting.




Artist:
Solar Fake
(@)
Title:
Broken Grid
Format:
CD
Label:
Synthetic Symphony
Distributor:
SPV
Rated:
The highly acclaimed debut of this German solo-project which has already received a lot of praising in advance through all relevant press resources. SOLAR FAKE is Sven Friedrich, who has made himself already a good name as being the vocalist and multiple instrumentalist of Goth-Rock acts like DREADFUL SHADOWS and ZERAPHINE. For SOLAR FAKE he has decided to move on to new musically territories, because all music is pure electronic-driven, here and there some light settled down guitar riffs are complimenting one or another track. So the question in advance flying like a sword over this release was, can a Goth-Rock musician provide enough talent and courage to come out with a pure electronic-driven album, which at least is worth to listen to? To answer this needs only one word: YES! It may belongs that I have never had any interest to discover Sven Friedrich's usual playing field, it also may belongs on the fact, that Sven is surely a multiple talented and open-minded musician – but to me "Broken Grid" extracts a lot of personality and real emotion thanks to the fact, that Friedrich has seen and done different things in this shark-infiltrated pool entitled music business. It was for sure out of any discussion simply to put some trust in the usual but also repetitive kind to produce an Electro/EBM-album, no, this plan to come out purely electronic-based (...and to shock the die-hard fans...), needed a special effort. In case of Sven Friedrich there's at first to name the fact, that he has completely created all used sounds on himself – an example of work which I would like to recommend to any other bands else too – where's the sense to follow given preset sounds or to sample the Access Virus a millionth time again? Another favor is Sven's well sounding voice – he can sing and proves it often here, plus he knows musically harmonies – this isn't the debut of a bloody newcomer, or did you expect this? Finally I like to name the rather calm and melodic tracks on this album as being his best works, "Hiding Memories From The Sun" and "Here I Stand" – even if especially this two pieces aren't too representative, because Sven doesn't come out one-dimensional in the Futurepop-genre. Some pieces like "Stigmata Rain" or "Creep" still offer a poisonous and dirty Goth-Rock influence. And to all who expect a straight turn-over to some rather commercial-oriented Alternative/Pop music outfit – well, NOOOO, this stuff is beasty enough, not to fall into this redundancy. Thumbs up for a quite entertaining album, which at least can offer one or another jewel, if you're walking with open ears through this (music) world. If this album will at least have any influence on Sven regarding his further musically career with his Goth-Rock projects? Well, it shouldn't wonder me...
image not
available
anymore
Artist:
Dahlia's Tear
(@)
Title:
Under Seven Skies
Format:
CD
Label:
Thonar Records
(@)
Distributor:
Mono Culture
Rated:
The title of the third album for this Swedish Dark Ambient act seems to be program, because 7 tracks are featured on here. DAHLIA'S TEAR offer a new album full of static, down-tempo and experimental layers, long stretched guitar riffs even accomplishing the ominous sounding mood. The music itself can be called epic, because the layers vary a lot but always with a filling attitude. A soundtrack and filmic-like sound outfit with some brilliant inserted ideas, but also quite demanding to the listener. Rhythmic elements are rather subtle featured here, the music rather convinces through its breeding mood. But just if you think that the music builds wall of sound without any real target, you'll recognize here and there that sort of a repetitive theme, a kind of a refrain, which definitely polishes the whole tracks. DAHLIA'S TEAR have definitely created a very own and authentic sounding kind of work, which I definitely like to recommend to check out. But please make sure to invest a lot of time for this, because this album requires it. No cloud disturbs the being "Under Seven Skies".
image not
available
anymore
Artist:
Neon Coil
Title:
Non-Stop Electronic Cabaret
Format:
CD
Label:
Klangdynamik Records
(@)
Distributor:
Mono Culture
Rated:
This is surely one of the most courageous releases in years for the Electro/EBM/Industrial genre because of its musically concept, which can be called unique. NEON COIL is a German newcomer project providing a sort of minimal Synth-Electronica pretty much inspired by the sound aesthetic of some pioneers like KRAFTWERK – you've simply to erase the Pop-music-attitude of the German giants, because NEON COIL is light-years away to fit with any mass-compatible attitude. No vocals, only a very few voice samples, this album depends to explore the sound in itself. So the sound of NEON COIL is programmed on analogue synths and Felix Keuling creates hypnotic sequencer lines in vein of old KLINIK or MORTAL CONSTRAINT-like efforts ("Gelb"). No stuff at all to invade the dancefloors, rather experimental-minded Electronica for a consumption under a pair of headphones. So the concept behind this album leaves no space for a so-called "hit" – all tracks have its own kind, some are more, some are lesser accessible, it only depends on your personal taste and your ability to accept this release of what it really is. It is a kind of work-show in which a young fellow offers his vision of sound and programming. Nothing more nothing less, this album is dedicated to sound-fetishists.
image not
available
anymore
Artist:
November Process
(@)
Title:
Deafinition
Format:
CD
Label:
Vendetta-Music
(@)
Distributor:
KDG Media
Rated:
Well, I guess I'm a lot after schedule by reviewing this new EP of Germany's Synth-/Futurepop-act NOVEMBER PROCESS, which has signed now on Vendetta-Music. A bit surprising though, since all acts of the Vendetta-roster are rather presenting the harder styles between old-school EBM and authentic Dark Electro music. After their first release on Germany's Sonic-X label, they here offer a 39 minutes long new release – maybe opulent enough for an EP, but for sure not long enough to call it a full-length album. The music generally follows quite expected paths, it's technically well-done Futurepop-music with elegant arrangements, solid compositions and a satisfying male vocal performance. Normally bands place for the both opening slots a club hit or such, in case of NP you'll get an instrumental intro track ("Disharmonic") and the second track "Antiharmony", which seems to be the second chapter of the intro. Sad but true, it's unexplainable to put both weakest tracks of this whole EP at this entrancing and important positions, because the overdriven use of repetitive and generic Techno sequences gives especially "Antiharmony" an unpleasant outfit. The enjoyment starts with track 3, "Men In Grey" as well as the follow-up "#Define Friend", which both impress with a much better song construction and the required doze of melodic components to bring them in sight with global players like EDGE OF DAWN or NOYCE TM. Danceable highlight is the title track, which pushes the speed even more, also the bass lines have been worked out more intense. A melodic and sentimental ballad hasn't to be missed for bands out of this genre and "Coldwar" is a fine piano-driven example for this. Nothing to complain with the further tracks too, the last track "Lead The Way" surprises with some guitar insertions, so you'll get a globally convincing new EP of this German act. Musically they're surely talented enough to rival with the both above mentioned names, but this they still have to prove with perseverance and a coming next release.