Artist:
The Strange Walls
Title:
Thirteen Dollar Cabs
Format:
Download Only (MP3 + Lossless)
Label:
Silber Media
After the success of their Droneuary project, in which they released a new drone recording from a different artist every day in a project that was intended to run for January and ended up running into March, Silber Media have followed up the daily release idea with an "August Fields" series, releasing a field recording from a different artist throughout August- and potentially beyond, by the look of it.

As I need to put an artist and title into this site in order to review, I've chosen one at random, but frankly it's worth highlighting and praising the whole series, which has thrown up some fascinating ideas so far. Also, all the releases are name-your-price on Bandcamp, so there really is no reason not to check out the entire series!

Many of the tracks are short. Some, like Shane De Leon & Jon Lodge's "Saw Chain", are very literal- unique sound effects or environments in a raw and abrupt form, that sound like the oddest items you might found in an old sound effects library. Offerings like Bryce Eiman's "Calendar", Azalia Snail's "Bernal Chimes" or Philip Polk Palmer's "Cricket Choir" offer up darker twists on some familiar environmental scenes.

Others, like "Thirteen Dollar Cabs" by The Strange Walls or Yellow6's "Birds Sea Underground Car Park", are more abstract, throwing together and juxtaposing contrasting sounds to tell open-ended wordless stories that vary from the terrifying to the amusing. Harsher and more heavily reconstructed examples include "violence and domesticity (for Abbas Akhavan)" by Determinist?, giving something for the lovers of darker noise. Premature Burial's "Fire In The Sky" takes a fireworks night recording and cuts it up into a found sound drumkit and forms proto-techno rhythms with it, making it something of an odd one shot in a series that's mostly rhythmless.

Most items are around the five minute mark, but there are longer pieces as well, many of them documents of everyday life. Subspace Annex's "Officespace" forces you to pay attention to the everyday office noises your brain was cancelling out, adding delays and reverb to throw them into relief, while CNSNNT's "Commute" is an 80-minute multilayered hum of muffled motorway noise, and similarly "I Perso La Corva" from The Grishnobler brings distant sounds of modern life and travel into the peripherary of a sandpapery soundscape. REMST8's "Thunderstorm" and Electric Bird Noise's "doohrobhgien eht dnuora klaw a" do exactly what it says on the tin, albeit backwards in the latter case.

Some of the pieces have brief explanations on their release pages, citing the sources, and some don't require any explanation- but some, like The New Schwansteins "Fatal Eggs", are decidedly mysterious. I haven't got a clue what's going on there, at all.

A fascinating series, at a name-your-price level, that's very worthy of attention for any lovers of found sound or experiments with ambience both light and dark.
Refreshingly, Ophir Ilzetzki is very open about the fact that "Symphony No. 1" is an intuitive composition, not affiliated with any deep underlying theory or concept, at least not consciously. Instead it's a collection of four long works in which Ilzetzki expresses a variety of emotions through the medium of electronic composition- drone, oscillation, electric hum, fuzz, rumble, whirr, click. The result is not technically symphonic, by the book, but it's realised on a broad scale with raw emotion that makes the name somehow fitting nevertheless.

"God Sent" is a series of introspective hum notes that sets a fairly minimalist tone with confidence. "Emma Carmel" feels a little more theatrical and impulsive-driven, making solid use of what I think may be low vocal noises howled round into incomprehension, as though we were listening to a slowly told incomprehensible story from inside a robot womb.

"To Heal With Blood" is initially much angier, opening with shifting noise wall built from quite grating motor-like noises, but surprises you by calming down promptly, remaining tense but more sinister rather than aggressive, revolvingly slowly round a rhythmic throb. 22-minute-long final piece "Of No Input" has a similar pulse at its heart, but delves deeper and lower and sparser in its approach, at times bordering on inaudible, yielding again comparisons with a womb scenario and the mysterious ever-present heartbeat you would hear. As it unfolds, this pulse somehow transforms into a more rapid, again motor-like affair, before escalating back into a sonic wall for a finale.

Despite being called "Symphony No. 1" this is far from the composer's first work. He has been composing pieces for two decades, predominantly for more traditional instrumental ensembles- but this appears to be his first foray into pure stripped-down electronic work, and I would definitely regard it as a success.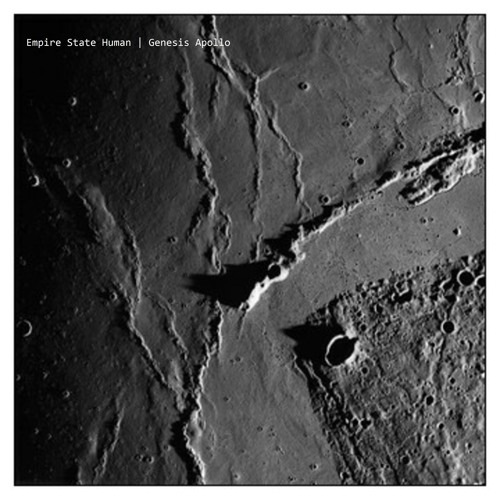 Artist:
Empire State Human
Title:
Genesis Apollo
Format:
Download Only (MP3 + Lossless)
Label:
House Of Analogue
Rated:
It was 2012 when Empire State Human recorded "Genesis Apollo". Then, it seemed lost until it resurfaced in 2019 into the files of an old hard disk, just in time for the celebrations of the 50th years from the moon landing. The mini album contains six tracks and the first one is the nine minutes long "1961", track which includes the whole JFK speech about the space program. This isn't the only atypical track of the lot, because "Genesis Apollo" has been composed as a sort of soundtrack: it has an unusual amount of vocal samples and no Aidan's voice, apart from the few parts on the opening track and on the extended version of "Apollo", track included in the 2002 album "Pop Robot". Empire State Human succeeded into making an ambient, space, synthpop album, thanks to the right balance of all the elements and without making it sound like an album made by a total different band and it wasn't that easy!
Artist:
Daniel J Mackenzie & Richard A Ingram
Title:
Half Death
Format:
CD + Download
Label:
Midira Records
"A sci-fi spiked soundtrack to a theoretical film" is how this album is introduced, and it's an apt and accurate tagline. Cinematic electronica dominates, supported by organic elements including liberal helpings of reverb-laden piano, slow emotive pads and twinkling atmospherics. It's all fused with melancholy and introspection and it really does feel like it ought to be a soundscape married to slow, expansive, barren imagery. The flipside of that association is that it shows that this work is constructed of 'safe' and well-worn sonic ingredients that have cropped up in hundreds of other electronica soundscape works, and there's very little here that feels novel or progressive.

"Two Futures"- an eleven-minute suite in multiple parts in its own right- has shades of Vangelis' "Blade Runner" (the whole soundtrack, not specifically the theme), but without any of the urgency or tempo- but it never channels that synthesis in such a way that it ever becomes retro or synthwave in earnest.

It delves quite deep at times, with pieces like "Victoria I (Rain)" burying the musical elements for several minutes and just wallowing in the sinister atmospherics and decontextualised found sounds. It's nice that many of the ideas seem to be let breathe for their appropriate duration, finding the sweet spot of the listeners' attention span. The title track's bold sparseness, remaining practically empty for the first three minutes and barely-there for a further two, is quite audacious in that regard- but ultimately successful when it unfolds out into an odd crossbreed that's half triumphant Jean-Michel Jarre-esque chords, half distorted noise and glitch, in the album's most unusual moment.

Calming, yet also brooding with a little disquiet, "Half Death" is not the most innovative or challenging electronica or composition work you'll hear- but it's strongly composed and handled with a touch of quality that makes it engaging.
Artist:
Gross Net
Title:
Gross Net Means Gross Net
Format:
CD & Vinyl
Label:
Felte
Philip Quinn builds his dark electropop by starting with acoustic guitar songwriting sketches, then surrounding these with sharp electronica production and dark atmospheric synthesis to produce a collection of songs that sit somewhere between the more sinister side of synthpop, the lighter side of techno and the more accessible side of industrial. Perky and pure-sounding synth basses, cinematic synth-choir pads drawing out long minor chords, and sparing use of beats come together to form a grandiose-sounding affair.

With a title that's a play on ex-UK Prime Minister Theresa May's meaningless assurance that "Brexit means Brexit", lyrically this is politically charged and frustrated stuff, notably in tracks like "The Indignity Of Labour". However the vocal, as though lacking in confidence, is so heavily washed in reverb and echo that it's often difficult to make out what point is being made- "Shedding Skin" being an example of this.

Highlights include "Gentrification", which is a more overt and catchy throwback to 80's and 90's synthpop melded with curiously Tangerine Dream-esque meandering synth arps that works quite nicely, and final track "Social Nationalists" which plays a slow plaintive vocal against more driven and direct beats.

Overall though it does appear to be suffering from the general malaise affecting a lot of the UK at the moment, not just artists- a fatigue drawn from our political failures, backwards steps and the sense of inevitability behind the rise of right-wing views anathema to what we thought our country believed in. Tracks like "Of Late Capitalism" and "Dust To Dust" feel like they have given up, resigned to their fate, and they feel slightly languid and flat as a result, rather than a call to arms- though the latter redeems itself with an aggressive crescendo finale.

It's a musical expression of complex feeling that's quite engaging, but unfortunately there are too many patches that feel muddy or self-indulgent, making the result a little bit too alienating.