Artist:
Kratos Himself
Title:
Solstice / Part II
Format:
12" vinyl + Download
Label:
Youngbloods
Half a year after "Solstice Part I" offered up Kratos Himself's gentle downtempo electronica ode to the Winter and Spring seasons, right on schedule "Part II" is here to offer the Summer and Autumn half.

It's still in the same ballpark- gentle grooves, soft claps, smooth-edged synths and acoustic-sounding plucked instruments, sweet and simple melodic patterns, with a fairly thick and poppy approach to production. If anything these feel more like lyrical beds and less like soundscapes, and unsurprisingly given the seasonal change, this music is somewhat warmer. Cosy chords, and less fragile sounds, are a perhaps predictable but effective way to provide contrast.

"Take U With Me" is only one advert placement away from being a crossover chillout hit, while the heavily effected vocal line on the melancholic "Breathe" sounds like Air at their most thoughtful. The quirky pizzicato sounds and lovely groove work on "Equinox" make it a highlight, while title track "Solstice" is endearingly lazy.

It's the live or live-sounding elements that lift it above lift music or library music- the subtle use of guitar sounds on "Always, Never" or a saxophone(-ish) flavour that's subtly infused into the opening track might well be just rich synthetics rather than genuine, but they are still what provide the little quality details that can make all the difference.

There's a hint of repetition between tracks and not as much breadth as you may like, with tracks like "I See U" offering up little that feels new- but at 27 minutes, marginally longer than Part I's 23 minutes, the two combined still make a praiseworthy bit of relaxing downtempo work.
Solastalgia, named after stress caused from environmental change, is a series of atmospheric washes and rich textured chord pad patterns that is not as rooted in nature as the title or artwork may imply. It offers up a series of alien-sounding vignettes, mostly bleak and at times a little foreboding. Each of these arrives and then decays as a single wave, generally around six minutes long, a fairly simple envelope pattern of fades residing over slow chord changes that represent the work's only element of rhythm.

In a mostly uniform set of patterns, that could just as well have been numbered rather than named for how much of a common base they share, "Kiss All The Pretty Skies Goodbye" is mildly notable for its introduction of some distant plucked string-like tones that feel like the memory of some other melody. They're not invasive enough to change the overall tone though, which in this instance is a good thing- as an environmental work, it's soporific power is its strength and it becomes pleasing that no surprises interrupt that flow.

The release includes the six individual tracks, and also a continuous mix which is just the six individual tracks one after the other, for Spotify convenience- the fades and tracks are not overlapped as you may find from other similar works. It's the latter which has gone onto my sleep playlist. Despite some rumbling undercurrents, ultimately this is a pleasant and relaxing sonic wash that can change the listener's mental environment, without any of the distress associated with solastalgia.
Artist:
Michal Turowski
(@)
Title:
Wormwood and Flame
Format:
CD + Download
Label:
Mozdok/Positive Regression
(@)
Rated:
A noise/drone review wasn't my first choice on this sunny Sunday, but since there's not much else (physical product) in the hopper, and the raison d'être is somewhat compelling, we'll go with it. Electronic/industrial/dark ambient artist Michal Turowski, from Warsaw, Poland, has had a number of releases over the past several years, perhaps most notably with the electronic/industrial project Gazawat, and the similar Mazut with Pawel Starzec. Likely a big name on the Polish underground scene, but not so much in the U.S., this is my first encounter with Turowski's music. 'Wormwood and Flame' is a concept album about the 1986 Chernobyl nuclear reactor disaster, likely the worst ever, that fucked up a lot land and a lot of people for a really, really long time. While one could interpret track titles to aspects and phases of the disaster (26 April 1986, Pripyat, Black Wind, Sarcophagus, Red Forest, etc.) it will not give you the sense of what this work really sounds like. Industrial/noise/drone may be an okay overall description, but lacks detail in nuance. While I'm not inclined to provide a track-by-track description, I can say that the album starts out with heavy metallic drone, something akin to what you might hear visiting certain types of factories where metal is cut and processed in large hangar-like environments. (Not only should you have your safety goggles and hardhat on, but a respirator and ear muffs as well.) The next step in this 11-track trip refines the processing a bit honing in on a more specific type of metallic drone. (Better keep those ear muffs on though as the sound can be piercing.) A repetitive looped, crushing, noise machine is the next thing up with plenty of crunchy distortion. The next few segments provide cold, bleak, isolationist quasi-industrial environments that are quite different from each other but vary little in and of themselves over time. Track 7 ("Azure Swimming Pool") sounds like an endless dump of metallic scrap down a metal chute. More repetitive looped metal processing follows and get tedious after a while. A repeating series of pitched, descending, noise sweeps could have been interesting had it developed into something (besides continuing on for nearly four minutes) and that points up the problem inherent in this album; once each piece is set in motion, there is very little development over time, rendering them somewhat static. For a noise release though, this is rather placid if you don't play it at high volume. No question though that this is a cold and alienated work, perhaps reflecting the aftermath of Chernobyl in its desolation. Limited to 100 physical copies.
Artist:
VV.AA.
Title:
Sea-Watch
Format:
Download Only (MP3 + Lossless)
Label:
Shameless
This is a charity record, with all proceeds from the downloads going to Sea-Watch. To copy-and-paste what's in front of me, "Sea-Watch is a non-profit organization that conducts civil search and rescue operations in the Mediterranean Sea. Politically and religiously independent Sea-Watch is financed solely through donations." There is absolutely no denying that the dangers of cross-water migration causing so many lost lives in the Mediterranean is a worthy cause, and frankly, even if the music being sold here were absolutely terrible, I would still tell you to go and buy it in order to contribute to the cause on a 'name your price' basis.

It's a bonus, then, that the music is not terrible at all. Eight artists have each contributed thoughtful standalone pieces of mostly-instrumental, mostly-electronica. Given the Sea-Watch theme, of course this is sincere downtempo music and not party time, but as a 46-pack of brooding modern music, it's really rich. It feels like some acts have seen it as a chance to put out tracks that may not fit into their own longer releases, with interesting results.

It starts fairly accessibly. Julian Lars Gosper's "44,448" has a somewhat underwater feel to it in its atmospherics, which does feel like it borders on the inappropriate, but that's just quibbling. Boris Hauf's "On The Pulse Of Morning" sets a long Maya Angelou speech respectfully centred in a thick atmospheric soup. It also ends in gentle fashion, with Superposition's slightly trip-hoppy piano-driven "Peak Data" giving quite a cinematic and high-quality flavour.

It's not all electronica though, and "African Flower" from These Things Happen is pure sax-led melancholic jazz, sitting somewhere between lounge and avantgarde for a curious and captivating tone, while Didi Kern & Philipp Quehenberger's "Hope" has the slow laborious plod of noise-rock, but coupled with tuned atmospheric pad melodies that make it a much more interesting beast.

Neither is it all accessible easy listening. The wilfully inappropriately named "Classic Rock" from Brent Gutzeit is a five-and-a-half minute workout in complex glitch, taking some jazzy source elements and twisting them in a heavy-handed manner until it almost sounds like raw data. It runs smoothly into Steve Heather's "Exposed Jerry" which is sonically not dissimilar but which grows around an enjoyably awkward rhythm abstract. Boris Hauf's second appearance on the compilation is in a collaboration with Max McCormick on the unusually textures "Port", littering processed found sounds over a relentless engine-like click rhythm in a manner that I'd describe as dub music's estranged electronic second cousin, who has a mental breakdown towards the end.

You should be giving to this charity, you know you should. The convenience of this Bandcamp method, plus the fact you get eight really interesting Shameless tracks into the bargain, means you should do it by buying this.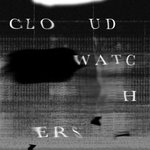 Artist:
CloudWatchers
Title:
s/t
Format:
Download Only (MP3 + Lossless)
Label:
Unexplained Sounds Group
(@)
Rated:
CloudWatchers is a group formed by Andrés Alonso, Iván Cebrián, Coco Moya and Jaime Munárriz whose music is mostly based on analog synth which is played by all members. While they use also electric guitar, bass, voice and laptop, the use of the same instrument by all members is a glue which tie together musical lines improvised upon an initial small idea.
The first track, "Piece 1", starts quietly in a suspended atmosphere and slowly evolves in a crescendo where background noises and guitar line, more or less psychedelic oriented, introduces the second part of the track where the female voice introduces an oriental element as the singing style is closer to the harmonic chant rather than occidental one. "Piece 2" continues along the same path but it features a synth line and a synth line which moves the overall result towards a experimental view of ambient house. "Piece 3" lasts for almost the half of the release's length is a complex track that has four sections: a quiet and long introduction based on vocals and continuos tones, a short crescendo based on repetitions of short melodic lines, a suspended part based of slowly evolving drones and noisy resonances and final part which reprises the beginning of the track.
This is an interesting release hanging in the balance between ambient, psychedelia and experimental music. It couldn't be a perfect equilibrium in some moments but it's always enjoyable and could be well received by fans of the genre. It's really worth a listen.