Artist:
Distant Animals
Title:
Lines
Format:
12" vinyl + Download
Label:
Hallow Ground
Daniel Alexander Hignell, as Distant Animals, has created a 34-minute work that's conceptually quite complex, involving a 130 page text-score, the social function of art-making, a land-art intervention enacted in parallel with the composition process, and citing La Monte Young as an influence.

Sonically however it is somewhat less complex, though I wouldn't go as far as calling it simple. Generated mostly from modular synthesis, it's a bit of dramatic drone work (which prior to this listen might have sounded like a contradiction in terms), at the core of which is relentless deep alienating rumbling sounds and thick, distorting textures. Over the top of this are layered some organic percussion noises, higher-pitched synth pads giving off choral-style sounds, noise washes and a variety of clicks and glitches.

In two parts, first part "A Pure Drone" is (as the name implies) the simpler of the two, deep and rich and purposefully uneventful, before "Line Made By Walking" uses the listener's acclimatisation to the drone base as an opportunity to pull in expected directions, systematically becoming louder, more dramatic and dynamic, and with tubular-bell-esque percussive hits and pitch-shifting analogue synth calls that almost border on melody. A couple of well-timed sonic drops have a strong impact that provide real culture shock for those who thought they were still listening to pure drone.

It's interesting to hear how this work morphs itself over time without losing its sonic identity, and while the conceptual origin of it frankly flies well over my head, as a short LP of powerful experimental synthesis, it's absolutely worthy of a listen, contextually or otherwise.
There's no danger of losing this rhythm. Three tracks and a remix of crisp, warm house beats with soft acid electro basslines, funk guitar licks and poppy vocal mantras, this is modern house-meets-indie-pop and it works well.

The title track feels like it ought to be heard on a warm beach, while "Suffocation" has a slightly dingier and indoors affair which then leads on to the much heavier "The Blacksmith" that completes a gradual progression away from the dancefloor and into serious home-listening electropop.

Scott Fraser's remix of the title track (mislabelled accidentally as "Lose Mr Rhythm") strips away all but tiny snippets of the vocal and concentrates on the acid and bass elements for a neat, well-evolved eight minute workout with a nice progression that brings us full circle.

It's a solid 12" pack that should appeal to both DJ's and home listeners.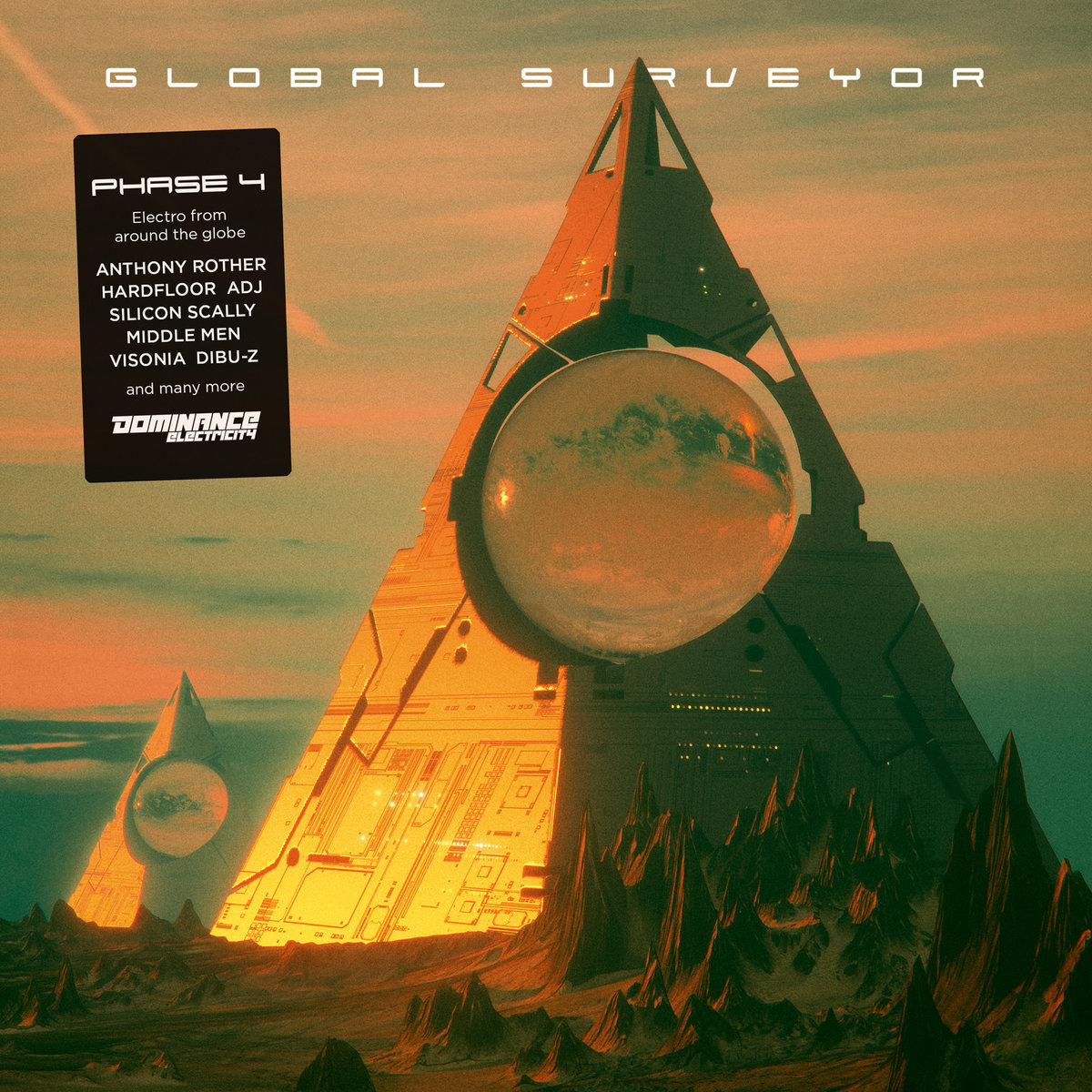 Artist:
VV.AA.
Title:
Global Surveyor Phase 4
Format:
2 x CD (double CD)
Label:
Dominance Electricity
Rated:
Nine years after the third volume, "Global Surveyor", the compilation issued by Dominance Electricity is out with the fourth volume/phase and this time is huge! Available as four vinyl records (clear vinyl with poster or black), double CD digipack or digital download, "Global Surveyor Phase 4" contains twentyfour tracks/projects for a total of almost two hours and twenty minutes! It would be impossible to talk about all the tracks but I'd like to start telling that in the last twenty years electro music has been in continuous evolution and the various projects started to mix influences in a new stimulating way and also this compilation isn't focused only on electro funk, but it sums up pretty well what is going on with electro right now. You'll find influences of: i.d.m. (Keen K), detroit electro (Heliopause, Middle Men, Obsolete Robotics), minimal techno (Tekkazula, Wilx, Blake Casimir, Low Orbit Satellite), Kraftwerkish electro (Anthony Rother, Patronen), acid (Hardfloor) just to name some. Also, among the well known names of the genre as Anthony Rother, Visonia, Heliopause (they did only a MLP but they are formed by Aux 88's Keith Tucker and Tommy Hamilton plus Dynamik Bass System's Thomas Werner), Silicon Scally or Hardfloor, we find totally new comers as Rauschenmaschine, Wilx, Tyraell and C*NT. The quality is guaranteed by Matthias M. Weise, the main man behind Dominance Electricity and too bad there isn't a new track by his own project Sbassship included here. There are many tracks that stand out already at the first listening: isn't a case if Heliopause, Middle Men, Kalson, Anthony Rother and Keen K open the compilation, because they already offer a wide example of what we're going to listen to: spacey pads, some menacious vocals, Detroit electro bleeps, complex rhythm patterns, robotic atmospheres and much more. This compilation is a must have and it grows with the listenings. Try it for yourself by checking all the tracks at the label's SoundCloud https://soundcloud.com/dominance-electricity/gs4
Artist:
Kali Malone
Title:
Cast Of Mind
Format:
12" vinyl + Download
Label:
Hallow Ground
"Cast Of Mind" is pitched as an electronic experimental album to which acoustic woodwind and brass are an added detail, but in fact the emphasis is somewhat different, especially to begin. It's the brass in particular, the woodwind close behind it, that really drives this collection of four long dominantly-acoustic drone pieces and glacially slow chord works, and the electronics- all sourced from a Buchla 200 synthesizer- are sometimes reduced to just providing the atmospherics and the decorative sprinkles on top.

After the slightly harsh-edged sparseness of "Cast Of Mind", it's in the somewhat mellower "Bondage To Formula" that the synergy between brass and synthesis begins to solidify in mesmeric and pleasant ways. The harmony is broken from the first gutpunching opening moment of "Arched In Hysteria" with its pulsing bass synthesis, still droning but with decidedly more abrasive attitude, before final piece "Empty The Belief" feels like a culmination of all the above, playing both smooth brass drone and harsher synth drone simultaneously into a fairly brash wall of sound.

It's bold, stark and immersive material with a very clear vision, and a very pleasant way to mentally transplant yourself for 36 minutes.
Artist:
Splashgirl
Title:
Sixth Sense
Format:
CD & Vinyl
Label:
Hubro
Splashgirl's sixth album in just over ten years is the sound of a confident post-jazz trio (piano, bass, and drums) willing to both stick to what they know and experiment a little further in equal measure.

After relatively conventional openers "Carrier" and "Broken", joining the melée of rolling piano key arrays, deep bass plucking and dynamic impulsive drum work comes banks of synth sounds, glittering over the top like a kind of aggressive re-take on Tangerine Dream. Bold and broad-sounding synth atmospherics give a wide, quite soundtrack-y feel, most notably in the title track.

There's overt melodrama in tracks like "Monsoon", and exercises in emptier space such as "Half Self".

It's a confident bit of experimental jazz that adopts synthetic layers with great ease. I might say it's more proficient than it is powerful but it exudes a cool quality that's hard to match.