Artist:
Noiseshaper
(@)
Title:
Satellite City
Format:
CD
Label:
Cat 'N Roof
Rated:
"Satellite City" is the new album from Dub/ Electro-Reggae act Noiseshaper.
I've actually been getting into a lot of reggae and dub recently, but I'm going to be up front by saying that I really can't enjoy this record. While
this record is expertly produced and it features some very nice sounds and performances by talented vocalists and musicians, I just can't shake the feeling of soulless cultural appropriation that I get from most of these songs.

Every one of the 10 tracks here just seem so bland and sanitized, there is no emotion or feeling, nor is there any particularly innovative King Tubby style dub experimentation to peak my interest. Just track after track of dub meets deephouse boredom. Some of the vocals are good, but not good enough to make the entire album worthwhile.

Noiseshaper have been massively successful, and chances are you may enjoy this. But personally, when I'm in the mood for dub or reggae I'd rather listen to some Linval Thompson or Lee Perry.


image not
available
anymore
Allard Krijger created FRAKnoise in 2000 after having produced few tracks under the "The Exploration of Non Existing Musical Instruments" (ENEMI) moniker (the name was coming from Allard's passion for all the kind of instruments he was collecting, including toy guitars, flutes, etc.). IBM – InterBabylonianMusicals -is a concept album: each track investigates a certain aspect of communication. Different languages are an important property of that, but also the rhythm and the melody of those languages are explored. Filtered samples of each language are included and FRAKnoise's music succeed into giving the right musical mood which ideally incarnate the spirit of the people recorded. Musically it recalls me a lot the solo recordings of Karl Bartos (especially on tracks like "Artificial", "Svenska" or "Russkij") but that is only an inspiration because tracks like "Latina" "Hànyu"or "America" there's much more because melancholy, electronic sounds, tiny catchy tunes blend perfectly. Electro is only the tool, Allard put everything else you can find on IBM. This album is available as video album as well, with moving artwork for every track.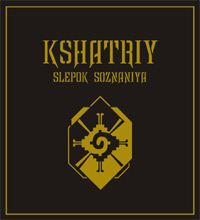 Artist:
KSHATRIY
Title:
Slepok Soznaniya
Format:
CD
Label:
Muzyka Voln
(@)
Rated:
SLEPOK SOZNANIYA (which is meaning "a mould of consciousness" in Russian) is the first official Kshatriy, Russian band who produce since 2004 interesting industrial sounds. Based on the concept of consciousness of a warrior, a galactic warrior of light, bringing to world pure knowledge, infinite silence, perfect balance, a moment of power and might, a flight of freedom, love, serenity, joy, light, unified time, eternal life, simplicity and bliss (as reported on the label's website) SLEPOK SOZNANIYA presents nine tracks where dark industrial patterns create a rich and intricate web of sounds where drones, processed field recordings, echoes and rhythmic loops clashes and throb. These sounds are able to be unintelligible and involving at the same time. Some tracks have the same sound formula and for this reason the latests are less convincing but when the track list offer different sound-scapes the effect is really good.
Artist:
OSOKA
Title:
Caustic Smoke
Format:
CD
Label:
Rage In Eden
(@)
Rated:
Rage In Eden in the last couple of years is widening their musical spectrum by proposing different genres from the industrial/martial/dark ambient sound of their beginning. The latest Rukkanor album was already showing the first seeds of this renovation by introducing sounds influenced by 80s music. Analog Angel are the first band they signed with an 80s synth sound and now with Osoka, Rage In Eden is opening their roster to post rock/metal as the Russian band coming from Rostov-on-Don propose a sound recalling bands like Isis, Neurosis and Nadja. CAUSTIC SMOKE contains a long track where hardcore, drone and post rock influences blend. During the 45' here and there vocals surface carrying all the despair that a man can feel while guitars create, now with slow intense moments and then with blasts of rage.
image not
available
anymore
Artist:
SEARCH
(@)
Title:
today is tomorrow
Format:
CD
Label:
Search music
Rated:
Jazz and not exactly experimental jazz as many of our readers may expect, but believe it or not, it sounds much more catchy than many experimental jazz, pseudo-intellectual releases I've been reviewing lately. This' a basic jazz quartet with drum, bass, sax/clarinet, trumpet/wooden flute and it sounds exactly as band like that should sound: do I mean predictable? No fucking way, I simply mean that these four musicians know where they come from and where they wonna go and in their path they demonstrate they're able to play in a really sensual/interior mood exactly the way jazz should sound like. Cool jazz with a classy club feel, Coltrane, Davis, Don Cherry and a lot of white-jazz but quite far from the free-thing, infact despite the classic room left for solos, for impros they've a structure a melody and a spine as written songs require and RJ Avallone and Matthew Maley know how to write modern jazz songs without being boring as hell. Despite the fact somehow this cd betrays the a genuine passion for this language and not pure reactionary-revivalistic impulse to play the music of your super-heroes during the teenage days.