Artist:
Dupont
Title:
Entering the Ice Age
Format:
CD
Label:
Progress Productions
(@)
Distributor:
Nova Media GmbH
Rated:
Third full-length album for Dupont, the Swedish duo whose members – Riccardo (vox) and Danucci (keyboards, knobs and programming) – have never concealed a feeling not so dissimilar to love for legendary bands such as Depeche Mode (they shared the vice of letting pass a remarkable time lapse between their releases – 4 years have elapsed between their debut album Ukraina and Intermezzo and other 5 years between Intermezzo and Entering The Ice Age... - record with the notorious band by Gore and Gahan!), DFA and Joy Division. The above-mentioned influences resurfaces here and there in the ten tracks introducing to the coldest age of mankind, overlapping with Dupont's warmest creative period! It's evident the sterling mark coming from the better ages by Depeche Mode (not the present ones in my modest opinion... ) in the introductive Run For Protection, a nice song showing Dupont's minimalistic approach from the compositional viewpoint: a sort of sequenced march perfectly fits the melodic architecture build by a warm bassline and some "vintage" synths, an elegant warm-up before the most dance-oriented New Dawn – a real filler with his catchy melodies and vocals – and the title-track, a careful dosage of pop soapy flakes and EBM splinters co-existing in harmony! Behave speaks in a higher tone even from the stylistic viewpoint and even if we don't understand an elephantine roar at the end of the track, we appreciated the choice of a more dramatic presence of sticking EBM nails for an order, more than just a suggestion – "Behave" indeed... standing more as an auxiliary verbs fusion... certain implicit ambiguousness seems to delight a lot of pop bands as well! -. Soulseekers will probably appreciate more melodic tracks such as Like We Never Loved (those seraphic suffocated choruses again... ), a track heavily influenced by the predictive and squared sound by New Order, or maybe the anguished Goodbye (Dupont's wink addressed to a sound which could be unpredictably defined Teutonic seems to be ironically highlighted by the insert of the German word for "Goodbye", i.e. Aufwiedersen! ... just a detail... ) and Dope Of Love (that "Do you believe in love?...I'm losing that control... " seems standing as the most synthetic quotations of the above-mentioned influences!), another surgical artifact combining pop and bodily elements, whose mystical union seems to be celebrated even in the most robotic glossalalia of N.A.S.A., funnier and more hypnotical than Xmas led lights for all those who love 80ies-influenced bleeps. Just a little different from the previous nine tracks, Sapphire features well-crafted Dark-Wave tones and more obscure atmosphere as well as a more "choreographic" appeal! An album confirming the good quality already expressed by this Swedish band, looking from a higher floor to other monotonous EBM fellows, who often border on the ridiculous in order of looking excessively unpolished... Dupont seems to know old good manners!
image not
available
anymore
Artist:
VISIONS
Title:
Summoning The Void
Format:
CD
Label:
Cyclic Law
(@)
Rated:
Frédéric Arbour, main man of the Cyclic Law label, is back with his own project Visions, releasing the second full length titled SUMMONING THE VOID. Coming five years after the debut "Lapse", the new album contains five new tracks where multi layered dark ambient/spatial soundscapes are able to bring a new world into your room. Evoking I dunno what kind of entities, by merging sidereal ambience, industrial sounds and heavily treated ethnic music (the chants and some sounds recall me Tibetan ritual music), Frédéric succeeded into turning sounds to matter. "Dawning", "Summoning The Void", "In The Midst Of Infinity", "Vortexed" and "Invocation" will carry you through deep abysses where your body will turn into dust. This void isn't empty...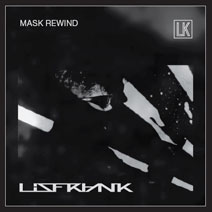 Artist:
LISFRANK
Title:
Mask Rewind
Format:
12"
Label:
Anna Logue Records
(@)
Rated:
Born on early 80s Lisfrank was an obscure solo project coming from Savona, Italy. Fulvio Guidarelli in 1982 decided to found his own label Man Mask to pursue his musical passions with the aim to issue, also, the first and only release available under the Lisfrank moniker. The MLP "Man mask" is one of the best and rarest Italian minimal electro 12" and "It's life" and "Violence in my mind", are two of the best songs of that period that I've ever heard. Other two great tunes are "Man without limits" (released on the label's rare compilation LP "First Relation") and the experimental "Ombre" (originally released on the Area Condizionata tape compilation "The voice"). MASK REWIND is a compilation which gathers, on one LP plus a 7", almost all the songs released by Fulvio. The music is based on analogue synthetic sounds with a good use of drum machine and in some cases of a real drum. The sound is rough and there's a overall dark atmosphere that I appreciated but there's also space for more pop oriented songs like "Stay with me" and "My toy" (included into the white vinyl 7"). LISFRANK's lyrics are dark, hypnotic and sometimes you can feel the fear he's evoking through the music. My favorite tracks are "It's life", "Violence in my mind", "Out of control" and "In the surface" but I think that this release is one of the most important and interesting Italian releases: never uninspired and always varied and modern. You can find a different mix of "Identity" on the compilation album "Danza Meccanica – Italian Synth Wave 1982-1987" from the label Mannequin/in the Nighttime. You can find it here reviewed by Maurizio Pustianaz.
Artist:
Monolith Of Doom
(@)
Title:
Devastation Panorama
Format:
CD
Label:
Soviet Media Kontrol
(@)
Rated:
Young German fellow Tim Kasten seems to have a boring private life. Highly active under his main project [ORGANIC_CAGE], with which he recently signed a deal with the well-known Denver-based Vendetta-Music label, he could investigate enough time to build a side-project, with which he continues his path under the small Soviet Media Kontrol-label. "Devastation Panorama" of course is heavily influenced by Tim's previous discovered musically experiences and you shouldn't expect a too drastically change of his stylistically direction. Where his main project offers harsh and forward-moving rhythmic Powernoise efforts, he slows down the speed to install more Ambient-related, ominous sounding layers combined with his abrasive rhythm patterns. This new 14 tracks therefore offer room for some additional experiments of a disruptive rhythm work, which may can be combined with his efforts of his main project. If it was really necessary to built this side-project, may lays in the ear of the listener. "Devastation Panorama" itself is attractive enough produced to convince, while stylistically not too far away from [ORGANIC_CAGE]. Better said, I tend to encourage Tim, not to forget to integrate a noticeable doze of the good ideas and moments of this album ("Amplify My Horrors") into the sound environment of his main project at the recording procedure of the next [ORGANIC_CAGE] album.
image not
available
anymore
Artist:
Digital Geist
(@)
Title:
Motorcade EP
Format:
Download Only (MP3 + Lossless)
Label:
self-released
Distributor:
CDBaby
Rated:
It's unbelievable, that a new audio sign of life behind the New York-based Electronica-project DIGITAL GEIST has taken 3,5 years in the making, since the last album, the high prolific and awarded "The Zero Engine", has been a promising start into a seemingly bright future for this act. This music project of Alex Kourelis and his partner N3wt offers with this EP 4 new and long-awaited tracks. Still providing the state-of-art regarding sound and recording quality, his newest audio results convince the audience once again with skillful Electronica sequencer works, modern synthesizer sounds and a straight and steady beating rhythm section. Mainly active in an attractive form of Techno-/Trance-related sound environment, this EP is an appetizer for an upcoming new album as well as a promotional tool for live performances. The opening track "Aeroplane" may works as being the best tune here, especially its deep drilling synth bass lines approving Alex' and N3wt's talent to create modern sounding arrangements, which also entertain the listener under a pair of headphones. Second and third track is "Luna Patrol" in two parts, which both push the speed to a higher and more dancefloor-oriented level. Since both parts got right in time separated into two versions, this track – consumed in one spin – gets a bit too repetitive. Last, but not least, they present us the title tracks of this EP, which continues with a comparable bpm number, as well as with a guest appearance of Bill Boulden/Spruke for the vocals. This guy also provided some guitar riffs to back up the depth of the arrangements for this track, which means a relatively new form to express music for DIGITAL GEIST. Only 4 tracks and 21 minutes aren't enough, to catch an impression of the whole DIGITAL GEIST sound empire – no wonder, since "The Zero Engine" is still in mind. This EP sounds promising enough, to bridge easily the time for the next full-length album.