image not
available
anymore
Artist:
PLAYDOE
Title:
Bubble & Freeze
Format:
Download Only (MP3 + Lossless)
Label:
Leonizer Records
Rated:
Distributed by Juno Digital, BUBBLE & FREEZE is the newest Playdoe release. It contains two new tunes by the South African duo, I interviewed some months ago, plus nine remixes of the main song. "Ice cream" is an upbeat electro tune with hip hop vocals and grime bass/drums rhythms. It's refrain will stick into your head and make it perfect for a sunny ride near the seaside while surfists cover the horizon. Also the female/male duets are making of this a really catchy song. "Champoon" is more focused on electro hop standards with its mid tempo rhythms and dark atmospheres. With these new tracks Playdoe confirm themselves a great band that for sure are ready for releazing an album that for sure will be a blast. Last but not least on this digital release you'll find nine remixes of "Ice scream" that are able to enhance its melodies or change it in particular ways (check Kaptain Cadillac dry version where picked guitar samples change the song in a nice way). Riot Kid, Kaptain Cadillac, Zôl & Illstm, Square Tune Magician, Digital Fighter, Club Cheval, D.L.i.d and Chris de Luca are giving their best to entertain you and make you dance... a great song for great remixes.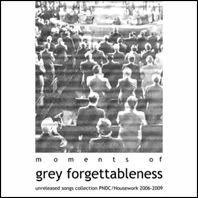 Artist:
PNDC / HOUSEWORK
Title:
Moments Of Grey Forgettableness
Format:
CD
Label:
Listen Loudest Records
Rated:
Like thieves that return always on their steps also PNDC/Housework went to their vaults and found that they had a lot of unreleased material as well as remixes, demos, etc. MOMENTS OF GREY FORGETTABLENESS gathers twelve of these tracks where you can appreciate the experimental approach of the project applied to the electronic/wave/rock formula (check the guitar solo on the unreleased track "Properties", for example). Electronic arrangements and pop sensibility meet guitar riffs and the personal vocals of Housework giving to the listener a wide choice: orchestral craziness meet vocal introversion on "Binocular / Oh my God, it's true" or rock cover-ism is mixed with guitar noise on the "Inagaddadavida / Dream about love" medley. There are also demos like "Unless" or "Pink cave" where you can check sounds similar to the previous two albums produced by the Serbian / Greek duo.
image not
available
anymore
Artist:
QUARTERSIZED
Title:
Industrial cliche
Format:
Download Only (MP3 only)
Label:
MOMT
(@)
Rated:
INDUSTRIAL CLICHE is the third E.P. by Ian and its four tracks kinda play with the industrial music topics of all times without sounding industrial at all. TV evangelists, military industrial complex and its influence on consumer technology, the Westboro Baptist Church and the world of religious cults are the themes of the mini album that Quartersized deal with. Musically Ian produced four electronic energetic tunes where guitar riffs are mixed with samples and upbeat rhythms. Sometimes influenced by breakbeat (for the rhythms) and by Tackhead (for the guitars) the tracks sound interesting and fresh. Personally I found more convincing the first two E.P.s but also INDUSTRIAL CLICHE is capable to catch the listener's attention.
image not
available
anymore
Artist:
JAHCOOZI
Title:
Barefoot Wanderer
Format:
CD
Label:
BPitch Control
Rated:
We recently talked about Robot Koch because of his solo album but this time I'm talking about him because he's also involved into Jahcoozi along with Sasha Perera and Oren Gerlitz. Active since early 00's with on their back releases for WMF Records, Kitty-Yo or A-Records, the trio is now releasing through BPitch Control their third album BAREFOOT WANDERER. If you were used to Robot breakbeats, well in this case you have to look somewhere else, but if you are into pop, dub, reggae and deep bass lines the eleven tracks of the album would satisfy your thirst for chill-out atmospheres. As the title suggests the band approached to the album with a new spirit and thanks to the Goethe Institute they went to Kenya to record the track "Msoto Millions" along with MCs from Uko Flani, a Kenyan dancehall/reggae crew in Nairobi. This was the first of their collaborations but this album see the band traveling and collaborating with people overseas (percussionist Guillermo Brown from New York or clay pot percussionist Oori Shalev from Israel) or in Europe (Belgian singer Barbara Panther). Ethnic influences found their home into the upbeat rhythmic textures of BAREFOOT WANDERER and if you aren't afraid of a jazzy vocal approach mixed with dub electronics you can check Jahcoozi. Personally "Wasteland" was the track I appreciated most because of its light ethnic percussion that duet with a soft female vocal and synth waves.
image not
available
anymore
Artist:
VV.AA.
Title:
Global Surveyor Phase 3
Format:
CD
Label:
Dominance Electricity
Rated:
Available in CD as well as a three vinyl edition and on digital format at the usual retailers, GLOBAL SURVEYOR PHASE 3 is, as stated by the title, the third chapter of the series compiled by Matthias Weise (a.k.a. Sbassship, TRV, etc). Released five years from the second chapter, this new gathers twenty one killer electro tunes, which taking inspiration from the cover painted by David A. Hardy (the longest established living space artist, European vice president of the International Association of Astronomical Artists), bring to the lovers of deep synthetic bass lines and analog waves tracks that mix hard beats, spacey ambient synth sounds and electro bleeping sounds. Matthias, along with bands coming from Dominance Electricity roster, called in Keith Tucker (a.k.a. K1 from the legendary Detroit band Aux88), Middle Men (a.k.a. Phil Klein, famous for making music under the Bass Junkie moniker), Gosub (famous Miami project of Shad T. Scott) and Mesak (one half of Mr. Velcro Fastener). We have plenty of tunes to dig and electro sounds from all over the world with participants coming from Sweden, Holland, Serbia, Lithuania, Germany, England, U.S.A. and Finland. As usual for compilations some tracks stand out and in our case I won't make you miss the following: DJE's "Defiler" (its electro sounds mixed with middle Eastern melodies will catch your attention in no time), Global Surveyor feat. K1 & Gab.Gato's "Global Surveyor (DBS Remix)" (finest bouncing electro), Middle Men's "Space Quest" (cool deep vocals and upbeat electro mysterious melodies to dig), Lektroid's "Modular" (breathtaking electro funk), Gosub's "Folding time" (classic Gosub bass sounds with catchy ambient atmospheres), Sbassship's "Fall" (classic Sbassship's sweeps coupled with upbeat tempos), Varia's "Night Drive" (atmospheres a la Klaus Schulze for this project), Direct Control's "Stars" (classic electro that you'll love if you dig Sbassship) and the closing spacey threatening ambient sound of CPU's "Signals from the Dark". You can download the 10 minutes teaser here http://www.saveoursounds.net/music/gs3/gs3t192.mp3