image not
available
anymore
Artist:
KREUZER / SURMA
Title:
Viltis
Format:
CD
Label:
The Eastern Front
(@)
Rated:
VILTIS is a split CD where we find Kreuzer (presenting, after its debut album "In hoc signo vinces", five new tracks) and Surma, a very young Ukrainian project with four tracks. The Kreuzer tracks differ from the album ones as they sound more industrial and even more minimal, if possible. The CD opens with the first of three parts of "Father listened to the radio". This one mix samples of old records in Lithuanian language, distant militaristic drums and mysterious atmospheres. The second part is half harsh industrial and half dark ambient but it doesn't sound that interesting. The third part gathers old records samples and industrial rhythmical loops. "Rainy night in Kanaus" is a atmospheric industrial ambient minimal hypnotic track which sound a bit unfinished. "God save Lithuania" is the best one of the lot, with its obsessive looped melody coupled to light distorted sounds and rhythms. The four tracks by Surma didn't excite me as I didn't find them too interesting as we have harsh sounds mixed with distant imperceptible melodies, chants, ambient sounds, industrial ambient distortions all mixed with constant crackling old records noise. There's no will of making the track evolve. I hope that the album "Allocution" will sound different. We'll check if this will happen on my forthcoming review...
Artist:
Lucidstatic
Title:
Gravedigger
Format:
CD
Label:
Tympanik Audio
(@)
Rated:
In my years of listening of music, I've come across two albums that make you feel like you're being beaten up with barrage of drums. These two albums are Alec Empire's "The Destroyer", and Lucidstatic's latest offering, the aptly titled "Gravedigger." This is an album that has a lot going on, such as fast complex jungle beats, clanking metal sounds, and aggressive noise patterns and samples. The album's lead off track "Blackout" sets the pace for the entire collection with its brutally intense arrhythmic drum pattern that's broken up with bits of noise and a sample of a guy saying "No your fucked!," which under most circumstances would be cheesy as hell. However, for Lucidstatic's purpose, it acts as a warning, giving the listener a premonition of things to come, which is an extremely aggressive and unrelenting album. From start to finish "Gravedigger" is a mind blowing amalgam of breakcore, IDM, and industrial power that unmercifully destroys everything in its path. Furthermore, while most albums of this nature get boring after about the third track because every song sounds exactly the same, "Gravedigger" maintains your attention and keeps you listening in anticipation for what's going to be thrown at you next. If you like hard power electronics, then you MUST purchase this album immediately. Indeed, this album is great for getting out some pent up aggression.
Artist:
Displacer
Title:
The Witching Hour
Format:
CD
Label:
Tympanik Audio
(@)
Rated:
Displacer's fourth release "The Witching Hour" is a very stylized album that utilizes a number of diverse elements such as old horror movie samples, trip hop rhythms, classic hip hop beats, and an array of new and vintage synthesizer sounds. All of these elements work together to form a very cohesive, relaxed, and stylish piece of work that achieves the dual effect of being sexy and campy (but in a good way that is satirical). And it is for this reason that "The Witching Hour" is my opinion an ideal after hours album, as it definitely an record that can take you home and set you right after a long night of clubbing and the excesses that often go along with it. Some of the album's highlights include "Nag Champa," (with is an achievement in and of itself in that it is one of few tracks to actually use the classic synthesizer clap sound in a way that sounds good), "Squirm" which is just a beautiful and emotionally poignant piece of music, and the album's title track which is very much reminiscent of the Thrill Kill Kult of old. All in all, I would highly recommend "The Witching Hour" to anyone who likes trip hop and alternative house. I also highly recommend it for those after hours parties where good music is so hard come by.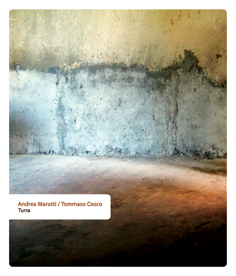 Artist:
Tommaso Cosco, Andrea Marutti
(@)
Title:
Turra
Format:
3" MiniCD
Label:
Afe
(@)
Rated:
Enchanting release here and it's a 3" mcd that ties the knot between Andrea Marutti (aka Amon/Never Known/Mortar/Afe head chief) and Tommaso Cosco that, yes is an absolute new comer as a musician, but every once in a while organizes a show in Archiaro, a beautiful natural place in the south of Italy. For what regards the aesthetic result of this long track I'll cut it short by saying the heavy hand of Marutti in the production stage is clearly detectable in a split second but be it I know a little bit of history of this recording, be it you can read it along with the inner lines of the artwork (written by Tommaso Cosco himself) you will convey with me some stories behind this or that release make them even more interesting. Being the natural extension of Marutti's "the Subliminal Relation Between Planets" that came out a while ago on Nextera, you probably may have deducted it's an ambient otherworldly effort but what gives more and more points to the work is how Cosco assembled his sounds for this collaboration. I can't say exactly what a "Turra" is but at this point (and from the picture) I imagine it's some kind of ancient house made of stones that farmers and shepherds probably used as a shelter/warehouse. Cosco did the most intelligent thing an untrained experimentator can do by leaving his instinct go boom and explode, this guy probably took confidence with the room, the natural reverb and with the microphones and he did it throwing in all of his intuition. After this bunch of instructions/informations on how the majority of the sounds have been produced, what I wrote so far could anticipate a variety of "music concrete, electro-acoustic/primitive" piece: no way! It's ambient, heavy ethereal and atmospheric ambient that voices the stones the walls have been made of.


image not
available
anymore
Artist:
KREUZER
Title:
In Hoc Signo Vinces
Format:
CD
Label:
The Eastern Front
(@)
Rated:
Musical project of a young guy coming from Israel, Kreuzer's debut album IN HOC SIGNO VINCES, has been released by The Eastern Front. Limited to 300 copies two panels folded cardboard packing, the album differs a lot from the MCD "Noises Of Independence" released on the Eastern Front sublabel T'an! Kaven!! Ash!!! Taking as inspiration medieval atmospheres and Crusaders' battles the album is a pleasant surprise. Despite the over exploited theme (the good thing is that here the tracks sequence follows a theme like it was a concept album), IN HOC SIGNO VINCES succeed into creating an interesting atmosphere made of 8-bit distorted rhythms, treated vocals, synth ambient sounds, martial atmospheres and basic melodies. Being minimal but with a strong personality, tracks like "Our Sights Are Set At The Holy Land" or "New Christian Empire" create mysterious scenarios with hypnotic effects. Kreuzer don't exceed with drums or industrial sounds and this well balanced mix help into the creation of a very good full length debut. On his myspace you can check some tracks.