image not
available
anymore
Artist:
Ceremony of Innocence
(@)
Title:
Der Rote Glanz Der Flammenfee
Format:
CD
Label:
Beverina
(@)
Distributor:
Evil Distribution
Rated:
Ceremony of Innocence (C.O.I.) is the Neo-Classical project of Austrian Native, Alexander Weiser, who is also known for his Dark Ambient works with Bone Machine and B-Machina. Der Rote Glanz Der Flammenfee is the first release by Weiser under this project, following in the footsteps of a web-released single, Ich Tauche Tiefer. There are eleven tracks on this album ranging between one and fourteen minutes in length. There is also a video of the fourth track, Zeit und Raum, included on the CD.

C.O.I.'s Der Rote Glanz Der Flammenfee is constructed predominantly from synthesized choral sounds and percussion. These sounds evoke a very peaceful and enchanting feeling, but also impart an underlying feeling of imminence and necessity. This album reminds me of walking in a cold, lightly snowing winter's evening, obviously alone, yet surrounded by moving shadows.

There is a mystery hidden within these tracks, one that will take me many listens to fully explore. The first half of C.O.I.'s Der Rote Glanz Der Flammenfee is a very thought provoking and beautifully sculpted orchestral work that reminds me somehow of the Myst soundtrack. The second half of Der Rote Glanz Der Flammenfee is lighter in nature and integrates more of an early 90's ambient/IDM sound. The transition is surprisingly well-played, and the levity keeps C.O.I.'s Der Rote Glanz Der Flammenfee fresh and listenable throughout.

Artist:
Glinkowski Slaton Sparacino
Title:
Trio slicnaton
Format:
CD
Label:
New Music Solutions
(@)
Distributor:
CD Baby
Rated:
A while back, I reviewed the first CD from this artist collective, Mahlon Hoard "Slicnaton", which I described as "Ornette Coleman meets John Cage and Brian Eno in a dark alley". Apparently they liked my take on the first CD enough to send the second one for review. After repeated listenings, I'm glad they did. While the first CD, sounded like a collection of loose, disparate (albeit interesting) improvs, "Trio slicnaton" is a much more cohesive effort. It is also quite a bit darker.

The electo-acoustic ensemble for this outing consists of Mietek Glinkowski (Violin & Vitar), Nicholas Slaton (Electronics & Basses), and Julian Sparacino (Flute, Bass Clarinet & Piano). They also get a little help from Jon-Marc Ryan Dale (Drum Set) and Andrew Munger (Percussion). The tracks were culled largely from live improvisations in early 2008, both in performance venues and recording studio. Owing to the unity of the core ensemble, it becomes clear that there is a certain synergy between the members that elevates the results of the improvisation to a realm beyond just interesting sonic experiments.

From the onset of the first track, "All in Time", an ominous atmosphere sets the tone for what's to come with a low windy drone as the backdrop for slow bass clarinet motifs and some deeper echoey industrial elements. Think Lustmord backing Mick Karn and Massimo Munari. It's a great way to start an album.

The next couple of tracks, "Still Still" and "Storch" are closer to classical avant-garde with good spatial relation between the sonics and the silence. Low drones of various types are used to good effect while violin and bass clarinet play dirge-like melodies. In "Storch" it sounds like some type of rapidly picked stringed instrument can occasionally be heard under the dense cloud of low rumbling noise adding to the tension. Storm clouds clear on "From Scratch" and pentatonic flute arpeggios flirt with a slippery, slithery violin giving the piece an oriental zen-like quality. Brief but welcome.

"Blown out" owes more to free jazz improvisation but put in a Stockhausen setting. What I really like about Trio Slicnaton over avant-gardists like say, John Zorn is that the improvisation doesn't get in the way of the ambience, it's never "in your face". Yes, there are certainly weird tonalities aplenty, and it isn't all smooth sailing, but there is nothing untoward that clashes with the feel of the mood they're creating. And this is mostly a pretty dark mood. The cinematic nature of these sound sculptures would easily lend itself as an excellent soundtrack to an edgy experimental film. At times mysterious, at others, oppressive, the instrumentalists combine to form a pastiche of diabolic import, yet place necessary rays of light to keep it from being one long continuous nightmare. "Nightlife" is such a piece, with flutes and emulation of nature sounds that lend an aura of calm and tranquility. My only regret is that the CD isn't longer; at a little under 39 minutes it seems too brief a listening experience, and probably should be labeled an EP rather than a full CD. Still, 38+ minutes of great music outweighs 75 minutes of just good music anytime. I'd rather be left wanting more, than just wanting something different.

This is a STRONG BUY recommendation of you like avant-garde/dark ambient. There is a big difference between the kind of experimental noise some "artists" inflict on listeners, and well-crafted compositions that take the best elements of their influences and synthesize them into something truly brilliant. Trio Slicnaton is such a remarkable recording. You can find it at CD Baby.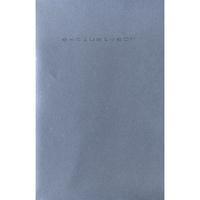 Artist:
ExclusiveOr
Title:
ExclusiveOr (s/t)
Format:
CD
Label:
Quiet Design Records
Distributor:
Quiet Design, CDBaby
Rated:
If you have long felt the absence of vintage synth noise improv in your mp3 collection, the self-titled debut effort from NYC-based duo exclusiveOr can finally fill your specialized needs. Combining all manners of clicks, pops, rumbles, and pure, loveable sine tones, Jeff Snyder and Sam Pluta have created a 50-minute alien sound world that, in its best moments, captures their flesh-and-blood vitality behind the controls. Consider the trajectory of the first half of the album. Each successive track, played without pause, simultaneously builds and disintegrates into the next, before emerging into the unexpected icy beauty contained within 01110010 (colloquially known as "Track 5"). With crystalline harmonies juxtaposed against implosive bursts, its nebulous emotionality stands as the high point of the album.

If a release like this could ever chart, Track 7 would be the lead single. As far as nerdy synthesized noise goes, it rocks hard. If there's one disappointment, however, it's in the ninth and last piece; especially after the controlled insanity of the two tracks before it, no. 9 sounds a bit too much like an equipment test, exhibiting neither the gifted on-the-fly structuring nor creative interplay showcased by the duo everywhere else on the album.

That aside, Pluta and Snyder have crafted an impressive testament to the virtues of electronic sound. Even though their material is created from the emblematic sounds of a 1966 Buchla and 1977 Serge synth, the end result is anything but anachronistic. The detritus of every decades-old circuit lies at the base of the music, and it's captured at a low-dynamic clarity that allows it to be absolutely integral to mood and texture of the album. Listen closely. -Trevor Hunter/mv



Artist:
Scarlet Slipping
(@)
Title:
Tradgedy In The Lions Den
Format:
CD
Label:
Shinto
(@)
Rated:
This is one of essential disc that's been archived. The early sound of Scarlet Slipping by Dawn Wagner with the collboration of Trance To The Sun member, Askelon Sain, began in 1995. Nine tracks that's worth a listen from start to finish. Lyrically emotional, death dyfying, bloody and horror. My kind of album I enjoyed listening to over and over again and again. "The Hallway" starts the disc off pure and innocent. "Snow White" have a cold feel. "My Friend" is a quiet low-key piece of work. Then Dawn starts to get real troublesome in "Masterpiece", but in a friendly way. She's everything you want her to be, only in a horrific hysterical twisted way. The track "Blood (v.1)" and "The Lie" gets heavily death defying and sinister. A totally chaos by ending up dead. Dawn will mess with your head and after she get you, she goes for the kill. A mastermind of a thinking tricky woman. She'll laugh when the victim is in her trap like in "The Lie". The track "Unclean" have an industrial feel. A rollercoaster ride to hell. Imagine walking into an old house or mansion and hear ghostly voices talking, screaming and echoing, this happens in "Greta Five". Final track "Alabaster Rose" is a beautiful brilliant composition. The similar sound and voice arrangement in the line of The Machine In The Garden. Another favorite gothic band I love and admired. Scarlet Slipping "Tradgedy In The Lions Den" will take you on a horrific fun-filled ride through scenes of horror and bloody mayhem. A nightmarish dream you'll never forget, if you live to tell.
Artist:
LES FRAGMENTS DE LA NUIT
(@)
Title:
Musique du Crépuscule
Format:
CD
Label:
Equilibrium Music
(@)
Rated:
Created in 2005 by Michel Villar (piano) and Ombeline Chardes (violin), score composers for film, Les Fragments de la Nuit were created in order to play their pieces on stage. At this purpose they formed a quintet made up of three violins, a cello and a piano. MUSIQUE DU CREPUSCULE is their first album and contains 16 beautiful cinematic tracks. The band's style is someway classical and modern at the same time and their music uses often minimal repetitive structures like Philip Glass does. Minimal but not for this reason without a complex musical structure. The violins play always different parts and the atmosphere created is really effective. Another peculiar thing is how the voice is used: the female vocals don't sing lyrics. It produces melodic sounds as well as the other instruments. Romantic, moving, mysterious and convincing, this album will please many lovers of dark music as well as lovers of movie soundtracks.