image not
available
anymore
Artist:
D.J. Golubb (@)
Title:
Underground Pathos
Format:
Download Only (MP3 + Lossless)
Label:
X-Line / Alter-X Promotion Group
(@)
Rated:
First, I'm always skeptical with DJ's trying to convince the audiences with self-produced Electronica music, since several results can be called that weak, that a recommendation would be utterly mockery. Secondly, to start an album with a cover version on "Fade To Grey" of VISAGE including the usage of poorly vocoderized vocals, can be called as being the biggest mistake an artist can produce. Luckily the next 2 tracks, aptly titled "2" and "3", are musically far away from plain Tech-Dance music – both can be placed into the wide field of modern IDM/Electronica and giving some surprisingly well-done references. The integration of experimental and noisy FX and percussion elements results in amazed faces of the listeners. At least with the 4th track, "Space", starts Mr. GOLUBb in that expected manner, to produce danceable and consumer-friendly Electronica. Both tracks, "Space" and "Illusion", can satisfy with a well-done catchy synth-play. "Robot Voice" seems to be his best track so far, it features a matured sound environment, well inserted samples, and offers a slightly nostalgic touch to some 80ies revival bands. The following tracks, as well as an alternative version to "Robot Voice" and a remix on an ID MOLOTOV-track, are turning too much into the Techno-/Trance-genre. Diversity seems to be the trademark for D.J. GOLUBb and he has created several right decisions. "Underground Pathos" is may lesser designed for the EBM-purists, but an interesting addition to the X-Line roster.


image not
available
anymore
Artist:
X-Fusion
(@)
Title:
Ultima Ratio
Format:
CD
Label:
Scanner / Dark Dimensions
(@)
Distributor:
Soulfood Music Distribution
Rated:
A new X-FUSION album is always a feast for the Harsh-Electro/Industrial maniacs, as this one-man-project out of Germany has reached the thrones of acceptance in this music genre. I guess, Jan L.'s project, as well as his Tech-Noise side-project NOISUF-X, don't need a longer and more detailed introduction – just try to count how much bands out of this genre he has helped out with a professional end mastering through his notorious XMP studio. New club fodder then can be easily recognized with "Leave No Seed" or "House Of Mirrors". The art behind Jan's work is surely the ability to produce straight and pummeling Harsh Electro tracks with demand and attitude – his tracks are excellent examples to consume them under both conditions – at the clubs, as well as at home, or under a pair of headphones. You'll find always a break, always hints to different styles of Electronica music well integrated – at least this symbiosis comes out that extra-ordinary, that since years no one out there misses seriously a quality new :WUMPSCUT:- or RETROSIC-release. No wonder therefore, that the best tunes aren't the both above mentioned. "Psychopath" is a really sick tune, which convinces with dramatic piano inserts, while the speed and the rhythm section remains to be fair. The striking synth-play of the title track to form a melodious refrain represents also the state-of-art, let's say, that Jan especially with this title track sets the standard to a higher measure. The layered and orchestral sounding instrumental "Rise And Fall" also satisfies the highest demands. Under "Still Breathing" he allows surprisingly a scratching Metal-like guitar to strengthen the pummeling bass lines. Enough good reasons to rate also this new X-FUSION as being a genre-leading masterpiece and to inform you, that "Ultima Ratio" is also available as a limited 2CD edition containing the bonus disc "Beyond Reality (The Orchestral Works)" – try to hunt it!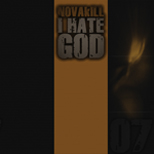 Artist:
Novakill
(@)
Title:
I Hate God
Format:
CD
Label:
RepoRecords
(@)
Distributor:
Alive
Rated:
Already the third album for this Australian duo, this time surprisingly not licensed to the States via Metropolis, which - at least - can not belong to the audio quality. Even if the title sounds quite platitudinous, the main theme it marks quite clear. And even if the both protagonists are specialists of the newest VST-techniques (just check their website and download some freely available tools they've used on their previous releases), "I Hate God" is a tiny masterpiece of veteran-like, truly Canadian-inspired Electro/Industrial music – acts like FLA, NUMB, older T.H.D., THE FOURTH MAN and of course the classic SKINNY PUPPY seemingly have left influence on the music of NOVAKILL. And if they really offer some "sweat-muscle-work" and German "Arbeit macht frei" bawls like in "We Work", you now know, where and in which genre you have to place them. "Demonizer" seems to be the main track, as they've produced 3 different versions of this track. The original is a fast-forward moving tune with rotating bass lines, striking voice sample and typical male shouts – lesser a well worked out composition, but a fucking effective ass-kicker. With "Exterminate" they also prove their sense to produce a rather slow and ominous sounding tune, which relies on its dark and fearful mood. "Blood Elektrik" works excellent as a twin to "Demonizer" and the pummeling bass line programming should be able to lead masses on the dancefloors. As usual for this scene, people do quite often search for the negativity in some productions – NOVAKILL may have to live with the approach, that their kind to provide their male vocals requires usage to. Luckily they vary also on this part with multiple different fx adjustments to reach fair enough results. Technically one of the best classic-minded Electro/EBM/Industrial albums during the last half year, a must-have release!
Artist:
Autoclav1.1
(@)
Title:
Where Once Were Exit Wounds
Format:
CD
Label:
Tympanik Audio
(@)
Distributor:
Ant-Zen
Rated:
A complete new studio album from the UK-based IDM/Electronica-based project AUTOCLAV 1.1 only a year after his last release "Love No Longer Lives Here", but this shouldn't wonder anyone, because there can be easily drawn a fine stylistically connection between both albums. Tony Young seems to reach more and more trust into a straight and linear rhythm programming, also his usage of orchestral-like strings, acoustic guitars and dominant piano sounds rather speaks for a developing musician. I found myself to pick out one of his older albums to recognize clear the differences. The days of his notorious and abstract IDM-related rhythm pattern programming are definitely over – if there's still available a glimpse of this past, just check the percussion work of both new tracks "When We Woke Up" and "These Walls Have Seen All". Nearly all other tracks convince through its straight-forward and mostly 4/4-on-the-floor-like pattern structures, as well as the above mentioned instruments offer a lot of organic "life" and catchy moments to the music of AUTOCLAV 1.1. Some guest contributors can be heard too, Rachel Haywire for short introduction of "When We Woke Up" or his long-year friend Jamie Blacker of ESA, who provides vocals and some guitar inserts on "Do You Feel Disposable?". That tasteful black/white photo-artwork got done by Salt (Ant-Zen/Hymen Records), mastering provided by Metarc – well, you'll get the finest art tools asides nearly 50 minutes of purest audio entertainment. Because of its highly acoustic content, this album differs enormously compared to nearly all other label horses out of the rich Tympanik Audio stable, with the exception to AD-VER-SARY maybe. Someone out there to argue against diversity of the label roster?


Artist:
Disharmony
(@)
Title:
Evolution
Format:
CD
Label:
Tympanik Audio
(@)
Distributor:
Ant-Zen
Rated:
Already a year before with the release of their marvelous remix collection "Cloned – Other Side Of Evolution", the Slovakian duo DISHARMONY has started its career as being one of the outstanding horses in the stable of the Tympanik Audio label. It may surprises, that they'd considered to sign with them Audio, since the both protagonists of this project, Lord Sauron and Ryby, are known to be a bit suspicious to foreign scene people, since they've got often screwed in some or another way previously. Both are standing also behind their very own Aliens label and DISHARMONY is surely the flagship of it. But back to the music, because it seems that the dedication towards to Tympanik Audio has left a tiny impact on the music. Their predecessor studio-album "Malignant Shields" maybe marks the highlight in the long-year career of DISHARMONY thanks to the recognizable development to integrate rather fragile than dark sounding synth arrangements. To start comparisons, "Evolution" comes out more variable and with a more of toughness in its rhythm programming, but also lesser brilliant in its synth-play. This album has its highlights in the both opening and closing tracks, "Revolution" and "Evolution". In between it has been a bit challenging to pick out additional favorites, since the order of the track list offers some clumsy decisions. Highly important track numbers to keep on a thrilling float of the album like 2 or 4 got filled with rather standard-instrumental tunes, instead to place their finally discovered masterpieces like "Spirals" or "End Of Ends" in there. They also prove, that there can be a difference between a standard and a perfect arranged instrumental tune, "Izometrix" as being the best has to named. "Evolution" is of course a good and valuable album, still being an oasis in the yet leading Hellectro-related desert zone – but it isn't their best work so far.