Artist:
Kommando XY
Title:
Welcome To Gestrikland
Format:
CD
Label:
Electric Tremor
(@)
Distributor:
Black Rain
Rated:
Another new Darling for the short-haired old-school EBM elite-league hails out of a special landscape of Sweden, Gestrikland. KOMMANDO XY is the name of this outfit, consisting of Gustav Jansson (STURM CAFÉ) and Jocke Mohlund. The activity of STURM CAFÉ was rather limited during the past 2 years after the debut album released by the uprising Swedish label Progress Productions. This limitation happened because Gustav's band-mate Jonatan Löfstedt has left Sweden to work for his daily income in Poland. Due to this circumstances, STURM CAFÉ had at least to call its quit during June 2009. But after listening to "Welcome To Gestrikland" I don't have any doubts, that STURM CAFÉ won't be missed too much. The music of KOMMANDO XY follows of course that minimal EBM-related structures already discovered from Gustav, but the vocals of Jocke are the sensation of this release. Jocke offers an angry deep-male bawling pretty much in vein of old POUPPEE FABRIKK. A track like "Gruvarbetare" with its most minimal arrangements (kick + snare + hi-q + bass line) available here, gets seriously pushed to a high appealing EBM stomper. As for a special property, all lyrics got provided in Swedish language. This duo likes to introduce us their area in the eastern part of Sweden and tips on problems and things of the daily life itself. I don't understand Swedish, but a track relying on computer and console games "Genesis Does (What Nintendon't)" can be easily discovered. Do I have to take some lessons? Well, I would and take this album as a reference! Get it!
Artist:
Aphorism
(@)
Title:
Surge
Format:
CD
Label:
Tympanik Audio
(@)
Distributor:
Ant-Zen
Rated:
This is a newcomer-project for Tympanik Audio and musically based in the wide field of IDM/Ambient/Electronica music. Tympanik strives the whole world in search of authentic sounding acts presenting this demanding music style. APHORISM isn't an exception of this label dedication, although I had some initial problems by consuming this album. It may belongs that Tympanik has scored previously intense with acts like ZENTRIERT INS ANTLITZ, ESA or TOTAKEKE and in the first instance, APHORISM seemed to be dull and rather like a copy of the best horses in the label stable. But no, "Surge" has to offer some pearls to warm the hearts and ears of the interested listener. The tracks of Josh Pyle (music and production) and his partner Kris Rosentrater draw a well-done balance between melodic, but dark sounding pads and sweeps mixed with an attractive IDM-related rhythm programming, which often adds cuts'n' break elements to keep it bizarre but interesting. The label comrade STENDECK would be musically an option to draw some comparisons. 12 original tracks are available, from which I tend to rate "Chrysanthemums For Carrion" (remarkable synth arrangement, a lighter-minded Breakbeat rhythm foundation and interesting breaks thrown in), "Msect" (featuring exchanging synth layers for the catchy main theme) and "Two Sides Of The Bullet" (includes authorized voice samples by Martin Luther King – no, not the often used "I Have a dream..." platitude) as being the best tunes on here. Three additional remix works by the beloved label comrades TOTAKEKE ("Negative Two"), the high-skilled newcomer ACCESS TO ARASAKA ("What We See Now") and TAPAGE ("Msect") completing this album. The whole talent behind this project cannot be discovered after only 2 – 3 spins, so give this one a chance to grow on you. You'll get rewarded with an addictive IDM/Electronica-album of the upper class.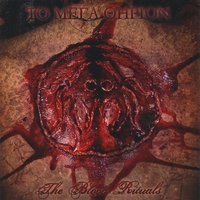 Artist:
To Mega Therion
Title:
The Blood Rituals
Format:
CD
Label:
Vendetta Music
(@)
Distributor:
KGD Media
Rated:
The title doesn't promise anything good. Right on, after his debut on the LA-based seems-to-be-ended label Sistinas. TO MEGA THERION-mastermind Tyler Viscerine returns with 6 new blood-and noise-infiltrated tunes featuring an monstrous and ritual-inspired background. The heavy-weight noise arrangements he produces are stuff to tease the nerves of your neighborhood and are in no way compatible with the faint of hearted. A depressive and deep down the drain-like voice sampling ("We Are Immortal") can't even add light into this ritual and satanic sound outfit. In this merciless and filthy kind, any doubts on Tyler's sound and artistically outfit as being only a play with some evil genres to follow a hype are forbidden – this one seems to be authentic and meant seriously. Asides the 6 original tracks, further remix contributions by well recognized projects and label mates like W.A.S.T.E. (has recently signed too to Vendetta Music – and Tyler has become a permanent member of the live crew of this LA-based Powernoise-act), AH-CAMA SOTZ, VUXNUT, the uprising EMBODI, Tympanik Audio's ENDIF and ALTER DER RUINE (who recently could arrange a deal to Germany's ProNoize label). Of course these remix contributions are rather pressing the TO MEGA THERION tracks into a more dancefloor-friendly sound outfit, since the floor addicts could be generally hardly accept the pure original versions. So this new album features both, purest noise terrorism for the listen-only audience, as well as enough valuable stuff to move to.
In latest news we need to admit, that several prominent web resources censored the original cover art, which you can still see above...
Artist:
VV.AA.
Title:
CHyberNation (A Tribute to KRISMA)
Format:
Download Only (MP3 only)
Label:
Dischi Strambelly
(@)
Rated:
The story of Krisma started when Maurizio Arcieri (singer of the Italian sixties band New Dada and later successful pop singer) and Christina Moser met in 1976. On that year their personal and artistic life changed forever because they became partners in both the cases. They first produced two 7" ("Amore" and "U") stylistically following the "sexy sound" formula. Soon after they moved to London and influenced by the punk movement recorded their first album "Chinese Restaurant" beginning a collaboration with Nico Papathanassiou (Vangelis' brother). Even if inspired by punk, the duo recorded a personal album with various influences (check the Spanish sound of "Lola" or the particular sound of "Mandoia"). Two years after, the same team recorded "Hybernation", an innovative album where electronic experimental tunes met melody. After that album they changed their name into Krisma and had a huge success during the 80's with songs like "Many kisses", "Nothing to do with the dog" or "Signorina", without forgetting their innovative and experimental attitude. During those years they recorded four albums ("Cathode mamma", "Clandestine anticipation", "Nothing to do with the dog", titled "Fido" in the U.S., and the 1986 album "Iceberg"). After those albums (I'm not counting the 1989 record "Non Ho Denaro" because it seems it haven't been properly distributed), they run an experimental sat channel where there were no programs but just videos (mostly cut ups) with background techno music created by Maurizio (he created also a parallel project where he used mostly the Rebirth software). Sporadically they collaborated with different Italian bands and they recorded a single in 2001 ("Kara") for Alice Records and actually they are still touring. CHYBERNATION is a free digital download compilation that celebrates Chrisma/Krisma with Italian (to this project participated also alternative bands active during the 80's as XX Century Zorro, Avvoltoi and Johnny Grieco, former leader of Dirty Action) and international artists (Loud Neighbor from Spain, La Kuizine from France and Antiquark and Red Flag from the U.S.). The bands covered all the duo's history by covering their most famous tunes as well as their mostly experimental ones and also Maurizio's solo period (Avvoltoi covered "Guardami, Aiutami, Toccami, Guariscimi" a cover of "Who's See Me Feel Me", recorded in Italian by Maurizio after he left New Dada and Johnny Grieco "Cinque minuti e poi"). We have different genres covered and many tracks stand out: check for example Antiquark's "Nothing to do with the dog" (it sounds like an up to date electro pop version of it with an 80's touch), future pop version of "Skyline" by Red Flag, Machina Amniotica's "Samora club" (a live track they recorded having as guest Maurizio and Christina), Adriano Canzian's "Black silk stocking" (really particular and minimal with filtered vocals and techno influences like on his album released by Gigolo years ago), Roulette Cinese's electro romantic version of "Cathode mamma", Avvoltoi's "Guardami, Aiutami, Toccami, Guariscimi" (they chose a 60's track being true to what they did during the last twenty years) or Cosmic Boilers (with Andy of Blue Vertigo on sax) electro wave edit of "Water". The good tracks are too many to be mentioned and since the compilation (it fits two CDs) is for free (if you can help they have also a paypal account where you can donate something) check it. Just follow the label's link and enjoy a piece of Italian's musical history!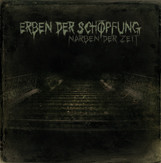 Artist:
ERBEN DER SCHOPFUNG
(@)
Title:
Narben Der Zeit
Format:
CD
Label:
Mystic Of Soul Records
Distributor:
Soulfood
Rated:
Originally formed by Oliver Falk, member of Weltenbrand, Sabine Dünser and Pete Streit, Erben Der Shopfung recorded in 2001 their first album "Twilight". After some copyright issues between the original members (you can read more about this on the band's website) Falk reformed the new Erben Der Shopfung in 2005 with guitarist Rino Vetsch and singer Dina Falk. During the following three years other three people joined: guitarist Flo Riederer, bassist Jens Wagner and drummer Pady Margadant. Finally the band was ready to record the new album NARBEN DER ZEIT with new energy and a new sound. The ten tracks of the second album present a multifaceted sound influenced by goth, metal, industrial e.b.m. and piano ballads. Leaded by the charming voice of Dina, Erben Der Shopfung alternate energetic goth metal songs with electronic inserts (often they use synth bass lines along with synth leads) to piano/vocal ballads (check the beautiful "Homeless") or they mix all the influences like on "Freeze my soul" where we have a beginning with voice/piano/acoustic/strings guitar then, after a minute, distorted guitar riffs and drums join in. After the alternation of the this formula synth bass lines enrich the sound and we have electronic goth stops and go just to end in a sort of 4/4 industrial metal crescendo. Usually I don't love this kind of sounds but I must admit that this band coming from Lichtenstein surprised me. If you are into the goth genre you'll love them. The album is also available in a deluxe edition box with a bonus DVD, a lighter, a patch and stickers.