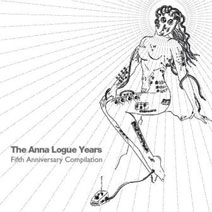 Artist:
VV.AA.
Title:
The Anna Logue Years - Fifth Anniversary Compilation
Format:
2 x CD (double CD)
Label:
Anna Logue Records
(@)
Rated:
The title says it all! This is the celebratory compilation for the fifth Anna Logue Records year of activity. Into this six panel digipack double CD you'll find one track for each of the past thirty label's releases, CD, LP and 7 inches included. There are also three tracks coming from future releases (Chromagain CD/LP, Intelligence Department CD and Paul Chambers CD/LP) and three unreleased tunes exclusive to this release which are Camera Obscura's "Village of stars" (a track recorded back in 1983), The Silicon Scientist's "Operators" and Twins Natalia's "Destiny" (if you loved their 7" you don't have to miss this one). Érick Moncollin (ADN' Ckrystall) did the drawings and Stefan Bornhorst (The Silicon Scientist) remastered the tracks. For an in depth view of the releases you can check my article and each of the reviews I did but if you love 80s synth sounds, new wave and cold wave, for 17 euros plus post you can check the what Anna Logue did during their first five vibrant years!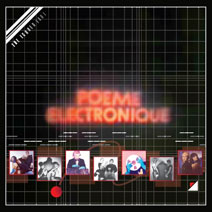 Artist:
POEME ELECTRONIQUE
Title:
The Echoes Fade
Format:
CD
Label:
Anna Logue Records
(@)
Rated:
Some months after the release of the deluxe double album edition here's the CD edition of the first ever Poeme Electronique album THE ECHOES FADE. Remastered for an optimum CD experience the album has a different track list sequence, two tracks less ("Voice" and "Give your life away") and even if Marc decided to put a fold out poster with the graphics for each track (just like on the double gatefold vinyl edition) you will miss all the lyrics and the limited postcard. It's the first time that Anna Logue decided to release a double edition of an album and Poeme Electronique's lost album is the first case. As I already wrote on my review to the vinyl's edition, THE ECHOES FADE ideally link late 70s music a la Toya/Kate Bush or Tubeway Army with the electronic sounds of early 80s with deep atmospheres, cool melodies and the distinctive vocals of Sharon and Julie. If you missed the vinyl because you don't have a turntable, now you don't have no excuses. Check it!
image not
available
anymore
Artist:
Bill Horist
(@)
Title:
Covalent Lodge
Format:
CD
Label:
North Pole records
(@)
Rated:
For his new album "Covalent Lodge", Seattle-based guitarist Bill Horist (who also plays with Musicians of Bukkake and Ghidra) recruited some of the most amazing performers the new music scene currently has to offer, including amazing violist Eyvind Kang (John Zorn, Laurie Anderson, Marc Ribot), Grammy winning dummer Matt Chamberlain, vocalist B.R.A.D. (ASVA, The Accused, MMOB), Steve Moore, Shazad Ismaily, Seattle Harmonic Voices, Jessika Kenney (Gamelan Pacifica) and many many others. With this caliber of musicians I don't think I should even waste any more ink (or pixels) on quality and musicianship. It's all there and there's plenty of it.
To musically describe an album this eclectic is however no easy task. It is minimal at times and orchestral other times, flirting with jazz chord progressions, classical ensemble arrangements, experimental/avantgarde improvisations. Bill's signature electric and acoustic guitar arpeggios are the common denominator and glue of this record and sometimes reminded me of Bill Frisell, other times of Fred Frith. To throw you off and tip your comfort balance Horist's deliberate finger pickings are augmented by a layer of choir that sometimes remind of John Zorn's vocal-only albums like "FilmWorks XXI: The Last Supper" or his yet to be released vocal-only piece "Song of Songs" that he's been performing for a few lucky audiences. In addition to all that, the haunting overtones and subtle all-encompassing melody lines of Eyvind Kang's viola and the worldly drums and percussions patterns by Chamberlain just make this whole thing so special and unique that you'll be hard pressed finding a similarly sounding album. Speaking of sound, it was beautifully recorded by my esteemed west coast colleague (and other member of Master Musicians of Bukakke) Randall Dunn (Sunn O))), Boris, Kinski, Earth) at Aleph Studios. You really can't go wrong with this much talent on one disc!
image not
available
anymore
Artist:
KMFDM
Title:
Krieg
Format:
CD
Label:
KMFDM records
(@)
Distributor:
KMFDM Store
Rated:
KMFDM is the Fugazi of electro/industrial music but even more intense and persistent: they've been at it relentlessly since the '80es, they stand the test of time, nothing can stop them, they are totally D.I.Y. and they continue to make records to this day. KMFDM the band today is backed by KMFDM Records and is distributed online by their KMFDM store!
If you were unable to keep up with Sascha Konietzko's revolving band of misfits, the line up currently consists of the man himself, Lucia Cifarelli on vocals, Jules Hodgson on guitar/bass/keys, Steve White on guitar and Andy Selway on drums (and let's not forget Brute!'s original artworks which punctuates every KMFDM release!). However in this case the names that matter the most are not those of the band members. "Krieg" is a remix album with tracks from their album "Blitz" (yes that is a throw back to 1993's Excessive Force's single "Blitzkrieg") and it features remixes by current and former members of NIN, White Zombie, Danzig, Static-X, Ministry, Skinny Puppy, Prong, Combichrist, Apollo 440, Tweaker, Icon of Coil, Pop Will Eat Itself, Die Warzau, Gaye Bykers on Acid, Stabbing Westward, Zombie Girl, Jacklope, Vile Evils, Melt, Healer, Revolve, Seismologist, Girder, Assemblage 23 and of course past and present members of KMFDM... You might have expected the usual suspects that had done 2006's "Ruck Zuck" remixes, but the approach on this one was different. This one reads like a who's who of the electro-industrial-metal scene and did you really doubt that?
If you are a KMFDM fan you can't miss out on this because listening to other people's re-interpretations of the band's music is a treat for everyone who knows the originals. However, even if you are not a die hard KMFDM fan or you simply didn't keep up with the band's output and you don't know the "Blitz" record, "Krieg" is a great record that can stand on its own two legs and even throw some hard punches. It's always great to listen to a remix album and recognize the signature sound of the remixers, and this is one of those cases, where you can really hear the remixers personality peak through.
image not
available
anymore
Artist:
Ben Frost
Title:
By the Throat
Format:
CD
Label:
Bedroom Community
(@)
Distributor:
Kompakt
Rated:
Successor this his critically acclaimed "Theory of Machines" album, Australian-born Ben Frost's new album "By the Throat" comes out on the same Icelandic label Bedroom Community and if I'd have to describe it with one word I would say: powerful! Definitely one of the most interesting releases I have heard in a while, "By the Throat" has humongous presence and weight and its massively enveloping sonic fabric is discomforting in the most comforting of ways.
It's hard to describe Frost's sound and even harder to draw comparisons, but I'd say that if you can imagine what Sunn O))) might sound like without walls of guitars you'd be in the ballpark. Frost's visceral and dark sound is rooted as much in the experimental/noise world as it is in the minimalist neo classical world (think Steve Reich, Manorexia, Jeremiah Cymerman, Alvin Curran). His compositions are built with equal part apocalyptic post-industrial drones and piano/strings interludes. It might make a great horror movie soundtrack, but a record this good would almost be wasted on visuals because it has a power to evoke visuals of its own. This music is about contrast and Frost has plenty of that. You go from ethereal sound fields, distant piano notes and gentle fragile sustained violin notes to glitchy distortions, sub-sonic pulsating bass notes and howling wolves.
This album, as most of Frost's collaborations, was engineerd and produced by fellow Icelandic Valgeir Sigurðsson (Björk, Kronos Quartet), who did an amazing job at capturing, building and presenting the depth of Ben Frost's sound. The album also features performances by Amiina, The Arcade Fire's Jeremy Gara, Swedish metal outfit Crowpath and composer Nico Muhly.