As the years go by the importance of an electronic musician like Antonios Stratis comes into perspective. Although the role of Stratis in the 80's was obscure in commercial terms, the ambassadorial significance of his self owned label Temporary Music was vital in introducing Northern American artists to what has now grown into a flourishing German electro scene and vice versa. "Herzlos" is a 23 track self produced, manufactured, and distributed collection of the best of Stratis. The music here ranges from raw or "anti-tech techno" to an amalgamation of robotic synthpop and traditional progressive German electronic music from the Tangerine Dream school. Imagine a marriage of international or world music sensibility to analogue German electro. Yes, it is as cool as it sounds. Collectors of obscure electro will surely have to have a copy of this. But it is the new listener that is unfamiliar with this work that will simultaneously fall into something exciting and of historical weight. Which ever the case, the music of Stratis stands the test of time and "Herzlos" is the document that proves it.
Artist:
MIND.IN.A.BOX.
Title:
Certainty
Format:
CDS (CD Single)
Label:
Dependent
(@)
Distributor:
Alive!
Rated:
Only a very few months after the release of their successful debut "Lost Alone" this German duo presents a new single-CD which gives already an outlook to the soon to be released new full length album "Dreamweb". Consisting of Stefan Poiss (music) and Markus Hadwiger (lyrics) this project has received a never expected success and genre-bending recognition with their debut, so that the title "Newcomer of the year 2004" is surely well deserved. MIND.IN.A.BOX are outstanding for their strong ability to combine several music styles ranging from Electro, Synth Pop, Trance and Ambient-like elements to an innovative mixture which is above averages. You won't find any weak parts in their music when you try to figure out in which music style you would fill them in. Everything is well and majestic arranged - I would go so far to use a BIG word like "innovation" in a pure form. And this "Certainty" will be certainty enough to pick up a new and promising foretaste on the new album. 35 minutes placed on 6 tracks can be discovered here, the title track comes along in four different versions (Single Edit, MIAB Alien Mix and two remix works by SEIZE and THEE HYPHEN). While THEE HYPHEN filled in some additional analogue sounds to the original, the SEIZE remix is a bit more straight to hit the dancefloors. Excellent produced is also the b-side "Beyond the World (Original Version)", a marvelous track to convince a non-electronic music listener how full of emotion and brilliant this music can be! This single-CD was also one of three parts of the now totally sold-out "Dependent Club Invasion" box DCI2 which is a limited collectors-item with which you get the chance to get three different single-CD's for the price of a full-length album in advance before this singles will be released on a regular base. No matter if you have purchased "DCI 2" or this alone released single-CD – this is a must-have!
Second release from this Farmers Manual member, "Nada" is focused on no less than the "exploration of dynamic and selforganizing structures". Whatever that means on a conceptual level, it gives alternate results on the musical one. Deceiving the listener with a soft minimalist introduction, PXP abruptly changes the atmosphere with a slab of distorted frequencies, crazed digital data and, now and then, some spastic rhythm and liofilized minimal techno (track 9). Very noisy and gnarly, but also colder and more detached than the average electronic noise - and unfortunately for me, many passages sound tired, unrefined or just too casual to keep my attention high. This is the kind of experimental diginoise that I find hard to relate to or be thrilled by: some good ideas, many crisp and interesting sound bits, but a general lack of atmosphere and structure.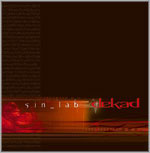 Artist:
DEKAD
(@)
Title:
Sin Lab
Format:
CD
Label:
Boredom Product
(@)
Rated:
After partecipating to a couple of compilations (Frenchviolation magazine CD and to the "Synthétique" CD compilation) the French trio called Dekad finally arrived to an important target: their first album. SIN LAB contains fourteen original tracks composed thank to the efforts of the whole band team. The tracks sound fresh and inspired and the band show confidence on their skills. For this reason the whole album is a surprise and the blend of synthpop, new wave (see the use of flangered/delayed guitar on some tracks) and e.b.m. can convince even the occasional listener since the first spin of the CD. Tracks like "Club devil" or "I want" are really powerful and the mix of dark atmospheres with melodical refrains is a winner one. The band sound is ready to compete with the one of bands of the like of Toy or Covenant even if Dekad are less pop. Give them a chance!
image not
available
anymore
Artist:
TANGATAMANU
(@)
Title:
Tangatamanu
Format:
MCD (Mini CD)
Label:
Wallace
(@)
Distributor:
Audioglobe
Rated:
Another fine 3" on Wallace and it's again visceral music. While musicwise Tangatamanu reminds "new age/ambient" music much more than "isolationism", the use of repetitive patterns has the same discipline of the Claudio Rocchetti's works. Tangatamanu reminds of Morton Feldman, Can, Popol Vuh (above all their works for Herzog's movies), Cornelius Cardew, just to name a few, but there's also a big minimalist feeling haunting the ten tracks of this mcd. Reading the list of the instruments (Prepared piano, guitar effects, bamboo flutes, seashells, percussions, flautos de barro, electronics) you can get the idea the "seventies-sensation" is there and it's true, but thanks to god it's not an useless "kraut-freak-wonnabe". To complete the picture of this cd consider it consists in the music for two installations realized by Studio Azzurro: therefore if you're into contemporary art maybe you know what to expect. Sit down, relax and read your old zen meditation manual this could be the soundtrack.