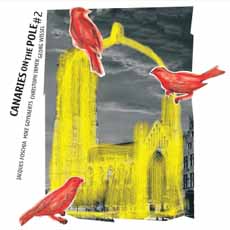 Artist:
JACQUES FOSCHIA, MIKE GOYVAERTS, CHRISTOPHER IRMER, GEORG WISSEL
Title:
canaries on the pole #2
Format:
CD
Label:
Creative Sources
(@)
Rated:
A Belgium based ensemble here, a four piece which explores the different and endless (or ended?) solutions of improvising. Interesting work, infact they combine different registers, different forms of interaction and above all different dynamics thus you pass from the opening animated track to some soft compositions, you have nervous playing like in "für lotte" and contemporary quasi soundtrack theme like "Once upon". It looks like they gave a lot of importance to interaction instead of putting the accent on soloism, I think when play silently they reach the climax above all when working on those mysterious melodies. That's a good point, sometimes it all reminded me a bit of Lounge Lizard just put in an improvisational contest, some piece they've been using for soundtracks are definitely not that far from this quartet. There's a slight free jazz feel but nothing that strong to justify a classification as jazz improviser, it's a sort of background colour I've perceived here and there. Another background colour is the contemporary classic music mood you have to take for granted above all when they're playing these long silent track which as I've said I think it's one of their best peculiarities.




image not
available
anymore
Artist:
HC-B
(@)
Title:
Soundcheck for a Missing Movie
Format:
CD
Label:
Hidden Shoal
Rated:
An alternative title could have been "soundtrack for a missing movie" since that's the style of this Italian post rock ensemble. A good work recorded by Sacha Tilotta from Three Second Kiss and son of two Uzeda members, the sound is ok and the production is overall quite good. Post-rock, the way you expect it to be and since I know some of you are looking for these cheesy comparisons to decide it it's worth of a check or not, the genre is that chamber/well orchestrated post-rock a la Rachel's meet late June of 44. Solid drum-beat, driving guitars bows, horns and several arrangements that reinforce the simple structure of most of the tracks. The band is not that technical as those I've mentioned, but with a could of good riffs, melody and these reinforcements the result is quite juicy above all if you're a fan of the genre. Sometimes this or that passage is quite predictable but is suppose these guys are quite young so there's enough room for improving, melodically everything is ok, maybe the next step is a further development of their personality. Maybe they're a little bit too "loyal to the dogmas" of this musical style and even if they already have the "suggestion" by their side the expression has its importance.


image not
available
anymore
Artist:
TOM HAMILTON, BRUCE EISENBEIL
Title:
shadowmachine
Format:
CD
Label:
Pogus
Rated:
Another unconventional work on Pogus, this time is not exactly composed material, we're dealing with improvised music, ok some of you may complain improvised music can be read as "extemporary composition" but I think you got the point. While I've recently reviewed some composed material by Tom Hamilton, I've never heard anything else from Bruce Eisenbeil beside a jazz quartet. The first plays modular synthesizer and the second guitar, the odd combination could bring forth comparison with Frith, "electric" Derek Bailey when playing with some electronic artist. Eisenbeil style is less aggressive that that of mighty Bailey but somehow his intentional avoiding predictable note combinations and his interaction with Hamilton has some of these influences. Hamilton if compared to his composed material moves in a different way and he's won my deep respect for being so "cold", just listen to the end of "dryer mouth" where he revives the cadaver of Pan Sonic, or "the salt eaters". The basic formula sometimes is represented by a framework organized by Hamilton where Eisenbeil interacts or opts for an autistic rifforama and as many improvisers sometimes he's "just ok" but sometimes he manages to be brain-striking (Walley spawn). Sometimes they barely sound melodic and emphatic like in the title-track or quasi atmospherical like in "dot dot dot".

Artist:
The Tenants of Balthazar's Castle
Title:
the moon
Format:
CD
Label:
A. Star
Rated:
Upon hearing the very 1st track on this album, you are soon warned that the frequency spectrum on this album will be a wide one. By track two, 'the voice of the moon" (their lowercase) is a manic, hyperspeed and looping race to an unknown destination in Tron land. As a point of reference here, a stretch mind you, it almost reminds of a midi-derived Reich percussion piece smashed into a work by maximalist composer Paul Dolden, complete with accelerated phasing and organically panned stereo imaging. This lasts just a short time however, as shortly thereafter in the moon moves' the swirl begins to deteriorate and melt upon itself. After this barrage, we return to a more spacious and sonically expansive place much like the intro. After a very patient 15 and one half minutes of this piece, we are hit with a sudden onslaught that would make any Merzbow fan happy. Its a big sound, and its in your face. Nice.

This was the first moment that truly woke me up. Starting at this mile marker, I found myself much more enrapt in the album as a whole. It's almost like you are listening to a compilation or split 7" and then the 2nd band arrives - the one you like more. This does make for a trajectory on the whole.

Everything that follows is worth sitting through. Other noteworthy tracks are 'lamplighter', and 'the end' which introduces some woodwinds, synths, and consequently a feel not unlike Badalamenti scoring a Lynch film. 'rising', the final track does an effective job of leading you back out the door you entered.

I initially decided to forego the liner notes, although as I wrap this it appears they reveal a bit about the equipment used on the record. This is not really part of the way I enjoy going into a new listening experience but its there for those who are curious.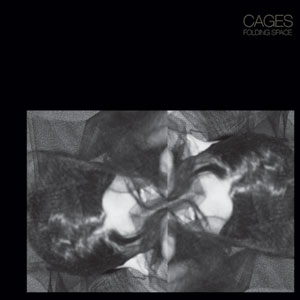 It's very difficult to file Cages under one genre and it is also a bit difficult to review their debut CD FOLDING SPACE. Since the opening track "Dying" you realize that what Nola Ranallo and David Bailey did isn't musical experimentation or will to surprise the audience. The listening of the nine tracks of the album are a particular experience as it could be explained paragoning it to a cooking recipe. Take a female vocal similar to Bjork then add some pain. Then, take a man with many musical ideas and give him the freedom he needs to give form to the duo's nightmares. Shake it a while and bury the mix for a month near to your beloved cat and then open it at night before going to sleep. After a while you'll feel a strange chocking sensation but it is normal. In the air you'll hear the guitar tribalism of "Prisons of light", the guitar/vocal Velvet Undergroudism of "The new forever", the reverse guitar sound of "Dying", the post rock acoustic guitarism of "If it flies, it dies" or the power industrial approach of "Cavern". All the music seems to be at the service of Nola's voice which paint a scary scenario now screaming and then softly caressing your ears. I don't know if this is an experience you'll gladly try but for sure this album won't let you impassible.