image not
available
anymore
Artist:
[:SITD:]
(@)
Title:
Rot
Format:
CD
Label:
Metropolis Records
(@)
Distributor:
Metropolis / Industrial Music
Rated:
Germany's label Accession Records seemed to be quite inactive with the beginning of the last year, but they may have waited for the right moment to hit back stronger than ever. Not only scoring with the latest A23 releases, also the second best horse in the (Electronic-) stable offers a new album, [:SITD:]. As usual, Metropolis also knows about the skills behind this project and has once again decided to license them for the fans of the North-American market. After spinning "Rot" for the first time, I was surprised, since it seemed to me, that someone has provided a few vitamin C pills to the protagonists. I guess only on their already 10 years old debut "Laughing Stock" they've been that comparable energetic. "Rot" is generally a harder sounding outfit, while it doesn't leave the known formula of this project discovered on their smashing predecessor tunes like "Kreuzgang" or "Bestie: Mensch". While "Cartharsis (Heal Me, Control Me)" acts typically in a rather mid-tempo minded sound outfit, they pushed the speed in higher measures with the title track. "Pharmakon" seems to be a bit like a twin to "Rot" - also: it is still a striking point, that they mostly score the best with their German tracks featuring a social- or political-critically content – also with their international audience. "Frontal" somehow hits the nail on the target and could be a possible next hit for them. To look out for a tiny hair in the soup is always challenging with this act, because [:SITD:] once again offer the highest quality in all terms of production, although they don't offer anything new. At least also the beloved rather calm and catchy moments are featured as well with "Redemption". So no real point to argue against "Rot" – may exceptionally with the fact, that [:SITD:] in the year 2010 are sounding similar to 2005, but who wants to spit on this?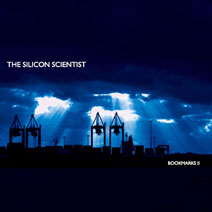 Artist:
THE SILICON SCIENTIST
Title:
Poly/Bookmarks II
Format:
CD & Vinyl
Label:
Anna Logue Records
(@)
Rated:
After releasing in 2006 his first Silicon Scientist record "Windows on the world", Stefan found the time to work on the Sonnenbrant album "Gestern" just to start working again on new solo tunes. POLY is his second album which, as the first, is available in vinyl format only. The album opens with "Silicon beach", a track that immediately makes you dive into the soft waves produced by the polymoog keyboards (you can find sounds produced with Korg MS-10, MS-20, Multimoog, Roland CR-78, SH-101, Solina String Ensemble, Waldorf Pulse Plus). Electro-pop melodies that now have upbeat rhythms (like on "Lost city") and then mid tempos, sound like soft waves thanks to the characteristic sounds of the keyboards used. The bass lines and the synth leads used don't drill your ears but like a dreamy flux they gently rock your cradle. For the lovers of new wave sounds (see the first New Order albums of the late 80s The Cure albums) "Meltdown" will be the track for you, thanks to tribal drums, flanger bass guitar and acoustic guitar. With the new album you can find as bonus a CD containing outtakes coming from the POLY recording session plus compilation tracks ("When the world slows down", and "Submarines - first version" have been released on "Synth stations" and "Hamburg hit news 2006" compilation albums, respectively) and "Inselwinter I"/"Inselwinter II" two songs coming from the first instrumental album which has never been released. These bonuses will make you appreciate even more the melancholic analog synth sounds that Stefan produces (and thta on these ten tracks sound less dreamy) like a craftsman and will show also his dance pop side thanks to the opening song "Seven" (born from a demo made by Annalogue Records boss, Marc Schaffer).
After the peaks on tympanic clapometer reached thanks to its album Supershelter, the German (from Cologne – whose experimental techno scene has been strongly influenced by gay house music as well as by Chicago and Detroit emissions, inducing Glitterbug to introduce it to new notions and emotions... -, but with a solid base of supporters in Israel and Middle East) dj Glitterbug with the complicity of C-Series winks at listener's ears with a series of 12" aiming to anticipate the issue of its brand new album (some rumours say it's going to be a double cd) whose issue is expected to be on the forthcoming spring: Dim Flares is just the first of 3 loss leader EPs including some enchanting tracks Glitterbug has piled after the release of the above-mentioned album. This wedge opens with the dreamy flow of So Much More, a 9-minutes long track whose swelling pads, atmospheric sounds, thrilling claps and organic fills will set your mind on a bizarre melancholic euphoric state and let flow your hands on air while bubbling your thoughts, followed by the shading outlines of Deadpan, an intensively emotional dark-ambient miniature featuring some crammed LFOs. The B-side opens with the mesmerizing clappy deep-techno shapes of Daubed Beams, whose vintage style could remind some techno-ambient movements spread in the second part of the Nineties by legendary labels such as R&S or Warp Records as a logical derivation of freezing acids sprayed by 808 State and similar sound-marks, and closes with the "oecumenical" Be Content, whose mitigated arpeggios, shadowy bass lines and soft percussive sets will let you think about a never-ending eyed-off dance . Delicious!
Artist:
Fernando Daxta
Title:
Drunvalo's Drums
Format:
12"
Label:
Sirius Pandi
(@)
Distributor:
Straight Distribution
Rated:
Another brick in the wall of releases briskly raised by Fernando Daxta, one of the freshest and soaky face of the new electronic techno scene, for its own label Sirius Pandi. Even if clearly influenced by the German tech-house scene as well as by some minimalistic branches of the English breakbeat one, he gained a certain respect not only for the support of renowned djs and producer such as Josh Wink and Alexi Delano, but also for its capability in inserting some slices of its personal historical roots in each trach (born in Spain, he lived for a lot of years in South America before moving to Belgium), he's decided to print a track, Drunvalo's Drums, he'd already tested on the occasion of some live sets - Finca in Stuttgart (Germany), Electrosonic Festival in Burgos (Spain)or Spartacus in Aix-en-provence (France) – which gained an enthusiastic reaction by hotheaded audiences -. There are two versions of the mentioned track: the first one, The Age of Consciousness mix, looks like a mantra with entrancing "mute" tribal drums texturing an hypnotic web on paddy synths and bumpy plastic bass hits which has been "eroticized" by possessed vocal wailings by the Colombian singer Natalia Davila during a session in Mexico City, the latter is a treatment proposed by Mr.Statik with rave-y and liquid fills on the percussive parts combined with some crescendo and cuts frequently used by skilled djs dealing with minimal electronic techno stompers in order to add exquisite fripperies to a track. Even if more anchored to classical minimalistic hooks (a tremolo on a synth-pad and a perfect shaping on bass sounds together with malicious bubbly vocal samples), you'll also enjoy (and dance) Quien Anda Ahi on B2, a track which seems to be a transmission grabbed from eleventh dimension!
Artist:
MISK
Title:
Nintendont E.P.
Format:
Download Only (MP3 only)
Label:
Vermin Street
(@)
Rated:
With eight years of experience producing bass music, from D'n'B to dubstep and now glitch hop and with releases out on Terminal Dusk, Savory Audio, Code of Arms and Rogue Dubs, Misk stressed his Nintendo Gameboy to get some of its characteristic sounds and built around those two great dub'n'bass tunes. "Nintendont" and "Radio theatre" are two mid tempos with fat bass lines, catchy bleepy melodies and dubstep rhythms that will make you ask for more! On the E.P. there are also two remixes of the main track by NastyNasty and Petr Passive. They kept the whole sound ambience by tweaking a bit the melody but giving to the track a new life. Petr Passive made of it an upbeat syncopated tune ready for the dancefloor. Shake that booty!