image not
available
anymore
Artist:
Eggbox
Title:
Closed EP
Format:
Download Only (MP3 only)
Label:
Al Dente Records
Rated:
This is a new EP from Italian minimal tech outfit Eggbox, released on the Al Dente netlabel. There are only 4 tracks on "Closed", but each track is around 5 minutes, which rounds it out to about 20 minutes, which I think is ideal time for the ADD world of internet music listening.

The sounds represented throughout these 4 tracks are all in the minimal techno side of things, with some glitch and ambient elements thrown in as well. Most of the tracks start with a small thudding almost 8 bit sounding bass drum in a 4/4 pattern, and slowly build up to add more depth with other drums and instrumentation, such as chilled out pads or reverberated found sound type things. However, the emphasis is placed clearly on the beat, which is fine by me.

This is nice stuff if you like minimal, somewhat ambient and chilled out techno. You can listen to it for free on the label's site, so you aren't losing anything but a few minutes of your life if you don't dig it.


Artist:
Weetalife
Title:
Wave Ta Bixe
Format:
Download Only (MP3 only)
Label:
20 kbps recordings
Rated:


"Wave Ta Bixe" is a new album from Paris based project Weetalife, released on the 20kpbs netlabel. The release starts off as a high energy acid tech/house effort for the first two tracks, until the happy dance train is derailed by a minute long noisy, distorted, almost power electronics-esque track of vocals and beats that have been sped up to oblivion. It's actually not that bad at all, but it is rather jarring and unexpected on the first listen, which I guess is likely the point. I can dig it, but I can see how many folks who dig acid tech might not be as open to the burst of noise.

And while things do get less noisy, the album never returns to the more dance-able side of things, instead opting for an interesting, somewhat glitchy experimental route, which I also find enjoyable. If you think you can stomach the various different musical terrain explored here, I recommend you do so, because it's certainly worth the listen.


image not
available
anymore
Artist:
Abstract Avenue
Title:
Sky & Telescope
Format:
Download Only (MP3 only)
Label:
Peace Technologies / Lagunamuch Records
(@)
Distributor:
Juno Download
Rated:
ABSTRACT AVENUE is the name of a solo project by the Russian IDM/Electronica-specialist Arthur Berent, who is part of the project FLEXKIKS, which is also signed to Lagunamuch Records. This free downloadable album offers 6 tracks full of romantic and spacey layers and pads, accomplished with some complex IDM-like rhythm and percussion works. It's a rather sedating sound outfit, which avoids to sound too ominous – let's say, that the fine worked out synth layers are rather smooth and melodic and let the listener sink into a deep space environment. The IDM-related rhythm work is well balanced to this mix and offers a rather supporting feeling to the music. Highlights of this album can be named with "Dort" and its hypnotizing sequencing work and the dreamy "Champs Elesees", which impresses with its nebulous synth drops and textures. Also "Reclads" can be mentioned as being a bit straighter and linear oriented. "Sky & Telescope" comes out quite cinematic and leaves any hectic out. It's sort of an ideal soundtrack to switch of the light, to use a telescope and to watch the stars wandering through the night. A high recommendation for all those enjoying an exciting music trip to sink in completely, the best consumed under a good pair of headphones.
image not
available
anymore
Artist:
The Dielectric
(@)
Title:
Flicker of an Eye EP
Format:
Download Only (MP3 only)
Label:
Urbcom
(@)
Distributor:
iTunes
Rated:
After making a break of the coarse and musically direction of the Urbcom label to the end of the last year, this British label now focuses to present a more experimental and rather IDM-minded sound outfit. This straight decision towards this new and more experimental oriented sound has ended in a cleansing of the last known label roster, and acts like the recently discovered PROJECT BLUE or D. Escott's project INTERCITY3 are no longer related to Urbcom. THE DIELECTRIC stands representative for this new direction and offers with this EP a sort of a first appetizer to some more upcoming releases, a trilogy series entitled "Rapid Eye Assemblage Vol. 2". It is the project of the JERICO ONE brainchild J. Hookens, who's also the main responsible man for all further business relations of the Urbcom label. Musically THE DIELECTRIC doesn't break with Hookens' previously discovered path, his signature remains alive. This EP offers 5 rather abstract-minded Electro/Industrial tunes, which all offer a quite hypnotic feeling thanks to a relative static compositional effort. Varied in its rhythm programmings somewhere between 2-Step, Trip-Hop and IDM, the tracks are filled with dozens of FX manipulations and do not at all intend to satisfy a usual listening experience. "Dimensions" can be named as the main track featuring a clear vocal performance and a rather calm sound outfit. The other tracks are turning more or less near to an IDM-related outfit, "Re:location" for instance features the Japanese Cyberpunk-artist KENJI SIRATORI with a spoken-word guest performance. A quite interesting release by J. Hookens, but at least a bit too short with only 18+ minutes playing time. It's clear to recognize that the sound dimension of THE DIELECTRIC should be able to offer more stuff. Where's an album?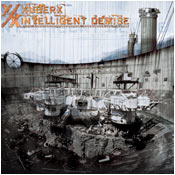 Artist:
XUBERX
(@)
Title:
Intelligent Demise
Format:
CD
Label:
Radio-Active-Music
(@)
Distributor:
DSBP
Rated:
This is a new release brought to us by the North-Eastern-based Radio-Active-Music label. The Virginia-based trio of XUBERX we had already with a first EP release entitled "Rogue State", so they present herewith their first full-length album. Musically I must say that there are light-years between the quality of the EP compared with this album, which can be mainly explained with the grown experience the handle some equipment and the better production of this album. XUBERX are presenting a mostly danceable Electro/Industrial-minded sound outfit, which gets supported by some sleazy guitar riffs. Produced and mastered by Dan Clark of STROMKERN, it's that of a typical American sounding effort pretty much inspired by the classic Coldwave attitude, while the Electronica-elements are sounding up-to-date. It is generally not the reinvention of a bulb and it rather swims with the average mass, but still a satisfying music construction. Therefore more remarkable in the music of XUBERX is surely the quite different kind of work of the both vocalists, Zomboy and the female member Liebchen. While Zomboy acts like the angry Industrial-shouter which reminds a lot on S. Talada of the veterans STG (a classic and still masterpiece for the Coldwave era, although IDIOT STARE acts as a valuable follow-up project...), Liebchen offers a melodic and classic trained timbre. Since this both kinds are totally contrary to each other, you'd be surprised how well these both voices fit together, if you give it some spins. "The World Ends Today" in its both versions is a great reference and represents the best elements out of both music and vocal performance. Other can be named with the speedy and angry pounding title track or the ominous starting track "Solution". XUBERX offer us a quite convincing first album with a marvelous vocal performance. Applause for the fine ruins-like artwork manipulation, which perfectly suggests the genre in which this act can be sorted in. Latest news report of a coming remix companion release out in spring 2009.