image not
available
anymore
Artist:
ANIMA VIRUS
Title:
End Of The Eden
Format:
CD
Label:
Decadance Records
(@)
Rated:
Born in 1996 from the fervid mind of Aurelio Gioia after the disband of The Vacuum, Anima Virus is his personal musical project/vision. Starting from his love for goth music, Alessio succeeded into giving a new sound to a genre that sometimes is too focused on the visual aspect. Mixing the early classic Christian Death atmospheres with electro sounds and sometimes with upbeat tempos and danceable atmospheres, he made a really good album titled END OF THE EDEN. The album contains fourteen songs composed and played by Aurelio (some songs have some guest musicians but I can't say who they are) and since from the bass distortions of the opening "Days of ice" you realize that something good is gonna happen... finally you're going to enjoy a revived version of the atmospheres that made the fortunes of Sisters Of Mercy, March Violets, the aforementioned Christian Death, etc. Actually END OF THE EDEN sounds like someone found a Christian Death lost album of the "Catastrophe ballet" era and decided to update the sound. We have always the classic mysterious guitar sound with long sustained notes but we also have semi industrial ambients sounds, electro sounds, sequenced bass sounds along with real bass guitar sounds and so on. You know that cool sounds aren't enough for having a good record and in this case we have also catchy melodies, good vocals and also a semi acoustic version of Echo & The Bunnymen song "The killing moon" where Aurelio mixed the dreamy atmospheres of the original tune with darker ones and he also changed a little the refrain and added razor like guitar sounds. Check it!
Artist:
CRUISE [CTRL]
(@)
Title:
We've Met Before, Haven't We?
Format:
CD EP
Label:
self-released
Rated:
WE'VE MET BEFORE, HAVEN'T WE? is a self produced CDr which functions as an appetizer of the forthcoming Cruise [Ctrl] second CD on Divine Comedy Records titled "How's Annie?". The three tracks continue their tradition of 120bpm tracks where analog electronics coupled to treated guitars create obsessive atmospheres. The opening "Henry's head" sounds a bit static but its aim isn't the one to create a melodic tune, it rather to be focused on alternation of tension. The second track "The bunny room" leave the drum machine and the distortion to offer a soft guitar sound coupled to a sidereal sound that crawls slowly between the sounds created by the picked strings. "Where is alice? Alice who?" is a mid tempo track that sounds like a industrial e.b.m. 80's track where drum machine and sequencer play the main part while industrial distortions create the mood. Unfortunately I hadn't the chance to check their first official album so I can't confront that one with this but as far as I can hear, Cruise [Ctrl] kept their ability to create tension also keeping the sound under control.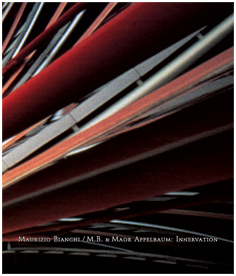 Artist:
Maor Applebaum /Maurizio Bianchi
(@)
Title:
innervation
Format:
CD
Label:
Afe
(@)
Rated:
What we got here is a couple of well-known names and sure if MB is a sort of living monument for what regards industrial music, ambient and related, Maor Applebaum in my book is one of those musicians you can always expect to produce nothing but great music. Am I really too enthusiastic? You still don't believe my words? I'm sorry I've discovered it too late but if you've never heard Applebaum's collaboration with Hallowing that came out on Tophet Prophet I think you should really give it a try, the title is "collaborating torture" and both the music plus the history of the whole collaboration can give evidence no title could have sounded better. By the way, going back to this cdr the first thing to be kept in mind is the fact this should be filed under the experimental discography of both artists which means no industrial sounds, no dark ambient feel and so on. The most of the sounds selection is based on high-mid frequencies but still not Pan Sonic/Tony Conrad alike, consider they've utilized a great variety of white noise and unexpressive frequencies. If you ask me, I'd guess the majority of dirty noises plus analog-sounding frequencies comes from Bianchi, while the most of the high pitched tones plus the whole sound definition comes from the hands of Applebaum, but maybe I'm completely wrong thus take it with a grain of salt. Ok groupies and fans reading, don't worry! If my ear is still decent some of the tracks show the background of both the artists involved in this collaborative effort thus while dueling on the experimental front this work betrays the fact they can do it hard as fuck. By some means it appears to be quite inexpressive but with crescendos and spiral downwards enriched with a clear-cut song construction (for example "afferent" and "CNS"). The title comes from the human body and specifically from the distribution of nerves, so on the cover you see tubes and mains of a factory/architectural structure, it reminds of the period close to Pascal when the whole human philosophy was pondering on the animal/human body perception put in parallel with the idea of a machine... time pass us by but the central questions/images are still the same: "part animal part machine"... .I know some of you still remember the quote.
image not
available
anymore
Artist:
Brian Lavelle
Title:
ustrina
Format:
CD
Label:
Afe
(@)
Rated:
I think many of you out there have already Brian Lavelle for this or that release, but in case you're absolutely new to his works you've to know between 1996 and today Lavelle has recorded for labels such as Bake, Diophantine, Freek, Staalplaat, Elsie and Jack etc. This drone based long track shows the incredible strength of proportions and the importance of balance, infact this sixty eighty minutes circa suite could be dead boring but ends being absorbing and fascinating instead. While being a little bit darker than many of the Lavelle's output I've heard so far, it has nothing to do with dark ambient, it's lulling and someway narcoleptic and summed up with a couple of other characteristics it brings to my mind DJ Olive's "sleep" work on Room40, I'm tented to say the two releases are similar and equally as catchy. From what I've read inside the press sheet this english artist has reshaped some old sounds that probably has been collecting dust inside some rough recording and inside a black corner of Lavelle's mind, but he managed to give it all such a good new definition I'd say this blast from the past has been damn successful. I can exactly say which were the exact sound sources/instruments for this recording, waves and the layers would suggest some keyboard/old synth sources twisted and renewed for good but with today's technology it's really hard for me to be one hundred percent sure. The pictures and the whole layout are great and I think from the front cover to the last page they give the impression of this environment Lavelle wanted to re-create. So the question is if we have to cross or not the bridge we see on the front cover?... by the way from the dead leaves it's easy to imagine an autumnal landscape if you add the melancholic atmosphere of this work it's hard to deny that's not a joyful marriage.

http://www.brianlavelle.org/images/ustrina.jpg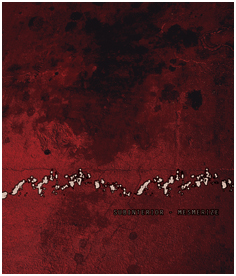 Artist:
Subinterior
(@)
Title:
mesmerize
Format:
CD
Label:
Afe
(@)
Rated:
Have you ever tasted this guy from Milan? No? If you're into dark ambient I highly recommend you to give him a try since as I've said a couple of weeks ago for Harvest Reed (aka Luasa Raelon), even if the world is so over-packed of dark ambient wishy-washy projects there's still a bunch of good artist able to put out interesting material. The comparison with Luasa Raelon is just functional for good taste sake, infact differently from Reed this guy (some of you may know for the fact he pays duty in Canaan and Konau) put together releases which are dark ambient to the bone but his atmospheres are less heavy and every here and there he's put some alienating melodies that made the whole sup easier to be digested. If compared to his previous work on Afe I find it more melodic and way more ethereal due to the fact you have less field recordings and more melodies coming in and out just to say bye. Ok, this' an interesting point of this album, infact Subinterior introduced more and more guitar samples (ambient style - drones) but first he didn't fall in the "droooooooooonnnees-caaaaan-bbeeee-sssooooo-looooong" category, second: he adopted fade in and out damn smartly he pulls the melodic carpet from under your feet so elegantly you hardly have the time to realize it. The five episodes in which this release can be divided can be easily listened as a continuum, infact this dropping in and out of sounds and short litanies during the whole length turns the work into a very discrete and catchy listening.