Artist:
DEV/NULL - ENCANTI
Title:
Idm/Core Series Issue 6
Format:
Download Only (MP3 only)
Label:
Vermin Street
Rated:
The sixth issue of Vermin Street's Idm/Core series of digital download singles opens with Dev/Null's "Amen5d". With collaborations and remixes with Duran Duran Duran, Xanopticon and
Mochipet and releases on Cock Rock Disco, Tigerbeat6, Violent Turd, Death
$ucker, Peace Off, and even a drum solo on Mike Patton's Ipecac label, Breakcore
pioneer Dev/Null has been around from a while. His track starts with a dark slow horror atmosphere just to go crazy little by little adding breakcore rhythms to the synth pads that outline the melody. Encanti is on the virtual side B with "Mob Boss Killa". The track is the original version of the one featured on the Zebbler Encanti Experience "Mob Boss Killa (Truth Step Core Mix)" video which won an award in Motion Graphics Fest '09. The track starts with a funky fat synth bass duetting with glitch sounds and little by little it turns into a breathtaking breakdown tune with catchy melodies and punching rhythms. Cool...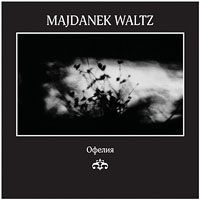 Artist:
MAJDANEK WALTZ
Title:
Ophelia
Format:
MCD (Mini CD)
Label:
kultFRONT
(@)
Rated:
With lyrics based on the poems of German early XX century expressionist poets Paul Zech and Georg Heym, OPHELIA is the second chapter of the trilogy composed by "Ashes" (released on 09.09.09. by NADELN Prod.), OPHELIA (released on October 9th 2009 by joint efforts of the Moscow label Wroth Emitter and St. Petersburg label kultFRONT) and "The Harvest" (released November 9th 2009 by kultFRONT). Musically the MCD spans from the acoustic folk spoken word of "The houses have opened their eyes" and "By the floating ships..." to the bleak dark ambient of the closing "Death of the lovers II" (where low frequencies drones clashes into violins tormented melodies) passing through a mix of both in "Death of the lovers I" and "Ophelia" where an infernal strings orchestra duet with spoken word parts, piano and acoustic guitar. In balance from folk and industrial OPHELIA is a challenging release that shows Majdanek Waltz at their best!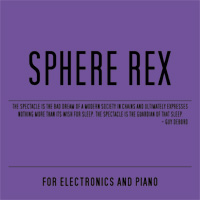 Artist:
SPHERE REX
Title:
For Electronics And Piano
Format:
CD
Label:
Muzyka Voln
(@)
Sphere Rex is the solo project of one of the Cyclotimia guys and FOR ELECTRONICS AND PIANO is his first album. Released with in cooperation with the Moscow label Monopoly Records and the Voronezh label Shadowplay Records, FOR ELECTRONICS AND PIANO contains five tracks that I could file under ambient minimalism, even if this definition would be reductive. The fact is that Sphere Rex approached the recordings with a straight conceptual idea in its mind. Focusing the sound on piano and analogue devices (with the purpose of keeping the original sound idea, tube preamps and compressors from the 60s and 70s have been used) the tracks have been recorded combining minimal ambient electronic sounds (following the path that Brian Eno explored) and piano improvisations based on the proto-ambient ideas of Erik Satie. The final result is quiet and destabilizing at the same time, because while little melodic piano parts "fluctuate" here and there, waves of electronic bleeps create a little more experimental ambience.
Artist:
Flint Glass
Title:
Nyarlathotep
Format:
2 x CD (double CD)
Label:
Funkwelten
Distributor:
Nova Media GmbH
Rated:
This is not dead which can eternal lie and with strange aeons even death may die." This epigraph fits just perfectly here.

You guessed it right. Flint Glass draws its inspiration from the books by a master of horror literature, who lived a very secluded life and few are the people who knew him in person, H.P, Lovecraft. Unlike Bal-Sagoth, who among many others also found the writer inspiring, Flint Glass composes no metal music but dark ambient. Gwenn Trémorin, the only man responsible for this project is no newcomer. His first album "Hierakonpolis" was released in 2003 and re-released in the following year.
What we have here is a re-release of the sold out 2006 "Nyarlathotep" album which comes with a bonus EP to it. Hence two CDs altogether. The new seven tracks mesmerize no less than the original 15 plus four remixes to them (by Ah Cama Sotz, Disharmony, Xabec and TMO&Empusae), which are also featured on the first CD. Cold Meat Industry is a label that has released quite a number of similar projects in the past if you need some comparison. Mlada Fronta is another name that comes to your mind while enjoying Flint Glass. The new tracks are also free of vocals just in the vein of the project and I believe any vocals would be redundant here, even spoken samples. The music involves various elements changing from warmer to colder pieces. Rather rhythmical and sometimes industrial-like elements give place to ethnical themes like in "Hypnos". But also very slow and utterly disturbing pieces are no rarity on the bonus CD.
This album is not a good choice if you are planning a romantic night with your partner. But it is a great accompaniment for reading any horror book in solitude with only dim light lit. Creepiness and spookiness are guaranteed. Fans of such atmospheres and experiences should not let this album slip between their fingers or putting it Lovecraft-like; between their tentacles.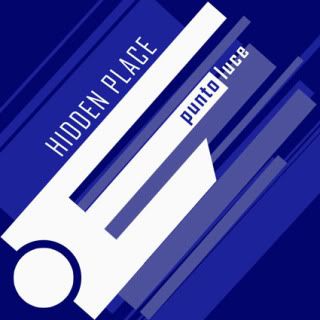 Artist:
HIDDEN PLACE
Title:
Punto Luce
Format:
CD
Label:
Twilight Records
(@)
Rated:
After the release of their debut album "Fantasia meccanica", Hidden Place didn't wait too long before starting working on its follow up. They signed a deal with Argentinian label Twilight Records and recently released PUNTO LUCE (translated it could sound like "Spotlight"). The new album dismiss every not electronic sound (you won't find any bass or guitar) and it brings to you nine new songs plus a remix of "United" re-worked by the Argentinian duo NeKrodamus (they have two releases out always on Twilight Records). The play-list is balanced between instrumental and vocal tunes (Sara sings four songs out of nine and the opening "Teknicolor" and "Acrobazie elettriche" have few male vocal lines filtered through a vocoder) and what amazed me is the ability of the band of delivering songs with rich melodic textures and interesting sound patterns. Mixing new wave and electro, Hidden Place with PUNTO LUCE will please the audience thanks to their oneiric atmosphere mid tempo songs influenced by 80s electronic music. Also NeKrodamus' electro e.b.m. version of "United" convinced me and it closes in the right way an album that confirms Hidden Place as a band that deserve a wider exposure.