Artist:
Everything Goes Cold
(@)
Title:
Vs. General Failure
Format:
CD
Label:
Bit Riot Records
(@)
Rated:
Well, this is something else...surely not what I expected, caught me completely by surprise, and I wouldn't want to give everything away by spoiling all the surprises on this album, but surely the truth must be told. Although Everything Goes Cold is led by former Psyclon Nine member Eric Gottesman, the people involved in this album are a veritable potpourri of industrial music luminaries, from the players now in the basic band (Kenny Pardo ' drums; James Webb ' guitar), to former member Conan Neutron (keyboard), and additional players (James Perry ' guitar; Daniel Myer ' vocals; Steev Dinkins ' guitar & programming). I shouldn't even have to mention where most of those guys are from; if you have a decent working knowledge of industrial music, you should probably already know. The music on Everything Goes Cold Vs. General Failure is no less of a potpourri, but the kind that sneaks up on you from behind like a thug in a bad neighborhood at night, smacks you upside the head with blunt object, kicks your punk ass to the curb, all the while spewing hilarious anecdotes about how fucked up the world is. He didn't want to roll you for your dough, he just wanted you to listen.

Okay, maybe that's a far-fetched analogy, but by the time EGC is finished with you, you WILL feel like you've been bruised, battered and wised-up a little. The first encounter, 'Defrosted,' lays down some drama piano chords over a hip-hop beat and a cold wind a blowin' with a loop of the appliance delivery guy's chorus from Dire Straits's 'Money For Nothin'. It doesn't exactly prepare you for the chaotic industrial metal of 'Abort' but when the vocals come in, it's like Devo on steroids, and then some'¦.a whole lot more pissed off and aggro than those spud boys ever could have been. It's manic, frenetic, raucous and chaotic. Blast-beats everywhere, machine-gun guitar, and balls to the wall. I should mention (for those who care) that EGC lists the BPM of every track on the CD, which ranges from 72 to 190 ('Abort' was 190.) 'Don't Quit Your Day Job' is the anthem of everyman who works a shitty job. Daniel Myer of Haujobb is credited with vocals on this one, but I couldn't determine exactly where. Anyway, it's a strong and solid track that has crossover potential into the alt market.

When I first saw the title of the next track, 'I Sold Your Organs on the Black Market for the Purchase of a Used Minivan,' I laughed my ass off before I even heard it. Gotta love an industrial band with a sense of humor like this. The song is almost as funny as the title in a warped sort of way. In an indictment of the relatively small value of human life vs. money in society dumbed down for Joe Sixpack. Eric Gottesman rants and raves over a background of guitar-enhanced electro-industrial chaos-mosphere. Imagine Nine Inch Nails on an STP/meth cocktail. There is a LOT of shit happening here'¦and then'¦out of nowhere, a Tex Avery cartoon with little singing and dancing owls transitions into 'The Droids You're Looking For'. I'm not even going to cite the Family Guy sample that makes up the bulk of this track (with appropriate electro-industrial backing), you're probably familiar with it anyway. Well, somebody had to do it I guess.

'Bitch Stole My Time Machine' has a nifty ostinato string section intro before the guitar charges in and sets the pace. This is a very cool, if a little sample-happy (well, the whole album is a little sample happy, to an extent) tune about how too much tech really might not be such a good idea. You get the appropriate samples on 'Unleash the Kraken,' but at least it isn't overdone. Usually, I'm down on, rather than down with dialogue samples in industrial music, just because they're so overused, but somehow they work on this album and enhance rather than detract. Just the way it works out, so don't get worked up about me contradicting myself.

Gottesman's harbinger of post-apocalyptic doom voice usually operates in rage and enraged mode as well it probably should, but sometimes takes on a different, more processed tack for effect's sake. The music isn't all guitar-heavy either. There are plenty of synth electronics to glue this juggernaut of dystopian diatribe together. Just before the finale, you get a brief respite from the onslaught on 'Refrozen'. 'Fail' subtley reprises and incorporates the short 3 note piano riff from the prior track which sums up all the cynicism and disgust from the past 40+ minutes. What have we become? How did we get this way? What are you going to do about it? What CAN we do about it? This is the REAL rage against the machine, not some watered-down rap-rock commercialized pile of crap. Buy it. You won't be sorry.

Artist:
Gary DiBenedetto
(@)
Title:
Twin Towers
Format:
CD
Label:
Electroshock Records
(@)
Distributor:
Electronic Music Foudation/CDeMusic
Rated:
Gary DiBenedetto is an electro-acoustic composer and kinetic sculptor from New Jersey, who specializes in interactive installations. He has an impressive international resume going all the way back to the early 1970s, and Twin Towers is his latest audio work. While most Electroshock Records artist are European (with a high concentration of Russian) artists, Gary is not, but his music is no less avant garde. As you might expect from an electro-acoustic installation artist, the music is abstract, resembling more a sound-sculpture than any traditional musical format. I have read the intellectual explanations of the pieces on 'Twin Towers' on Gary's website (and also on the CD liner notes), but I won't be rehashing them to any great degree in this review. The nine pieces on this CD are intended to represent different things, and only the final title track refers to the 9/11 tragedy.

The opener (no pun intended) 'Knock and the Door Shall Be Opened,' is based on the sound of the men's room door at the State Library Complex in Berlin. It doesn't get any more obscure than that I suppose. There are some electronics, and mechanical sounds that must be the men's room door. An interesting sound-sculpture for sure. At one point, it sounds like somebody's having a little trouble negotiating said door. 'Walden Pond' is both liquidy and creaky with random sample and hold electronics, buzzes and burbles. 'A Question of Principle' (in 3 Movements) begins with some bellish tones and seemingly randomly played synthetic strings and other sporadic percussion for the First Movement. Not my cup of tea at all. It's those artificial synth strings that really leave me cold. Perhaps if more realistic strings were employed it might have come off better, but it just sounds cheesy. Second Movement dispenses with the obnoxious string ensemble and concentrates more on a clatter of electro-acoustic effects. Not bad, pretty interesting. The Third Movement brings back the obnoxious string ensemble again, much to my chagrin. The other elements of this track are engaging enough, but I can't get past those ersatz strings. This piece is supposed to have some political-religious implications regarding Nicaragua and El Salvador, but it is a stretch to glean that from just listening without reading the text of the artist's vision.

'Oh You're So Adollorable' employs some squinky electronic sounds and rumbles with an occasional repetitive vocal sample stating the obvious ('one dollah') in the background. The temporarily electronics morph into a surreal Star Spangled Banner melody. There is another repeated vocal sample by what sounds like a chorus of Third World children upping the ante to 'three dollah'. The piece sort of reminds me of Joe Byrd's (Field Hippies) music, perhaps an obscure reference that only 'old heads' are likely to get.

'Petroleum Complex' is a brief but interesting piece with perhaps the most currently relevant title, but it doesn't sound very oily to me. Its juxtaposition of high, bright tonality with random percussion elements and low ominous tones seems perfectly in balance. This is classic avant-garde electronic composition. 'Self Portrait ' employs a number of squiggly-wiggly sounds, and further into the piece, processed voice. I am thinking now, that from a strictly audial standpoint, the theme of this CD could just as well be about a colony of alien insects as its intended subject matter. The final track, 'Twin Towers' (the longest track at 10:46) begins with the solo recitation of poems by Meena Alexander that lasts for the first 3:40 of the piece. After that DiBenedetto simulates the flights and explosions of the planes crashing into the World Trade center. What follows is a surreal aftermath, occasionally punctuated by manipulated kettledrum samples (played by high school students). The piece is supposed to condense the 101 minute tragedy into 1/20th of its time frame. It makes me thankful that Gary didn't do it in real time.

As a whole, 'Twin Towers' is an interesting, if somewhat perplexing listen. There are parts that I liked a lot, and some things I didn't care for at all. So it goes with the avant-garde. If you love abstract electronics, especially on an intellectual level, you will probably enjoy this, and even if you don't like all of it, there are elements that make it worthwhile.


image not
available
anymore
Artist:
DEASTRO
Title:
Mind Altar
Format:
Download Only (MP3 + Lossless)
Label:
Ghostly International
Rated:
Previously released on cassette through Deastro's blog the eight tracks of MIND ALTAR and the three (that you always find into this release) of "Orange Swimmer Red Summer" have been remastered and gathered into a release available as digital download and print and download (a new format for Ghostly International, the PDL is a 10" x 10" open-edition print, which comes with a digital download of the album. All prints are made using archival quality ink on cotton rag paper and come with an artist-signed certificate of authenticity). The eleven tracks E.P. opens with "Mind altar", a song that gathers melodies that recall me John Foxx of "The golden section" (along with "Mowgli the lynx") the period but packed into a multi layered structure of reverbs and distortion that could recall My Bloody Valentine. Still in his twenties Randolph Chabot isn't afraid to experiment new ways of writing "pop" songs playing with sounds and structures. We pass from the psychedelic wave of distortions of "Genesis weapon" to the "organ/bass and hard beats" assault of the following "Pastor kid redux edition", the chaotic reverbs of "The concept of land ownership" and the distorted pop wave of "Divali" (anyone remember Ultravivid Scene?) and "Get frostied". Pop, experimentation (check the melodic but also chaotic "World of shadow") and new wave influences are the core of this release and if you were a fan of 4AD in the late 80s, I suggest you to check this out.
image not
available
anymore
Artist:
SIURISMO
Title:
The Plasterer Of Love
Format:
12"
Label:
Monkeytown Records
Rated:
It takes a little while to enjoy in full Siurismo's electro music but it's not because their cut ups sound strange or else, it's only because you aren't used to them and this isn't a bad thing because it's a sign of creativity. Their new E.P. THE PLASTERER OF LOVE comes after one year from their debut E.P. and it marks the comeback of Modeselektor's Monkeytown Records (new releases will follow soon, since they and Moderat left BPitch Control). After the success of the first record, Siurismo did a bunch of remixes for Yelle, Simian Mobile Disco, Digitalism, Sido, Munk, Adam Freeland and Scissor Sisters which helped their fan base grow. The five tracks of the new E.P. have upbeat tempos, syncopated rhythms, sampled vocals played like synths, fat bass lines and tons of irony and for sure will replicate the success of the first one. This will lasts until the release of their first full length planned for Spring 2011.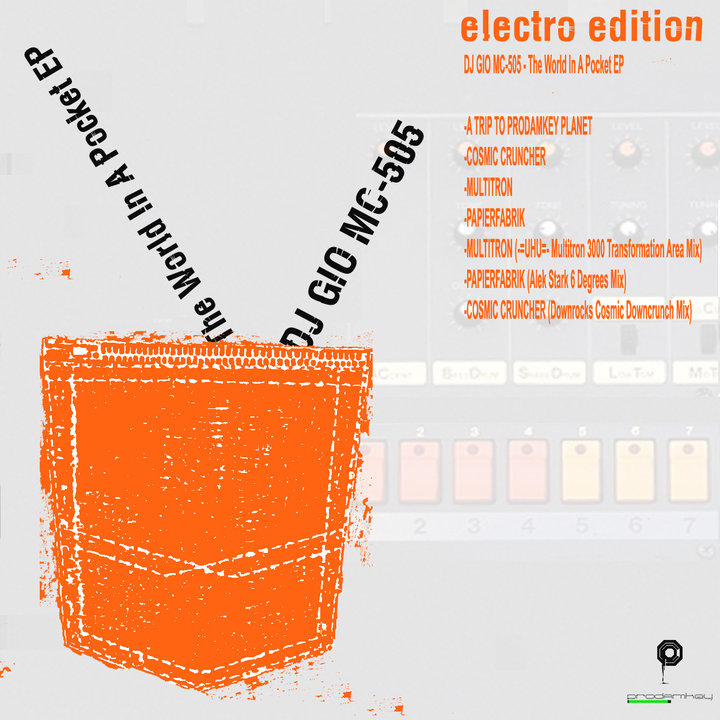 Artist:
DJ GIO MC-505
Title:
The World In A Pocket E.P. + Acid Edition
Format:
Download Only (MP3 + Lossless)
Label:
Prodamkey
Rated:
THE WORLD IN A POCKET E. P . is the latest release of Giosue' Impellizzeri, Italian electronic music enthusiast well known also for his work as musical journalist with different internet magazines (Technodisco, to name one) and with the new Italian edition of the famous Dj Magazine. The last time I had the chance to check his music was with the release of a double compilation on Das Drehmoment where he participated with "Intellivision", a great electro classic with Detroit influences. Ideally THE WORLD IN A POCKET is linked to that tune as it opens with an instrumental titled "A trip to Prodamkey planet" just to explode with "Cosmic cruncher", another electro upbeat track that mix electro and detroit techno. "Multitron", instead, is pure electro with bouncing fat bass lines and spatial themes (all the E.P. is focused on "the future is now" concept). "Papierfabrik" is the last original tune before the remixes bonanza and it sounds syncopated, upbeat and a bit cinematic. The release contains remixes of "Multitron" (UHU after the first release on Gigolo has released few digital E.P. and released his full length on Transient Force always on digital file format. He gave to the track a bit of experimental spatial touch), "Papierfabrik" (Alex Stark opted for upfront hard beats and kinda minimal electro bass / lead synth lines) and "Cosmic cruncher" (Downrocks made it sound like a retro electro tune a la Egyptian Lover, with gated bass drum with syncopated rhythms for the first half but on the end a TB-303 appears giving its acid typical sound). There's also a second release linked to the E.P. and has been released by the other Max Durante's label Angel Dust. On the ACID EDITION of THE WORLD IN A POCKET you'll find three remixes: Snuff Crew remixed "Multitron" focusing on drum layers alternance with few vocoder inserts, Gesloten Cirkel picked up "Cosmic cruncher" turning it into a sixteen minutes extravaganza with few minimal synths, 4/4 beats and TB-303 acid bouncing sounds while the closing Metacid version of "Papierfabrik" sounds obsessive with TB-303 resonance going mad. The remixes are nice but I really enjoyed the original tunes and if you are short of money, be sure to download those ones at least...