image not
available
anymore
Artist:
INFORMER
Title:
Black Propaganda
Format:
CD
Label:
Pale Music
Rated:
Originally formed in Los Angeles in 2007, Informer are a trio consisting of longtime friends Johanna Sadonis (vocals and also a member of Berlin's Potok), Rayshele Teige ( vocals and bass) and Ashburn Miller (programming and guitars). When Johanna moved back to Berlin in 2008 they didn't split and decided to work at distance to this album due to the popular demand by DJs and Clubs in Los Angeles and Berlin. BLACK PROPAGANDA has eleven tracks that sound like a blend of post punk ("Crimes" recall me melodically early Siouxsie & The Banshees and "Not a game" a bit Blondie), electro and 80s dark wave. The band mix energetic guitar riffs, synth sweeps, electro minimalism (like on "Murder", which sounds good for the reformed Soft Cell) and spy atmospheres. Songs like "Mods boys", "Electric" and "Wires" are instant alternative dance floor killers but the whole album reserve more than a surprise thanks to a well balanced tracklisting. Offer your neck to Informer's black gloves...
Formed by Bryan Kelleghan and Darren Bonilla, PartyMode are a new signing of Basserk Records. Coming from the San Francisco Bay Area, the duo released the last month their debut digital E.P. titled A LA MODE. Containing four original tracks and two remixes the E.P. presents to lovers of dub and grime a new band who's willing to make the dancefloors burn. Tracks like "Coma" or "Chillidipping" are bouncing grime/dubstep instrumentals that sounds energetic and menacing at the same time. "Heem n' cream" has a bit of acid techno flavor and "Foreign affair" is the reggaest of the lot with classic vocals, slow rhythms but with distorted grime bass lines. Chokr's remix of "Coma" and "Heem N' Cream (Nite Theories remix)" are a bit more based on techno sounds and give to the original tunes a nice different twist.
image not
available
anymore
Artist:
SOLVENT
Title:
Subject To Shift
Format:
CD
Label:
Ghostly International
Rated:
Six years after his latest studio album "Apples and synthesizers", Jason Amm is back with a new one titled SUBJECT TO SHIFT. Released always on Ghostly, it is available on digital format, CD and double LP (on this you won't find the short opening "Elevator up" and "Unknown caller" plus "Don't forget to phone" have been replaced by "Echo on your voice", and "Red and metal"). This new album finds Solvent in a perfect shape and ready to please lovers of analog synth sounds. The tracklist of CD edition (the one I'm reviewing) is well balanced and it has eleven songs: we pass from the upbeat dance rhythms of "Formulate" (check its acid TR-303 sounds) and "No one should be living here" (it has distorted drum beats, dark atmospheres and cool fragmented vocal samples) to suspended in time instrumentals "Elevator up", "A product of the process", "Unknown caller", "Life size image" and "Panoramic" passing through menacing mid tempos ("Take me home" has slowed down vocals which create a great atmosphere with the windy grinding synth sound and the minimal drum machine beats) and great upbeat synthpop songs (some of them with clean vocals) like "Caught a glimpse", the great dreamy pop of the single "Loss for words" and "Don't forget to phone". I think that SUBJECT TO SHIFT is the best Solvent album to date as it has many different atmospheres and is able to switch from synthpop upbeat songs to mid tempo instrumentals carrying the listeners through a pleasant trip, making them wanting to take another ride.
image not
available
anymore
Artist:
Life In Sodom
(@)
Title:
Alone
Format:
CD
Label:
Nutrix Recordings
(@)
Distributor:
CD Baby
Rated:
This Dark-Wave band returns with a full-length CD full of competently performed songs expressing the themes you would expect from the genre. For the black t-shirt crowd who watch a lot of teen- and twenty-something vampire series TV and movies. It's all done well but I feel that all the aggression and danger has been smoothed out by an over-produced treatment. It's just all a bit too polite.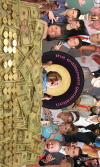 Artist:
nonnon
Title:
The Entitlement Generation
Format:
Tape
Label:
Automation Records
(@)
Rated:
Nonnon is Dave Madden of Salt Lake City. I usually don't like hip-hop based music but this I like for some reason. It's probably the kitchen-sink attitude Dave uses to bring about his highly experimental beat based songs. It is well in the realms of hip-hop rhythm-wise but hanging out on the edge so far that he's liable to fall off. The music is not dangerous, in an aggressive way, but it there is aggression here. Subtle but still present. Demanding that you listen, not knowing what's coming next. Definitely worth a listen for that at least.