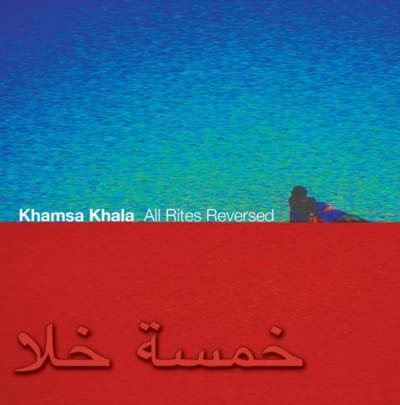 Artist:
Khamsa Khala
Title:
All Rites Reversed
Format:
CD + DVD
Label:
Lens records
(@)
Rated:
Khamsa Khala is Neville Harson (Mandible Chatter) and Don Poe (Deathpile) and their CD+DVD release "All Rites Reversed" is testimony of their love for the vibrant culture and musical tradition of Morocco. During their trips to Marrakech Square and the Sahara, they captured several field recordings of nomadic drummers, snake charmers, square chatter and other local ambiance and combined these with overdubs of traditional instrumentation as well as electronic manipulation. If you dig ethno-crossover stuff like Muslimgauze, Studio Pagol, Dandelion Wine or even lesser extreme Throbbing Gristle, this will be a good addition to your record collection. And let's not forget your DVD collection: "All Rites Reversed" (great triple meaning title by the way!) also offers 45 minutes of footage from trips to Morocco and Egypt which is really beautiful and nicely complemented by alternate versions of the songs.
image not
available
anymore
Artist:
TIZIANO MILANI / LUCA ROTA
(@)
Title:
THE CITY OF SIMULATION (14 audio-visual poems)
Format:
CD
Label:
setola di maiale
Rated:
This album is composed of 14 track by Tiziano Milani and 14 images/text by Luca Ruta. One concept is the foundation of this record: the description of the contemporary city. Simulation is a term to be intended in the Baudrillad sense: the invisible, and real, part of the city is what lies behind the flashy skyline that is the standard for all the (post)modern cities. As Rota says in the linear notes "the word must cheat the attempt of simulation and of expressive "normalization" that comes from it somehow, or it should still retain inside itself the ability of representing life". Their aim is to describe a path beneath all the elements of the way of life in this simulation, so, this is an ambitious work and not a mere collection of text and tunes.
The journey starts with "La città della simulazione" where drones, field recordings and vinyl crackles are paired with the lyrical description of a city where everything has become false and a picture of buildings at night. "Skyline" continues this journey with the same elements showing an enormous cure for sonic details while the words typesetted as a skyline deals with the concept of a (false) elevation. "Divieto di scarico immondizie" take his point with letter falling like bread crumbs and sparse sound of various nature. "Denaro" is based on carillon sounds, eroded by noise, paired with a powerful text about the relationship with money in the boroughs of the city. "In c-ostruzione" is a beat driven track ending with the sound of a spin-drier where the text deals with the work driven economical climbing. "incroci confluenze analogie" features words and sounds everyone knows. "Muro di periferia" is urban poetry nourished by field recordings and abandoned buildings. "Salutiamo con applausi e simpatia" is a bitter, tongue-in-cheek, reflection on politics. With "Nebbia" comes the same idea behind writing: cover the ugliness of urban landscape. "Passi" is, in the author's intentions, the closing track and there's some form of hope: city exists from, and built by, citizen ... this means it can be changed; the music underline this idea with the sense of movement generated by beats and voices.
There's a constant dialogue between music and words, in this way this work has a sense of unity that set the text not as "linear notes" or the images as "packaging", but, as a guide to comprehension. However, the track has no numbers (the mp3s are titled only and the track number tag is empty) so, implicitly, everyone can take his own path to this work. This is not an easy listening record, this is just like a city you have to explore using the time it needs.
This is a work of great design and depth, and one of my album of the year. Highly Recommended.
The new release by the Italian act Luna Dopa ' issued by Faradays' Discs CDR label, a subsidiary label of Industrial Culture Records -, a relatively recent project of the ambient scene based on the sound explorations, strictly related to the phenomena of trance self induction and psychic dissociation reached through repetitive music , by the Italian artist Gabriel Luis B, seems like reports of the artist's mind digging in the deeper shafts of psychic mines, whereas concrete forms turn into abstract illusions and each track looks like a sonorous document of dreamlike or surreal experiences, where man's identity fades together with the dense web of shadows evocated by entrancing loops. He defines its own music by adopting some notorious terminology, dear to Aleister Crowley or TOPY followers, as magick ambient, justifying such a definition with the medium-like role of music to reach unexplored depths of the human psyche. The way someone can functionalize music or just modulated frequencies strictly depends on the listener's sensitivity and culture as well, but what I could say about this release entitled Liquid Subway to Oblivion ' what a striking title! ' that it's an interesting example of drone sculpturing and involving ambient sound scapes. The first two tracks, the peaceful and obscure dark ambient Dimensional Cross ' a sort of prelude to the mental journey Gabriel's inviting the listener'¦ - and the hypnotic drone soldering of Moon Phase To Black, are maybe the most interesting ones, for the use of the voice, which is not used as a bearer of meanings, but it seems deriving by some experiments in order to give voice to the flux of consciousness.

Gabriel's voice modification appear somewhat even more interesting in the following track, Royal Ring, whereas the icy tone pitching and some bizarre resonance on stressed words let imagine it could arise out of blanket of ice and snow (or arguably a pall'¦), while the obscure sound setting could remind some eerie and atmospheric stuff by similar projects such as Origami Galaktica or Tear Ceremony or other acts combining isolationism and non-rhythmical menacing soundscapes. The entrancing crackling and the dark slides on the final (very loooooong'¦as it lasts more than 13 minutes) track, Subway To Oblivion, featuring some vocal excerpts by an unidentified source from oldie TV broadcast nearby the end and ending with a slight and entrancing fade-out on the main frequency and some syncopated and muted thuds (maybe some memories fallen down during the passage throughout the oblivion tunnels'¦), reminded to my musical memory some similar anthem by Maeror Tri or Troum'¦ By the way, the somewhat enigmatic Luna Dopa's proposal could stand as an amniotic experience to try as a new imaginary beverage based on laudanum!
image not
available
anymore
Artist:
The Blood of Heroes
Title:
s/t
Format:
CD
Label:
Ohm Resistance
(@)
Distributor:
Darla (US) / Cargo (UK/world)
Rated:
The Blood of Heroes is what gets spilled when masters of industrial, dub and dancehall get together and record music session after session, for a year. The heroes of this battle are guitarist Justin Broadrick from Godflesh and Jesu, bassist Bill Laswell from Material, Praxis, Painkiller, electronic artist Submerged and Enduser and vocalist Dr. Israel.
The name of the super group is inspired by Rutger Hauer's Bladerunner-sequel. I haven't seen the film but I imagine that if it is anything like Bladerunner, the post-apocalyptic scenarios are a perfect visual representation of what is going on here sonically. Apocalyptic, dark, sinister and menacing, The Blood of Heroes summons and blends industrial, dub, metal, drum'n'bass, dubstep, ambient and noise in a masterful and relentless way. The album also features live drumming by KJ Sawka (Pendulum) and Balazs Pandi (Merzbow, Venetian Snares) and additional sounds/guitars by M. Gregor Filip (an Ohm label founder).
If the sum of these people's talents and their other projects is not enough to convince you to visit the Ohm Resistance website and get yourself a copy of this CD, then go to the website anyway and listen to the tracks and you'll be convinced for sure.
image not
available
anymore
Artist:
Bionic
Title:
Closer To Nature
Format:
CD
Label:
Echozone
Distributor:
Masterpiece Distribution
Rated:
Personal project of Dariusch Dalili, Bionic released only an album for OffBeat back in 1995. I don't know what he did in the meantime but his coming back album is really nice. Still having his roots on e.b.m. sound, Bionic offer to the fans of the genre a strong album with ten new songs where hard beats and melody are the winning couple. The CD opens with "It doesn't matter", a song that melodically and vocally reminds me of Sisters Of Mercy. Fortunately, tracks two, sounds more personal and based on 4/4 rhythms, clear vocals and cool retro e.b.m. sounds. Alternating dance atmospheres (check "Cold eyes"), new wave intuitions a bit of pop ("Somewhere"), Dariusch succeeds into packing a nice album that sounds fresh even if based on classic sounds. You can find also two nice remixes made by Accessory and Minusheart.