Another glittering flower in the multicolored techno German garden is going to be added by Stern* aka Julien Imperatrice, one of the stoutest dj and producer whose artistical path has been historiated by an appreciated album entitled Difunkstruction (what a great title for a nice workout featuring a fistic feast of rock and hip hop samples), a plenty of remixes for artists such as NASA, Omnikrom, Major Lazer, MIA and Phoenix (as well as Michael Jackson's Thriller) – some of whom have been playlisted by the legendary Ninja Tune! – and a playful techno-opera workshop side by side with some Canadian jazz musicians and the singers of the Opera of Montreal, sprinkling some brand new fuzzy techno clouds rich in exhilarating gases which are going to induce in you both wild laughing and wild dancing! Inspired by the sound of glorious acts of Electro such as Mr.Oizo, Designer Drugz, Crookers and above all Para-one, Stern* partially unhinge the formula according which an electro album should be necessarily a bunch of tones in a storm of techno raving beats, especially when he puts different styles (including tango and gipsy musical scents )in its stylistic cage, whose bars have a solid electro structure based on a modified synth-brass 3-tonal sequence and hardened by an almost perfect sound design and crackling beat patterns. The Ouverture is an opener that could surely delight German techno lovers, in particular those pavilions which appreciated stimulations by recent trance minimal techno storms propelled by djs such as Adam Beyer, Booka Shade or Sven Vath, an opener ending with tranquilizing sounds before the stomping Cracker, a track during which this devilish sorcerer make spells on the pitch with fast (and furious) alterations alternating dazzling accelerations with abrupt brakings and the funny technoid tango of Tango Loco during which you could imagine a couple of tango dancers dramatically fighting against a unextinguishable fire under their heels! You'll found funny and venomous the way Julien built the title track, a sort of didactical approach to the rhythm, which will disclose to you the meaning (... and the means!) of the concept "Digital Bless", folks! A genetically modified trumpet slopes on alien-like moans before the distorted beats sounds like roaring barks on the thunderous Feverz, while some Balkan samples and a jumped stepping mark the attempt of "technoing" an imaginary band of manouches, the gipsy jazzers, reminding the funny and obsessive melodic sequences of Django Reinhardt! Some good screwing trance samples rekindle the arising tonal ascension in On The Edge, whereas Water Bombs features cheering samples reminding the noise you'll hear while rubbing some water-filled balloons, simulating an imaginary battle that is going to drench your clothes. Don't worry as the dried samples in 8Ball the following will let you wring the wash out through an hypnotic rotating movement, propelled by some snare-like cuts on a perfect sequenced drumming. The next track, Give Me The Bass, is maybe the most stereotypical of the whole album and even the remix doesn't seem add anything to the stirred beats of the original version. The sound mincing keeps on sound on the robust electro-techno of Dawn with the Dawn, a funny shattering that reminded to us the centrifugation of DFA samples Dj Hell could make during one of his set! The final track, The Last Equinox, is maybe the less suffocating track of the album with its synthetic airy sequence of geometrical "vintagesque" sounds and reverberating claps, enjoying the final swelling! A good stylistic proof showing that Stern* has maybe reached the apogee of his expressive possibilities. Be blessed!
image not
available
anymore
Artist:
ALIEN SKIN
(@)
Title:
The Unquiet Grave
Format:
CD
Label:
A Different Drum
Rated:
Two years ago when I reviewed and interviewed Alien Skin I was referring to their music as "night music". With THE UNQUIET GRAVE we're going over that concept as I don't think I ever saw a grave on the cover of a synthpop album and this is the main point because George Pappas' music is going beyond musical genres as it pictures an unquiet man questioning himself. Taking its title from a 14th century English folksong (covered here and opening the album) THE UNQUIET GRAVE presents eleven new mid tempo songs that talks about vampires' dirty kisses, isolation (a sickness that has to be fight), morphine doses while waiting for an angel called Emily, funerals, birthday parties where the character feels like a shadow on the wall, vampires again (as lyrics excerpt I have to write this one: "take these veins and make them bleed for you"), etc. Musically, take the most intimate Depeche Mode tunes, add some Marc Almond influence on vocals, shake and serve cold... This alien never sounded more human than this to me.
image not
available
anymore
Artist:
TRAMA AFONA
Title:
Trama Afona
Format:
CD
Label:
Greytone
Rated:
Trama Afona is the musical project of Lorenzo Scacchia and the self title album released by Greytone is his first official full length release. Composed by fourteen tracks, the album since its first minutes, offer a blend of semi classical strucures, chants, orchestral dramatic themes and cinematic atmospheres. Focusing the efforts on the sound sculpture, Lorenzo is ideally building a bridge between the soundtrack approach of Atrium Carceri and the bombastic sound of the latest Karjalan Sissit (even if this element is less evident). Melodically influenced by classical music of late 19th and early 20th centuries, Trama Afona, create soundtracks for tragic events succeeding into giving form to every day's nightmares. The tracks, composed between 2005 and 2008, offer a sight on how Trama Afona's sound changed during the years: the last tracks are the oldest ones and are based on dark ambient atmospheres with the predominance of synth sounds and industrial rhythms while the newest tunes are a bit more orchestral oriented with a major attention on the sound palette as the overall atmosphere is less saturated gaining a sort of brilliance. Good release for this new Italian label which since the first releases is proposing itself as one of the most interesting ones in the dark sounds field.
image not
available
anymore
Artist:
NIKOS VELIOTIS & ANASTAIS GRIVAS
(@)
Title:
vertical
Format:
CD
Label:
Low Impedence
Rated:
Right after having reviewed the mittle/north european duo Nörz featuring a cello and a guitar, here's another one composed by the same instrument for two greek musicians. The label itself is a good credential since what I've heard so far from their catalogue has always been kinda catchy or at least really intriguing and a with a melodic (whatever you mean for melody) nature and this mediterranean duo fits in the mold. I'm sorry after having written about the greek origin and the mediterranean provenience some of you may consider this release as openly melodic or more solar, but nothing is more wrong than this. The four tracks included in this album show the two musicians went for a drone based release and I'm sure it's easy to think this cello and guitar can revive the idea that gave glory to musicians like Fernando Grillo or in the likes, the fact is they sometimes develop a linear monochord drone by playing in unison for the mare taste of atmosphere and trance. It's just with the fourth track that the result changes a bit while the atmosphere remains the same and that's just good, since they reach easily the climax many listeners like me are searching for while dealing with a cd like that. Globally we're talking about a quite minimalist, quasi soft work that joins a bit off contemporary classic music with a bit of ambient. The global atmosphere is damn good and at the same time it's an interesting release and something to relax with while listening at.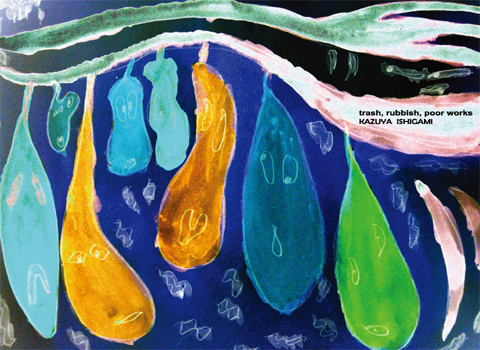 Artist:
KAZUYA ISHIGAMI
Title:
trash, rubbish, poor works
Format:
CD
Label:
NEUS
(@)
Rated:
Despite its title this one is far from being cheap, rubbish and above all trash music, Ishigami is a smart musician and even thought this one is not exactly accessible I can bet many of the know it all out there will find intensity and a sense of melody. I've found many of the characteristics I've always found in some of the japanese weirdoes dealing with electronic music, I mean there's both this crazy side of electronic music and at the same time their deep spirituality. This works starts by showing some glitchy tracks with a strange structure, can still be interesting but I beg you to avoid mistaking it for a dance-electronic work, this' experimental music with crescendos, tensions, field-recordings a strong experimental savor but at the same time this' not so cold. Some tracks of this cd reminded me of the collaboration involving KK Null and Deison, just a bit more minimalistic and a bit more naive, but not less suggestive: believe me. "Trash, rubbish, poor works" is adopting a sharp electronic profile to plunge in a evocative experimental journey, and I can assure you the music of mister Ishigami can be really suggestive (Story of Assaji for example). These tracks ranges from 2004 to 2006 but the whole release is quite homogeneous since this artist has developed his own style. We're not taliking exactly of japanese electronic for all ears, but if you're into experimental works with a great sound definition and a strong idea I'm sure you will agree Ishigami has his own personality. Give it a try.