It's quite easy to infer this spooky London based industrial collective of "art-scapists" deals with occultist themes just from the fact the names of their members have not be taken from the ones by Teletubbies! Xykogen, cryptic term coined by the band founder Amon Zero meaning "any process influencing mind" according to this bizarre neologist, can count among its members the above mentioned Amon – former vocalist of the cyberpunk UK band Arkam Asylum – and a bunch of sound experi/mentalists and sorcerers such as Max Rael – founder and member of History of Guns -, the drummer Mog Warbeast – playing a key role in the line-up in my modest opinion... -, Lee Chaos – running the notorious Judder club - and The Reverend Eris – both of them being the entities behind the mechanical curtains of The Chaos Engine and Wasp Factory Recordings – as well as occasional collaborators.

Their manifest occultist references (I could do nothing but indulgently smile when noticing some details such as the reprise of the notorious Latin palindrome "In Girum Imus Nocte Et Consumimur Igni" in order to begin and end the tracklist full of double-titled pieces or the references to the Pythagorean philosophical concept of Musica Universalis someone tried to "ensound" recurring to mathematical algorithms based on abstruse musical "translitterations" of some geometrical series reflecting the so-called music of the spheres) doesn't mask shoddy compositions and it's evident when you'll listen to this release, a 1-hour-and-1-second long live-recording of a Xykogen's show at The Foundry in London, one of the sacred temple for the avant-garde acts, including some interesting examples of experimentation which are not to be considered just as aseptic sound tests and/or effortless jiggling manipulations, beginning with the introductory In Girum Imus Nocte, an heavy start to set up your pavilions with a raw flux(us) of razor-cut noises and guitar walls, an heavy drumming session and some atmospheric creepy shouts by Amon, obsessively repeating "we're invisible" and so pulling the listener into the climax of that exhibition, before the suffocating knots tightening throughout 8bit pulses, intricate layering, mungo drumming sets, reversed sound cascading – among which the classical Casio tone for the laser beam... ! - and ill-ogical rhythmical pattern of the title track subtitled Ineffable, Empty which is going to delight most extreme and obscure experimental music's lovers, projecting them into the ritualistic setting the folks attending that meeting at The Foundry on February 25th 2009!

The following track, Pissing Contest/Kshatriya referring to the warrior class according to the Hindu social orders, is a blasting one that will rape your eardrums through a Throbbig Gristle-style thunderous effected guitars perfectly fading into the following Citizen's Arrest/Fury With The Face Heaven (featuring another Casio tone... the typing machine!), an aggressive electro-punk episode deeply influenced by 80s punk and French electro-metal wisely placed before the psychedelic dark-ambient suite Ki/Qiyamat – another reference to mystical terminology-, whose drones broken by powerful and unexpected thunders are impressively suggestive reminding some similar workouts by Origami Galaktika . There's nothing really musical in the vocal obscure bunch of interviews and personal stories by survivors from the holocaust, you could hear in a disorientating jungle of whispering sounds, metallic brushings and hypnotic bells in the provocative Work Will Make You Free/We Rip This Symbol From The Void, sloping into a bewildering nebula of laser blasts introducing the martial stepping built on over-filled organ disorientating phrases in the thrilling Seidhr/TO REND THE VEIL OF PAROKETH. The following track Brand X seems to be an attempt of redefining a brand new form of punk even if the artistic liaision to the French anarcho-punk scene is clear... pay attention to details to be conscious of what I'm referring to! The final track, Behold, The Silver Star, hallows Xykogen's Dadaist (or lettreist as well!) and de-structionist attitude in treating sound, consecrating themselves as some of the best learners of P-Orridge lecturers! Something that could let your nerves scream out for its terrific hallucinatory gripping!!! Last but not least (or if you prefer Latin, dulcis in fundo)– another esoteric imprint? -: it's thee (double E's not a spelling mistake... ) release number 23 licensed by Mrs Vee.
Artist:
Act Noir
(@)
Title:
Shape A New Start
Format:
CD
Label:
Eibon Records
(@)
Distributor:
Audioglobe
Rated:
After the replacement of the hollow voice by Mark Benoit – it seems depending on personal reasons and different viewpoints – with the tartly crooning one but fitted to the band's soundscapes by Gaetano Notarnicola, here it is the result of the second full length by Act Noir, through which the band keeps on franticly searching the junction points between quite different musical experiences, mainly dealing with renowned repertoires by Depeche Mode, Perfect Circle, Nine Inch Nails and Radiohead, according to their own words, even if when you'll listening to Shape A New Start, you'll easily notice that these proactive lads moved the barycentre of their style towards the first two of the mentioned bands apart of some conceptual anchorage points close to the existentialist explorations and snapshots superbly emerged from Yorke's artistic pathways.

Even if some of their influences are arguable and could be considered just a tool for better attract attention by music lovers, they managed to build a sound oscillating between electronic rock and synth pop, which perfectly fits the lyrics disclosing a vague sense of loneliness and daze combined with positive incitements to react, setting fires to lies and unreeling contemporary moods which some sensitive listeners could see as mirror of selves in a way that could remind the activity of a scrupulous diarist observing reality and impressing on the sheets of a personal diary as well as on stave (..have a look to Act Noir's lyrics on their official site to have an idea of the literary tenor of their songs... there's just a little mistake as lyrics of the lovely Set Fire are different from those reported on their website as the webmaster doubled the ones of See The Truth), analyzing sometimes modern obsessions and manias (especially on songs such as Shatterproof Beauty, Wrong Places and Redemption) as well as some problems of great topical interest (in Closed City, it seems they address words against people responsible for nuclear proliferation) in an easy-to-go and elegant way. Maybe they could not be associated to the above-mentioned references, but we cannot but highlight the evidence their genuine attitude expressed by these keen guys on this good workout could let them reach any eagerly awaited goals without walking on tortuous paths in order to shape a new beginning!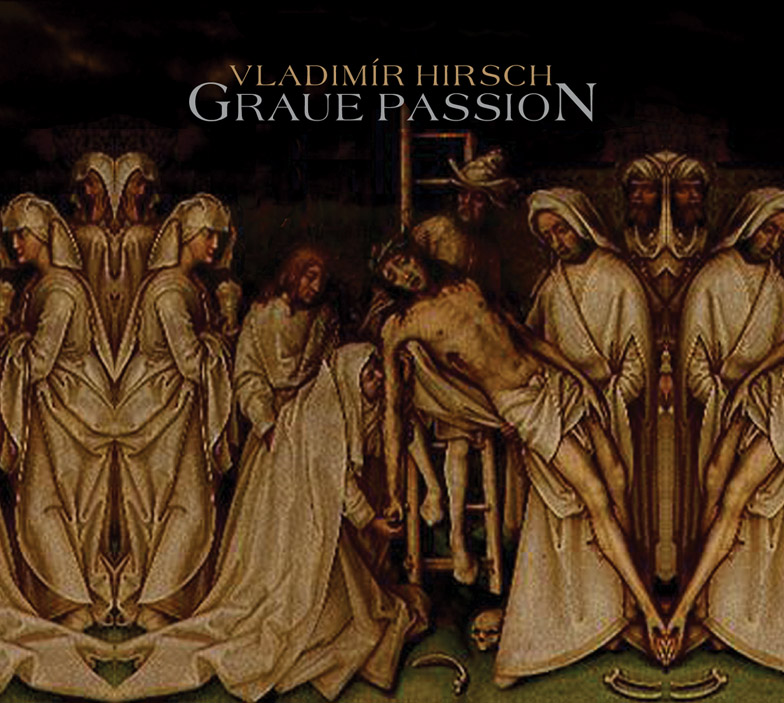 Artist:
VLADIMIR HIRSCH
Title:
Graue Passion
Format:
CD
Label:
Ars Benevola Mater
(@)
Rated:
GRAUE PASSION, op.67B is the newest Vladimir Hirsch album and it is a re-visitation of "Symphony No.4 - Descent From The Cross", op.67". Dedicated to the memory of his father, GRAUE PASSION is a live recording with subsequent studio work and mastering. Vladimir took the original material of "Symphony No.4" and, if possible, made it sounding more obsessive and obscure. Using orchestral and industrial sounds he creates an alternation of atmospheres where the evocative vocals of Martina Sanollová sound like a desperate prayer. Strings and horns shake the listener while samples, piano and noises form a thick web of sounds ready to explode. GRAUE PASSION explores the human agony and make it sound like an eternal condemnation as it sounds like there's no way out...
image not
available
anymore
Artist:
SANTAAGOSTINO
Title:
Operazione Paura
Format:
CD
Label:
Greytone
(@)
Rated:
Named after the Mario Bava movie titled OPERAZIONE PAURA, the second album by santAAgostino takes inspiration from horror movies of the 60s/70s (mostly Italian ones) referring to actors (Barbara Steele the English actress, star of 60s movies such like "La maschera del demonio" a.k.a. "Black Sunday", "I lunghi capelli della morte" a.k.a. "The Long Hair of Death" or "Amanti d'oltretomba" a.k.a. "Nightmare Castle") or films (George Romero's "La citta' verra' distrutta all'alba", "The Abominable Dr. Phibes" or Ken Wiederhorn's "Shock waves") but without making of it a sort of quiz game where you have to guess titles or else. The three members of santAAgostino from their own words intended this: "OPERAZIONE PAURA speaks of the filmic and horrorific fear, mind trap 'to kill' atavistic thoughts and all those mental factors that trapped the man into a self-made cage in his own mind, through the mind itself". They applied to music what many filmmakers did with their own movies using fear sublimation as a catalyst. The seven tracks of the album use ambient electronic sounds with industrial influences here and there to bring the listener to an unconscious state where nothing exists no more and where everything dies and born... Also this fine release is brought to you by Greytone.
Imagine Aqua's Barbie Girl had been kidnapped by an alien troop arrived nearby the Planet Earth after having been attracted by magnetic frequencies launched outside troposphere by 808 State and Orbital during the flaming years of the primordial forms of acid techno... you don't need to be graduated in Earth Sciences or Physics to know there's a certain time delay in the universe and so understanding that as when we see the sky, it's like admiring a photo of its past aspect, it could be the same for people coming from other worlds. Well, that baby singer annoying humans with obsessive toy-like lyrics could have been surgically operated on vocal chords after a lobotomy before having been kicked back to the recording studio of the video director, music producer and – dulcis in fundo – owner of the record label Audio Assembly Productions –MBJ after the lovely semblance of Vienna Skye in order to sing throughout modified teeny voice to the humans she's no more so terrestrial!

Vienna Skye, born from the ashes of some successful dance acts of 90s (Ish, Velvet Vimoz), makes this fearful declaration to the scientific and musical community yawning on Earth with so childish and hypnotic modulations that the 80s synth-pop/trance tunes MBJ puts out from old drawers could sound as a time travel back to the ages you danced on first housey tunes while eating ice-creams in the waiting queue for some hitting merry-go-rounds!

This debut single includes the title track and two versions of Why Can't I Fly So High (maybe because she still didn't reached the right age according to martian laws for a driving patent!!!), the second one being my favorite one as well as related videoclips with some nice examples of computer generated filtering. Before saying it's just the result of an alien abduction or an interesting attempt to reduce puffiness shadowing old techno-addicts' eyes, it's better to wait for a full length album. Better take care!