Artist:
Simon Šerc
Title:
Bora Scura
Format:
CD
Label:
Pharmafabrik
(@)
Rated:
Simon Šerc is an artist active in the field of experimental music and video since 1990 and this can immediately be heard as the quality of his field recordings is truly remarkable. Bora Scura is developed upon field recordings made in Slovenia in an area, Ajdovšina, which is exposed to the high speed wind named Bora.
As "Action I" starts the listener is immersed in an environment where all recognizable elements of the landscape seems at the mercy of the wind so only when its speed diminishes other sounds of everyday life can rise. In "Action II" can be heard the high pitch of the wind in an almost absolute silence. In "Action IV" can be heard high pitch and lower frequencies of the wind while in "Action V" the water flowing is used as a relative anchor for the listener to orientate himself in the sound masses. In "Action VIII" can be heard wooden masses bended by the wind and in "Action IX" rolling metallic pieces. "Action X" closes this release with a slow calm down of the wind.
Obviously it's a release for fans of the genre which are exposed to a release centered upon the impact on everyday lives of natural forces that cannot be controlled and from which it's necessary to be protected. So, it's not a mere exercise of recording techniques but a conceptual release. It's really worth a listen.
Though recorded in 2017 and released in 2018, and although driven by some intriguing computer-based technology for spontaneous real-time composition, "Engage And Share" reminds me of 1960's avantgarde classical music. A relatively conventional orchestral set-up, showcasing but but overly deferential to Graugaard's work as a flautist, is instructed to break their melodic mould and work with contrasts between dischord and ambience, chaos and emptiness, with a blend of musical proficiency and energetic theatrics that makes it sound fresh.

After the title track feels like it wouldn't sound out of place soundtracking different sections of Kubrick's "2001 A Space Odyssey", second piece "Slonk" has a faintly more militaristic and urgent tone driven by low piano rolls and curt repetitive brass that gradually fades away into melancholy. Final piece "Blind Lemon" returns to the expressive ebb and flow approach, driven more by string this time and with a subsequently more silent-movie flavour in parts.

What once would have seemed musically cutting-edge and challenging now seems almost nostalgic but there's certainly no harm in that here. Modern classical music is, on this evidence, alive and well.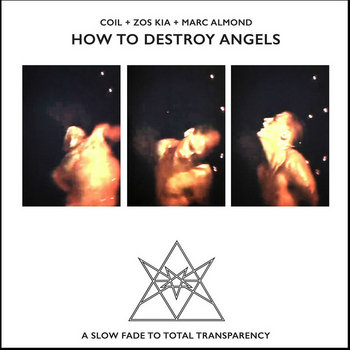 Artist:
Coil + Zos Kia + Marc Almond
Title:
How To Destroy Angels
Format:
CD
Label:
Cold Spring
(@)
Rated:
This reissue is centered about 'A Slow Fade To Total Transparency' which is recording of a complete performance recorded 24th August 1983 in London. The historical importance of this release arise from the fact that is the complete form of "How To Destroy Angels", the Coil's debut that would be released the following year. While the audio quality is nothing more than acceptable, as it was perhaps poorly recorded, it's historical importance is undeniable as it documents the first steps of the band and underlines their connection with performance art.
The main elements which distinguishes "A Slow Fade To Total Transparency" from "How To Destroy Angels" apart from the length is the presence of the spoken words by Marc Almond which is the central elements of this performance as the musical part, roughly "How To Destroy Angels" as it's known, acts as a background. The overall result is astonishing in its ability to generate a subtle inquietude in the listener mostly thanks to the ductility of Almond's voice. The remix by John Gosling of "How To Destroy Angels" is almost danceable in the first part while the second one homages the meditate mood of the original. An unreleased recording of "Baptism of Fire" completes this release.
While it's mostly an hidden gem for fans and collectors, it could be a little bit irksome to those approaching Coil for the first time. Recommended only for fans.
Artist:
Jlin
Title:
Autobiography (Music from Wayne McGregor's Autobiography)
Format:
CD & Vinyl
Label:
Planet Mu
Despite the theatrical artwork and literary title, fans of Planet Mu needn't worry- this is a reliable package of glitchy chinstroking electronica and complex instrumental grime-lite that the label has been outputting with a relentlessly high quality threshold for years. Highlight tracks like "Carbon 12" and "Annotation" are familiar and deeply listenable toe-tappers.

There are certainly some more theatrical or soundtracky moments, like the balletic "Anamnesis". The two "Interlude" tracks are interesting pieces of fragile-toned sound design, sometimes arhythmic, and slightly misleadingly named as they are just as long as the other tracks around them.

There are also some more attitude-laden moments like the urgent and scream-percussion-punctuated "The Abyss Of Doubt" and the razor-edged "Permutation".

I enthused about Jlin's previous release "Black Origami" last year and this release is a natural next step- not a major evolution, but a solid next move from another Planet Mu artist using electronica as a proper artform in its own right, without losing its essence.
Artist:
Mose
Title:
Film Musik
Format:
CD & Vinyl
Label:
Klangbad
Not actually music from films, but more of a calling card 26-track sampler demonstrating what the five-piece Mose could come up with if ever asked to soundtrack a film, "Film Musik" is a collection of almost-always-instrumental musical vignettes. The source instrumentation is bluesy, rootsy guitar plucking and acoustic work with shades of jazz, that often sits quite comfortably in instrumental song and ballad territory ("uberland", "fatigue", the two "monolog" tracks). At other times there's a more ambient and atmospheric approach where elements are allowed to meander more casually ("pause sucree", "triptychon", "perdu", "am rand").

In either case it's consistently melancholic and downtempo, brooding slow motion material that does seem so spacious that it shows a deliberate intent to leave space for visuals.

The brief arrival of vocals on "molto prestuoso" is a welcome new element but doesn't shake proceedings up at all, keeping things strictly bluesy. "Fallsucht" is a notable highlight, adopting a more heartbeat-esque pulsing groove that is a real foot-tapper.

Somewhere out there there's a director or editor making a moody, introspective road movie that contrasts inner turmoil against beautiful landscapes, and this is the soundtrack they haven't yet realised they need.