image not
available
anymore
Artist:
Chinese Theatre
(@)
Title:
The Silent Years
Format:
CD
Label:
Synthphony Records
(@)
Rated:
The Swedish Synthpop-duo CHINESE THEATRE has decided to release its new studio album via the US-based label Synthphony Records – a decision rather following some approved structures, since Krister and Martina seem to have convincing experiences with this label. On the other side this also means, that to pick up a hard copy of this album would be a job for a headhunter, because Synthphony presses and releases only in very limited editions. "The Silent Years" rather acts like a collection of the last recordings of this duo, from which a few have been released in remixed versions via compilations or CDEP's ("Mirror, Mirror") through the last two years. Musically Krister and Martina offer a clear and melodic-oriented Synth-/Electropop-sound, which extracts inspiration out of the romantic Pop/Wave- and Italo-disco era out of the golden 80ies. Martina's timbre fits perfectly to this era, since she impresses with her ice-cold performance somehow comparable with Annie Lennox and Kim Wilde. By naming Kim Wilde, you'll get also a new cover version of the classic "Cambodia", another relict and obviously hint to the musically preferences of both, Krister and Martina. Of course their marvelous compositions like "Forever And Never" and/or "I'm Leaving You Behind" are featured on here too, which are perfect tunes to warm up any O30-party. Krister also has a surprise to offer, for the new track "Ballerina" he provides the male vocals, an experiment, which rather reminds on the new side-project of Krister and Martina, the Italo-Disco project VISION TALK. As for further new and undiscovered tracks of the band, well, "Hiding" has my preference. A remix of "Bit By Bit" provided by PEOPLE THEATRE accomplishes a quite good album of a mega-talented Synthpop-act. A must-have item for fans of this genre, but unfortunately no longer available as a physical CD.
Artist:
15 Degrees Below Zero
(@)
Title:
Resting on A
Format:
CD
Label:
Edgetone Records
(@)
Distributor:
Edgetone Records
Rated:
15 Degrees Below Zero are Daniel Blomquist, Michael Addison Mersereau and Mark Wilson, their instrumentation comprising everything but the kitchen sink (laptop, samplers, keyboards, effects, mixing, processing, guitars, vocals, harmonica, pedals, contact microphones, etc.). Their latest album, "Resting on A" was mastered by Thomas Dimuzio, a fringe music artist/producer with a Bill Laswell-sized discography and a name well-known to those "in the know" about ambient-industrial noise. If you like experimental ambient music, 15 Degrees Below Zero is a project well worth checking out.

"Resting on A" takes a very minimal approach, even with the track titles. ("4.1", "4.4", "5", "12.2", "25", etc.) I'm guessing there might be some mathematical significance to that, but I flunk high school algebra, so how would I really know? The soundscapes on this work are somewhat more spacey and subdued than what I've heard on previous 15 Degrees releases, nearly Enoesque in some places. Multilayered, but still very minimal, where events blend and morph with each other in an often placid pastiche, a dichotomy of calm and tension, stillness and motion. This is best illustrated on the lengthy track "5", which runs about 24 ½ minutes. This is not drone music, but atmosphere music. In your mind you may hear ghostly voices emerge, or you may get the impression of arctic isolation. The canvas on which 15 Degrees Below Zero paints is open to interpretation, often seemingly amorphous, yet with structure and balance. Even subdued melody can be extracted from certain passages.

The track following "5" has more experimental noise in the form of recurring looped pitched noise and static distortion that culminates seamlessly in wavering bellish bass tones on the next track. I'm guessing there is some heavy use of ring modulation here. There is much emphasis on the lower frequencies throughout the album, so you should prepare your listening system for that. Not to say that higher timbres have been neglected, they do appear transiently for affect now and then. I wonder how much of the music has been improvised, and how much has been structured, as it seems to have a rather precise framework.

Track 6 ("12.1") features some spoken word over repeated electronic tones and noise rumblings. I'm not much of fan of spoken word samples in music except for short, appropriate interjections (that's the old school industrial in me) but it's a short track and not really obtrusive. Track 7 ("19.2") features old school electronics along the lines of Varèse, Stockhausen, etc., a sort of nod to musique concrete. On the final track, "12.4", heavy processed guitar takes over. All-in-all, "Resting on A" is a really good album with a high replayability factor. But there is more... a bonus video of "December December" a track from their previous "New Travel" CD. It would not play without glitches for me no matter what program I used to play it on, but the surreal visuals were rather interesting.

Artist:
The Selfsentered Spacecadet
Title:
Killers
Format:
MCD (Mini CD)
Label:
Cynical Minds Rec.
Rated:
An electro band from Sweden. TSS have been around since 2006 with various line-ups and released 2 singles via other labels already. In the first cold months of 2009 TSS recorded three new songs that were released through Cynical Minds Recordings this May. In its previous "reincarnations" the band was way less synth and electro oriented, but found the way to its contemporary sound in the course of time. It is melancholic yet danceable. I don't mean it negative, but to my taste it is a bit too wishy-washy and there is a room for some more zip in those songs. It must be good as lounge music if played quietly, because it sounds not pushy and would have a relaxing effect. The influences of TSS range from the pop and rock scenes of the latter decades of the previous century.
The title song deals with a topic that fascinated people since the beginning of the ages and I hope it always will: love. "Stalking Girl" is a rather slow-tempo song, sang as a monologue to an addressee.
The remixes by fever society fix, Simon Gag and Captain Orange are rather interesting. Honestly I prefer the last remix of "Killers" over the original, while it is rarely the case with any song that the listeners find a remix more appealing than the original. I guess it is because this remix is more energetic and lively.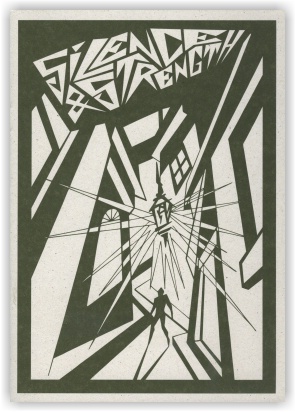 Artist:
SILENCE & STRENGTH
(@)
Title:
Das Haus Zur Letzten Latern
Format:
CD
Label:
Horus Cyclic Daemon
(@)
Rated:
Released on All Fool's Day, DAS HAUS ZUR LETZEN is the newest album by Israeli musical project Silence & Strength. Released on Horus Cyclic Daemon three years after the previous "Opus Paracelsum" issued by The Eastern Front, DAS HAUS ZUR LETZEN is a particular album where music and design are parts of a whole. With graphics inspired by German expressionist movies of the twenties created by John Coulthart and beautifully printed on quality art-paper (green Alezan CRO 300g and recycled grey Eko 200g) the album is inspired by the life and works of writer Gustav Meyrink. [Cfr. from Wikipedia: Illegitimate son of Baron Karl von Varnbüler von und zu Hemmingen and actress Maria Wilhelmina Adelheyd Meier, Gustav started to study occultism at age 24. Having studied theosophy, Kabbala, christian Sophiology and Eastern mysticism, he also tried to practice and he was successful... Until his death Meyrink practiced yoga and other occult exercises with remarkable success. Results of these studies and practices are clearly seen in Meyrink's works, which almost always deal with various occult traditions. Gershom Sholem, an expert in Jewish mysticism, has stated that Meyrink's works are based on superficial sources and have no ties with any authentic tradition]. The thirteen tracks of the album explore different atmospheres starting from dark ambient with few classical influences to industrial tribalism (check immediately the powerful "Das grune gesicht") passing through opera and folk music. The sound is great and it is composed by hundreds of different layers that keep the listener's attention always awake. With a crisp production this album is a great "movie for your ears"...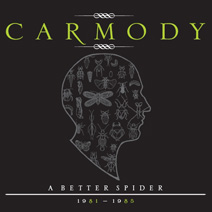 Artist:
CARMODY
Title:
A Better Spider
Format:
CD
Label:
Anna Logue Records
(@)
Rated:
Active during the first half of the 80's Carmody were an electronic band coming from Torino, Italy. Started as a duo and later a trio with Massimiliano Casacci joining in as guitar player, the band recorded only a couple of demos and a song for a local compilation album titled "Tracce". That compilation gathered some of the bands active on that period in Torino and it has been compiled by Massimo Scabbia and named after the Tracce show that each Monday was aired by Radio Torino Popolare playing only Italian alternative music (the show was run by Fabrizio Della Porta and Gilberto Maina). Picking their name from a science fiction novel titled "Dimension of Miracles" by Robert Sheckley, the band did a perfect choice, because their electronic music wasn't exactly pop as, even being melodic, tracks like "Il sospetto", "Ambiguos" or "Cowboy" have a common feeling of imminent catastrophe. You know, like a dog who's feeling an earthquake coming or just like the Mr. Carmody of the novel who's lost in space. The synthesizers build strong ambience structures while Alberto Ramella theatrical vocals sing of the difficulties of being human beings. Picking seven out of sixteen tracks from the self titled demo, three out of six from their second demo titled "Dogu" (these ones thanks to Max Casacci sound less "dramatic" and have a certain pop potential) and a later version of "P.s.a.l.m." (the original one was on "Dogu"), "The perfect beat" coming from the "Tracce" compilation (one of their best electro pop tracks along with "Space invaders" and "Messengers of love") this compilation is a gem for the lovers of that period. If you loved the Monuments compilation issued by the label the last year and you want to discover their sister band (they were friends and Carmody also recorded at Monuments' TKS studio), this CD is a must! With the first 500 copies you'll find a postcard signed by all the three members.