"Stikhiya" is a pair of soundscape compositions comprising layered environmental found sound with additional electronic elements that sound sometimes like arcing electricity, sometimes like industrial gas processing, sometimes like the interference caused by mobile phones on unshielded audio cables. Repetitive mechanical processes occasionally form firm rhythms, ignored by their sonic neighbours. It's an uncomfortable inserted juxtaposition that changes this work from ambient to uncomfortable.

Despite being labelled as only "part 1" and "part 2" there are smaller sequences within, and abrupt and distinct changes that jolt your consciousness just as you are beginning to tune out. On their own the environmental sounds are often quite prosaic- empty, everyday spaces with distant road noises and indistinct plastic hits. It often feels rather ordinary and familiar. Only fleeting glimpses, such as the odd whistling tones in the final minute, feel ethereal.

"Stikhiya" has all the commonplace elements of a soundscape arrangement but unfortunately it fails to shine as a self-contained work due to its uninviting awkwardness.
"Black Origami" is a heavily Eastern-influenced, heavily percussive album full of short pieces that are predominantly glitchy electronica, but also part tribal breakbeat, part instrumental pop. The rhythm-first approach inspires dancing, but the complexity and constant shifting is generally DJ-unfriendly. The heavily quantized feel to parts of it seem reminiscent of 90's tracker tunes, with the drum programming a complex mathematical exercise, as though trying to recreate a large percussion ensemble using a computer and pushing the synchronisation and rapid-fire retriggering faster than humans really could go.

"Nyakinua Rise" and "Hatshepsut" are brilliant exercises in measured aggression which you can visualise a martial arts display being set to. The sheer directness of pieces like "Enigma" really demands your attention, with cut-up vocal snippets that sound Bollywood-like as far as it's possible to tell. Every track bounds with energy, so even sonically milder pieces like "Kyanite" still have some frantic layers- even collaborating with William Basinski on "Holy Child" doesn't temper it.

Other guest appearances include the brilliant Holly Herndon, whose influence on "1%" brings sinister vocal samples ("you're all going to die down here"), distortion and a cross-tempo techno flavour which works well. "1%" and the following track "Never Created, Never Destroyed", a slightly more regular-tempo rap number featuring Dope Saint Jude, are a slightly anachronistic section towards the end of a mostly very consistent album.

This album seems strongly linked to modern stage dance- short, dynamic, shifting complex patterns that would allow dancers to move and express in ways unexpected by the audience. Nevertheless it's still an enticing and intriguing home listening album even if you're not planning to choreograph yourself to it.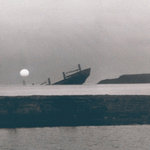 Artist:
Stefano De Ponti
(@)
Title:
Fin-d'Ersástz / 20xx - 2016
Format:
Tape
Label:
GrottaRecords
Rated:
The new release by Stefano De Ponti is another confirmation of his inclination towards the form of radio drama as this piece is a sonic collage of bits and pieces from movies or theatre and it's presented as a way to represent the state of entropy generated by the passing of time which makes all things equal under the dust.
The Domenico's monologue from Nostalghia opens the first side of the tape and introduces the "abstract" part where guitar, noises and resonances generates un interlude to another movie dialogue where one of the character talks about his music as empty and inexistent but this is instead, if not music, sound in one of his finest form. The first part of the second side of the tape is focused around guitar sound in his most hypnotic and, if possible, jazz oriented form when insert of piano and clarinet emerge from the context; when the voice of Domenico returns another voice declare "the music doesn't work" and start the most drone oriented and abstract part of the tape which has the role to conduct the listener to the desire to hear the tape again when the silence generates the void.
Even in an established and codified form, the Author is able to instill his personalities and erase all influences from the listener perspective and confirm himself as one of the key figure of the scene. Highly recommended.
image not
available
anymore
Artist:
Filtro
(@)
Title:
Riflesso
Format:
Tape
Label:
Upside Down Recordings
(@)
Rated:
Filtro is the project of Angelo Bignamini and Luca De Biasi that lay down the drums, used in bands like The Great Sanuites and Satantango, and take modular synthesizers and tapes to create a work along the path of certain minimal techno which uses a cold sound, crafted tweaking knobs, to create abstract and clean musical structures. In this framework the use of tape is a disruption of this clear musical surface into a canvas with the insertion of a figure that is the concrete sound.
The first track of this tape, "Riflesso Part1", starts with a pulsating beat above a sort of granular noise that is gradually overwhelmed by radio voices when the beat starts to achieve a little complexity and the overall frame begins to blur. "Perno" is a shorter and minimal track based on the contrast between the minimal synthetic sounds and the field recordings. The second side of this tape begins with "Statore" where the field recordings act as a field of reality as the modular synthesizers seems the accompaniment of a movie scene. "Riflesso Part2" closes this release with the accomplishment of creating a real merge between the concrete and the synthetic sounds.
Even without moments of unusual originality, this debut shows a reasonable sense of form and a fluency in the use of their means. It could be a sure pick for fans of the genre.
Artist:
Jaap Vink
Title:
S/T
Format:
2 x 12" vinyl
Label:
Recollection GRM
Rated:
With the release of a double LP by Jaap Vink, the Recollection GRM series coordinated by Daniel Teruggi and François Bonnet, moves from the focus of releasing music strictly produced by the GRM group but extend it featuring composers who are not strictly affiliated with them, but whose approach and aesthetics are similar. Compiled with the help of the Sonology Institute in The Hague, this collection contains seven tracks recorded from 1968 to 1985. Born in 1930, Jaap Vink He attended courses in electroacoustics at Delft University of Technology and installed a pedagogical studio for electronic music in 1961 at the Gaudeamus Foundation in Bilthoven with the help of the Nederlandse Radio Unie (NRU). He was a staff member at the Institute of Sonology as a teacher in analogue studio techniques from 1967 until his retirement in 1993. Using oscillators, tapes, filters and modulators he was able to build up a sound that was rich and majestic. The opening track "En Dehors" is a magmatic drone made of many small frequencies and the effect created is just beautiful. "Objets Distants" has been recorded in 1970 but it sounds ahead of its time. It's sounding like travel through the space with hissing sounds, small feedbacks: a chaotic but yet controlled track that after seven minutes or raging sounds, turns quiet and minimal, playing with frequencies and feedbacks. "Stroma" is sounding like a strings orchestra which is on an astral voyage, where everything seems so distant and slow. The change of intensity and the multi layering is the key and Jaap Vink is a master in the process. "Granule" and "Residuals" pass from strong noisy parts to minimal ones and like the following "Screen" and "Tide 85" they play around the construction of multi tonal parts. I was amazed listening to this material and it recalls me also the same approach that nowadays artists like Boyd Rice on his "Children Of the Black Sun" had toward the construction of sound. Nice!