Artist: Kalbata
Title: Obskuur
Format: 12"
Label: Brush & Broom

African drum loops meet deep acid basslines in these two unusual slices of minimal instrumental techno. While the DJ-challenging time signature of "Obskuur" makes it more of a home headphone listen, the more conventionally structured "Rumoured" is more set-friendly and strongly reminiscent of mid-set tunes from Josh Wink.

While I'll never reconcile myself to the fact that a 2-track 12" is now called an "EP" when there's nothing extended about it at all, this is a solid pack of two multi-purpose tracks that are quite bold in their simplicity but very well executed.
Artist:
Sweet William
(@)
Title:
Organic Shades
Format:
CD
Label:
Datakill Records
(@)
Rated:
Although Sweet William's 'Organic Shades' is touted as their "acoustic album," it isn't entirely acoustic. There are electronic keyboards for string sounds, and some electronic processing on the acoustic guitar here and there. That should be of little consequence though as the songs on 'Organic Shades' have a gentler and milder tone overall. The album is collection of tracks of which some are covers of other bands and the remainder Sweet William tunes that have been reworked to a more acoustic format. Beginning with "A Face Without a Name" from their 'Time' album, the song is a semi-stripped-down version of the original, and if you never heard the original, you might actually like this one better. Whitesnake's "Here I Go Again" is virtually unrecognizable from the original...Whitesnake unplugged? Nah, not really. Although Heuer injects some soul into this '80s hair band classic, this version makes you realize what a weak tune it was in the first place. "My Ignorance" (from 'Time') seems a bit more poignant in this quieter version than it did in the original. A definite misstep was doing a low-key version of Joy Division's "New Dawn Fades". I get it; you really, really like the song. It lacks the teeth it really needs though to get the point across. I think a better choice might have been Duran Duran's "Come Undone," but that's just my opinion. Covering Nine Inch Nail's "Hurt" is kind of a calculated risk. Sweet William's version has neither the angst of the original, nor the pathos of Johnny Cash's version, but it still manages to have an impact. "Ocean" (from their 'Ocean' album) is well done, but superfluous. It just sounds like an alt-take. Why Oliver and company chose to cover ELO's drowsy "Big Wheels" is absolutely beyond me. It's one of those songs that heavily relies on ELO's patently overblown sound, and try as they may, it still sounds lame. "Kind" was a great song on their 'Time' album and one of the few songs on this album that really deserves a mellower, simpler version to put it in a different perspective. Final track, "The End of the West" is a moody instrumental with ostinato acoustic guitar and moody synth strings....with bombs at the end!?! Overall, 'Organic Shades' is okay but not great, owing more to the choice of material than its execution. There are many great songs out there aching for a (acoustic) remake, and likely some from Sweet William's earlier repertoire. Maybe next time...
Artist:
Sweet William
(@)
Title:
Ocean
Format:
CD
Label:
D-Monic Records
(@)
Rated:
ot long ago I reviewed Sweet William's recent 'Time' album and someone from the band's team informed me that they sent a couple previous albums to Chain D.L.K. for review, but they apparently never got reviewed (things sometimes slip through the cracks) so they sent me copies of 'Ocean' (2013) and 'Organic Shades' (2016) which I'm grateful for because these albums deserve some attention. In my review of 'Time' I spent some time briefly describing some of the history of this seminal German Goth band, but no point in regurgitating that again. While 'Time' covers a lot of ground, moods and form, 'Ocean' is predominantly stark old-school Goth. This is an album that sounds as if it could have been made in the early '90s. It's basic, visceral, and intense. 'Ocean' is supposed to be a concept album but unlike many of those that seem to have songs in them merely to further the concept, the songs here all stand on their own. At first I wasn't wild about 'Ocean' because it didn't seem as polished or refined as 'Time' but after repeated listening, I find it just as good, if not better. There is a rawness about 'Ocean' that really cuts to the bone. Even the instrumental track "Tsunami" has a certain harshness and alienation about it that is just chilling. There is much that is similar in flavor to '80s-'90s wave/goth bands we all know and love- The Cure, Echo & the Bunnymen, Clan of Xymox, Siouxsie & the Banshees, Bauhaus, Joy Division and numerous others on this album. For nostalgia's sake (and likely because it's a great song too) there's a cover of Joy Division's "New Dawn Fades" which in my opinion is even better than JD's original version, being much more powerful, although I'm likely to take some heat for that from Curtis's rabid fans. Although there are a few throwaways (kind of natural on an album of 18 tracks) on the album the majority of the tracks are very good, with some such as "Ocean," "Insane," "New Dawn Fades," "Welcome to the Show," and "over" being quite compelling. Oliver Heuer and bandmates Frank Breuer, Markus Gerlach, and Marius Nagel are all in top form on this recording. 'Ocean' is a moody-broody album, but then again, aren't all the best Goth albums?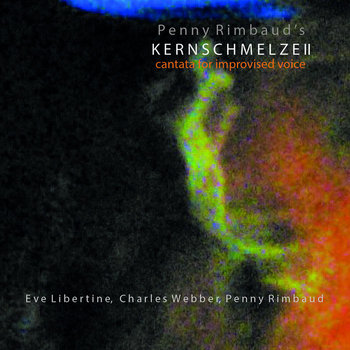 Artist:
Penny Rimbaud's Kernschmelze II
(@)
Title:
Cantata For Improvised Voice
Format:
CD
Label:
Cold Spring
(@)
Rated:
While his previous "Yes Sir, The Truth Of Revolution" was not entirely convincing as centered upon message instead of music, this one seems his perfect mirror. Charles Webber processed the voice of Eve Libertine as Penny Rimbaud's idea was to create soundscape using only vocal sounds on a musical structure based upon the movement and multiplication of sound masses obtained by the layering of vocal lines.
Even if it's named as a cantata it starts with an impressive and thunderous soundscape upon which the voice of Eve Libertine starts her spoken words but the most impressive moments is where the voice filtrated, manipulated and layered generates a movements from operatic vocal lines to noisy moments where phonemes are translated to sounds. During the 8 parts of this opus the voice is rarely used in his natural setting, so the discernible message is lost in a auditory environment where the listener is placed against his expectation of the form and this is perhaps the sense of the whole operation; as the Kernschmelze is a "core meltdown", this release sounds as a "voice meltdown" or the consciousness that the perception of the voice, the emotional impact of the message, is now more important that the content of the message. From this perception, the sound quality of Charles Webber's voice is juxtaposed to the emotional impact of the whole musical structure and the sense of the message is exemplified by the fact that instead of being cathartic all this sound mass simply ends in silence.
An amazing work by an artist that, even with his remarkable past, is again able to offer his views on modern times with the spirit of a newbie. Absolute respect.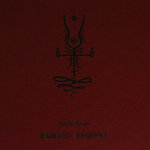 Artist:
Asath Reon
Title:
Buried Visions
Format:
CD
Label:
Black Mara
(@)
Rated:
Due to the scarce informations about this project, it seems that Buried Visions is the first release of this project by Michal Polgár from Slovakia. "Buried Visions" is introduces by verses about an Harvest when a black Sun rises and this apocalyptic vision is an hint that we are close to a Dark Ambient release but this is partially true. A great part of the auditory field developed by this artist is not obtained by drone but by samples, mainly voices, and ritual instruments so it takes perhaps inspiration from certain ritual music and certainly his music has those kind of atmosphere and structure.
The almost religious quietness of "Aka Manah", with the spars beats of the bells and the voices in the background, opens this release with a menacing atmosphere obtained with a carefully constructed soundscape in the background. The noises moving in the auditory field of "Dark Waters" are reasonably evocative in the droning background. "The Timeless Self" is a canonical dark ambient track based on drones whose movements in on details while "Soul Stealing" and "Lone Weaver" revolve around small noises and voices creating a sense of displacement in the listener. The voices and the drones became almost a single musical element in "Rise of the Forked-Tongued" as the firsts support the seconds while "The Damned" uses the samples instead of the voices. "Tower of Silence" closes this release with voices matching the resonances of the drone.
This is a release at the crossroad of dark ambient and religious/ritual music that, even along the path of the canonical form of both genres, is able to put the listener enchanted hearing the craft in the placement of the sound layers and the depth of details of the drones. Recommended for fans of the genre.