Austrian band Mills is the duo of Alexander Steiner (guitar, keys) and Walter Glatz (vocals, keys) and they've been around since 1994. Their label (Echozone) categorizes them as Post-Wave, which doesn't exactly seem on the money to me; it's more of a grey-electro melancholy synthpop. If you've been around long enough (through the late '80s and '90s) you've probably come across a few bands that sounded a bit like this. It's music that's symptomatic of some alternative bands that were never looking to make it big with commercial sounding vocals and killer hits, but rather an introspective bent and ambience. Shoegaze grew out of that ethic, but Mills is not shoegaze, as that sub-genre has certain distinctive elements which Mills lacks. The guitar playing is along the lines of Joy Division/early New Order, in their mellower moments. Perhaps in some ways not far removed from the Durutti Column. Keyboards are just there enough to get the music across and hardly ever obtrusive. The album has a subdued ambience throughout, and Glatz's low key baritone vocals make even rockers like "New World" seem rather placid and sombre. The album might be instantly forgettable due to its lack of very strong and memorable hooks, but simply because it is so different it tends to leave an impression. 'Monochrome' is not an album that will ever set the world on fire or cause a riot in the record store, but it's nice music when you can't think of anything else to play on a grey day.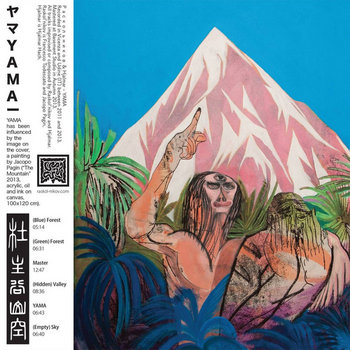 Artist:
Raskol\'nikov & Hjalmar
(@)
Title:
Yama
Format:
CD
Label:
Zoharum
(@)
Distributor:
Alchembria
Rated:
While Raskol'nikov is a project active from 2010 and with a reasonable discography, this is the first time I heard about their work. This is a collaboration completed in 2013 waiting evidently from the right occasion to be released. Their music is a sort of low fi experimental where they exploited the evocative properties of sounds tied to '60s and '70s and, instead of being a tortuous tour-de-force, they use reasonably simple structures to their song.
The album starts with "(Blue) Forest" which, after a little noisy introduction, evolves in a strange glitch pop without words as catchy as unconventional. Even in his rather identifiable influences, "(Green) Forest" maintains a framework where the experimental aims are tied to melody. "Master" is perhaps a little bit too long but the use of filtered voices triggers a certain number of cultural references. "(Hidden) Valley" is almost funny with his use of childish sounds while "YAMA" is almost meditative in his crescendo of long and reverberated notes. "(Empty) Sky" closes this release juxtaposing droning sounds.
Neither a masterpiece nor a boring release, this is those kind of weird release that could please fans of unusual and experimental music if they are not so genre oriented to not appreciate a small bit of irony. It's worth a listen.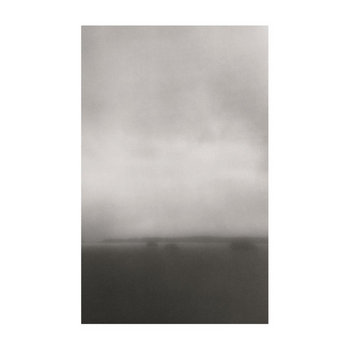 Artist:
Joshua Bonnetta
(@)
Title:
Low Islands
Format:
Tape
Label:
Canti Magnetici
(@)
Rated:
This work by Joshua Bonnetta, an interdisciplinary artist working with video and sound, is based upon field recordings of five different island and is named by a short piece by Loren Eiseley used in the liner notes. The bay of broken things could be seen as a place where, in February nights, it seems that with the sea climbing the cliff, ghosts appears at the window.
The only side of this tape (the other is blank) "The Bay of Broken Things" is opened by field recordings of wind and sea and introduces the listener into a sonic movie based in five parts where, as moving through an island, there's the wild, but quiet, element of nature instead of the chaotic movement of civilization. As the recordings have substantial differences in spectrum, there's always an evidence of the passage from a section to another and this aspect create a sense of editing and movement to the whole track; there's no will to deceive the listener creating a false sense of being in an environment but instead he's guided to a journey into uninhabited places where there's evidence of chaos behind all things. As some point, there's also the sound of the rewind of the tape to show the presence of the apparatus.
Evidently this is not music but properly sound art and so it's not recommended to everyone but only to those willing to hear rather than be entertained. Hear with care.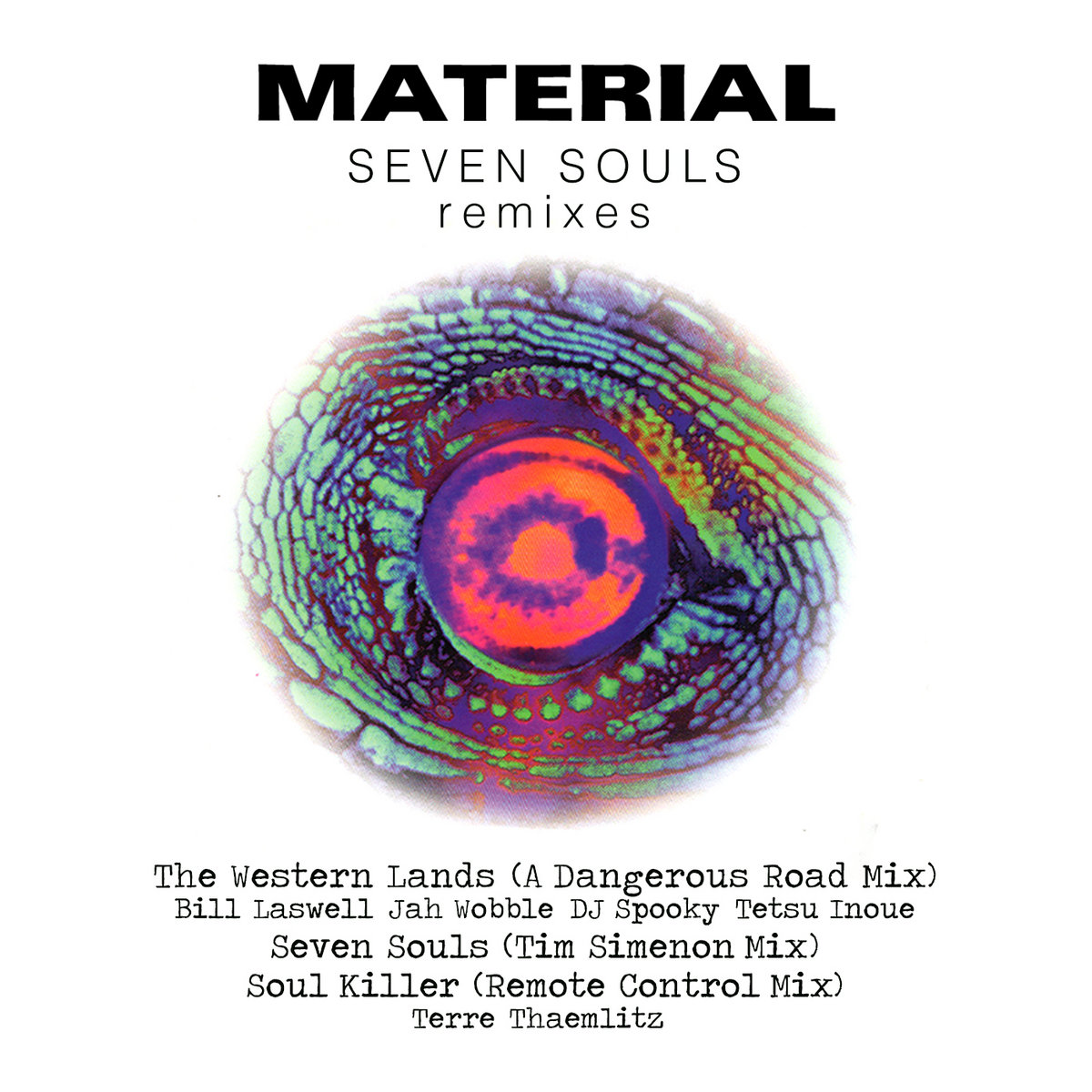 Artist:
Material
Title:
Seven Souls Remixes
Format:
Download Only (MP3 + Lossless)
Label:
M.O.D. Technologies
Rated:
This single consists of three bonus remixes originally included with the 1997 reissue of Material's 1989 classic SEVEN SOULS. Featuring William S. Burroughs reading from his 1987 novel THE WESTERN LANDS amid a congregation of electronics and amplified instruments, it concentrates the author's ruminations of mortality in primordial soundscapes. Bill Laswell's "The Western Lands (A Dangerous Road Mix)" opens a third eye in the text and treads a fragile line between being and nonbeing. Contributions by Jah Wobble, DJ Spooky, and Tetsu Inoue uncover hidden layers of interpretation between Burroughs's striped exposition, even as dangers imbue the breath of promise with decay. An overwhelming sense of aridness pervades, the kiss of sun on soil. Through this initiation, fear is no longer a variable of the reality equation, knowable only through the aerial perspective compelled by these terrestrial impulses.

The overall effect is such that when we get to the remix of "Seven Souls" by Tim Simenon (a.k.a. Bomb the Bass), words that were once internal now feel external, beats once external now internal. Changes of alignment are born through the sacred names spun from Burroughs's verbal threads, and by which Simenon casts nets of water across untrodden dunes. Thus, he brings an appropriate distance to these utterances, as if dancing in a comfort zone of abreaction. Every beat resounds as the footstep of one who seeks the spoken word: a prophet with half a body, at once within and without the drums.

All that's left to engrave our ears is "Soul Killer (Remote Control Mix)," a remix by Terre Thaemlitz. This relatively ambient outing finds Burroughs flitting in and out of perception. Hints of melody and subliminal hums gradually coalesce into a pixelated frond of awareness through which the nocturnal desert folds in on itself until the sky becomes the road beneath our feet. And the more we walk, the farther we get from a destination that has been inside us all along.
Artist:
Bernie Worrell/Bill Laswell
Title:
A Book of Woo Vol. 1
Format:
Download Only (MP3 only)
Label:
self-released
Distributor:
Music Hertz
Rated:
Although keyboardist and funk griot Bernie Worrell has jumped this sinking ship, we can hear him speaking to us at any given moment through the prolific black box he left behind. In this mix tape, longtime collaborator and producer Bill Laswell offers a eulogy to his dear friend, and by its light reveals the prism of Worrell's talent. This is perhaps nowhere so true as in the three selections culled from ELEVATION, a 2013 release from Laswell's M.O.D. Technologies label. It's rare to hear this master of wired keyboards bring his mastery to an acoustic piano, through which he clarifies the sheer expanse of which he is capable. Whether through the anthemic intimacy of "In A Silent Way" or the lush self-awareness of "I'd Rather Be With You," he wraps moments of youth in the tattered clothing of reflection. But it's in "Alabama" where he digs deepest, unearthing the raw materials of experience and turning them inside out until fragrant with possibility. There's even a touch of melancholy that gives the magic realism. Three tunes from another M.O.D. release, 2016's FUNKRONOMIC, also pepper the set. For these, Laswell's bass and Karsh Kale's drums are the wings to Worrell's thermals, going from subterranean ("Woo Doo") to earthly ("Flashlight-Redux") to extraterrestrial ("Outer Woo") in quantum leaps of inspiration.

Four tracks faithfully represent 1993's BLACKTRONIC SCIENCE. These include two electrifying trio outings ("Blood Secrets" and "X-Factor") with altoist Maceo Parker and drummer Tony Williams, the cinematically inflected "Revelation In Black Light" (featuring Worrell on harpsichord with arranged strings), and "Flex," which adds Laswell on beats, trombonist Fred Wesley, guitarist Bootsy Collins, and rapper J-Sumbi to the mix. The latter tune is an ode to adaptability, a veritable SETI signal shot into hip-hop space. In any instance, Worrell slings enough satisfaction to sustain us into slumber, thus reflecting the patterns of his own creation.

The 1990 joint FUNK OF AGES gets two nods in the forms of "At Mos'Spheres" and "Volunteered Slavery/Bern's Blues/Outer Spaceways." The first is a heat-distorted congregation of organs. Baroque in shape and cosmic in reach, it's the brightest star of this constellation. The second is "Volunteered Slavery/Bern's Blues/Outer Spaceways," which finds Worrell in the company of percussionist Aïyb Dieng to evoke a still-timely message against oppression and control. Kindred spirits populate the epic "Black and Strong (Homesick)," taken from the 1993 album HOLY TERROR by The Last Poets. Laswell, Dieng, Collins, and special guest George Clinton are Worrell's brothers in arms, and together they are a fully assembled Voltron of intention, their skin steeled against the slaveries of the world. Money changes hands, they preach, but the exploitations it buys stay the same. And yet, from the noise of it all, Clinton arises with a torch of promise firmly in hand, leading the way to return. It's a sentiment further echoed in "By A River (For Peter)," a self-released single from 2016. Featuring Laswell on bass and electronics and Worrell on electric piano, it flows with aching authenticity, an emotional spiral unwound as a straight line from a corrupt world to a secure afterlife.