image not
available
anymore
Artist:
The Blood of Heroes
Title:
s/t
Format:
CD
Label:
Ohm Resistance
(@)
Distributor:
Darla (US) / Cargo (UK/world)
Rated:
The Blood of Heroes is what gets spilled when masters of industrial, dub and dancehall get together and record music session after session, for a year. The heroes of this battle are guitarist Justin Broadrick from Godflesh and Jesu, bassist Bill Laswell from Material, Praxis, Painkiller, electronic artist Submerged and Enduser and vocalist Dr. Israel.
The name of the super group is inspired by Rutger Hauer's Bladerunner-sequel. I haven't seen the film but I imagine that if it is anything like Bladerunner, the post-apocalyptic scenarios are a perfect visual representation of what is going on here sonically. Apocalyptic, dark, sinister and menacing, The Blood of Heroes summons and blends industrial, dub, metal, drum'n'bass, dubstep, ambient and noise in a masterful and relentless way. The album also features live drumming by KJ Sawka (Pendulum) and Balazs Pandi (Merzbow, Venetian Snares) and additional sounds/guitars by M. Gregor Filip (an Ohm label founder).
If the sum of these people's talents and their other projects is not enough to convince you to visit the Ohm Resistance website and get yourself a copy of this CD, then go to the website anyway and listen to the tracks and you'll be convinced for sure.
image not
available
anymore
Artist:
Bionic
Title:
Closer To Nature
Format:
CD
Label:
Echozone
Distributor:
Masterpiece Distribution
Rated:
Personal project of Dariusch Dalili, Bionic released only an album for OffBeat back in 1995. I don't know what he did in the meantime but his coming back album is really nice. Still having his roots on e.b.m. sound, Bionic offer to the fans of the genre a strong album with ten new songs where hard beats and melody are the winning couple. The CD opens with "It doesn't matter", a song that melodically and vocally reminds me of Sisters Of Mercy. Fortunately, tracks two, sounds more personal and based on 4/4 rhythms, clear vocals and cool retro e.b.m. sounds. Alternating dance atmospheres (check "Cold eyes"), new wave intuitions a bit of pop ("Somewhere"), Dariusch succeeds into packing a nice album that sounds fresh even if based on classic sounds. You can find also two nice remixes made by Accessory and Minusheart.
Artist:
Allied Fracture
(@)
Title:
Conspiracy Generation
Format:
CD
Label:
Worst Kitchen Records
(@)
Distributor:
Worst Kitchen Records
Rated:
Well this is the last of the big batch of CDs I've been given to review and perhaps I've saved the weirdest for last. I'm not really sure what to make of this album. It's kind of like the Beastie Boys meets some minimal synth outfit like Absolute Body Control, The Normal, Crash Course in Science, Rational Youth, Suicide, etc if it were produced by The Residents. You can't really call it dance pop (I suppose occasionally you could spazz out a track with some beats in it); it's more along the lines of experimental pop. The album schizophrenically odd, and the first time I heard it, I absolutely hated it.

For the most part 'Conspiracy Generation' is terribly low-fi. It was recorded on analog reel-to-reel tape which some people are absolutely going to love, and others are absolutely going to hate. The sole member of this Allied Fracture (please correct me if I'm wrong) seems to be Jesse Baird from Bloomington Illinois. The album opens interestingly enough with 'Crisis Overture,' an instrumental track with medieval leanings giving you absolutely no clue as to what's to follow. (It ain't medieval, that's for certain!) I actually liked this track quite a bit'¦and I hope it was composed and not wholesale stolen, because there is an awful lot of 'stolen music' (ie; sampled) on the album, both dialogue and musical. Personally, it doesn't bother me much when song components from other artist's work and used in creating a new work- it just seems to bother the record industry and name artists who are making $$$. Apparently Worst Kitchen Records aren't bothered either. Then again, Allied Fracture flies so low under the radar, it's doubtful they'll be generating any controversy or lawsuits.

So from the medieval we head into Silicon Teens territory with the playful, buzzy 'Shock Fortified' and its dinkertoon synth melody. Vocals are Beastie Boy style with lyrics ranting against the technocratic fascist aspects of society. Whatever. The music is cute though. 'Feelin' Obsolete' begins with some sort of ghetto kidnapping story and morphs into a pastiche of odd sampled loops. More ranting about the techno-industrial complex, a little less Beastie Boyish. A cacophony of samples (dialogue and loops, etc) ensues.

'2,640 Volts' literally bases its rhythm track on the Association's 'Along Comes Mary,' albeit with song structure and lyrics quite different. I think it's kind of creative. Geffen Records would think it's kind of copyright infringement. 'Everybody Always' has vocals that resemble singing more than rapping (sort of) and a quirky, spazzy beat. 'Disorder' is a frantic cartoon hoedown complete with banjo loop I could see the Holy Modal Rounders really getting into. Bizarre, just bizarre. 'Subterranean Terms' has a touch of the Residents to it without that masking vocal processing. One problem though is the political rant gets old after a while. I kept hoping for something just plain'¦silly'¦nonsensical'¦maybe without an agenda. As if on cue, finally came around with 'Impatience' which is a totally frenetic carnival of hyperactive insanity; maybe a tad too long but a welcome lapse into lunacy. 'Apocalypse Muzak' is a meandering dose of psycehedelia that might indicate the drugs are finally working. The last couple of tracks weren't so great but I give Allied Fracture credit for trying.

To call this album uneven would be an understatement. It's all over the place, sometimes brimming with creativity, and other times cringingly embarrassing. If you're looking for something really weird in the DIY vein, you might want to check it out. Maybe for the next venture Allied Fracture ought to consider getting a more interesting vocalist (or at least some vocal processing equipment) and move up to HI-FI with the recording gear. I'd be curious to hear what this project does further on down the line.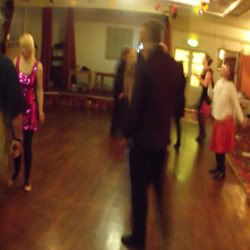 Artist:
Taub
Title:
The Wrong Path
Format:
CD
Label:
Bearsuit Records
(@)
Rated:
Project of Harold Nono (Bearsuit) and Me Raabenstein (Nonine), Taub just released their second album titled THE WRONG PATH. It contains seven new tracks that sound really interesting because of two main points: the complex sound structure and the atmosphere created. One of the tracks that is indicative of their sound is "Badlands": it blends jazz bass lines, keyboards/piano and strings with tiny treated sounds (short guitar distortions or noises) which also sound melodic. About the atmosphere, I liked the way they are able to build melancholic pop experimental songs making them sound as they were simple when they are a sort of ambient / jazz / pop / i.d.m. mix. I know that this could sound like they are making artsy pretentious tunes but try them and, in case that was your thought, you might change your point of view...
Artist:
Marc Houle
Title:
Drift
Format:
CD
Label:
Minus
Rated:
Marc Houle grew up in Windsor, Canada, with a Commodore 64 in front of him, new wave music in his ears and Detroit on the other side of Lake Erie. Now, living from Berlin to New York and playing under his own name as well as with the monikers 2VM and Run Stop Restore, he's about to deliver at end of September probably his most personal album. An album titled DRIFT. Born with the aim to give sound to Berlin's winter, the album finds Marc mixing minimal synth techno sounds with an experimental form of New Wave where he gathers layers of delayed clean guitars turning the atmospheres of a snowy sightseeing into sounds using the dance language. Analog synth sounds, drum beats and looping melodies are his tools and I don't know if this is the sound of winter or not, but for sure is a nice way of warming the body and the soul of the listener.