Still rocking after twenty six years Circus Joy are releasing their latest album on Old Europa Cafe. Dedicated to their friend Letizia, who died recently,LAETITIA contains nine tracks in balance from Jesus & Mary Chain/Sonic Youth feedbacks, Velvet Underground ballads and spoken word in Italian language. Behind a certain noise/psychedelic approach that seem born from improvisations, Circus Joy aren't interested into giving a polished sound to audience and on tracks like "Nudo e crudo" or "Il tuo frutto" they sound like a recording of an art-pop event more than a rock band. With upfront vocals that sometimes sound also saturated, Circus Joy wrote poems where human perversion and decay is mixed with a certain "couldn't-care-less" punk attitude.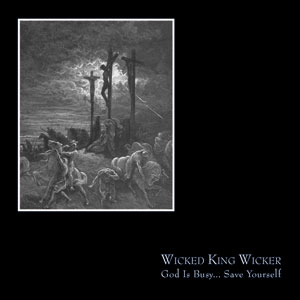 Artist:
WICKED KING WICKER
Title:
God Is Busy... Save Yourself
Format:
CD
Label:
Cold Spring
(@)
Rated:
Wicked King Wicker play doom metal. Wicked King Wicker play industrial noise. Wicked King Wicker sound like a crushing bones machine. Lately I listened to a lot of extreme doom bands such as Moss, Monarch, Atavist, Ascend or Thou and I like the way they deal with guitar noise and with tension. Each of them have their way to play with the different elements of rock and metal and try to reach the extreme keeping some kind of control over the noise. Wicked King Wicker, with their sixth album GOD IS BUSY... SAVE YOURSELF, seem to go over the concept of playing with rock/metal elements. They filtered the rock melodies from their music and kept the rest, which basically is pain. If for many bands the tribal slowly drumming is a call to a sort of ritual, Wicked King Wicker barely have drum sounds. Here and there you have a snare drum hit that sounds like a machete hitting a piece of wood. On "Call My Name Sweet Demon, So I Know I Am Not Alone" distorted bass guitar and vocals are mixed to something sounding like digital loops of guitar feedbacks. Already at the beginning of the track you are supposing that they already reached a good level of chaos but after ten minutes you discover that you were wrong and that the band reserved something more for you. Behind the wall of noise you will find minimal melodies hiding themselves fearing for their existence. After listening to this album I think that Wicked King Wicker have found a new way of playing psychedelia and I'm saying this because of their way of dealing with noise as it sounds like coming from space. Listen to "So Easily Lead Astray" and I think that you'll agree with me.
Artist:
Pulcher Femina
Title:
Darkness Prevails
Format:
CD
Label:
Decadance Records
Distributor:
Broken Silence
Rated:
In 1998 Roberto Conforti recorded the first output of Pulcher Femina ("pretty woman" in Latin) which was released via the label Decadance Records same as all subsequent PF releases. A duo turned into a one-man-project later on but it did not stop Roberto from working on this project and developing its sound. "Darkness Prevails" is an electro popish sounding album, but not of a dull happy-chappy kind. The songs tell of personal and painful experiences or contemplations that do not give much reason for cheerfulness, while Roberto hints at love as the way out. Some may find the sound of "Darkness Prevails" too soft. Well, Roberto is does not write songs about dangerous viruses that would contain samples from catastrophe movies. Neither does he sing about bar-coded cyborgs and such. And by "sings" I mean singing with clear vocals and not shouting from the top of his lungs. Fans of Elegant Machinery may very well be interested to check this CD out. Most songs on this album fit probably better to be played at home than at a party with the exception of "Holy War" and "Face the Fear" that closes the album. Perhaps more energetic numbers would do no evil to the overall work. "Love you to Death" is a very beautiful song about the power of love and the strength it may give the sides involved. It also includes some oboe and piano passages (it is by keyboards actually).
"Darkness Prevails" is about people not seeing the light, as Roberto explains. It is not about one depressive guy sitting alone in darkness. The whole record is rather easy-light sounding and has lyrics worth listening to. Volker Lutz (Evil's Toy-T.O.Y.) is the co-producer of this album which was recorded, mixed and mastered in three different studios in three different countries in order to achieve best result possible. The effort was worthwhile from the technical point of view. From the artistic point of view this is probably best work by Roberto up to now. One thing is certain: Roberto has an unmistakable sound.

image not
available
anymore
Artist:
PULCHER FEMINA
Title:
Darkness Prevails
Format:
CD
Label:
Decadance Records
(@)
Rated:
Personal project of Roberto Conforti, Pulcher Femina has released its first album on Decadance Records in 2000 having as musical references Wumpscut and VNV Nation. Ten years after, Roberto is releasing for the same label his newest and third album titled DARKNESS PREVAILS. About the title he says: "Often, this is how I perceive the world around me. In the absence of light, darkness prevails. An age isn't called 'dark' because the light fails to shine, it's because people refuse to see it". This is the main theme the thirteen songs are focused on, songs that musically are always influenced by Roberto's aforementioned loved bands (see for example how he used the punching rhythms and the synth leads arpeggios) but that are also packed with melancholic melodies and clean vocals. In this way he created a particular blend where 80's melodies meet 90's e.b.m. solutions. Try to imagine a Frozen Autumn/VNV Nation mix and you'll have pretty much an idea of how DARKNESS PREVAILS sounds. I'm listening to it for the third time in a row and I have to admit that I like how it sounds: now melodic/energetic and then melancholic. If you love e.b.m. and cold wave you have to check this one. You'll be pleasantly surprised...
Artist:
Last Influence Of Brain
(@)
Title:
Two Faces
Format:
CD
Label:
Aliens Production
(@)
Distributor:
COP International/DDT
Rated:
It seems, that after the split of their home-base Electro Aggression Records from their main label Vendetta-Music there wouldn't be a free slot for this Slovakian Dark Electro act. Also to wait on the re-animation of E.A.R. via new distribution deals, wasn't their intention. So this project has received the call of their countrymen of Aliens Production, which brings us this new studio album, which is by far better constituted, than their predecessor on E.A.R. Heavily inspired by the Dark Electro-sound of the so-called second wave of Electro/Industrial music, this third album of this project offers the veteran sound in vein of projects like early SLEEPWALK to their CCP-times and SPLATTER SQUALL, if someone out there can still remember both projects. Even if this new album is a step forward and expresses more own ideas compared to the predecessor, I still think, that this project hasn't reached perfection. Like with SLEEPWALK during their early phase, LAST INFLUENCE OF BRAIN show multiple ways to present their ideas, but the result itself seems to be unready in parts. Some of the compositions still offer room for development and it could be a useful hint to them, to invest a bit more time, to reach a more layered sound. As much as their diversity can be discovered especially in the at times quite unconventional drum pattern programming, this album misses a bit the so-called "hit", which continues to lead their listeners to the dancefloors of the dark clubs. "Two Faces" is a true Dark Electro germ, which surely satisfies its listeners, it too offers varied programmings and solid patterns – while it doesn't re-invent the light bulb of this music genre.