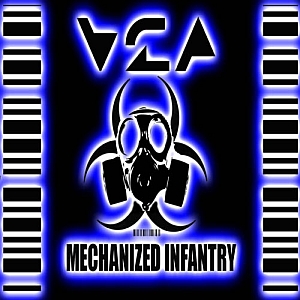 Artist:
V2A
Title:
Mechanized Infantry
Format:
CD
Label:
Biohazzard Records
(@)
Distributor:
AL!VE
Rated:
After the issue of an omonymous cd-single, which has been hugely appreciated by EBM indomitable lovers, the album by the Anglosaxon (just a synthetic way to say they're half German half "Anglische"...and just to remark their double roots they sing using both languages...an unusual aspect for this kind of stuff!) band V2A starts with a suffocating introduction, a sort of war declaration for the intestine battle against decay hieratically ordained by the scraping filtered voice coming out of Kevin Stewart. The gears surrounding this Mechanized Infantry sound like a nice playset appearing like a soiling of a lot of past danceable acts. In spite of references to the inventory belonging to band such as Covenant, VNV Nation, Combichrist and Suicide Commando, this records is not inteded neither for nostalgic people nor for "romantronic" spoons weeping for new wave necrotic sing-songs as it's able to inject brand new stimulations to all those dancers wearing gas masks and "gummyplasticous" overalls even if sometimes it looks they drink from lyrics pushing the dark pagan scene as a source for inspiration! That's the reason why the weakest ring of the heavy chains bolted by V2A are lyrics, while from the other side compositions and rhythmical patterns are well-forged as they perfectly fit to the wide range of motions (of bodies and souls) for people attending ebm parties. Flushing meadows of pushing beats, aggressive kicks, metallomelodic sequences, harsh sounds and even a set of flaming laser-like sounds - have a listen to the hissing Mechanizm just to chew that solid imaginary set! - as well as captivating dance-songs scattered with convulsive beats such as Contagen, Demons and Electro Whore (just a whispering vocal anthem like "love like an angel, fuck like a whore" perfectly fits a fetish party!) are going to set you on fire! In tracks like Stahl-Tanz (steel dance!) or aggro-tech with gummy kickdrums tracks such as Jesus Loves You (which reminds some acts of Angelspit) or Kill -9, the basslines and the hard kick seems to be the soundtrack for the frenzy dance of mechanized spiders. A countdown from 9 to 0, a persuasive song repeating "you're demons" intended for dancers with potential identity crysis, filtered basses sounding like electric saws, cranioclastic rushing rhythm make this chunky album danceable from the beginning to the end and the length of each track (no more than 4 minutes...) is the most reccomended by djs playing for dark dancehalls among steel chains, Mad Max-like haircuts and black skin boots. When you'll finish listening to (or more presumably dancing on...) V2A's last work, you'll have more reasons to agree with their beloved statement. EBM is not dead!







Artist:
The Dark Clan
Title:
The Vampire Wore White
Format:
CD
Rated:
The name of the band is called The Dark Clan, hailing from Wisconsin. Consisting of Dan Clark who is main core behind this band and next we have Amanda on vocals, Erin on piano, Nic on drums, Luke on bass and EYG on additional vocals. I just saw this band live at Chicago's Darkroom and they were quite entertaining. The name of the album is called " The Vampire Wore White." This album is showing us that white is the new black. We go to track 2, " Love in the Dark " which is a ode to love, beautifully sung by the lovely songbird Amanda. " Dancing in darkness, she sings to us, a lovely love song to the night. It is a track that I will hold near and dear to my heart. Next is track 3, " Tandy' whcih is an early 80's tribute to what seems to be a lost love that should not be forgotten. It is a tonque and cheek track that speaks for itself. Moving to track 5, " Look into the Night which is a Gothy dark track and a ode to the night beautifully sung by the lovely songbird Amanda who's voice soars high to the sky in perfect harmony. Next is track 6, " Interlude in Two Parts, Invention No. 8 which is a guitar solo rendition of the original J.S. Bach classic which sets it from the rest. Track after track this album has unique surprises behind every turn truly is unique to say the least. We more to track 8, " The Vampire Wore White" which is an ode to the darkness into light and that fashion sometimes doesn't always have to be back in black. This track is truly an anthem for fashion and decadence and will truly not be forgotten for the ages. The Dark Clan is hear to stay will you join them in their dark delight or will you let them pass you by.? ~ 4 stars Michelle Russo
Artist:
Cruciform Injection
Title:
Aftermath
Format:
CD
Label:
self-released
Rated:
Cruciform Injection is the name of the band hailing from the Chicagoland area. Cruciform Injection consists of Micah Skaritka on vocals, Brendan on Guitars and Programming, Kassi on live Keyboards and Jonathan on live Percussion. The name of the album is called " Aftermath." We begin with track 1 which is a grand introduction to the Apocalpyse in pure danse floor manner. We come to track 3, "Venus Corpse." Micah sings, of system failure and being oxygen deprived backed to hard break beats and tales of woe. This is a sure fire danse floor hit at least in my eyes. Next is track 4, " Raise our Flags " is seems to be a ode to going to war and it's aftermath it brings. Micah sings, " Nothing to see from the missle rays." Gives you this grim take on how war gets us no where and how we waste time on it. Next is track 5, " Dreaming Siren." which takes us to it's electronic world and opens doors to our psyche. Micah sings, " Come and sit on the edge of the floor." Micah is calling us to the danse floor and go crazy to this one. Stomp away and call to your master for instruction. Sill moving on we come to one of the coolest tracks on this cd, " Sugarbomb" , which always gets the crowds moving. Seduction is the key to this track and draws us near and dear to it's promise. Micah sings in unison with his band and the crowd. " Are you ever satisfied all you ever done.?" This is what I call the audience participation game, every time this track is played, all partakes in it. This is the track that this band is known for all over the circuits and it never disappoints. I just saw Cruciform Injection last weekend at the Darkroom and there wasn't one person in the audience not moving and grooving to it. Next is track 9, " Deadline " another danse floor hit and another favorite of mine. Micah sings to us, " tell me what you want from me." Electro danse craze the core and nothing more. This by far could be their staple song and separates from all other tracks. I found myself dancing in my tracks as I typed away. Track by track Cruciform Injection puts it's bang into your buck and never disappoints. This track is extremely amazing live. With that said, we come to track 12, " Embryonic Testaments" which is always a classic for this band and is played through the circuits. Micah sings to us. " take what you want from me." which the crowd sings back to him in great fervor and anguish. This track rocks hard and has been around on other albums due to it's greatness and great strength it brings. Next is track 13, " Black Tides." which is always a crowd favorite and asked for either for an encore or surprise. " Micah sings, " Black Tides " in his deepest dark voice to match the angry dark abyss he is expressing and crawling out of the darkness to shed light onto us all. Cruciform Injection always puts their best foot forward and shines bright. Do you dare to inject them.? ~ 4 stars Michelle Russo
Artist:
Critical System Error
Title:
Ctrl/Alt/Decieve
Format:
CD
Rated:
Hailing from Chicago is a one man project fronted by Xero who is the brains behind this operation and Residue 3. Xero does it all, vocals, synths, sequencers and also dj's in Chicago and helps run Electrohell a once a blue moon special night of indeadstrial, power noise in Chicago. We open with Track one, " Crisis Perverted " which is an all out nuclear assault and all instrumental that violently jumps in your face to get off your arse to danse to the beat of it's own destruction. We move to track 2, " The Guilty dance with the Devil ", which is terror/ebm at it's best. Xero sounding very Agonoisesque and loud as ever. This track has hit the Chicago Circuit hard sending it blasting through our dansefloors in unision with hard breakbeats and lots of stomping. Xero sings, " the guilty dance with the devil, the guilty spit in the face of god." No remorse, no release as he sings his tale of the old ones and what they wish to possess only to find empty promises from our human race. Still mover forward, we come to track 4, Apocalypse which is exactly what the title states. Samples galore bringing us back to the old Skinny Puppy days. Oil drums, machinery all about and total annilation of the planet all summed up in one track and leading us to the stomping fields. A total danse floor war waiting to be had by the indeadstrial nation to fill the void and sending grand recognition and raising their fists and joining in the mayhem this track brings. Next is track 5, " Ctrl, Alt, Decieve a play on words and clever than ever. Xero sings, " Death in the name of prophecy, torture is your God's policy." This by far is one of my favorites and I got up and danced by arse off to its promises. Definitely a track to remember and forever burn in our brains for it's unforgettable lyrics of truths to be told. Still moving further ahead, we come to track 7, " Digital Antichrist", which is another danse floor hit that took us all by storm. " Samples underlying from movies about no believe in god stopping the show to get it's cryptic message across then letting go so the danse chaos can begin. Truly a brilliant track from start to finish with the end result of a full danse floor. Track by track this album offers little surprises behind each corner we turn in this non stop electric train that it seems we can't get off due to it's hypnotic showdown it brings to us, it calls to us and won't let go. They say when you use Control/ Alt/ Delete you are supposed to get out well when you enter your Critical System Error you may never want to leave. A pure genius album to experience. ~ 4 stars Michelle Russo
image not
available
anymore
After listening to the second volume of this intriguing musical summary coming from the obscure Romanian industrial and dark -ambient scene, someone could argue that Abraham Van Helsing, the famous Dutch old teacher with a passion for vampires'hunting in the novel by Bram Stoker which probably gave good fame to an almost unknown Carpathian region commonly known as Transilvania, now lives a brand new life out of those notorious papers in disguise of a talent-scout, searching for obscure electronic acts and grabbing demo-tapes from young virginal musicians or alternatively from skinny vampires which decided to suck blood from music machines instead of human bodies - maybe contemporary pollution turned even vampires' habits of consumption as human blood arguably turned into something disgusting! - throughout Romania! Joking aside, it really seems that something belonging to those literary stereotypes has been decanted from the well-crafted Draculian set of goblets to sound machinery and magnetic stripes. Just for instance, have a listen to tracks like Noverbia's Prime and you could imagine enchanting female girls bitten by Count Vlad whistling from a foggy crypt or little nice bats angrily squeaking! That's just an example on how the artists and bands from that land which is now sucked by a vampiresque crew of thirtsty (for money) businessmen could result into appreciated stamina for your imagination. Abbildung's Last Journey To the Hypersphere - one of the most interesting track included in this selection - shows a massive use of samples(there's also a train...!) on exquisite drones (not so dissimilar to those by Origami Galaktica), an hypnotic glassy chime and abstract sound suctions which are able to speak to the listener even by trascending words! Your senses're going to be ideally washed inside a mesmeric tub while listening to the suspensive and ethereal reflections by Koldvoid, while Ekasia's Urban Child looks like an obscure mixture of a sort of spell-rhyming and a narration about an intimate torture of the soul resolving into a state of consciousness!!! We know you know how this kind of things could play! Sketches of soporific Arabian flutes, funerary bells, Russian radio intercepts, crunched basses and industrial intermittances crowds Pământul (Planet Earth in Romanian language) in the anxious represantion by La Ghica Hainu, while a sort of anguished shriek saturate the noisy engine by the Transilvanean project Hunyadi P.H. Whoever loves nice tricks for mind will easily get in love with the two final tracks: the first one crafted by Narkoletpik, an enchanting drone with a sine-frequency finely described by the title itself ("Morbid Obsession"), while the latter is an intriguing blend of frequencies beginning with dark tinged atmospheres and attaining to tinkly psychotic placid setting. Those listeners seeking for involging emotional tracks are going to be grateful for this amazing compendium. It works well!