Artist:
Totakeke
Title:
The Things That Disappear When I Close My Eyes
Format:
2 x CD (double CD)
Label:
Tympanik Audio
(@)
Distributor:
Ant-Zen
Rated:
New York-based Electronica-wizard Frank Mokros is back with a new double CD album. Disc 1 offers the new studio work of Frank, which continues with his futuristic IDM/Electronica music we could discover with his last year's brilliant album "Elekatota: The Other Side Of The Tracks". The presented variety and diversity in his music arrangements somewhere based into genres like Ambient, IDM, Noise and Industrial can be heard very seldom – Frank has the abilities to write perfect film scores for Sci-Fi- and Cyberpunk-related movies yet not produced. Multiple layered, high complexities in the production of synth and drums/percussion – yes, Frank's music is demanding – but the listener gets so much rewarded for his full attention, which is required to consume his masterpieces of music. TOTAKEKE is one of the very few founded flowers, which someone can be identifying with. Normally tend to I prefer the rather straight arranged tunes, which allow some Industrial dancefloor movements. Tracks like "Disconnected Inside", the harsh and nearly Powernoise-like "Anterograde Amnesia", and the extremely catchy title track services this greed well. But here are 2 additional pearls needed to be mention, "Permanent Note", reminding with its mighty basslines and the rather slow tempo on "Bio-Mechanic"-like FLA featuring more complexity, and the eerie "Patient HM" with its simple, but so damned effective piano sound inserts. But all of these good things don't end here, because Tympanik Audio has decided to assign all free slots of your CD players with Disc 2. This second disc offers some new interpretations of "Pull The Plug" and "Ignorance" provided by Frank himself, some new amazing tracks ("Gone", "Can't Feel Time" and "Buried Is... " – A-MUST-LISTEN-TO!) and several remix contributions by Frank's highly-acclaimed label comrades. ZENTRIERT INS ANTLITZ ("Permanent Note"), the raw PNEUMATIC DETACH ("Anterograde Amnesia" – how could someone think, that Justin Brink would put his fingers on any additional tune? Nice cover art too, Mr. Brink!), AUTOCLAV 1.1 ("Lost And Falling" – can a remix score against an original? It can! Well done, Mr. Young!), LUCIDSTATIC ("The Things That Disappear When I Close My Eyes"), ACCESS TO ARASAKA ("Contusions" – that nervous hacking hi-q programming offers creativity – a new talent to follow!), FLINT GLASS ("Patient HM" – nice try, Gwenn, but that's one of the most difficult remixes. Nothing can rival with the brilliant original) and the Slovakian heroes of DISHARMONY ("Memoria" - quality as usual, Ryby, we'll come on your new tunes soon... ) are featured here. I could slander again through this whole album and will be surely find several additional gimmicks and attractive things to report of. It's a matter of fact, that albums of TOTAKEKE won't never get boring and the music offers so much new facets to discover, which I could easily use as an additional apology, why I've delayed the review that long. However, get this masterpiece!


image not
available
anymore
Some colleagues of the music press experienced some troubles in attempts of labelling the Parisian band One for Jude's style, maybe �cause it's not so important the percentage of dream- folk, cold wave, French pop, indie rock, electronic or psychedelic scraped together in their musical formula: it's a matter that record owners are going to successfully afford indeed! What counts is the fact that the band made up of Billy Amzal (voice, guitar and producer), Yonathan Ebguy (voice and guitar) and Benoit Sellam (bass and keyboards) manages to interpret in a sufficiently convincing way the lyrics they use to play. After 5 release, 2 LPs, some concerts (they also shared live stages with renowned musicians such as Clan Of Xymox, Yann Tiersen and In My Rosary) as well as some spotted presences in different compilations (the most remarkable among them is maybe the one tribute to Sol Invictus by the neo-folk label connected to the nu folk fan-zine Cynnfeird), One for Jude celebrates their 10th birthday with a new album, Bonheur Dynamique, showing a more mature approach to the composition and melody building as well as some slices of interesting psychotic narrations on the presumable dynamics of happiness. Piano fillings, chiming electronics, lightly distorted guitars and moaning atmospheres cross over the nine tracks of this album.

They alternate French and (French-stressed) English in their wordy hood trying to sneak in listener's good graces with fanciful melodies and smokeproof rocky postludes and we have to remark that even the foolishly ill-treated voice of the singer (sometimes rushing, sometimes growling, sometimes snatching looks like a Gardenale-treatment's young boy, moaning for having dramatically awaken by a work-team of noisy bricklayers invading his quiet space!!!) could have a sense if you analyze the sometimes hermetic lyrics (the reverie of the nice character depicted by the song The Rational Dreamer?!?!?), often diverting towards bizarre intimate cameos (what an astonishing assertion standing behind phrases and quotes such as the one you could hear at the end of the title-track: "En peintre du destin il dessine à l'exil des courbes de les reves"!!!) and pert attitude (exhibited in some songs such as Une fois '" "Allow me to insist/I could have killed or loved/Or forgotten all the world/For a penny of that love" '" or John Is Dead '" "Hey you, won't you be my lil cocoon/And my dreams and my dearest moon?"). And well, they show great compositional skills '" nicely refined tracks such as Bonheur Des Hommes, the lovely A Toi Qui Passes (you'll easily produce reveries while listening to the "ritournelle" featuring a crystalline guitar arpeggio... ) or the crafty Reine Du Passe '" here and there and that's enough to justify their decennial existence. Snappishly snaky and exquisitely doomy!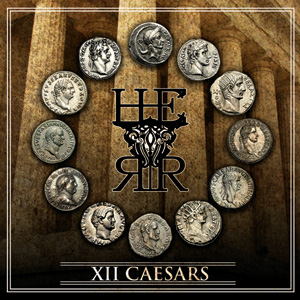 Artist:
H.E.R.R.
Title:
XII Caesars
Format:
CD
Label:
Cold Spring
(@)
Rated:
Based on "Suetonius' De Vita Caesarum", one of the greatest historical sources about the first Twelve Caesars of Rome from the fall of the Republic which has been written in 121 AD, XII CAESARS is the newest H.E.R.R. album that comes two years after ""Fire And Glass: A Norwood Tragedy. Each song is a chapter dedicated to one of the Caesars and the lyrics are focused on the rise and fall of people such as the cruel Tiberius, fat Vitellius and the insane Caligula. The band, as usual, offer in depth lyrics that make you paint a vivid picture of the theme they chose. So Nero's thoughts are the main theme on "Neroica" as well as Vespasian's story is the one on "The eagle standard". Musically this album differs from the previous ones as the tracks are less bombastic and Troy's vocals now are sounding more melodic and less spoken word like. Also musically, even if they have still their characteristic orchestral based sound, now they also used on songs like "Saturnalia Caligula" baroque-like influences. The whole album sounds less epic but H.E.R.R.'s sound didn't lose its charm confirming them as one of the best neo-classical bands. The release comes with a deluxe 16 pages booklet with all the lyrics. Check some songs at H.E.R.R.'s myspace page www.myspace.com/herrenliga.
Artist:
Dupont
Title:
New Dawn
Format:
CDS (CD Single)
Label:
Progress Productions
Distributor:
Nova Media GmbH
Rated:
This Swedish duo (originally starting as a trio in 1999) has already made sure people in the electro scene talk about them. Though starting as an Old-School EBM act the band developed its sound gradually into the more danceable and contemporary sounding direction. The years of musical activity, i.e. the experience in making music is visible/audible on "New Dawn". This EP/single is a follow up to a recently released full-length album "Entering The Ice Age". It features a two remixes by Oscar Holter and Titan.
"New Dawn" is a very club compatible number: may remind of The Eternal Afflict. A real dancefloor-filler whith a catchy melody, good clean male vocals, some suspense and a reasonable load of energy. Those into Funker Vogt and Hocico are likely to find it too cheesy. I hope the line "Waking in a rest room" is not of an autobiographical nature. However the song is not about the ills of drugs or alcohol consumption but a new start, as the title implies. It is a healthy idea to start things a new, especially if ones current life is not satisfactory. It takes courage and initiative, but usually it pays off or enriches one's experience at least. Perhaps "New Dawn" could become a soundtrack for some people who feel a need to start a new.

Artist:
Active][Hate
(@)
Title:
Corrosive Intent
Format:
Download Only (MP3 only)
Label:
Enoughrecords
(@)
Rated:
Portugal's net-label Enough Records scores extremely well with the function of their website, to scroll and search for acts by using keywords. Since more than 200 releases of for the most part completely undiscovered got listed through them, this feature is quite helpful. ACTIVE][HATE is sort of these undiscovered projects so far, but they work hard that this won't repeat and continue. Next to the recording of this first audio output, some remix contributions for acts like ANIMASSACRE and WYNARDTAGE are witness of a stronger concentration to reach international reputation. But slowly I get the impression, that Portugal is an ideal place for the still ongoing Hellectro-virus, because also ACTIVE][HATE is victims of this. Pretty known acts like EDEN SYNTHETIC CORPS (ESC), their side-project HYSTAKMINE or CONTROL.ALT.DEUS are prominent names out of Portugal, so there should be also a free slot available for ACTIVE][HATE too. Rather more, because this solo-project hasn't to hide its given talent. The tracks got solid produced, although an authentic sound outfit is still a miss – as with most acts out this special Electro/Industrial genre. Thumbs up too for the aggressive vocal performance, which comes out raw, but without an overtaxing usage of FX manipulation. Dancefloor addicts will by quite enthusiastic with tracks like "My Own God" and "Silent Fire" and I spend also applause for the own produced remix interpretation of a CONTROL.ALT.DEUS-track entitled "Perfekt Hatred". A solid and convincing debut of this project, from which we'll surely get to hear more of soon.