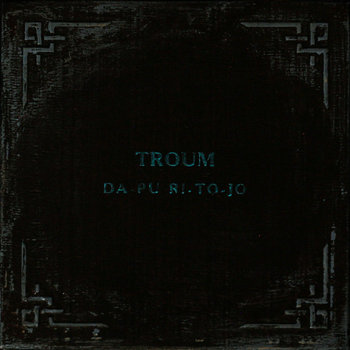 Artist:
Troum
(@)
Title:
Da-Pu-Ri-To-Jo
Format:
CD
Label:
Black Mara
(@)
Rated:
This new release by Troum is a a collection of 7" vinyl release, from 2004 to 2016, and it's introduced by a short script by the band where the overall concept is that this release could work as a description of the project. Their music could be roughly described as dark ambient but this release shows how they are able to wander across all variations of the genre.
While "Aerugo" is an open space ambient track, "Aetas Vetus" closes the listener into a noisy and oppressive territory. As "Agnus Dei" has certain level of solemnity, "Betonwolke" rework this musical elements towards almost post-industrial shores. The heavy and atmospheric basses of "Das Air" are balanced by the uncomfortable drones of "Gruoen". The long and filtered musical lines of "Nargis" and "Saiws" are as dark in the first one as bright in the second. As
"Segeler" is a crescendo of quiet drones, "Un / Mahts" is an almost monolithic mass of noises but with a movement. The last two track are from a digital only release and are the newest tracks: "Victoria" and "Unreleased Theme For River Endscene" reveals an idea of dark ambient where the drone is just a background for certain musical element to emerge.
As a release from a band classified as dark ambient, or post-industrial, this release reveals a band who search a musical way to express their ideas rather than repeat a formula on every track. Recommended.