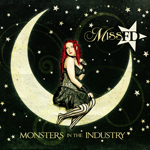 Artist:
MISS FD
(@)
Title:
Monsters In The Industry
Format:
CD
Label:
Quantum Release Records
(@)
Rated:
MONSTERS IN THE INDUSTRY is the first album under the Miss FD moniker but for the Fort Lauderdale-based girl who's behind it all it isn't the first experience at all, because we all already knew her as Frightdoll. If I remember well she was about to sign (or she signed) a contract with another label and then she had a lot of problems with them (and for this reason I think she wasn't able to use the Frightdoll name) and according to the main song's lyrics ("A thief on every level - the industry is a devil - it'll tear you down - it'll cut you up - and then call you a rebel...), it hasn't been a pleasant experience. Anyway, the new album contains eleven songs which have the characteristic elements of the two previous Frightdoll albums (a bit of goth atmospheres and electro-ebm sounds/energy) plus a new pop side that could be good for Miss FD the day she will decide to retire and to sell her songs to fake MTV hits bad girls (see the final refrain on "Disgrace" or "Realigned"). MONSTERS IN THE INDUSTRY is an album that needs time to be assimilated because we switch from dark e.b.m. atmospheres to electro pop in no time. There's only a little bit of melancholy here and there (like on the early part of "Elements off time") but soon replaced by energetic synth distorsions. Danceable, pop, dark and electronic, Miss FD has a lot of bullets into her gun and she isn't afraid to use them...
image not
available
anymore
Following the acclaimed Man Machine, Memoria, the third release by the German band Lost Area and the first one on Echozone, their new headquarters, begins in a not so convincing way. Even if the title-track and the following Blood Rain features good melodic lines as well as what it seems to be the new tone of their renowned maquillage, deeply anchored in the safe port of traditional dark-wave and ebm (there's plenty of hooks to stylistic bodies of bands such as VNV Nation, In Strict Confidence or Frontline Assembly), but this time marked by more larks on vocals, heavily treated and pitched in order to sound distant, a stylistic choice that I think it could be explained by the general mood of this release oscillating between a fatalistic aura, Promethean disenchantment and an abstract sense of fading, but the qualitative level abruptly rises with Mirror: lyrics which seem to reflect Caliban'a anger in the notorious novel by Oscar Wilde perfectly fit to the structure of the song partially reprising the danceable beating of the first track - it's really the fine the final treatment of the voice mutating into transfigured tone when the gradual fusion between the identity outside that mirror and the one inside it or I'd better say the possession of the first character by the second one has been completed (the first strophe ending with "he will become a part of me..." while the final one ending with "he has become a part of me", but the best intersection with known gothic cliche' and poisoned electro-dance rhythms is maybe the following song entitled Lies, whose stepping proceed in a linear way while the sounding machinery stir frozen emotions up till the moment they violently erupt; a pretty way for conciliating emotive spleens with pulsating beats as well as a track - already available on the well-known electro sampler "Dark Alliance" - that is going to inflame darkest halls!
After the bleeding cries for seraphic entities - something you could expect on a gothic-tinged release, lads! - in Guardian Angel, an electronic ballad whose emotional alcoholic percentage has been increased by the insert of a guitar played in a way the most weeping progressive-rock bands usually play partially reminding the Hidden Faces-era by Clan Of Xymox, the resentful clubbing lyrics of Evil Eye. I initially argued it could be against an incapable psychotherapist when listening the incipit "I am in a schizophrenic mood/I have seen everything you've done/I followed you step by step/The pills did me no good"!- , the morbid trippy hopping of the icy Desire, the frigid misogyny - a side effect of love for a psychotic gothic cutie, my fellows! - carburized by a good melodic line on the usual well-groomed EBM stepping of Nothing, I like listening to what seems the depressed side of S.P.O.C.K. (the notorious Swedish synth-pop band, not the Star Wars character!) in the balanced sequences of Dream On. Strangers, the striking Eye Of The Storm and Live Your Dream look too much conventional to me - maybe too many listening memories resurfacing during the recording of the album, whose clear and powerful sound acts as the most evident clue of Gerrit Thomas's paw from Funker Vogt for production and sound engineering. The vocal qualities and its raw darkness by the singer Andi Grundler are mostly highlighted in the only German song, Ikarus, a sort of bizarre lullaby whose epic accents are underlined by some trumpets and choirs reminding to me some pieces by In The Nursery.
The stomping Gecko Sector Remix of Unborn ends an album whose only slight flaw is maybe the fact it retraces some stylistic and conceptual Gothic cliches, even if this 3-piece band has surely revised some subject in a good way!
Dark / Gothic / Wave / New Wave / Dark Wave / Industrial Gothic
Edit (5752)
Artist:
Blue Sabbath Black Cheer
(@)
Title:
Dried Up Corpse
Format:
10"
Label:
Gnarled Forest
(@)
Rated:
Two long sides of dark, brooding, sound and fury. You might liken this to a soundtrack to a horror flick with scary visuals and growled voices. Not bad but not new either. I would call this Gothic-tinged.
image not
available
anymore
Artist:
Ben Frost
Title:
By the Throat
Format:
CD
Label:
Bedroom Community
(@)
Distributor:
Kompakt
Rated:
Successor this his critically acclaimed "Theory of Machines" album, Australian-born Ben Frost's new album "By the Throat" comes out on the same Icelandic label Bedroom Community and if I'd have to describe it with one word I would say: powerful! Definitely one of the most interesting releases I have heard in a while, "By the Throat" has humongous presence and weight and its massively enveloping sonic fabric is discomforting in the most comforting of ways.
It's hard to describe Frost's sound and even harder to draw comparisons, but I'd say that if you can imagine what Sunn O))) might sound like without walls of guitars you'd be in the ballpark. Frost's visceral and dark sound is rooted as much in the experimental/noise world as it is in the minimalist neo classical world (think Steve Reich, Manorexia, Jeremiah Cymerman, Alvin Curran). His compositions are built with equal part apocalyptic post-industrial drones and piano/strings interludes. It might make a great horror movie soundtrack, but a record this good would almost be wasted on visuals because it has a power to evoke visuals of its own. This music is about contrast and Frost has plenty of that. You go from ethereal sound fields, distant piano notes and gentle fragile sustained violin notes to glitchy distortions, sub-sonic pulsating bass notes and howling wolves.
This album, as most of Frost's collaborations, was engineerd and produced by fellow Icelandic Valgeir Sigurðsson (Björk, Kronos Quartet), who did an amazing job at capturing, building and presenting the depth of Ben Frost's sound. The album also features performances by Amiina, The Arcade Fire's Jeremy Gara, Swedish metal outfit Crowpath and composer Nico Muhly.
Dark / Gothic / Wave / New Wave / Dark Wave / Industrial Gothic
Edit (5725)
FOLK STUDIO is the first issue of a compilation that is part of a wider project that sees different bands of the new folk musical area going beyond the common concept of nowadays neo folk music. The Green Man, Roma Amor, Having Thin Moonshine and Egida Aurea wanted to catch the true spirit of the genre by linking their music to the old Italian folk music. Acoustic instruments typical of their origin places have been used creating a real modern folk music. During the 60s Italian beat bands tried to do the same by mixing dialect and modern music (check the I Pelati or Bertas) but during the years folk music has been confined to regional boundaries. Now the times are right to revive the concept and on the five tracks of this 10" you'll find ballads (like The Green Man's "Idda"or Egida Aurea's "Criu du ventu"), tangoes (check Roma Amor's "La tradida") and rumbling cavalcades (like on "Evoe" by Having Thin Moonshine or the second track by The Green Man "La baronessa di Carini"). The bands presented the 10" in Milan the thirty first of March giving the official start to the project. The real new Italian folk music has started to spread...